The global short-read sequencing market size was reached at USD 6.3 billion in 2022 and is projected to hit around USD 36 billion by 2032, poised to grow at a CAGR of 19.04% from 2023 to 2032.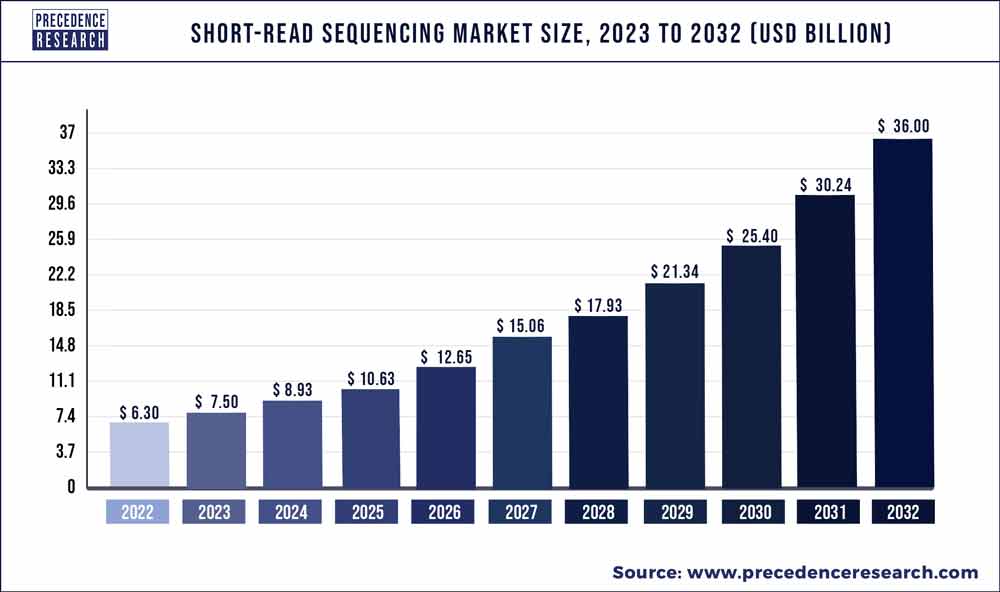 Access our Premium Real Time Data Intelligence Tool, Visit: Precedence Statistics
Key Takeaways:
North America has generated more than 50% of revenue share in 2022.
Asia-Pacific market is expected to expand at the fastest CAGR between 2023 and 2032.
By Technology, the Next-Generation Sequencing (NGS) segment is dominating the global market.
By Product, the consumables segment has generated more than 63% of revenue share in 2022.
By Workflow, the sequencing segment has recorded more than 57% of revenue share in 2022.
By Workflow, the data analysis segment is predicted to grow at a remarkable CAGR of 21% between 2023 and 2033.
By End User, the academic & research segment has generated more than 49% of revenue share in 2022.
Market Overview:
The short-read sequencing market is a rapidly growing segment in the genomics industry. It is a high-throughput technique that allows researchers to sequence DNA and RNA at an unprecedented rate and with high accuracy. This technology has many applications, including genome sequencing, transcriptome analysis, and epigenetics research. This market is driven by the increasing demand for personalized medicine, drug discovery, and precision agriculture. The demand for genomic data has grown exponentially, as researchers seek to understand the molecular basis of disease, develop new therapies, and optimize crop yields, even benefiting from advances in technology, such as improvements in sequencing chemistry, library preparation, and data analysis tools.
The market is driven by academic research, clinical diagnostics, pharmaceutical and biotech companies, and agriculture and food industries. Academic research accounts for the largest share of the market, as researchers use short-read sequencing to generate new insights into the human genome and other organisms. Clinical diagnostics is the fastest-growing segment of the market, as healthcare providers adopt genomics-based precision medicine to improve patient outcomes. So, it is seen that the short-read sequencing market is dynamic and rapidly growing and is expected to continue its growth trajectory, driven by the expanding applications of short-read sequencing in healthcare, agriculture, and other industries.
Growth Factors:
The development of advanced technologies such as next-generation sequencing (NGS) has significantly increased the speed, accuracy, and throughput of short-read sequencing. As a result, more data can be generated at a lower cost, making sequencing accessible to a wider range of researchers and applications. The prevalence of genetic diseases is increasing globally, and short-read sequencing has become a critical tool for identifying disease causing mutations. This has led to an increase in demand for sequencing services from healthcare providers, academic institutions, and research organizations. As the volume of sequencing data generated continues to increase, there has been a significant improvement in the computational tools and algorithms used for data analysis. This has led to more accurate and efficient data analysis, making it easier to interpret and use the genomic data generated by short-read sequencing.
Report Scope of the Short-read Sequencing Market:
| | |
| --- | --- |
| Report Coverage | Details |
| Market Size in 2023 | USD 7.5 Billion |
| Market Size by 2032 | USD 36 Billion |
| Growth Rate from 2023 to 2032 | CAGR of 19.4% |
| Largest Market | North America |
| Fastest Growing Market | Asia Pacific |
| Base Year | 2022 |
| Forecast Period | 2023 to 2032 |
| Segments Covered | By Technology, By Workflow, By Product, By Application, and By End User |
| Regions Covered | North America, Europe, Asia-Pacific, Latin America and Middle East & Africa |

Key Market Drivers:
Advancements in genomics research - Genomics research has made significant progress in recent years, and short-read sequencing is one of the key technologies that has enabled this progress. As more researchers conduct genomic studies, the demand for short-read sequencing technologies continues to increase.
Decreasing cost of sequencing - The cost of short-read sequencing has decreased significantly over the years, making it more accessible to researchers with smaller budgets. This has led to increased adoption of short-read sequencing technologies across various research fields, including agriculture, medicine, and environmental science.
Growing demand for personalized medicine - Short-read sequencing has the potential to revolutionize personalized medicine by allowing for the identification of genetic variations associated with diseases and the development of targeted therapies. As demand for personalized medicine grows, so does the demand for short-read sequencing technologies.
Key Market Restraints:
Sample preparation - The sample preparation process for short-read sequencing can be time-consuming and labor-intensive, and this can add to the overall cost and time required for the analysis.
Accuracy - Although short-read sequencing technologies have improved over the years, they still have limitations in terms of accuracy, especially for repetitive or complex regions of the genome.
Data analysis - The analysis of short-read sequencing data can be complex, and it requires specialized bioinformatics expertise, which can be a limiting factor for researchers or organizations without access to such expertise.
Read length - The read length of short-read sequencing technologies is limited, and this can make it challenge the entire genome or identify structural variations.
Regulations - Short-read sequencing technologies are subject to regulation by various national and international bodies, and compliance with these regulations can add additional costs and time to the development and commercialization of these technologies.
Key Market Opportunities:
Short-read sequencing technology is advancing at a rapid pace, making it possible to sequence DNA and RNA more quickly and accurately than ever before. This is opening new avenues for research in fields such as personalized medicine, drug development, and agricultural biotechnology. The use of short-read sequencing in diagnostics is growing rapidly, particularly in the areas of cancer and infectious diseases. The ability to quickly sequence the genomes of tumors or infectious agents can help guide treatment decisions and improve patient outcomes. As short-read sequencing technology becomes more widely available and affordable, it is likely to be adopted by a broader range of researchers and clinicians. This could lead to new discoveries and applications in fields such as public health, forensics, and evolutionary biology.
Impact of COVID-19:
The COVID-19 pandemic has had a significant impact on the short-read sequencing market. While the initial impact was negative, with many research facilities and companies shutting down or reducing their operations, the market has since rebounded as demand for COVID-19 testing and research has increased. Initially, the supply chain disruptions caused by the pandemic led to a shortage of key sequencing reagents and equipment, resulting in delays and cancellations of sequencing projects. This led to a temporary decline in the short-read sequencing market.
However, with the need for COVID-19 testing and research, the demand for sequencing services and equipment quickly rebounded. Many sequencing companies pivoted their operation to focus on COVID-19 testing and research, resulting in increased revenue and market share. In addition, the pandemic has accelerated the adoption of sequencing technology in clinical settings, particularly for infectious disease diagnosis and surveillance. This has led to increased demand for sequencing equipment and services in both research and clinical settings.
Segments Insight:
Technology Insights:
Next-generation sequencing (NGS) is dominating the global market. NGS technologies generate large amounts of data, which can be analyzed using bioinformatics tools to gain insights into complex biological systems. They are much faster than traditional sequencing methods. They can generate millions of sequences in a single run, allowing researchers to sequence an entire genome in a matter of days.
Workflow Insights:
In the workflow segment, the sequencing segment held the biggest market share. The strong market penetration in this stage of the workflow increases the income produced by the stage. DNA sequencing technologies that are new and portable have been released as a result of intense market competition. For instance, Thermo Fisher Scientific, Inc. debuted an automated NGS-sequencing Ion Torrent Genexus Dx Integrated Sequencer in March 2022 for oncology research and quick clinical diagnostics. Such programs are accelerating segment growth.
Data Analysis is projected to be the fastest-growing segment in the short-read sequencing industry and is expected to grow at a higher CAGR. Data analysis enables gene expression analysis which can be used to study disease progression and diagnosis. It has prime importance in clinical research studies. For instance, in January 2023, QIAGEN Digital Insights launched the NGS data analysis platform for conducting whole genome analysis for clinical research studies in 25 minutes. Such product launches can significantly boost segment growth in the coming years.
Product Insights:
Consumables dominate the short read sequencing market for several reasons. The sequencing process itself requires many consumables, including nucleotides, enzymes, and buffers, which must be replaced for each sequencing run. Further, the cost of these consumables is often much higher than the cost of the sequencing instrument itself, making them a significant source of revenue for sequencing companies. Finally, the development of new and improved consumables can provide a competitive advantage for sequencing companies, as they can enable faster, more accurate, or less expensive sequencing.
Application Insights:
The oncology segment holds the maximum share of the revenue. In recent years, there have been many advances in cancer research and development of new therapies, including targeted therapies and immunotherapies. These innovative therapies have shown promising results in treating various types of cancer, leading to an increase in their adoption and use. Moreover, the oncology segment also benefits from a large patient pool, and the increasing prevalence of cancer has led to an increase in the number of cancer patients seeking treatment. This has driven growth in the oncology market, as more pharmaceutical companies are investing in developing new cancer therapies.
End User Insights:
Due to an increase in research infrastructure and a spike in the construction of healthcare facilities, the academic & research institutes segment had the biggest market share and dominated the end-use segment. For instance, the human genome sequencing research project for the study of precision medicine approaches, to improve patient care, and to develop gene therapies for the treatment of infectious diseases was launched by the Icahn School of Medicine, Mount Sinai Health System, and Regeneron Genetic Centre in August 2022.
The sector predicted to grow the fastest is the pharmaceutical and biotechnology industries. The demand for short-read technologies has grown recently because of research and development initiatives for cutting-edge therapeutics, in vitro diagnostics, and drug discovery. In the approaching years, the market is anticipated to be driven by the growing financing provided by pharmaceutical and biotechnology businesses to improve the proteomics, genomics, and biotechnology research portfolio.
Regional Insights:
North America is considered the largest in the short-read sequencing market as the region has a large number of established sequencing companies and research institutions that are driving innovation in the field of genomics. These companies are investing heavily in research and development to develop new sequencing technologies and applications, which is fueling growth in the market. Further, North America has a well-established healthcare system that is driving demand for sequencing services.
The region has a large population of genetic diseases and cancer, and sequencing is increasingly being used as a diagnostic tool to identify the underlying genetic causes of these conditions. Additionally, the region has a large pharmaceutical industry that is using sequencing to develop personalized treatments and drugs.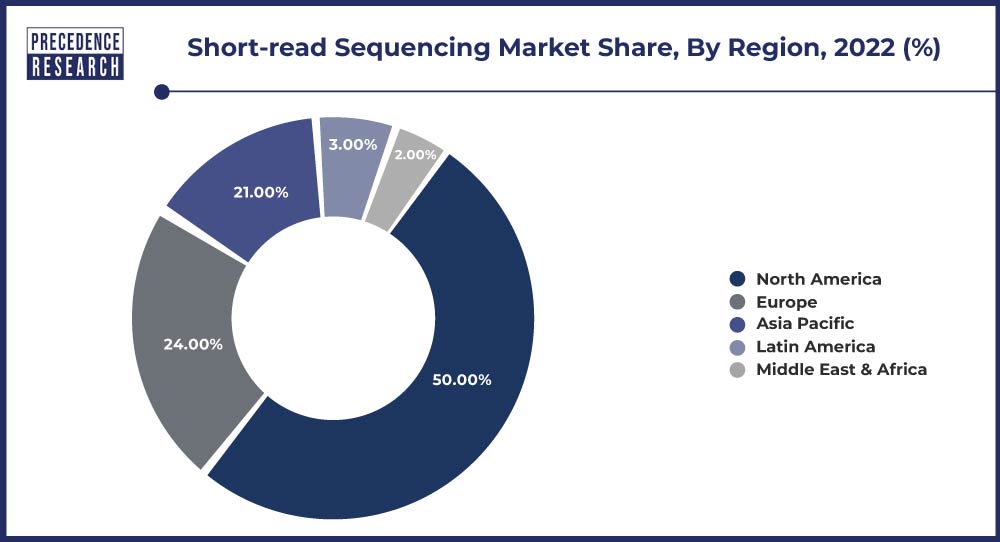 Short-read sequencing has a significant impact on agriculture and food security in Europe, as it has allowed for the identification and characterization of genetic variants that are important for crop breeding and improvement. In terms of the market, Europe has a strong presence in the short-read sequencing industry, with several major companies based in the region. These companies are involved in the development, production, and distribution of short-read sequencing instruments and reagents, as well as the provision of sequencing services to research and clinical customers.
However, there are also concerns about the impact of the short-read sequencing market on the broader biotechnology industry in Europe which could limit competition and innovation in the long term.
Asia-Pacific region is experiencing rapid growth in the market with a significant increase in investments in genomics research by governments, academic institutions, and private companies. For instance, the Chinese government has launched several initiatives such as the National Gene Bank, which aims to build a comprehensive collection of genetic resources, and the China Precision Medicine Initiative, which focuses on the development of personalized medicine using genomic data. Also, there is a growing demand for personalized medicine in the Asia-Pacific region.
Countries such as Japan and South Korea have well-established healthcare systems and aging populations, which is driving the need for more precise and personalized medical treatments. Genomic data from short-read sequencing can provide valuable insights into individual patient's genetic makeup, allowing for more targeted and effective treatment options. Finally, advancements in sequencing technologies have made short-read sequencing more affordable and accessible, leading to wider adoption of the technology in research and clinical settings.
Recent Developments:
In November 2021, to promote human wellness, Psomagen, Inc.'s newly launched brand Kean Health is making at-home testing available.
In July 2021, PerkinElmer to Purchase Leader in Antibody and Reagents BioLegend Transformative deals dramatically scale leading position in life science to speed up illustrious discoveries in precision medicine.
In September 2019, the technology will be used in the American DTC market, according to Psomagen, which filed the patent jointly with Macrogen. To develop large amounts of high-quality healthcare big data fast and seize the initiative in the platform market in the United States, the company intends to encourage the voluntary participation of individual users.
Key Market Players:
BGI
Agilent Technologies
Thermo Fisher Scientific, Inc.
ProPhase Labs, Inc. (Nebula Genomics)
Illumina, Inc.
Psomagen
QIAGEN
Azenta US, Inc. (GENEWIZ)
PerkinElmer, Inc.
Pacific Biosciences of California, Inc.
Cytiva
Fasteris SA
Genewiz
GenScript
Segments Covered in the Report:
(Note*: We offer report based on sub segments as well. Kindly, let us know if you are interested)
By Technology
Next-Generation Sequencing
Sanger Sequencing
By Workflow
Pre-Sequencing
Sequencing
Data Analysis
By Product
Instruments
Consumables
Services
By Application
Clinical Investigation
Oncology
Reproductive Health
Consumer Genomics
Agri genomics and Forensics
HLA Typing/ Immune System Monitoring
By End User
Academic Research
Hospital and Clinics
Clinical Research
Pharmaceutical and Biotechnology Companies
By Geography
North America
Europe
Asia-Pacific
Latin America
Middle East and Africa