The global small molecule drug discovery market size was exhibited at USD 75.96 billion in 2022 and is projected to hit around USD 163.76 billion by 2032, growing at a CAGR of 7.97% during the forecast period 2023 to 2032.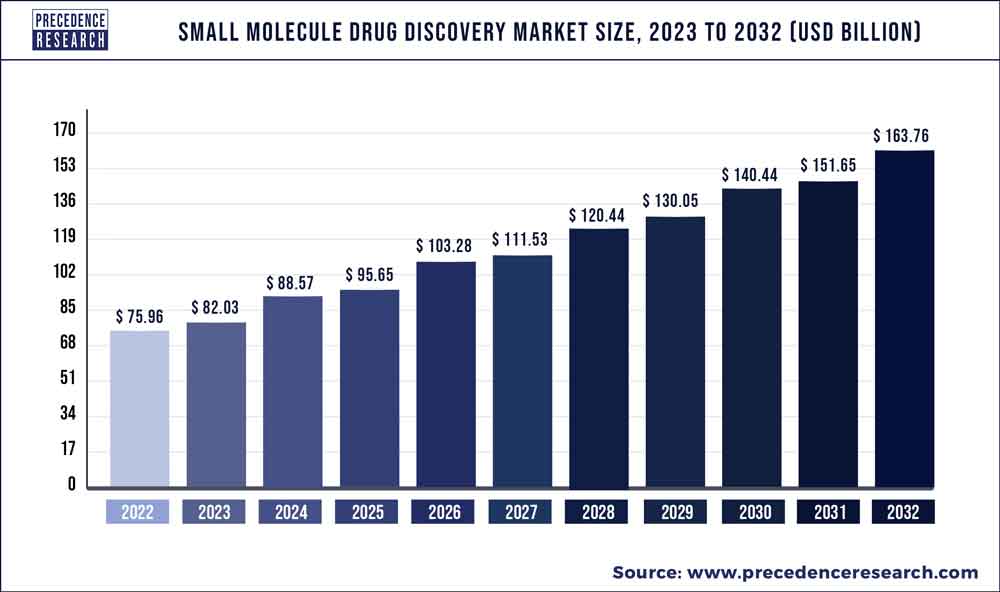 Access our Premium Real Time Data Intelligence Tool, Visit: Precedence Statistics
Key Points:
By drug type, the small molecule drug segment was the market leader in 2022.
By geography, North America dominated the market in 2022.
By geography, the Asia Pacific is anticipated to be the most opportunistic market in 2022.
Drug discovery, which takes place in the domains of pharmacology, biotechnology, and medicine, is the process of examining new potential medications. In the past, pharmaceuticals were either accidentally found, as was the case with penicillin, or they were discovered by figuring out what made them work. The process known as classical pharmacology was used to identify drugs that had the desired therapeutic effects by screening chemical libraries of made small molecules, natural products, or extracts in entire cells or organisms. The rise in R&D investment, prompted by the demand for various preclinical and clinical services during the drug discovery and development process, is one of the main drivers affecting the global small molecule drug discovery market.
Following this, the effectiveness of hits from these screens is evaluated in cells and then in animals. The process of modern drug discovery includes the identification of screening hits, medicinal chemistry, and optimization of those hits to increase affinity, selectivity (to reduce the danger of side effects), efficacy/potency, metabolic stability (to lengthen the half-life), and oral bioavailability. The process of creating new drugs can start after a molecule that satisfies all of these requirements has been identified. If the experiment is effective, clinical trials are created. As a result, current drug discovery is often a capital-intensive process involving large contributions from both national and pharmaceutical industry corporations.
Market Growth
The global small molecule drug discovery industry is expanding as a result of factors like the rising incidence of certain chronic diseases, rising healthcare expenditures, and the approaching patent expirations of some well-known pharmaceuticals. Worldwide, the incidence of conditions like cancer, diabetes, respiratory ailments, cardiovascular diseases, and neurological disorders is rising, which has a significant impact on the demand for unique and cutting-edge drugs. In the upcoming years, the small molecule drug discovery market is expected to be dominated by the pharmaceutical industry, which is rapidly growing due to the rapid development of biopharmaceuticals. The biopharmaceutical business is rapidly growing as a result of increased government and corporate investment in the development of innovative pharmaceuticals to treat chronic diseases.
The prevalence of numerous diseases like cancer/oncology, diabetes, and cardiovascular diseases is rising as a result of changing lifestyles, changing consumption patterns, poor eating habits, rising pollution levels, and physical inactivity. The International Agency for Research on Cancer estimates that there will be around 10.3 million cancer deaths and 19.3 million new cases of cancer worldwide in 2022. By 2045, it is predicted that 783 million people worldwide will have diabetes, according to the International Diabetes Federation.
Report Scope of the Small Molecule Drug Discovery Market
| | |
| --- | --- |
| Report Coverage | Details |
| Market Size in 2023 | USD 82.03 Billion |
| Market Size by 2032 | USD 163.76 Billion |
| Growth Rate from 2023 to 2032 | CAGR of 7.97% |
| Base Year | 2022 |
| Forecast Period | 2023 to 2032 |
| Segments Covered | By Drug Type, By Technology, and By End-User |
| Regions Covered | North America, Europe, Asia-Pacific, Latin America and Middle East & Africa |

Market Dynamics:
Market Drivers: Growing Welfare Spending and Research and Development Expenditures for the Development of Novel Drug Molecules
Healthcare costs are the main driver of the small molecule drug discovery industry. By providing medicines and vaccines for various medical operations, the pharmaceutical industry contributes significantly to healthcare. Therefore, the annual healthcare spending from corporate companies and government budgets has a big impact on the expansion of the drug discovery process. Healthcare expenses are rising quickly globally as a result of expanding insurance coverage. Due to an increase in patients, hospitals are increasingly in demand.
The remarkable growth in healthcare spending and the development of a wide range of treatment options in hospitals and clinics for patients' well-being have boosted the demand for novel treatments. Consequently, it is projected that this component will accelerate market expansion. In February 2020, a study published in Pharmaceuticals claimed that the FDA had approved the active pharmaceutical ingredients (APIs) for three peptides. Using artificial intelligence for medication research in the pharmaceutical industry is growing swiftly, according to a study published in BioPharma Trend 2020. This aspect is expected to boost the significant investment in R&D activities for identifying innovative therapeutic targets that will fuel market expansion.
Market Restraints: Financial restrictions and strict government regulations
The cost of developing a drug is influenced by a wide range of variables, placing a significant financial burden on the companies involved in drug discovery and development. One of the main factors contributing to high costs is the expenditure of unsuccessful drug candidates during trial phases. Since the return on investment (ROI) is declining significantly, the pharmaceutical sector is under pressure to raise its success rate with limited resources to reduce the cost of failure. Long-term losses are experienced by large corporations. Nevertheless, small and medium-sized firms are significantly impacted by losses. As a result, the high capital expense needed for drug development and the low-profit margins presents a substantial barrier to the drug discovery sector.
Because of strict regulatory requirements, several nations have drawn-out clearance procedures for pharmaceuticals, notably for drugs that treat cancer. Regulatory bodies frequently have a big influence on how clinical research is designed. Due to the rigorous regulatory criteria set by the authorizing organizations, it is therefore projected that the drug discovery market would experience restraints over the forecast period.
Market Opportunities: Increasing numbers of market participants
The growing need for small molecule drugs is predicted to provide industry participants in the worldwide small molecule drug discovery market with appealing growth potential. To help international pharma companies find small molecule drugs more quickly, BioDuro-Sundia and X-Chem announced in August 2022 the introduction of DNA Encoded Compound Library (DEL) technology services in China. Chem is a pioneer in DEL technology, and X-libraries include more than 250 billion small molecules.
For companies in the small molecule drug discovery market, the rising number of contract research and development organizations is anticipated to present considerable potential prospects. For instance, PPD Inc. declared its growth in October 2020 when it opened a new multipurpose clinical research facility in Suzhou, China, to provide bioanalytical, biomarker, and vaccination services for clinical trials throughout all stages of pharmaceutical development.
Segments Insight
Drug Type Insight
In terms of drug type, the small molecule drug discovery market sector was the market leader in 2022. This is a result of the growing demand for small-molecule drugs among the populace. Small-molecule drugs are able to treat diseases and easily affect cells due to their small size and weight.
As a result of the growing understanding of the value of small-molecule medications, firms have boosted their spending in the development of such drugs. On the other hand, it is estimated that the large molecule or biologics segment will expand the fastest during the projected time. The expanding use of cutting-edge manufacturing techniques is boosting the production of biologics.
Technology Insights
High-throughput screening methods are frequently used in the pharmaceutical industry to quickly assess the biological or biochemical activity of multiple substances, frequently medications. These methods make use of automation and robots. They facilitate target analysis by allowing for quick and inexpensive screening of large chemical libraries. The rapid growth in funding for R&D and the advent of large market participants have sparked the need for high-throughput screening technology.
Biochips, bioinformatics, genomics, and a number of auxiliary technologies are examples of additional technologies. The development of genetic and genomic high-throughput systems for use in gene expression and regulatory analysis has been made possible by recent advancements in genomics, opening the door to the discovery of promising novel treatments for a variety of illnesses.
End-User Insights
The increasing demand for novel medicines for the treatment of numerous chronic conditions, which is anticipated to support the rise of the studied market, has motivated pharmaceutical companies to use a variety of cutting-edge technologies in drug discovery. Since pharmacogenomics enables pharmaceutical companies to produce drugs against specific targets, the majority of pharma businesses have been gravitating toward this drug development methodology.
The participation of pharmaceutical corporations in research and development activities to find novel compounds and improve existing treatments is expected to lead to an increase in the drug discovery market. The outsourcing of R&D activities by a number of pharmaceutical corporations to commercial and academic Contract Research Organizations (CROs) may help to reduce the time and expense associated with discovering and developing new medications. Additionally, the market for biological drugs is anticipated to grow significantly, hastening their development.
Regional Insights
The global small molecule drug discovery market was dominated by North America in 2022, according to geography. In terms of global spending on research and development, the US holds the top spot. Furthermore, the majority of the recently developed new pharmaceuticals are protected by US patents. Additionally, the rising frequency of chronic diseases has increased the demand for cutting-edge and novel medications, which has supported the expansion of the drug discovery market in North America. In the US, around half of the population has one or more chronic illnesses. As a result, the nation now spends a lot of money on healthcare. Additionally, the region's growing awareness of biologics is boosting the market's expansion.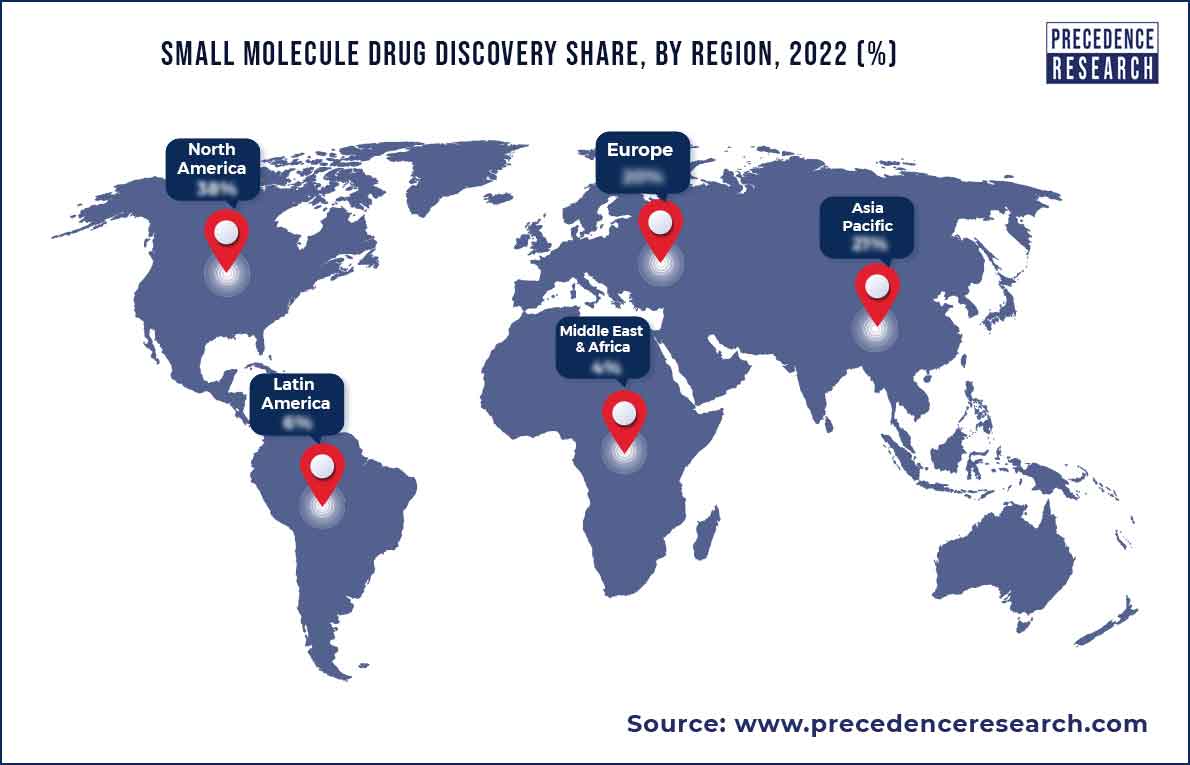 The most opportunistic market is anticipated to be in Asia Pacific in the next years. This can be linked to the region's abundance of CROs. Additionally, nations like South Korea, India, and China are making significant investments in the expansion of the pharmaceutical sector, which is driving up demand for biopharmaceutical goods. In addition, given older individuals are more sensitive to chronic diseases, it is anticipated that the region's growing elderly population would boost drug demand in the near future. By 2050, 80% of the world's elderly people will reside in low- and middle-income nations, according to the UN. Consequently, the area is anticipated to see a jump in the growth of the drug discovery market.
Recent Development:
In November 2020, a multi-target drug discovery partnership between Genentech and Genesis Therapeutics was established, and AI technology was used to identify potential therapeutic candidates.
In 2019, In order to introduce Ogivri, a cancer medication that is a biosimilar to Herceptin, in the US, Biocon teamed up with Mylan.
In January 2020, Exscientia, a startup that uses artificial intelligence to find new drugs, and Bayer worked together to develop medications for ailments connected to the heart and cancer.
Market Key Players:
Pfizer Inc.
GlaxoSmithKline PLC
Merck & Co. Inc.
Agilent Technologies Inc.
Eli Lilly and Company
F. Hoffmann-La Roche Ltd
Bayer AG
Abbott Laboratories Inc.
Thermo Fisher Scientific Inc.
Shimadzu Corp
Segments covered in the report
(Note*: We offer reports based on sub-segments as well. Kindly, let us know if you are interested)
By Drug Type
Small Molecule Drugs
Biologic Drugs
By Technology
High Throughput Screening
Pharmacogenomics
Combinatorial Chemistry
Nanotechnology
Others
By End-User
Pharmaceutical Companies
Contract Research Organizations
Others
By Regions
North America
Europe
Asia-Pacific
Latin America
The Middle East and Africa