The global space semiconductor market size was estimated at USD 3.5 billion in 2022 and is expected to reach around USD 5.93 billion by 2032, poised to grow a CAGR of 5.42% during the forecast period from 2023 to 2032.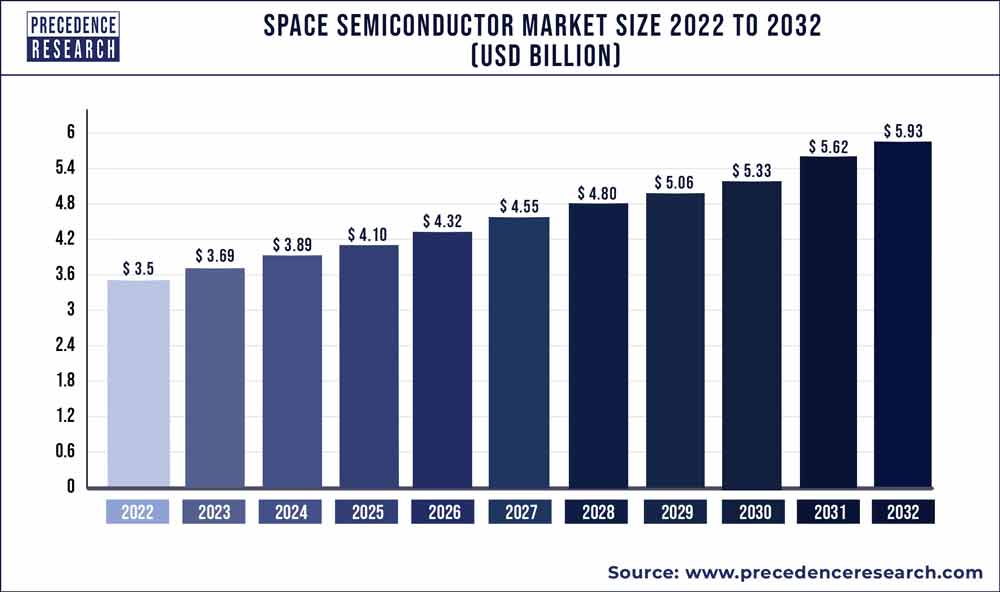 Access our Premium Real Time Data Intelligence Tool, Visit: Precedence Statistics
Key Takeaways:
North America contributed more than 39% of revenue share in 2022.
Asia-Pacific is predicted to grow at the fastest CAGR during the forecast period.
By Type, the radiation-hardened segment has held the largest revenue share in 2022.
By Component, the integrated circuits segment is expected to grow at the fastest CAGR over the projected period.
By Application, the satellite segment is anticipated to hold the highest market share in 2022.
By Application, the launch vehicles segment is expected to expand at the fastest CAGR over the projected period.
U.S. Space Semiconductor Market Size By 2032
The U.S. space semiconductor market size was valued at USD 0.81 billion in 2022 and is projected to surpass around USD 1.38 billion by 2032, expanding at a CAGR of 5.42% between 2023 and 2032.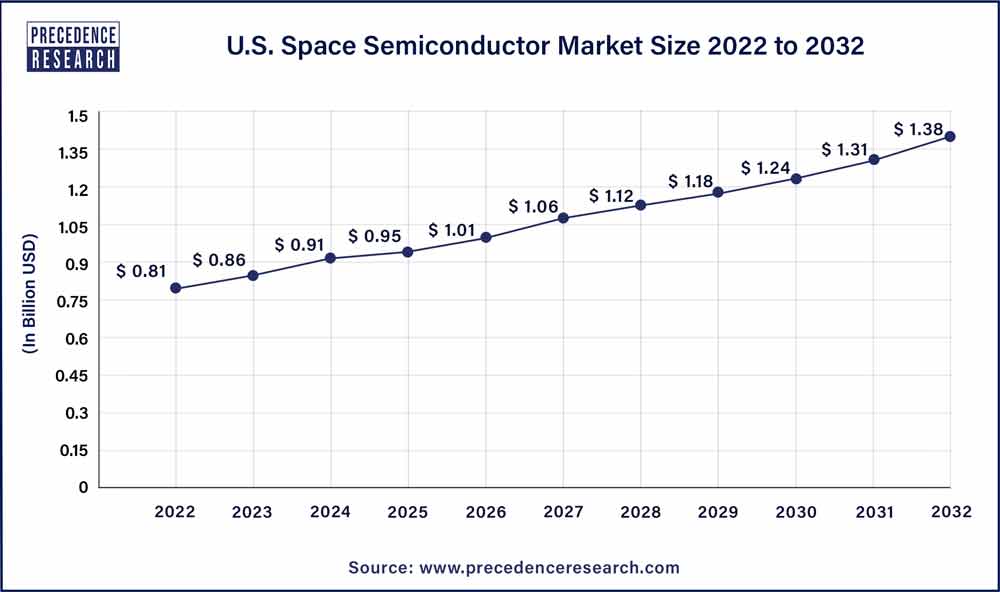 North America has held the largest revenue share in 2022. This is due to the region hosts a robust ecosystem of space agencies, private aerospace companies, and semiconductor manufacturers specializing in space-qualified components primarily by U.S. This market benefits from the extensive space exploration efforts, satellite deployments, and national security initiatives in the region. Collaborations between government agencies and the private sector drive innovation and technological advancements in space semiconductors.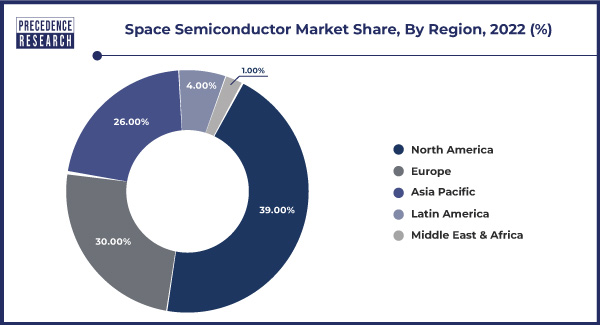 Asia-Pacific Estimated to Observe the Fastest Expansion
This is due to the countries such as China and India, are making substantial investments in space exploration, satellite technology, and space-related applications. These efforts include lunar missions, Earth observation satellites, and navigation systems. The Asia-Pacific market benefits from both government space agencies and private-sector companies, fostering innovation and collaboration. The region's robust semiconductor manufacturing capabilities are pivotal in providing components for space missions and satellite networks.
The European space semiconductor market is a growing region across the region. The European Space Agency (ESA) plays a key role in coordinating collaborative efforts among European nations to develop and deploy advanced space semiconductor systems. These systems are used for secure communication, Earth observation, navigation, and scientific research. Europe's thriving space industry, encompassing both governmental and private sector participation, fosters innovation and competitiveness. As Europe asserts its presence in space, the space semiconductor market is expected to see sustained growth, driven by modernization initiatives and a focus on addressing emerging space challenges.
Space Semiconductor Market Overview
The space semiconductor market is the sector within the semiconductor industry that offers the manufacturing, development, and distribution of electronic components and integrated circuits specially intended for use in space applications. It is used in various space-related systems and equipment, such as scientific instruments, communication satellites, space probes, and spacecraft avionics. These semiconductors are able to resist the risky conditions of outer space, including high degree of radiation, extreme temperatures, and vacuum environments. It plays a vital role in allowing the functionality and reliability of space missions, as these components are essential for various tasks such as data processing, communication, navigation, and scientific data collection in the harsh and unforgiving space environment.
Growth Factors
The growth of the space semiconductor market can be attributed to various factors such as surging technological advancements, enhanced space exploration activities, commercial space ventures, and the rising reliance on space-based assets for communication, Earth observation, and national security purposes. For instance, in March 2022, NASA partnered with Italian Space Agency on the MAIA mission to use data from an Earth observation satellite that supports scientists discover correlations between air pollution and health problems in major cities across the world including New Delhi.
The exploration of space, including missions to the Moon, Mars, and beyond, has surged in recent years. This has led to a growing demand for advanced semiconductor technologies to power spacecraft, rovers, landers, and scientific instruments. For instance, in November 2022, NASA's launched its next-generation Artemis exploration mission and the moon rocket blasted off from Florida for its debut flight. It is a crewless voyage initiating the U.S. space agency's Artemis exploration program 50 years after the final Apollo moon mission.
Space Semiconductor Market Scope
| | |
| --- | --- |
| Report Coverage | Details |
| Growth Rate from 2023 to 2032 | CAGR of 5.42% |
| Market Size in 2023 | USD 3.69 Billion |
| Market Size by 2032 | USD 5.93 Billion |
| Largest Market | North America |
| Base Year | 2022 |
| Forecast Period | 2023 to 2032 |
| Segments Covered | By Type, By Component, and By Application |
| Regions Covered | North America, Europe, Asia-Pacific, Latin America, and Middle East & Africa |
Space Semiconductor Market Dynamics
Driver
Increased space exploration
The resurgence of space exploration has become a powerful catalyst for driving demand within the space semiconductor market. This renewed interest in exploring the cosmos encompasses a wide range of missions, from ambitious lunar expeditions to interplanetary voyages to Mars and beyond. The demand for advanced space-qualified semiconductor components is soaring as space agencies, private companies, and international collaborations embark on these groundbreaking endeavors.
The development of spacecraft, landers, rovers, and scientific instruments designed to withstand the extreme conditions of space is one of the primary drivers for the space semiconductor market. These missions require cutting-edge semiconductor technology to power critical systems, process vast amounts of data, and facilitate communication with Earth. In addition, the miniaturization and increased power efficiency of semiconductors have become instrumental in spacecraft design, as space agencies seek to reduce launch costs and improve overall mission efficiency. Smaller and lighter components are essential for launching payloads into orbit and beyond.
Furthermore, the growth of commercial space exploration, with companies such as SpaceX, Blue Origin, and others pioneering new frontiers, further amplifies the demand. This includes satellite deployment for Earth observation, global internet coverage, and space tourism ventures. For instance, in September 2023, SpaceX launched 22 more of its Starlink internet satellites to orbit and landed the returning rocket on a ship at sea. Moreover, these commercial ventures rely heavily on space-qualified semiconductor components for their success. As space exploration continues to expand into deeper space and extend its reach, the need for advanced semiconductor solutions will only intensify. The space semiconductor market is poised to play a pivotal role in enabling these remarkable missions, contributing to our understanding of the universe and the practical applications of space technology here on Earth.
Restraints
Stringent regulatory standards and high development costs
The space environment is incredibly demanding, subjecting electronic components to extreme conditions such as radiation, vacuum, and temperature fluctuations. To ensure mission success and safety, space agencies and organizations impose stringent regulatory standards and qualification processes on semiconductor manufacturers. These regulatory standards are rigorous, time-consuming, and costly to meet, containing extensive testing, analysis, and documentation.
Compliance is vital to safeguard that semiconductors that can survive the harsh space environment, but it increases complexity and cost to the development process. For instance, in July 2023, HCL Group announced that it has submit a proposal for setting up an assembly, testing, marking and packaging (ATMP) facility for semiconductors to the Centre worth $200-300 million.
The development of space-qualified semiconductors is inherently costly. The research, design, and testing phases require specialized expertise and facilities. Furthermore, the development timeline is often extended due to the meticulous nature of space-related projects, further increasing expenses. High development costs can be a deterrent for both established semiconductor manufacturers and new entrants, hindering market growth.
These challenges, while formidable, are balanced by the critical importance of space-qualified semiconductor components in modern space missions. The relentless pursuit of innovation and collaboration among space agencies, private companies, and semiconductor manufacturers is essential to navigate these restraints successfully and ensure the availability of reliable and advanced semiconductor solutions for space exploration and technology.
Opportunities
Rising acceptance of wideband gap semiconductor material
Wideband gap materials, such as silicon carbide (SiC) and gallium nitride (GaN), offer several advantages over traditional silicon-based semiconductors, making them particularly well-suited for space applications. It exhibits superior radiation hardness and tolerance, crucial attributes for electronic components operating in the harsh space environment. They can withstand high levels of radiation without suffering significant degradation, ensuring the reliability and longevity of space systems. This makes them essential for critical functions like communication, navigation, and data processing in space missions.
The wideband gap materials are known for their high-temperature tolerance. They can operate in extreme temperature ranges, from the frigid cold of deep space to the scorching heat generated during reentry into Earth's atmosphere. This thermal resilience is vital for semiconductors in space equipment, where temperature fluctuations can be extreme. Moreover, wideband gap semiconductors are more energy-efficient, allowing for reduced power consumption and longer mission durations, a crucial consideration for extended space missions to distant planets or interstellar exploration. As the acceptance of wideband gap semiconductor materials continues to grow within the space industry, it opens up opportunities for semiconductor manufacturers to develop and supply these advanced components.
Impact of COVID-19
The COVID-19 pandemic has had both direct and indirect impacts on the space semiconductor market. The space industry is comparatively resilient, given its critical role in global infrastructure and national security, but it has not been immune to the challenges posed by the pandemic. Semiconductor manufacturing depend on a complex global network of suppliers, and disruptions in the supply of raw materials and components affected production timelines. Delays in semiconductor production had a cascading effect on space missions, led to delays and rescheduling of launches. In addition, social distancing measures and lockdowns affected the workforce involved in space missions and semiconductor manufacturing. Many organizations had to adjust to remote work, slowing down decision-making processes and collaborative efforts.
Budget constraints resulting from the economic impacts of the pandemic also affected space agencies and their procurement of semiconductor components. Priorities shifted, and some planned missions were postponed or scaled down to allocate resources elsewhere. However, the pandemic highlighted the importance of resilient and secure communication networks, which are reliant on space-based assets.
This renewed emphasis on satellite communication and Earth observation applications could potentially drive increased demand for space semiconductors in the long term. Thus, the space semiconductor market may faced some immediate challenges due to the pandemic, but it remains a critical sector for national security and global infrastructure, and its long-term prospects are likely to remain robust as the world continues to rely on space-based technologies.
Type Insights
According to the type, the radiation-hardened type has held highest revenue share in 2022. These semiconductors are mainly aimed to withstand high levels of ionizing radiation, a common challenge in the space environment. It is vital for mission-critical systems and applications where reliability and resilience to radiation-induced errors are paramount.
In addition, critical systems, such as those involved in spacecraft avionics, communication, and navigation, regularly demand radiation-hardened components to ensure uninterrupted operation in the face of intense radiation. In contrast, radiation-tolerant semiconductors may suffice for less critical functions, enabling for cost savings in less demanding space applications. The selection of the appropriate semiconductor type is crucial to the success and reliability of space missions.
Component Insights
The integrated circuits is projected to grow at the fastest rate over the projected period. Integrated circuits include microcontrollers, digital signal processors (DSPs), analog circuits, and mixed-signal ICs. They provide essential functionality for data processing, control, and communication in spacecraft and satellites.
Each component of space semiconductor serves a unique function within space systems, contributing to the overall functionality, reliability, and success of space missions. The selection and integration of these components depend on the specific requirements and objectives of each mission, ranging from Earth observation satellites to interplanetary explorers.
Application Insights
Based on the application, satellites is anticipated to hold the largest market share in 2022. Satellites offer various space applications, including communication satellites, navigation satellites (like GPS), Earth observation satellites, and scientific satellites. Semiconductors used in satellites are critical for data processing, communication, power management, and scientific instrumentation.
On the other hand, the launch vehicles application is projected to grow at the fastest rate over the projected period. Launch vehicles, or rockets, require semiconductor components for guidance and control systems, propulsion systems, and telemetry. These components ensure precise navigation, payload deployment, and monitoring during launch and ascent.
Recent Developments
September 2023: UK startup Space Forge announced that it has signed a strategic deal with Northrop Grumman. The agreement support the use of compound semiconductor substrates it plans to make in low earth orbit.
June 2023: Airbus Ventures announced that it has invested $7.5 million in Zero-Error Systems, a company that provides semiconductor solutions for space and power management applications.
April 2023: Presto Engineering partnered with SatixFy to qualify and test its radiation-hardened ASICs for deployment in space. It is designed with radiation-hardening features, such as error-correcting codes and specific semiconductor processes, to decrease the threat of radiation-induced errors and other malfunctions.
Space Semiconductor Market Players
Teledyne Technologies Incorporated (U.S.)
Infineon Technologies AG (Germany)
Texas Instruments Incorporated (U.S.)
Microchip Technology Inc. (U.S.)
Cobham Advanced Electronic Solutions Inc. (U.K.)
STMicroelectronics International N.V. (Switzerland)
Solid State Devices Inc. (U.S.)
Honeywell International Inc. (U.S.)
Xilinx Inc. (U.S.)
BAE System Plc (U.K.)
TE Connectivity (Switzerland)
Market Segmentation:
(Note*: We offer reports based on sub-segments as well. Kindly, let us know if you are interested)
By Type
Radiation Hardened Grade
Radiation Tolerant Grade
Others
By Component
Integrated Circuits
Discrete semiconductors Devices
Optical Device
Microprocessor
Memory
Sensors
Others
By Application
Satellite
Launch Vehicles
Deep Space Probe
Rovers and Landers
By Geography
North America
Europe
Asia-Pacific
Latin America
Middle East and Africa