The global specialty generics market size was estimated at USD 75.12 billion in 2022 and it is expected to hit around USD 164.68 billion by 2032, growing at a CAGR of 8.17% during the forecast period from 2023 to 2032.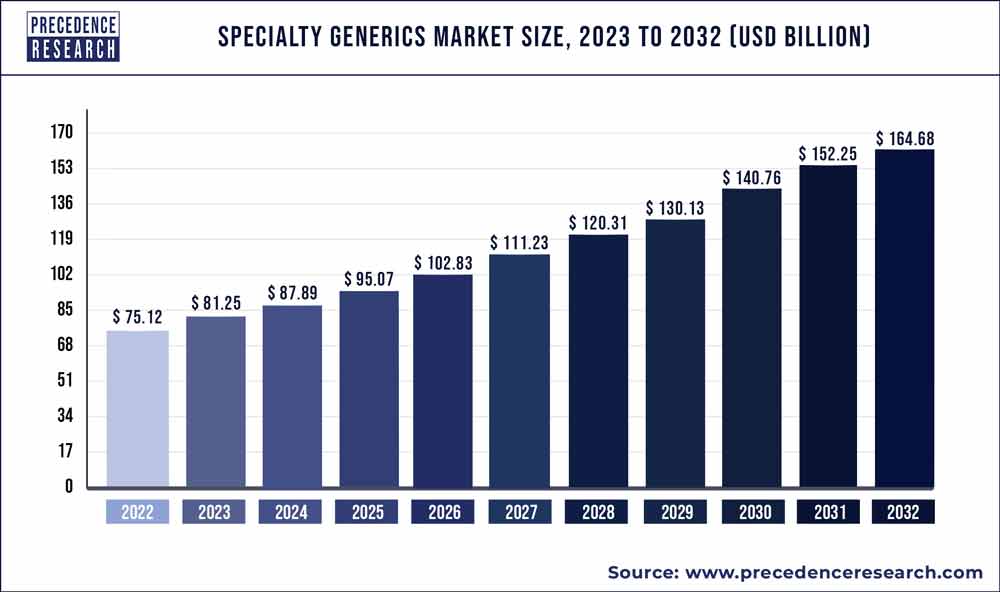 Access our Premium Real Time Data Intelligence Tool, Visit: Precedence Statistics
Once they lose their patent protection, specialty generics are generic equivalents of specialized medications. These medications are used to treat chronic or complicated medical disorders including rheumatoid arthritis, epilepsy, HIV, hepatitis, multiple sclerosis, cancer, autoimmune diseases, and epilepsy. Specialty generics are less expensive than their branded counterparts since they don't need to incur high research and marketing expenses.
Key Takeaways:
North America region dominated the market and generated more than 37% of the revenue share in 2022.
By type, the injectables segment captured more than 61% of revenue share in 2022.
By application, the inflammatory conditions segment dominated the market and generated more than 28% of the revenue share in 2022.
By end-use, the specialty pharmacy segment contributed more than 77% of revenue share in 2022.
Growth Factors:
Specialty generics are affordable drugs used to treat chronic, complicated diseases like cancer, diabetes, HIV, multiple sclerosis, and rheumatoid arthritis. Additionally, some drugs require specialist handling and administration, often by injection or infusion. When the patent on a specialty medicine runs out, a generic version replaces it. Complex clinical disorders including cancer, HIV, hepatitis, and multiple sclerosis are treated using low-cost oral or injectable specialty generics. They are frequently thought of as biologics, which are injectable or infused substances made from live cells.
Generic pharmaceuticals cost between 80% and 85% less than brand-name drugs, according to the US food and drug administration, since they do not have high manufacturing and marketing expenses. This has increased the amount of prescription pharmaceuticals that are no longer protected by a patent, which is projected to fuel the specialty generic drugs industry's long-term expansion.
Early patent expirations are anticipated to hasten the increase of worldwide demand. Additionally, a rise in cancer patients is anticipated to promote total industry development. The introduction of affordable drugs for the treatment of a number of illnesses, including sclerosis, cancer, and other infectious diseases; an increase in the number of off-patent specialty drugs; and the early patent expirations of a number of branded specialty drugs are just a few of the factors expected to accelerate the growth of the specialty generics market over the course of the forecast period.
The FDA approved CGMP guidelines for handling specialty generics. Additionally, these specialty generic pharmaceuticals are less expensive than commercially available medications, which results in much-reduced profit margins for manufacturers. Additionally, the FDA is working harder to enforce GMP on suppliers to stop them from profiting from generic goods. This is seen to be the main obstacle preventing the growth of the global specialty generics market.
An aging population, an increase in the prevalence of numerous life-threatening diseases like cancer, multiple sclerosis, HIV, and others, cost-cutting initiatives taken by well-known healthcare providers, demand from emerging markets, and other factors are all driving the global specialty generics industry at the moment. Additionally, the FDA is pushing harder to have suppliers follow GMP in order to prevent them from making money off of generic products. This is considered to be the key barrier inhibiting the expansion of the worldwide market for specialty generics.
The global specialty generics market is currently being driven by an aging population, an increase in the prevalence of numerous life-threatening diseases like cancer, multiple sclerosis, HIV, and others, cost-saving measures taken by renowned healthcare providers, demand from emerging markets, and other factors.
The development of low-cost medications and the creation of innovative methods for producing cutting-edge generic pharmaceuticals are expected to increase government interest in the industry.
The expansion of clinical labs for drug testing and drug discovery trials, together with favorable reimbursement regulations, are the main forces behind the market's anticipated growth.
During the projection period, rising geriatric populations and the increasing prevalence of chronic illnesses among the aging population are expected to drive up demand for cost-effective medications.
The creation of specialty generics is a challenging procedure that calls for qualified personnel and ready access to raw materials. These elements may limit market expansion in the near future.
There are more chances for the proliferation of specialty generic medications throughout the projection period as a result of many specialty drugs' approaching patent expirations.
Report Scope of the Specialty Generics Market
| | |
| --- | --- |
| Report Coverage | Details |
| Market Size in 2023 | USD 81.25 Billion |
| Market Size by 2032 | USD 164.68 Billion |
| Growth Rate from 2023 to 2032 | CAGR of 8.17% |
| Largest Market | North America |
| Base Year | 2022 |
| Forecast Period | 2023 to 2032 |
| Segments Covered | By Type, By Application and By End-Use |
| Regions Covered | North America, Europe, Asia-Pacific, Latin America and Middle East & Africa |

Key Market Drivers:
Increase in chronic illness.
The increase in chronic illnesses has driven market growth. Chronic diseases are persistent illnesses that frequently have no cure. It is, however, sometimes treatable and manageable. Chronic illnesses are caused by a changing lifestyle, poor eating habits, and failure to maintain a healthy weight; a few more protracted chronic infections increase the likelihood of developing cancer. The need for specialty generics to treat complicated chronic illnesses is growing as a result of increased exposure to these disorders.
For instance, a study report released by American Action Forum in September 2020 found that chronic illness incidence and costs are increasing and will continue to do so as the frequency of the condition among children and young adults' increases. Chronic disease is a serious problem in healthcare since the rising overall cost of chronic disease in the United States now totals $3.7 trillion annually, or around 19.6 percent of the country's gross domestic product. As a result, the market for specialty generic drugs is expanding due to the rising frequency of chronic disorders.
Key Market Challenges:
Concentrated with fewer participants.
Due to their sophisticated production needs, greater capital expenditures, and generally lower quantities as a result of a smaller patient population, specialist generics have a more competitive market than regular generics. This leads to better profits than standard generics and a lesser price drop relative to branded medicine. Specialty generic drugs typically need prior authorization to be ordered, specific handling, administration, and monitoring.
Segments Insight:
Type Insights:
The Injectables segment accounted for the biggest revenue share of 61% in 2022, dominating the market for specialty generics. The advantages of injectables, such as long-term effects and quick absorption, which increase patient compliance and acceptance, are to blame for the segment's domination. Furthermore, due to rising product approval and greater market penetration, the injectables category is anticipated to develop at the quickest rate throughout the projection period. This clearance makes it simple for cancer patients to obtain affordable specialty generic medications, boosting the number of prescriptions.
Application Insights:
Due to the rising frequency of inflammatory illnesses including rheumatoid arthritis, the inflammatory conditions category led the market for specialty generics in 2022 and represented the biggest revenue share of 28%. Around 350 million individuals worldwide are estimated to suffer from arthritis, according to the Global RA Network. Additionally, the NHS reports that there are over 10 million people who have arthritis. Because of this, important companies have been able to increase their market share in this industry because of the growth in the occurrence of inflammatory disorders.
Due to an increase in the disease burden of cancer and the ANDA product approvals for generic Xtandi (Enzalutamide) for the treatment of castration-resistant prostate cancer in May 2021, the oncology segment is anticipated to have considerable growth throughout the assessment period. According to Globocan, the adoption of the western lifestyle, together with excessive consumption of alcohol, smoking, bad dietary choices, and physical inactivity, will lead to an increase in the number of new cancer cases of 47% from 2020, reaching 28.4 million during the next two decades. The need for specialty generics is anticipated to increase as cancer cases rise.
End Use Insights:
With a 77% revenue share in 2022, the specialty pharmacy category led the market for specialty generics. During the anticipated period, the market is anticipated to expand at a profitable rate. Due to low distribution costs and convenient access to medications, major specialty generic manufacturers and insurance companies select specialty pharmacies for the distribution of their goods. The top five specialty pharmacies in the world, according to the drug channels Institute's research from 2021, are CVS specialty, Accredo, Optum specialty pharmacy, Walgreens shops, and Humana specialty pharmacy.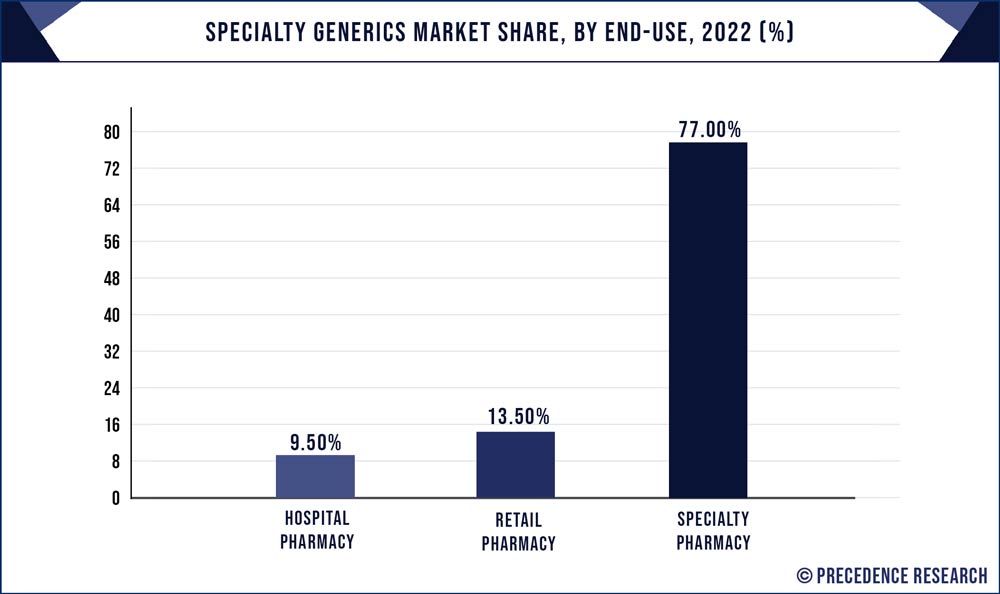 In addition, compared to branded items, specialty generic medication inventory is less expensive and gives a high return on investment. Timely delivery, maximizing patient access, and efficient distribution management of specialty pharmacies all draw customers to them and help the market expand.
Regional Insights:
Due to favorable regulatory rules governing the approval of new drugs, North America dominated the specialty generics market and accounted for the greatest revenue share of 37% in 2022. The American FDA has launched a number of attempts to streamline the entire approval procedure. Thus, the Hatch-Waxman act's Generic Drug User Fee Amendments (GDUFA) were introduced by the U.S. FDA to hasten the distribution of affordable, safe, and effective generic medications to the general population.
As a result, the major producers are always working to commercialize specialty generic medications on the market. For instance, LYVISPAH (baclofen), a specialty drug authorized by the U.S. FDA for the treatment of multiple sclerosis and other spinal cord diseases, was introduced by Amneal Pharmaceuticals Inc. in June 2022.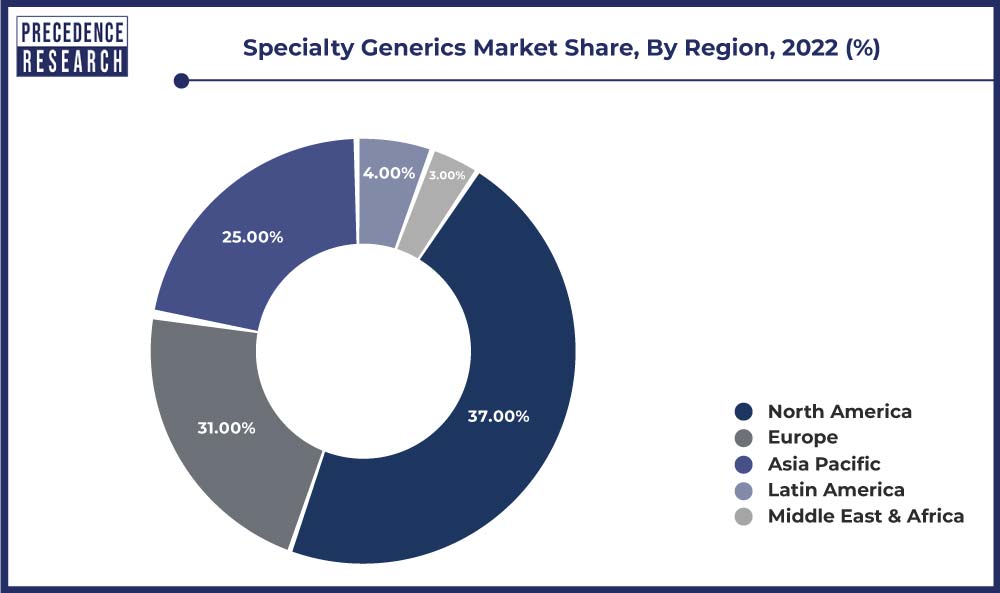 The market for specialty generics is anticipated to expand quickly in Asia Pacific over the projected period. High unmet low-cost medical demands and the introduction of new generic medications in the region are the key drivers of the region's growth. A generic version of Midostaurin with the brand name MSTARIN was introduced by BDR Pharma in 2021 for the treatment of uncommon tumors such Acute Myeloid Leukemia (AML).
Recent Developments:
Dr. Reddy's Laboratories introduced methylprednisolone sodium succinate injectable for the treatment of patients with rheumatoid arthritis, blood problems, and specific uncommon tumors in the U.S. in April 2022.
Elixir introduced its copay solutions improvement program in June 2022 to control the cost of specialty generic medications. A qualifying patient can get a free generic version of a specialty drug through this program.
Key Market Players:
Teva Pharmaceuticals Industries Ltd.
Viatris Inc.
Novartis AG (Sandoz International GmbH)
Hikma Pharmaceuticals PLC
Mallinckrodt
Bausch Health Companies Inc. (Valeant Pharmaceuticals International, Inc.)
Dr. Reddy's Laboratories Ltd.
Endo Pharmaceuticals Inc.
Apotex Corp.
Sun Pharmaceutical Industries Ltd.
Fresenius Kabi Brasil Ltd.
STADA Arzneimittel AG
Segments Covered in the Report:
(Note*: We offer report based on sub segments as well. Kindly, let us know if you are interested)
By Type
Injectables
Oral drugs
Others
By Application
Oncology
Inflammatory Conditions
Multiple Sclerosis
Hepatitis C
Others
By End-Use
Specialty Pharmacy
Retail Pharmacy
Hospital Pharmacy
By Geography
North America
Europe
Asia-Pacific
Latin America
The Middle East and Africa