The global tuberculosis diagnostics market size accounted for USD 2.2 billion in 2022 and is expected to hit around USD 3.67 billion by 2032, poised to grow at a CAGR of 5.3% during the forecast period from 2023 to 2032.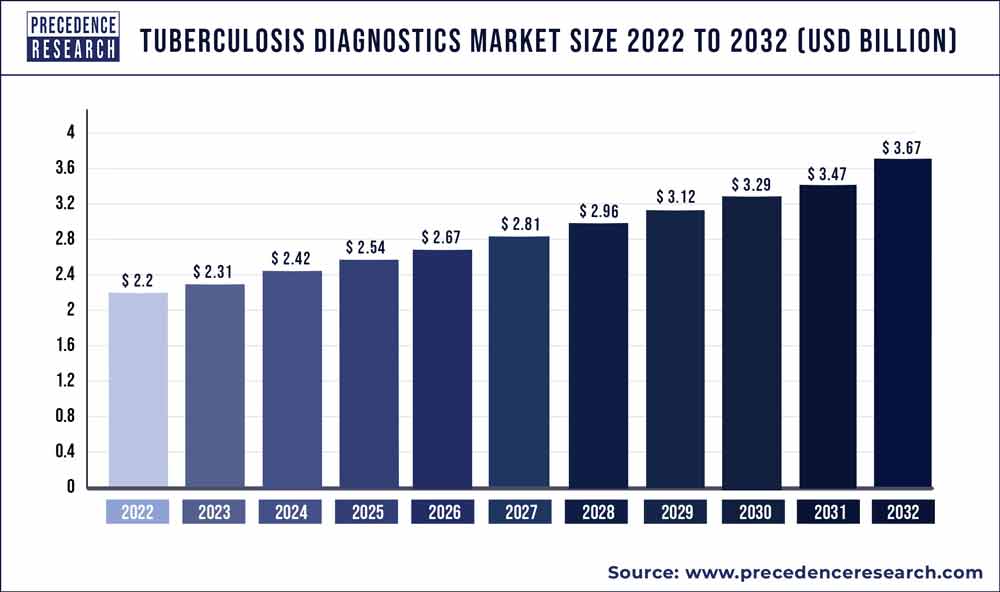 Access our Premium Real Time Data Intelligence Tool, Visit: Precedence Statistics
Key Takeaways
Asia-Pacific contributed more than 39% of revenue share in 2022.
North America is projected to grow at a notable CAGR of 8.1% during the forecast period.
By Test Type, the diagnostic laboratory segment has held the major revenue share of 42% in 2022.
By Test Type, the cytokine detection assay segment is anticipated to grow at a CAGR of 7.7% during the projected period.
By End-use, the diagnostic laboratories segment accounted more than 48% of revenue share in 2022.
By End-use, the hospitals and clinics segment is estimated to expand at the fastest CAGR over the projected period.
Tuberculosis Diagnostics Market Overview
The tuberculosis diagnostics market is a healthcare sector focused on the development, production, and distribution of diagnostic tools and tests for tuberculosis (TB) detection. It encompasses various technologies such as molecular diagnostics, serological tests, and radiography. The market has experienced significant growth due to the global prevalence of TB and the need for early and accurate diagnosis. Factors driving this market include increasing awareness, government initiatives, and advancements in diagnostic technologies. Competition among key players, government funding, and research collaborations are key dynamics. The market is expected to continue expanding as TB remains a major global health concern.
Tuberculosis Diagnostics Market Size in Asia-Pacific 2023 To 2032
The Asia-Pacific tuberculosis diagnostics market size was valued at USD 0.86 billion in 2022 and is projected to reach USD 1.40 billion by 2032, registering a CAGR of 5.1% from 2023 to 2032.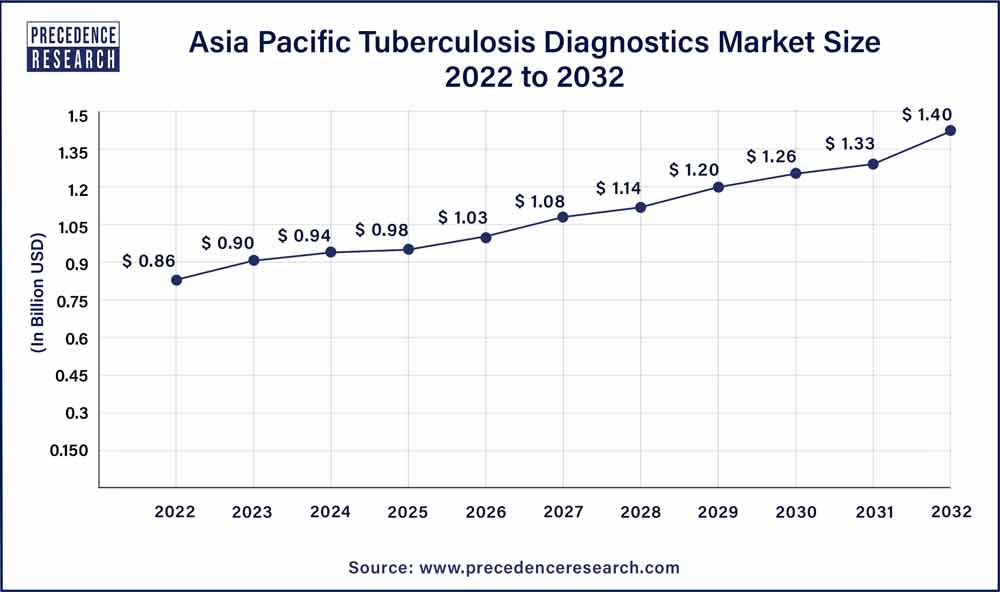 Asia-Pacific has held largest revenue share 39% in 2022. Asia-Pacific commands a significant share in the tuberculosis diagnostics market primarily due to the region's high TB burden. Several factors contribute to this dominance, including a large population at risk for TB, limited healthcare access in some areas, and densely populated urban centers. Government initiatives and increased awareness have spurred the adoption of TB diagnostic tools. Additionally, partnerships with international organizations and investments in healthcare infrastructure have driven market growth. The region's dynamic market expansion is a reflection of the pressing need to address TB in populous countries, making Asia-Pacific a major player in the global TB diagnostics market.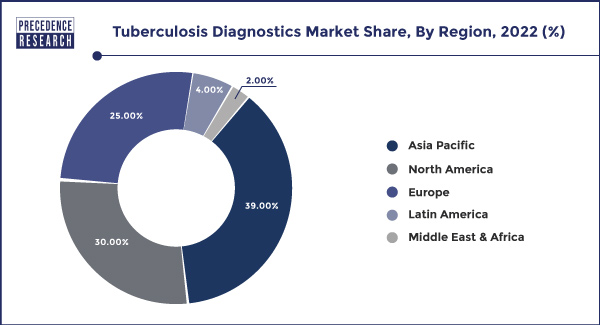 North America is estimated to observe the fastest expansion with the highest CAGR of 8.1% during the forecast period. North America commands a significant growth in the tuberculosis diagnostics market primarily due to its advanced healthcare infrastructure, robust research and development capabilities, and high awareness of infectious disease control. The region benefits from well-established diagnostic facilities, enabling efficient TB testing and diagnosis. Moreover, governmental initiatives and funding support research and diagnostic programs, driving market growth. Additionally, a proactive approach to disease surveillance, stringent healthcare regulations, and a focus on innovation contribute to North America's leadership in the tuberculosis diagnostics sector, making it a key player in the global market.
Growth Factors
The tuberculosis diagnostics market is a critical sector within healthcare, focusing on the development and deployment of diagnostic tools and tests for the detection of tuberculosis (TB). This market has witnessed substantial growth in recent years due to the persistent global prevalence of TB and the imperative for early, precise diagnosis.
A prominent trend within the tuberculosis diagnostics market is the escalating adoption of molecular diagnostics. Molecular techniques such as polymerase chain reaction (PCR) have revolutionized TB detection, offering rapid and accurate outcomes, which are paramount for effective disease management. Furthermore, there is a notable surge in point-of-care testing, facilitating quicker diagnosis and the prompt initiation of treatment, especially in resource-constrained environments. Additionally, government initiatives and funding allocated to TB control initiatives, coupled with the increasing recognition of TB's global impact, have served as substantial drivers of market growth.
The market's growth is further propelled by technological advancements in diagnostic methods. Innovations in TB diagnostic devices and assays, such as nucleic acid amplification tests (NAATs) and serological assays, are opening new avenues for businesses. Furthermore, the rise in public-private partnerships for TB control programs presents promising business opportunities for companies involved in diagnostics. Expansion into emerging markets and collaborations with healthcare organizations in developing countries can be strategic moves for industry players.
While there are substantial opportunities, the tuberculosis diagnostics market is not without its challenges. One major hurdle is the affordability and accessibility of advanced diagnostic tools in low-income regions, which continue to bear a significant TB burden. Ensuring the scalability of cost-effective diagnostic solutions remains a complex challenge. Additionally, the emergence of drug-resistant TB strains necessitates continuous innovation in diagnostic technologies to identify resistance patterns accurately.
In conclusion, the tuberculosis diagnostics market is witnessing steady growth driven by advancements in diagnostic technologies, government support, and increased awareness. The industry's future growth is contingent on addressing challenges related to affordability and drug resistance while seizing opportunities in emerging markets and forging partnerships to enhance global TB control efforts. Companies operating in this sector must navigate these dynamics to contribute to the fight against TB effectively.
Tuberculosis Diagnostics Market Scope
| | |
| --- | --- |
| Report Coverage | Details |
| Growth Rate from 2023 to 2032 | CAGR of 5.3% |
| Market Size in 2023 | USD 2.31 Billion |
| Market Size by 2032 | USD 3.67 Billion |
| Largest Market | Asia-Pacific |
| Base Year | 2022 |
| Forecast Period | 2023 to 2032 |
| Segments Covered | By Test Type and By End-use |
| Regions Covered | North America, Europe, Asia-Pacific, Latin America, and Middle East & Africa |

Tuberculosis Diagnostics Market Dynamics
Driver
Global TB burden
The global tuberculosis (TB) burden serves as a compelling driver behind the growth of the tuberculosis diagnostics market. Despite significant strides in healthcare, TB continues to impose a substantial public health challenge worldwide. This enduring global prevalence of TB necessitates effective diagnostic solutions to identify and manage cases promptly, thus driving market growth. The sheer magnitude of TB cases, especially in high-burden regions, underscores the urgent need for innovative diagnostic tools and technologies. Governments, international organizations, and healthcare providers are compelled to invest in robust diagnostic infrastructures to combat the disease effectively.
Moreover, the persistent threat of TB outbreaks and the potential for drug-resistant strains further emphasize the importance of accurate and timely diagnosis. This global health security concern intensifies efforts to enhance TB diagnostics, promoting research, development, and investment in the sector. In summary, the relentless global TB burden acts as a catalyst, propelling the tuberculosis diagnostics market forward by emphasizing the critical role of diagnostic tools in curbing the spread of this infectious disease and improving patient outcomes on a global scale.
Restraints
Stigma and patient engagement
Stigma associated with tuberculosis (TB) and challenges related to patient engagement pose significant obstacles to the growth of the TB diagnostics market. TB has historically carried a social stigma, fear, and prejudice, dissuading individuals from seeking diagnostic services. This stigma can result in delayed diagnoses and heightened disease transmission, thereby hindering market expansion. Patient engagement is another pivotal factor. Limited awareness and insufficient education about TB can lead to suboptimal healthcare-seeking behavior. Many individuals may fail to recognize TB symptoms or grasp the significance of early diagnosis, leading to missed opportunities for TB screening.
Moreover, in certain cases, patients may avoid healthcare facilities due to concerns regarding stigma or privacy. Resolving these issues necessitates not only technological advancements in diagnostics but also comprehensive public health campaigns aimed at mitigating TB-related stigma and enhancing awareness about the critical importance of timely diagnosis and treatment. Overcoming these challenges is imperative for achieving more effective TB control and promoting growth within the diagnostics market.
Opportunities
Drug-resistant TB detection
The emergence of drug-resistant tuberculosis (TB) strains, such as multidrug-resistant TB (MDR-TB) and extensively drug-resistant TB (XDR-TB), is giving rise to notable prospects within the tuberculosis diagnostics market. Primarily, the growing occurrence of these drug-resistant TB variants underscores the pressing demand for advanced diagnostic solutions capable of precisely identifying resistance patterns. Companies that pioneer and offer dependable tests for drug resistance are well-positioned to fulfill a critical requirement in TB management, securing a competitive advantage in the market.
Additionally, the intricacies involved in diagnosing drug-resistant TB call for more sophisticated and specialized diagnostic methodologies, creating fertile ground for the development of innovative technologies and diagnostic assays. This environment encourages robust research and development efforts within the industry.
Moreover, as global health entities escalate their endeavors to combat drug-resistant TB, there is a heightened allocation of funding and support for the advancement and deployment of these diagnostics. The augmented emphasis on drug-resistant TB as a public health menace amplifies the array of opportunities available to companies engaged in the TB diagnostics market, propelling growth and innovation within this vital sector.
Impact of COVID-19
The COVID-19 pandemic has had a mixed impact on the tuberculosis diagnostics market. While it initially disrupted healthcare systems, diverting resources away from TB diagnostics, it also highlighted the importance of robust diagnostic infrastructure. As the pandemic wanes, there's a growing recognition of the need to strengthen healthcare systems, which could benefit TB diagnostics in the long run. Additionally, innovations in telemedicine and digital health, accelerated due to COVID-19, may enhance TB diagnostic capabilities. However, supply chain disruptions and financial constraints in the aftermath of the pandemic could continue to pose challenges for market growth in some regions.
Test Type Insights
According to the test type, the diagnostic laboratory sector has held a 42% revenue share in 2022. The "diagnostic laboratories methods" segment holds a major share in the tuberculosis diagnostics market due to its reliability and accuracy in TB detection. These methods, which include culture-based tests and molecular assays like PCR, are considered gold standards for diagnosing TB. They provide highly specific and sensitive results, critical for effective TB management. Moreover, diagnostic laboratories offer controlled environments and trained personnel, ensuring the quality of tests. This segment's prominence is also driven by the need for centralized testing, especially in regions with high TB prevalence, where laboratory infrastructure is well-established.
The cytokine detection assay sector is anticipated to expand at a significantly CAGR of 7.7% during the projected period. The Cytokine Detection Assay segment holds a significant growth in the tuberculosis diagnostics market because it plays a pivotal role in detecting TB infection by measuring the levels of specific cytokines in the patient's blood. This method offers several advantages, including early detection, accuracy, and the ability to assess the immune response to TB. As TB diagnosis becomes more precise and critical, cytokine detection assays are increasingly adopted, making them a major player in the market. Additionally, their versatility allows them to be utilized in research and clinical settings, further contributing to their prominence growth.
End-use Insights
In 2022, the diagnostic laboratories sector had the highest market share of 48% on the basis of the end-user. Diagnostic laboratories hold a major share in the tuberculosis diagnostics market due to their specialized expertise and infrastructure. These labs offer a controlled environment for performing intricate TB tests, ensuring high accuracy and reliability in results.
Additionally, they often have access to advanced diagnostic technologies and skilled personnel, making them a preferred choice for healthcare providers. Moreover, diagnostic laboratories play a pivotal role in large-scale screening programs and research initiatives related to TB, further solidifying their dominance in the market's end-use segment. Their comprehensive services and ability to handle diverse patient populations contribute to their significant market share.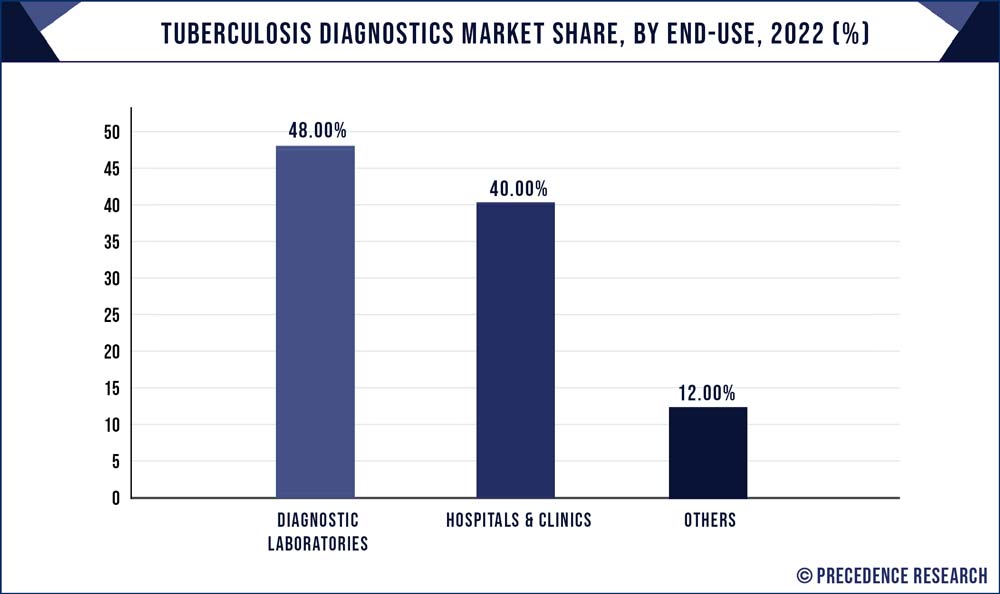 The hospitals and clinics segment is anticipated to expand at the fastest rate over the projected period. The "hospitals and clinics" segment holds a significant growth in the tuberculosis diagnostics market due to several factors. Hospitals and clinics serve as primary healthcare facilities for patients, making them central points for TB diagnosis and treatment. They typically have well-established diagnostic infrastructure and trained medical staff capable of conducting various TB tests.
Moreover, patients often turn to these facilities for respiratory issues and general health concerns, increasing the likelihood of TB diagnoses in such settings. As a result, the hospitals and clinics segment remains a major contributor to the TB diagnostics market's growth and revenue.
Recent Developments
In June 2023, QIAGEN underscored the distinctive merits of its proprietary TB blood testing technology, the QuantiFERON-TB Gold Plus test. This innovative interferon-gamma release assay (IGRA) empowers the detection of CD4 T-cell responses in TB1 blood collection tubes and CD8 T-cell responses in TB2 blood collection tubes, enhancing its diagnostic capabilities.
In February 2023, QuantiFERON-TB Gold Plus had achieved CE-marking compliance with the European Union's In Vitro Diagnostic Medical Devices Regulation (IVDR), affirming its adherence to stringent quality and safety standards.
In February 2023, Thermo Fisher Scientific secured licensing rights from the Central Drugs Standard Control Organization (CDSCO) for the Applied Biosystems TaqPath PCR kits. These kits encompass various infectious diseases, including M. tuberculosis complex (MTB) and multi-drug-resistant tuberculosis (MTB MDR), bolstering Thermo Fisher's offerings in the realm of infectious disease diagnostics.
Tuberculosis Diagnostics Market Players
Abbott Laboratories
Becton, Dickinson and Company
F. Hoffmann-La Roche AG
Thermo Fisher Scientific Inc.
BioMérieux SA
Hain Lifescience GmbH
QIAGEN GmbH
Cepheid
Hologic, Inc.
BD
Segments Covered in the Report
By Test Type
Radiographic Method
Diagnostic Laboratory Methods
Nucleic Acid Testing
Phage Assay
Detection of Latent Infection (Skin Test & IGRA)
Cytokine Detection Assay
Detection of Drug Resistance (DST)
Other Methods
By End-use
Diagnostic Laboratories
Hospitals & Clinics
Others
By Geography
North America
Europe
Asia-Pacific
Latin America
Middle East and Africa