The US generic drugs market size was evaluated at USD 435.54 billion in 2022 and is projected to hit around USD 721.54 billion by 2032, registering a CAGR of 5.18% from 2023 to 2032.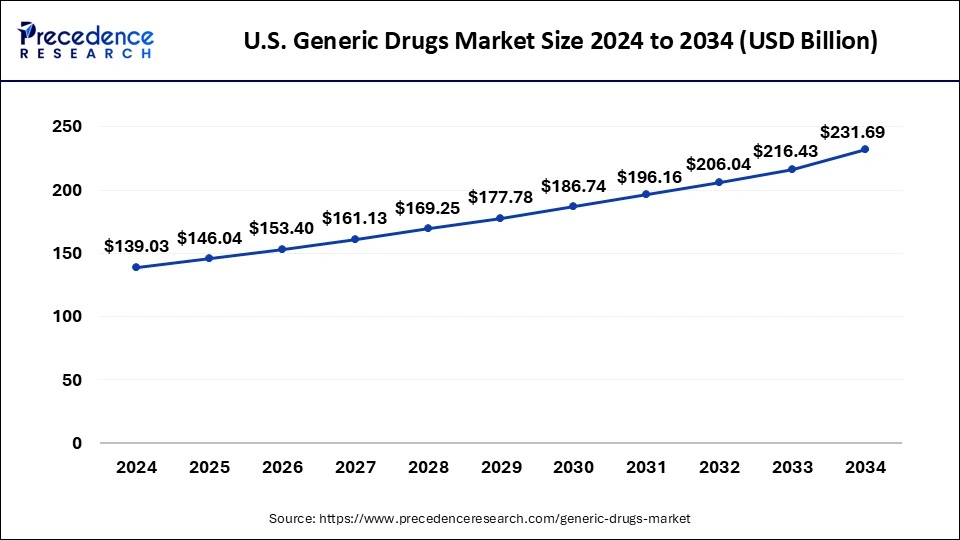 Key Insights:
By type, the pure generic drugs segment accounted for the largest market.
By route of administration, the oral segment contributed to the biggest market.
By therapeutic application, the cardiovascular segment captured more market share.
By Distribution channels, the online pharmacies accounted largest revenue share.
Market Overview:
Generic drugs are off-patent drugs that are bioequivalent to the original drug in terms of dosage, strength, quality, form, efficacy, intended use, side effects, and route of administration. In the United States, there has been a significant increase in the production of generic drugs, which are cheaper than the original drugs and do not require extensive research and testing. In addition, the introduction of generic drugs has improved patient access and saved taxpayers, employers, and insurers, sustaining the nation's healthcare system.
Moreover, the market is currently experiencing significant growth due to the increasing prevalence of chronic diseases across the region, such as B. Cardiovascular disease, diabetes, Alzheimer's disease, and Parkinson's disease. The FDA Generic Drug Program conducts rigorous preapproval reviews to ensure that generic drugs meet these requirements. In addition, the FDA conducts inspections of manufacturing facilities to ensure they comply with agency regulations on good manufacturing practices.
Covid 19 Impact:
During Covid 19 pandemic, there is more need of medicines, and generic manufacturers and biosimilar medicines are working day and night to provide needed medicines to Americans. in covid the supply chain is disturb as increasing demand for generic drugs. Because of government restrictions regarding safety and because of boundaries restrictions there is a lack of manufacturing materials and it impacts the manufacturing units and disturbs the supply chain.
COVID-19 is testing is compulsory in the healthcare system, raising concerns about equity, exploding capacity, social safety nets, and data collection, The pharmaceutical supply chain is disturbed as drug shortages occur mainly in generic drugs. But now, several factors are straining the supply chain, increasing the potential for shortages and risks.
Report Scope of the US Generic Drug Market
| | |
| --- | --- |
| Report Coverage | Details |
| Market Size in 2022 | USD 435.54 Billion |
| Market Size by 2032 | USD 721.54 Billion |
| Growth Rate from 2023 to 2032 | CAGR of 5.18% |
| Base Year | 2022 |
| Forecast Period | 2023 to 2032 |
| Segments Covered | By Type, By Route of Administration, By Therapeutic Application, By Distribution Channels |

Market Dynamics
Pure generic drugs drive the growth of the market
Generic medicines tend to be less expensive than branded medicines because they do not have to repeat the animal and clinical (human) studies that branded medicines need to demonstrate their safety and efficacy. Additionally, multiple generics are often approved for the same single product. This creates competition in the market and usually drives prices down. Moreover, New-brand medicines are usually protected by patents, which prohibit other companies from selling generic versions of the same medicine. The duration of marketing exclusivity for branded drugs can also affect the timing of generic drug approvals.
In the United States, generic drug approvals are increasing due to the implementation of the FDA's Drug Competition Action Plan, which aims to remove the barriers faced by generic drug manufacturers. To improve the development and approval process for generic drugs, the U.S. Food and Drug Administration (USFDA) reapproved the Generic License Fee Amendment in 2017, providing the FDA with additional resources for the review of generic drugs.
FDA regulations limit the expansion of the generic drug market
The FDA stringent approval and distribution process restricts the expansion of the generic drug industry, The FDA work on adverse event data, the safety and efficacy of drugs, and ingredients on generic medications If they fail to follow the requirement they are not ready to approve that generic drug and because of this, it hindered the growth
Prevalence of various life-threatening diseases is providing the future opportunity in to drive the market
In addition, the market is also catalyzed by an increasingly aging population in the United States. This increases the prevalence of various life-threatening diseases such as cancer, multiple sclerosis, hepatitis, HIV, and autoimmune diseases. For example, the American Cancer Society estimates new cancer cases and deaths in the United States in 2022, with an estimated 1.9 million new cancer cases diagnosed and 609,360 cancer deaths. It will continue to catalyze the generics market in the coming years.
Segments Insight
Type Insights
On the basis of type pure generic drugs are pure generic drugs than branded generic, it required less amount of time in research and development and it required less clinical trials for its approvals as compared to branded generic.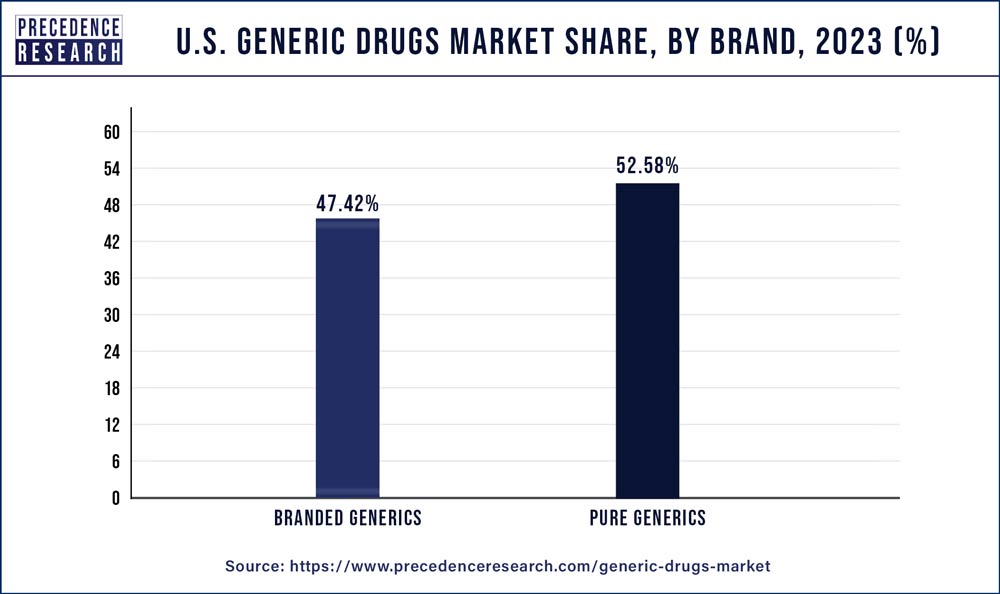 The pure generic drugs segment accounted for more than 52% in 2022, it required more money for its research and development process and it required many animal and human trials for its approval, it required more amount of time for its approval from FDA.
Route of Administration Insights
For generic medicines and vaccines, according to current estimates, oral formulations make up around 90% of the global market for all pharmaceutical formulations designed for human consumption. Approximately 84 percent of the top-selling medications are drugs taken orally. The World Health Organization estimates that each year there are between 2 and 3 million instances of non-melanoma skin cancer and 132,000 cases of melanoma skin cancer. Due to the fact that topical drug administration is the primary method of therapy for the majority of skin conditions, the market for advanced topical products is projected to grow in the upcoming years.
Therapeutic Application Insights
The old age population increases and nowadays diseases impact of all age people because of workload and unhealthy lifestyles. People are less active physically, so it impacts their physical and mental health hunting many diseases. They are suffering from cardiovascular diseases, Central nervous system (CNS) diseases, Dermatology diseases, and Oncology and Respiratory diseases, According to the American Heart Association Approximately 874,613 cardiac deaths in the United States in 2019.
In addition to this nearly 15%, of middle-aged and older U.S. adults suffering from lung disorders like chronic obstructive pulmonary disease (COPD) and asthma. Moreover, the Cardiovascular of therapeutic application segment exhibited a major share in 2020, whereas, the oncology segment grow at the fastest rate during the foreseen future.
Distribution Channels Insights
Generic drugs are sold in hospitals, pharmacies, and online pharmacies. The retail pharmacy holds a leading position in the distribution channel segment as previously people preferred to buy their medicines from retail shops but nowadays online distribution is more trending as people preferred more online modes of shopping. The online pharmacy will grow fastest in the forecast period.
Recent Developments:
In March 2021, Teva Pharmaceuticals launched a brinzolamide ophthalmic solution for the treatment of elevated intraocular pressure in patients with ocular hypertension or open-angle glaucoma in the United States.
In May 2022, Pfizer acquired Biohaven Pharmaceuticals, The Biohaven pharmaceuticals is a commercial-stage biopharmaceutical company with best-in-class therapies to improve the lives of patients with debilitating neurological and neuropsychiatric diseases.
In May 2022, Sun pharma industries received approval from the food and drug administration (USFDA) on Mesalamine extended released capsule for treating bowel disease in US market
Key Market Players
Pfizer Inc
Teva Pharmaceuticals USA, Inc
Aurobindo Pharma USA, Inc
Sun pharma Inc
Abbott Laboratories Inc
Lupin Pharmaceuticals, Inc
Mylan
Dr. Reddy's
Novartis
Eli Lilly company
Segments Covered in the Report
(Note*: We offer reports based on sub-segments as well. Kindly, let us know if you are interested)
By Type
Pure Generic Drugs
Branded Generic Drugs
By Route of Administration
Oral
Topical
Parental
others
By Therapeutic Application
Cardiovascular
Central nervous system (CNS)
Dermatology
Oncology
Respiratory
Others
By Distribution Channels
Retail Pharmacies
Online Pharmacies
Hospital Pharmacies
Others