The US liquid biopsy market size was exhibited at USD 1.63 billion in 2022 and is projected to hit around USD 6.02 billion by 2032, growing at a CAGR of 13.9% during the forecast period from 2023 to 2032.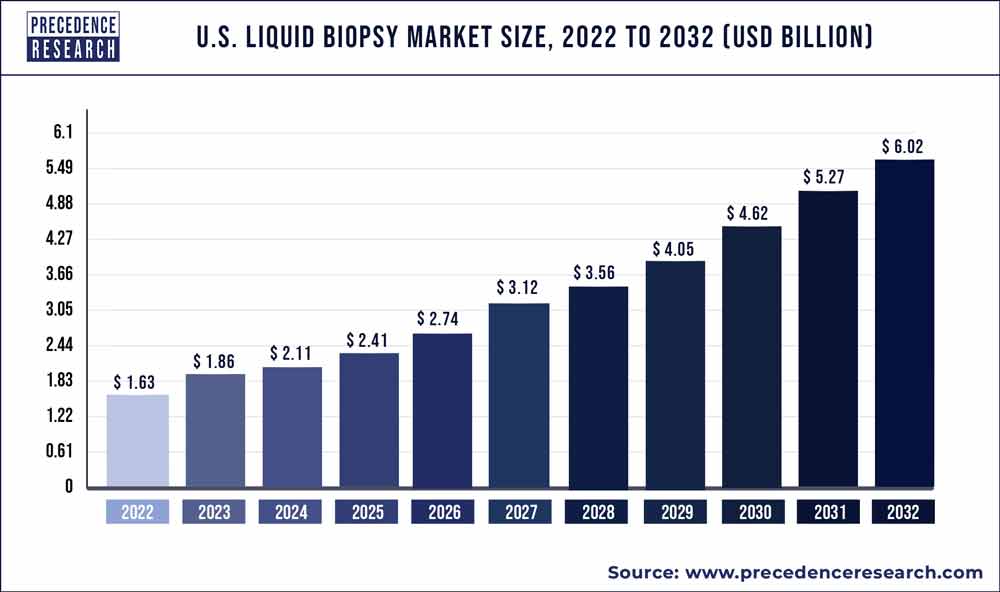 Access our Premium Real Time Data Intelligence Tool, Visit: Precedence Statistics
Key Points:
On the basis of biomarker types, the circulating tumor cells (CTC) segment is anticipated to dominate the market from 2023 to 2032.
On the basis of application, the cancer therapeutic application segment had the major market share in 2021.
On the basis of the sample, the blood sample segment is predicted to expand at the biggest rate from 2023 to 2032.
On the basis of end-user, the hospitals and laboratories segment had the major market share in 2021.
Market Overview
A technique that involves diagnosing and tracking diseases like cancer is known as liquid biopsy. This technique involves sampling and analyzing biological tissues in a liquid condition. Liquid biopsies are mainly preferred to eliminate the discomfort associated with operations. For instance, blood and urine are the liquid samples utilized in the method. Both of these samples are obtained painlessly and readily. It is mainly a practical application of two developments in medical science, human genome sequencing and the growing sensitivity of detection measures and assays. Additionally, it provides a risk-free and efficient option for patients who are unable to have a tissue biopsy due to the risks associated, such as those with lung cancer who have tumors that are too close to the heart. Clinical utility challenges, lack of sensitivity, and specificity of liquid biopsy tests are some of the key factors hindering the growth of liquid biopsy.
COVID-19 Impact:
COVID-19 had a major influence on the number of patients receiving cancer screening, diagnosis, and treatment. Oncology clinics were re-profiled to treat COVID-19 patients due to increased demand caused by the rising number of COVID-19 patients being hospitalized. However, as governments gradually reduce travel restrictions, testing numbers are projected to rise once more. Since the COVID-19 pandemic, responding to increased cancer incidence has become a critical medical challenge on a worldwide scale. Because numerous COVID-19 patients had cancer, cancer has been recognized as a risk factor for COVID-19. More study in this area is expected to benefit cancer research by assisting in better understanding the dynamics of infection. This is also expected to raise demand for liquid biopsy products.
Report Scope of the US Liquid Biopsy Market
| | |
| --- | --- |
| Report Coverage | Details |
| Market Size in 2023 | USD 1.86 Billion |
| Market Size by 2032 | USD 6.02 Billion |
| Growth Rate from 2023 to 2032 | CAGR of 13.9% |
| Base Year | 2022 |
| Forecast Period | 2023 to 2032 |
| Segments Covered | By Biomarker Types, By Application, By Sample, By End User |

Market Dynamics:
Drivers: Rise in the prevalence of cancer
On a worldwide basis, the number of cancer patients has grown dramatically. For instance, according to World Health Organization, the leading cause of death is cancer, accounting for nearly 10 million deaths in 2020. Some of the causes of the increased incidence of cancer include environmental factors, cigarette smoking, viral disorders such as Hepatitis B and C, and lifestyle changes. Liquid biopsy provides several advantages over traditional cancer diagnostic procedures, including reduced cost, earlier prognosis, therapy monitoring, tumor heterogeneity discovery, acquired drug resistance, and patient comfort (by eliminating the need for surgery). The liquid biopsy is expected to become the first choice for diagnosis of a wide variety of cancers, such as Central Nervous System (CNS) and pancreatic cancer.
Restraints: Certain liquid biopsies have reduced sensitivity
Detecting ctDNA in liquid biopsies is technically difficult since the quantities of DNA of any particular cancer mutation in a cancer patient's plasma might be very low, especially after therapy or surgery. According to the sampling statistics, there may be less than one detectable copy of the ctDNA with the cancer mutation in each sample of plasma from a patient. As a result, even if ctDNA is present in the plasma at a low level, it may not be found in the patient sample. This results in false-negative results in which ctDNA is not discovered despite its presence, decreasing the predictive value of liquid biopsy testing for cancer.
Opportunities: The increasing influence of companion diagnostics
Companion diagnostics are tests or assays that assist healthcare practitioners to make treatment decisions for patients based on the optimal response to therapy. Co-development of companion diagnostics with therapeutic goods has the potential to significantly transform the drug development process and accelerate the commercialization of drug candidates. This is done by producing safer medications with improved therapeutic efficacy rapidly and cost-effectively. The market for companion diagnostics has considerable growth potential due to the rising need for high-priced specialized therapies and safer medications. The increasing relevance of companion diagnostics is also propelling the liquid biopsy market growth.
Segments Insight
Biomarker Type Insights
Based on the biomarker type, the U.S. Liquid Biopsy Market is segmented into circulating tumor cells (CTCs), circulating tumor DNA (CTDNA), extracellular vesicles (EVs), and other biomarkers. Due to the increased global cancer prevalence, the Circulating Tumor Cells(CTC) category is anticipated to dominate the liquid biopsy market over the forecast period. The cells that break out from primary or secondary cancers and enter the bloodstream are known as Circulating Tumor Cells. The predictive and prognostic biomarkers in various cancers, including lungs, breast, and prostate, are CTC. Additionally, the circulating tumor DNA segment is expected to grow significantly during the forecast period.
Sample Insights
Based on the sample, the U.S. Liquid Biopsy Market is segmented into blood samples, urine samples, and others. The Blood sample category is expected to expand at the fastest rate over the review period. A blood test is painless and has no risks, along with this, it cuts down cost and time to diagnose a problem. Blood-based liquid biopsy is popular as it can detect CTCs, cfDNAs, exosomes, and microvesicles.
U.S. Liquid Biopsy Market, by Sample Type ($Million)
| | | | | |
| --- | --- | --- | --- | --- |
| Sample Type | 2022 | 2023 | 2027 | 2032 |
| Blood | 1,107.10 | 1,256.46 | 2,092.57 | 3,995.16 |
| Others | 527.52 | 1,256.46 | 1,028.17 | 2,022.93 |
Additionally, the urine sample segment is expected to grow significantly over the forecast period. The urine-based sample collection has various advantages over blood sample collection including increased patient compliance for cancer screening and the ability to monitor patients more frequently.
Application Insights
Based on the application, the U.S. Liquid Biopsy Market is segmented into cancer therapeutic applications, reproductive health, and other therapeutic application. The cancer application category had the most market share in 2020. The growing prevalence of cancer and the increase in research studies on liquid biopsy for cancer applications are driving the growth of this market. A type of test that can be used for cancer screening at an early stage is a liquid biopsy. It can be used to determine how well the treatment is working and whether the cancer has returned. The ctDNA tests may be able to detect more cancers at an early stage, which reduces the risk of death from that cancer.
End-User Insights
Based on the end-user, the U.S. Liquid Biopsy Market is segmented into hospitals and laboratories, academic and research centers, and other end users. The laboratories market category had the most market share in 2021. The increased outsourcing of liquid biopsy testing to reference labs is driving the growth of this industry. The revenue growth of hospitals is mainly driven by the emergence of cancer specialty hospitals in developing countries with the availability of advanced procedures, such as liquid biopsy.
Recent Developments
In July 2021, Biocept, Inc. has received a South Korean Patent for the Primer-Switch technology, which uses real-time PCR and related analytical methods to discover rare mutations in circulating tumor DNA (ctDNA).
In February 2021, Guardant Reveal, the first blood-only liquid biopsy test for detecting residual and recurring illness from a single blood draw, has been made available by Guardant Health, Inc.
Company Profiles and Competitive Intelligence
ANGLE plc, Biocept Inc.
Bio-Rad Laboratories Inc.
Epigenomics AG
Exact Sciences Corporation
F. Hoffmann-La Roche AG
Guardant Health Inc.
Illumina Inc.
MDxHealth SA
Menarini Silicon Biosystems
QIAGEN N.V.
Thermo Fisher Scientific Inc.
Segments Covered in the Report
(Note*: We offer reports based on sub-segments as well. Kindly, let us know if you are interested)
By Biomarker Types
Circulating Tumor Cells (CTCs)
Circulating Tumor DNA (CTDNA)
Extracellular vesicles (EVS)
Other Biomarkers
By Application
Cancer Therapeutic Application
Reproductive Health
Other Therapeutic Application
By Sample
Blood Sample
Urine Sample
Other
By End User
Hospitals and Laboratories
Academic and Research Centers
Other End Users