The global automated liquid handling market size accounted for USD 1,181.82 million in 2022 and it is expected to hit around USD 2,580.45 million by 2032, growing at a CAGR of 8.12% between 2023 and 2032.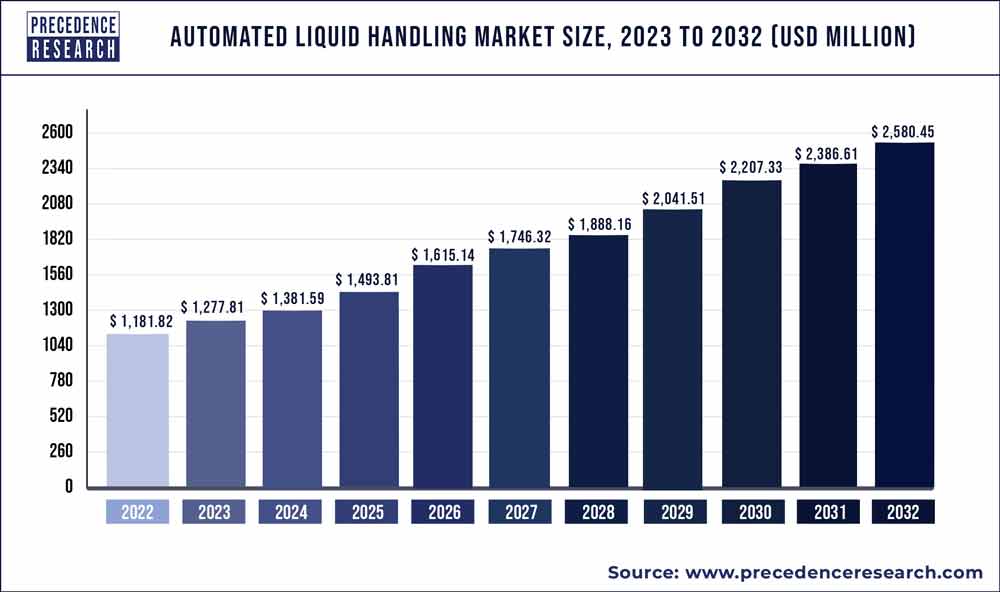 Access our Premium Real Time Data Intelligence Tool, Visit: Precedence Statistics
Key Takeaways:
North America region contributed the maximum revenue share of in 2022.
By modality, the disposable tips segment generated more than 75% of the revenue share in 2022.
By modality, the fixed tip segment is expected to expand at the fastest CAGR from 2023 to 2032.
By procedure, the serial dilution segment is predicted to grow at the fastest CAGR from 2023 to 2032.
By type, the standalone segment is the largest supporter to the market and is expected to grow at a significant CAGR from 2023 to 2032.
By end-user, the biotechnology and pharmaceutical companies segment generated the maximum market share in 2022.
By end-user, the serial dilution segment is expected to expand at the fastest CAGR from 2023 to 2032.
Market Overview:
The liquid handling system is a laboratory instrument comprised of instruments and tools used to mix, combine, and blend liquid samples. This system has been completely automated to ensure greatly accurate data as well as rapid handling capability. The system improves operational efficacy by introducing a high volume efficiency of consumables and transferable pipettes. Disposable or fixed tips, plate dispensers, handlers, stackers, and other types of liquid handling equipment are available.
This system is used in research and drug development, life sciences research, genomics, and other fields. In addition to forensic science and research, the ALH system is used in microbiology, drug discovery, clinical research, molecular biology, and the latest drug development experiments. It includes a range of items, including a pipet to a multifunction workstation, which is applied for a variety of laboratory techniques such as ELISA, fluorescence, PCR reaction, next-generation sequencing for genomic research, liquid-liquid extraction, and others.
The increasing need for personalized drugs and the development of drug discoveries are raising the implementation of ALH to enable the use of high-throughput techniques. Innovations in automated liquid handling are increasing operational efficiency, deployment of reagents, and cost-effectiveness, further bolstering market growth. Additionally, the implementation of ALH systems removes problems such as high viscosity of liquids, surface bonding, surface tension, and foaming to increase the accuracy of experiments, which is anticipated to propel the market expansion in projected years.
Report Scope of the Automated Liquid Handling Market
| | |
| --- | --- |
| Report Coverage | Details |
| Market Size in 2023 | USD 1,277.81 Million |
| Market Size by 2032 | USD 2,580.45 Million |
| Growth Rate from 2023 to 2032 | CAGR of 8.12% |
| Largest Market | North America |
| Base Year | 2022 |
| Forecast Period | 2023 to 2032 |
| Segments Covered | By Modality, By Procedure, By Type and By End User |
| Regions Covered | North America, Europe, Asia-Pacific, Latin America and Middle East & Africa |

Market Dynamics:
Driver
Enhanced access and errorless automated liquid handling systems.
ALH systems offer their users several distinct advantages. The primary advantage of automated liquid handlers is that they remove both individual and daily variability. ALS systems require less training to discharge sub-microliter quantities than manual dispensing. They also allow for incorporation with several other processing devices, such as PCR setups and next-generation sequencing platforms.
Automated liquid handlers are calibrated and optimized automatically based on variables such as liquid type. Another important advantage of ALH systems is the ability to reproduce results without error, which is critical for drug discovery as well as disease and diagnostics research in therapeutic and clinical settings.
Rising R&D spending.
As the number of patients increases worldwide, so does healthcare research. ALH has significant potential in biopharmaceutical and pharmaceutical companies and R&D labs. Furthermore, the desire for better healthcare necessitates the conduct of healthcare research. As a result, governments around the world intend to focus their expenditure on healthcare research in order to meet patient needs for superior and more sophisticated technology while maintaining quality standards.
The expanding spending on R&D, increase in funds for drug development, growing need for high-output testing, and rising implementation of automation in various clinical trials are the primary factors propelling the automated liquid handling system industry growth. Moreover, growing R&D activities for new drug development and biotech research are boosting market growth.
Restraints
Modern liquid handling systems' operational complexity.
Complex workstations and ALH systems are designed for specific tasks such as PCR setup, plate reformatting, plate replication, and sample preparation for chromatographic analysis. Add-ons for fully customizable systems include barcode readers, coolers, shakers, and robotic arms for influencing labware and managing plates. These systems are highly programmable and are integrated into a complete through-lab automation system. Because these systems are complex and are expected to restrain market growth over the forecast period, laboratory professionals will need strong skill sets to operate them effectively.
These methods are frequently complex and necessitate lengthy training periods. Apparatus is difficult to reconfigure between runs, and applications are still somewhat vulnerable to human error. Contamination is another reason for errors that take place while handling automated equipment.
The liquid handler head/gantry, for example, aspirates reagent, moves around the deck, moves towards a pre-determined deck, ejects, washes, or dispenses tips, and dispenses reagent. Contamination may take place when the head is shifting around the workspace, as droplets from the tips fall to the deck, particularly when organic or slippery-type reagents are used.
Users should assess their tips and processes to confirm that no droplets remain after dispensing a test. Users should plan carefully where and when they eject disposable tips to avoid contamination from reagent splatter on to deck workspace.
Opportunities
The automatic liquid handling system uses cutting-edge technologies.
Some of the factors influencing the growth of this market include the adaptability and flexibility of lab automation systems and technological improvements in automated liquid handling systems. A study named "lab automation in clinical diagnostics" that was published in the AZO Network in February 2022 estimated that between 10 and 20% of diagnoses made in the United States are wrong, which might lead to 40,000–80,000 fatalities every year as a result of diagnostic errors.
Automation technologies reduce the long-term expenses of running specific laboratory procedures by reducing the requirement for skilled personnel. Automation has thus been widely employed to improve accuracy and save costs in clinical laboratories in order to minimize error and maximize its benefits.
Impact of COVID-19:
COVID-19 has improved the market growth considerably as the demand for ALH systems has expanded with a rise in the need to process the sample in the laboratory for research of the COVID-19 virus with the analysis of virus genetic makeup and mutations.
As a result, the pandemic has impacted the market positively. Additionally, novel product launches enhanced the expansion of the market. For example, in April 2022, Novacyt launched an ALH system to satisfy the growing demand for automated pipetting in COVID-19 polymerase chain reaction testing.
Segments Insight:
Modality Insights:
In terms of modality, the disposable tips sector accounted for the most market share in 2022. The increased emphasis on designing disposable tips that are used once and then disposed of to minimize the risk of sample cross-contamination drives sales for such tips in uses where sample purity is critical, like genomics or clinical diagnostics. Furthermore, the use of disposable tips in automated liquid handling systems is more convenient than traditional pipetting methods, where pipettes must be calibrated and checked for accuracy, which boosts segment growth.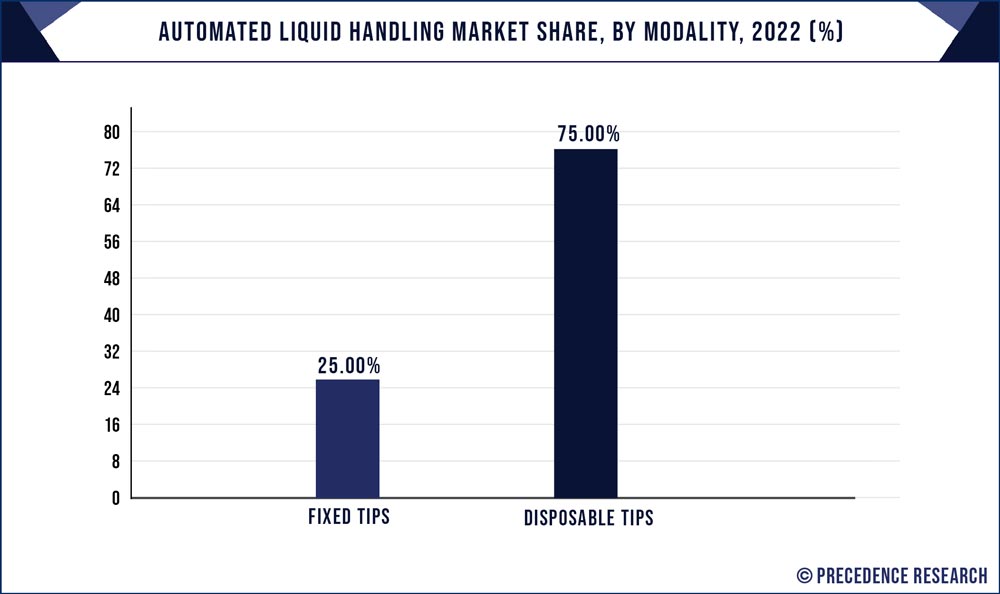 Disposable tips are pre-calibrated, eliminating the need for calibration, and they are also easily replaced, reducing downtime between test runs.
Furthermore, the fixed tip sector is anticipated to expand at the fastest CAGR from 2023 to 2032. The purified samples, such as RNA/DNA sequencing mixture and PCR samples, are handled using fix tips in research equipment. The long fixed needles made up of steel are able to reach the deep vessel bottom. For instance, spinner tubes are used for vessels utilized in cell culture or NMR spectroscopy. Fixed tips are cost-effective and require only a specific procedure. Washing fixed-tip instruments is easy due to the use of liquid displacement.
The washing step is crucial in fixed-tip tools to avoid contamination due to the previous sample. The fixed tips probes used for the ALH system include fixed tips for Tecan pipetting platforms and AdvanTip Precision Pipette Tips.
Procedure Insights:
On the basis of the procedure, the serial dilution sector is anticipated to grow at the fastest CAGR during the projected period. The increasing use of serial dilution in ALH for screening of antibodies to test the antibody's binding affinity at various concentrations is expected to promote the growth of the segment. An automated workstation uses different procedures to dispense antibodies at multiple dilutions for testing.
The PCR setup sector is the market's largest contributor and is anticipated to expand at a significant CAGR during the predicted period. ALH systems are used to perform automated PCR assay setups for a variety of applications such as gene sequencing, cloning, gene expression, mutagenesis, and disease and mutation testing. Hamilton offers ALH systems in a range of platform sizes, ranging from benchtop automation with NIMBUS 4 instruments to extremely demanding automation with Starline liquid handling instruments. In laboratories, automated liquid handling workstations such as the PerkinElmer Zephyr G3 and Tecan Freedom EVO are used for PCR setup.
Type Insights:
The standalone segment is the largest contributor to the market and is projected to grow at a remarkable CAGR during the forecast period. A standalone automated liquid handling (ALH) system consists of a single device within which plates are manually embedded as needed by the researcher. Despite being gradually replaced by multi-instrument ALH systems, standalone automated liquid handling retains a larger market share due to its widespread use in research laboratories. The liquid handling, as well as robotics industries, are shifting towards adaptable and modular standalone ALH systems that are inexpensive.
The software, techniques, and equipment used in standalone liquid handling systems have improved, making them more user-friendly. In terms of features, standalone ALH systems have more potential. Improved and new standalone ALH systems, especially those from Tecan, have integrated features such as heated column drying, simple touchscreen control, and efficient flow control for maximum productivity. Furthermore, as the need for lab automation grows, standalone ALH systems are expected to generate opportunities in the ALH market over the forecast period.
The Individual benchtop workstation sector has grown rapidly in recent years, due to increasing demand for high-throughput and reproducible lab processes in various areas such as genomics, drug discovery, and clinical diagnostics.
End-User Insights:
On the basis of end-user, the pharmaceutical & biotechnology industries sector held the largest market share in the ALH market in 2022. The rising demand for ALH in high-throughput screening of numerous combinations for their genetic activity promotes the implementation of these systems to screen various samples in a test.
Furthermore, the increased need for pharmaceutical and biotechnology companies to perform QC testing on their products to confirm that they meet regulatory standards supports the requirement for ALH systems. Such systems are commonly used to automate the formulation of samples and reagents for quality control testing, as well as the rapid processing of multiple of samples.
The CRO sector is anticipated to grow at the fastest rate from 2023 to 2032. Contract research organizations (CROs) provide clinical studies and other support services to the pharmaceutical, biotechnology, and medical device industries. Additionally, they offer services to government agencies, charities, and academic institutions. More than 50% of CROs outsource clinical research to pharmaceutical companies and 27% to the biotechnology industry.
The remaining amounts are distributed among foundations, governments, and the medical device industry, as reported by the Association of Clinical Research Organizations. These companies must employ ALH systems and other automated technologies to boost productivity. When analyzing clinical samples for pharmaceutical firms, academic institutions, and medical research centers, CRO researchers must keep accuracy and reproducibility. Several CROs have included ALH devices in their equipment lineups.
Regional Insights:
On the basis of region, North America held the largest share of the ALH market in 2022. The presence of various pharmaceutical and biopharmaceutical companies in the region, in addition to rising expenditures on R&D, is anticipated to support the market expansion in North America. Furthermore, the market is also growing due to the demand for efficient and accurate handling systems along with high-throughput screening.
The five main European countries taken into consideration in the report are Germany, France, the United Kingdom, Italy, Spain, and the rest of Europe. Europe held the second-largest worldwide market share for automated liquid handling in 2021. During the forecast period, it is expected that the ALH market in European countries will grow. The availability of cutting-edge ALH in Europe, a rise in the implementation of automated liquid handlers in R&D labs and pharmaceutical companies, and a rise in demand for technologically advanced systems are the main growth drivers in the region.
The strong presence of important players like Tecan, Eppendorf, and Hamilton Company is another factor contributing to the region's ALH market's expected growth. The existence of a well-developed healthcare infrastructure, the presence of a sizable concentration of pharmaceutical firms and research facilities, and the accessibility of qualified labor in countries like Germany, France, and the UK all support the expansion of the European market.
Recent Developments:
Beckman Coulter, Inc. accepted the award for novel clinical lab instrumentation for DxA 5000 ALH system in July 2020.
SPT Labtech launched the apricot DC1, an ALH workstation in Boston, in February 2022.
Beckman Coulter Life Sciences released the power of NGS by introducing the liquid handling system Biomek NGeniuS in June 2022.
In February 2022, Festo introduced a flexible support robot platform for an ALH system used in laboratories.
In November 2021, an automated pipetting workstation for PCR was launched by Tianlong. The workstation provides reliable sample mixing in addition to superior performance.
Key Market Players:
QIAGEN NV.
Agilent
Anton-Paar
Analytik Jena
Aurora Biomed
Elemental Scientific
Distek
Ellutia
Fritsch International
EST Analytical
GBC Scientific Equipment
GERSTEL GmbH & Co. KG
GE Healthcare Life Sciences
Gilson
Hamilton Company
Hitachi
iChrom
PerkinElmer Inc.
Thermo Fisher Scientific
SPT Labtech
Shimadzu Scientific
Segments Covered in the Report:
(Note*: We offer report based on sub segments as well. Kindly, let us know if you are interested)
By Modality
Fixed Tips
Disposable Tips
By Procedure
PCR Setup
High-Throughput Screening
Serial Dilution
Array Printing
Whole Genome Amplification
Cell Culture
Plate Reformatting
By Type
Benchtop Workstation
Standalone
Multi-Instrument System
By End User
Biotechnology & Pharmaceutical Companies
Academic & Government Research Institutes
Contract Research Organizations
By Geography
North America
Europe
Asia-Pacific
Latin America
The Middle East and Africa