The global vitamin supplements market size was exhibited at USD 45.52 billion in 2022 and is expected to surpass around USD 87.47 billion by 2032, poised to grow at a projected CAGR of 6.8% during the forecast period 2023 to 2032.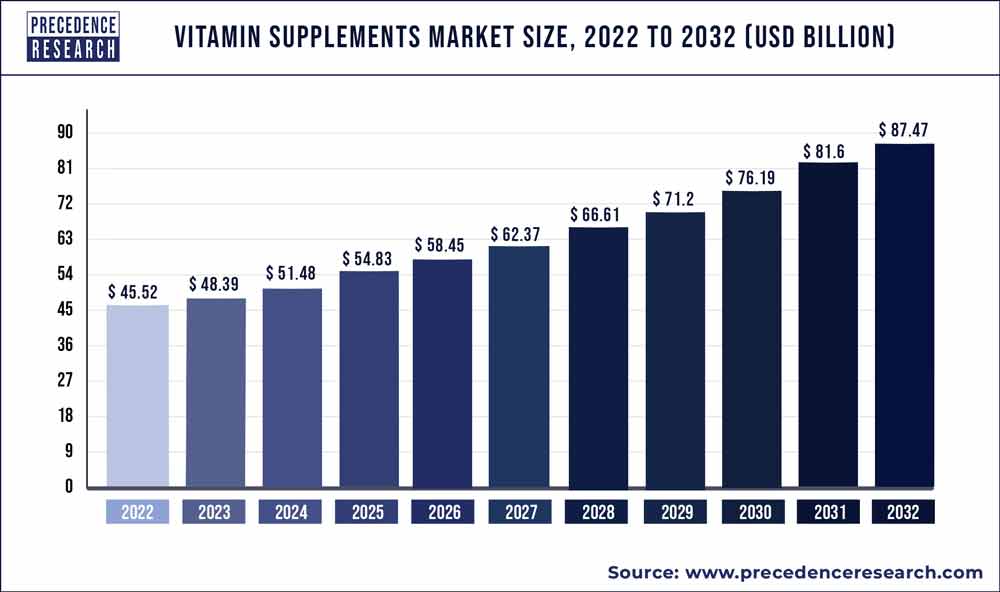 Access our Premium Real Time Data Intelligence Tool, Visit: Precedence Statistics
Vitamin Supplements are intended to supplement the diet and are different from conventional food. Vitamins support healthy bodily growth and operation. The normal functioning of the organism depends on the hormones, coenzymes, and antioxidants that vitamins serve as.
The use of vitamins, minerals, immune-boosting foods, organic products, supplements, and other dietary aids has increased. According to the National Health Service of the United Kingdom, a shortage of vitamin D can induce bone discomfort in adults with osteomalacia and rickets in children. Additionally, as a result of COVID-19, people began concentrating on their food in order to boost their immunity.
Key Takeaway:
By type, the multivitamin segment accounted for 43% of revenue share in 2022.
By distribution channel, the offline segment has held a revenue share of around 76% in 2022.
By form, the tablets segment held a revenue share of 42.5% in 2022.
By region, the North America has dominated the market with a revenue share of around 38.4% in 2022.
Report Scope of the Vitamin Supplements Market
Report Coverage
Details
Market Size in 2023
USD 48.39 Billion
Market Size by 2032
USD 87.47 Billion
Growth Rate from 2023 to 2032
CAGR of 6.8%
Base Year
2022
Forecast Period
2023 to 2032
Segments Covered

By Type
By Form
By Distribution Channel
By End User

Regions Covered

North America
Europe
Asia-Pacific
Latin America
Middle East & Africa

Key Market Drivers
Increased healthcare cost
Healthcare costs are the real expenses incurred when delivering healthcare services, such as the price of operations, therapies, and prescriptions. Costs for healthcare are rising in poor countries and are astronomically expensive in wealthy economies. The cost of healthcare is rising.
According to an article by the National Library of Medicine, Macroeconomic indicators have a direct impact on healthcare costs since rising income levels allow governments to collect more tax revenue. Inflation has an impact on public healthcare costs since it raises or lowers the cost of products and services, particularly those related to health. The Tennessee Advisory Commission on Intergovernmental Relations found that from 2017 to 2018, healthcare spending in the United States climbed by 4.6%, reaching a total of $3.6 trillion. People are turning to Vitamin Supplements to maintain their health in order to reduce healthcare costs as a result of the growth in healthcare costs.
Increasing preference regarding vitamins in daily diet
An increase in the daily preference for vitamins- Self-care has become a crucial part of modern consumers' lifestyles. The increased emphasis on health and immunity has resulted in a considerable change in consumer eating habits. The use of organic products, supplements, and other dietary assistance, as well as vitamins, minerals, and foods that boost immunity, has increased. According to the National Health Service of the United Kingdom, vitamin D deficiency can induce rickets, a condition that causes deformed bones in children, and osteomalacia, a condition that causes painful osteoporosis in adults. Additionally, as a result of COVID-19, people began concentrating on their food in order to boost their immunity. These elements contribute to the market for Vitamin Supplements expanding significantly.
Key Market Challenges
Stringent government regulation
Government regulations governing the production and distribution of Vitamin Supplements have been very rigorous. Dietary components and final dietary supplement products are also subject to FDA regulation. Dietary supplements are governed by a distinct set of rules by the FDA than "ordinary" food and medication items. It is against the law for producers and distributors of dietary supplements and components to advertise contaminated or falsely labelled goods.
The Federal Food, Drug, and Cosmetic Act, as revised by DSHEA and FDA rules, states that these companies are in charge of examining the safety and labelling of their products before marketing to make sure they comply with all of those standards. After a product enters the market, the FDA has the power to take legal action against any adulterated or falsely labelled dietary supplement. Government restrictions of this nature may limit market expansion.
Key Market Opportunities
The rise in the geriatric population
The majority of supplement users are elderly folks. To meet their daily nutritional needs and develop their bones and muscles, elderly folks need Vitamin Supplements. According to the Australian government's Better Health Channel, vitamin E is frequently cited as a potential fountain of youth since it contains anti-ageing qualities.
There is, however, no proof that supplementing with high amounts of any vitamin may stop or undo the consequences of ageing. The United Nations predicts that by 2050, one in six individuals would be over 65 (16%), up from one in 11 in 2019 (9%). On July 1, 2019, 54.1 million Americans were 65 years of age or older, according to the U.S. Census Bureau. It is anticipated that the industry will have a lot of room to develop given the size of the ageing population.
Segments Insight
Type Insights
Vitamin A, Vitamin B, Vitamin C, Vitamin D, Vitamin E, Vitamin K, and multivitamins are the types of vitamins that make up the global market for dietary supplements. In 2022, the multivitamin segment had a dominant market share. Around 40% of the market is accounted for by multivitamins, which are anticipated to continue to rule the market during the projected period. Customers take multivitamins to meet their daily needs for all the important vitamins needed to promote healthy body growth and function.
Form Insights
Based on form, the Vitamin Supplements market is classified into tablets, powders, capsules, gummies, and others. Due to its widespread availability and ease of use, the tablet category is anticipated to dominate the market over the projection period. Vitamin Supplements in pill form are regularly consumed by adults worldwide. Even though the natural coating has a higher solubility, other factors that influence the effectiveness and calibre of the absorption also come into play.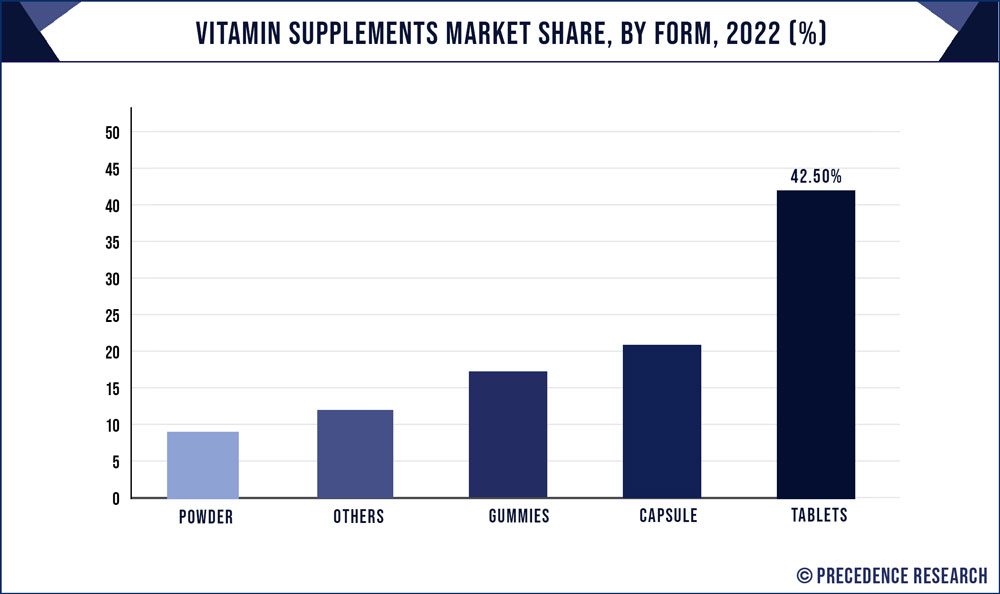 All of these factors are expected to raise demand for Vitamin Supplements in tablet form throughout the course of the projected period. Tablet form is one of the simplest ways to take Vitamin Supplements. It can be taken both with and without a prescription. The oral route of administration is one of the simplest and most practical ways to take supplements and medications, hence it is in high demand across the globe.
Distribution Channel Insights
Supermarkets and hypermarkets, retail pharmacy, online sales, and others are the distribution channel considered in the scope Cross-border sales of Vitamin Supplements through online sales channel is on an exponential increase. Factors including low risk and easy and quick shipping propel the growth of online sales.
A retail pharmacy is a retail shop that offers prescribed drugs, tablets, and beauty & health products. These stores prepare, dispense, review products, and provide additional clinical services. Moreover, these stores aim to ensure the safe, effective, and affordable use of products and provide information to consumers. Dietary supplements products, including Vitamin Supplements products, are available easily along with medicines through these retail pharmacies.
Vitamin Supplements products such as vitamin A, vitamin B, vitamin C, vitamin D, and others are related to the nutrition of the person and hence, retail pharmacies have become a popular distribution channel for Vitamin Supplements products. The easy availability and convenience associated with the buying of Vitamin Supplements products from pharmacies propel the growth of this segment. Furthermore, manufacturers are targeting this sales channel to reach the maximum number of consumers and to increase the sales volume during the forecast period, owing to an increase in the number of pharmacies globally.
End User Insights
Adults, geriatrics, and others are the end-user considered in the scope of the market. The adult segment dominated the market with 47% of the market share in 2022. A rising senior population, particularly in low- and middle-income regions like Asia-Pacific and LAMEA, is predicted to make the geriatric category grow at the highest rate. The adult market is expanding as a result of increasing cases of vitamin insufficiency and greater knowledge of the health advantages of dietary supplements. The percentage of the population in the working age group (15–59 years) is predicted to increase from 60.7% in 2011 to 65.1% in 2036, according to the Technical Group on Population Projections Report of the Indian government. The growth of Vitamin Supplements among adults is anticipated to be fueled by expanding employment in developing countries and the rising standard of living.
Regional Insights
On the basis of region, North America was the largest market in 2022. The region has the highest market share of 38.4% in 2022. North America is the major market for Vitamin Supplements owing to increased consumer awareness regarding the daily requirements of vitamins, easy availability of Vitamin Supplements, the presence of a huge geriatric population, and the high standards of living of consumers.
Recent Developments
In Jan 2020, Franchise Group LLC introduced a new product Vthrive in its product portfolio in order to increase the portfolio across the globe.
Key Market Players
Amway Corp.,
American Health Formulations (AHF)
FullWell
Garden of Life, LLC.
Good Health New Zealand
Healthy Life Pharma (P) Limited,
Klean Athlete
Llama Naturals
NOW Foods
Nordic Naturals
Olly PBC
Pharmavite
RBK Nutraceuticals
The Nature's Bounty Co.
Vital Proteins LLC
Segments Covered in the Report
(Note*: We offer reports based on sub-segments as well. Kindly, let us know if you are interested)
By Type
Vitamin A
Vitamin B
Vitamin C
Vitamin D
Vitamin E
Vitamin K
Multivitamin
By Form
Tablets
Powder
Capsule
Gummies
Others
By Distribution Channel
Supermarkets and hypermarkets
Retail Pharmacy
Online sales
Others
By End User
By Geography
North America
Europe
Asia-Pacific
Latin America
Middle East & Africa (MEA)