The global 5G system integration market size was reached at USD 10.03 billion in 2022 and it is projected to hit around USD 68.17 billion by 2032 with a noteworthy CAGR of 21.12% between 2023 and 2032.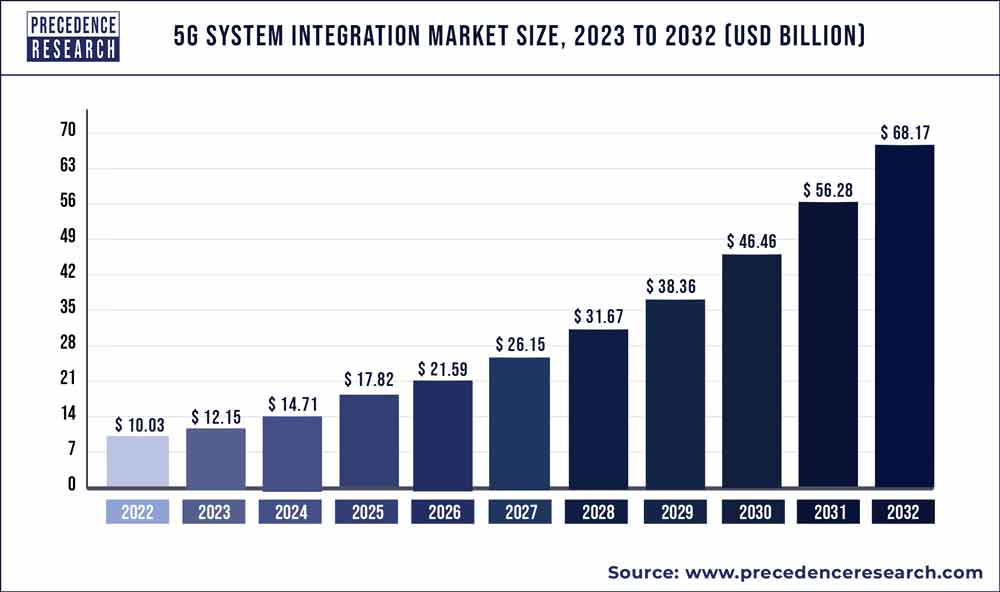 Access our Premium Real Time Data Intelligence Tool, Visit: Precedence Statistics
Key Takeaways:
North America captured more than 35% of the revenue share in 2022.
By services, the infrastructure integration segment generated more than 39% of revenue share in 2022.
By services, the consulting segment is predicted to grow at a CAGR of 31.40% from 2023 to 2032.
By vertical, the IT and telecom segment dominated the market and accounted for more than 26% of revenue share in 2022.
By application, the home and office broadband segment held the largest market share of around 24% in 2022.
Market Overview:
Integrating physical and virtual aspects of any enterprise with new, improved applications or systems so they can operate over the brand-new 5G network is known as 5G system integration. Due to the increasing requirement for high-speed bandwidth capacity, businesses can now install updated network infrastructure to increase operational efficiency and decrease overall process expenses.
Therefore, it is predicted that the requirement for 5G system integration services will be driven by the aggressive deployment of improved network infrastructure all over enterprises to deliver enhanced services to consumers.
Major international manufacturers want to accelerate their business processes by utilizing cutting-edge digital technologies to fuel the fourth industrial revolution (Industry 4.0). Manufacturing facilities can make a significant step toward innovative and data-driven flexible operations success can be attributed to technologies like industrial wireless cameras, big data analytics, and collaborative robots.
Additionally, several manufacturers have created and implemented the abovementioned technologies to succeed in a highly competitive market. To give these 5G technologies truly united communication, manufacturers must integrate them with next-generation networks. Supplying constant remote monitoring and connectivity also assists in reducing operational expenses and downtime.
Therefore, over the forecast period, the popularity of 5G system integration services will increase due to the widespread deployment of the industrial internet of things (IIoT) and the increasing preference for 5G services to provide genuinely united connectivity.
One of the key factors anticipated to propel the market for 5G system integration is the rising acceptance of Software-Defined Networking and Network Function Visualization among businesses. Businesses can use NFV to deploy multiple firewalls and virtual machines to achieve an effective economy of scale. On the other hand, the smart network architecture offered by SDN aims to decrease hardware limitations on the business's premises.
Additionally, SDN enables these businesses to effectively manage the utilization of their interactions through an Application Programming Interface (API). Thus, the market growth is expected to be further boosted by the rapid adoption of SDN and NFV technologies to reduce overall network infrastructure prices.
Moreover, as the amount of data being stored in the cloud proliferates and the demand for cloud-based application integration rises, customers are becoming more concerned about security, which could limit the growth of the 5G system integration market in the future.
Report Scope of the 5G System Integration Market
| | |
| --- | --- |
| Report Coverage | Details |
| Market Size in 2023 | USD 12.15 Billion |
| Market Size by 2032 | USD 68.17 Billion |
| Growth Rate from 2023 to 2032 | CAGR of 21.12% |
| Largest Market | North America |
| Fastest Growing Market | Asia Pacific |
| Base Year | 2022 |
| Forecast Period | 2023 to 2032 |
| Segments Covered | By Services, By Vertical and By Application |
| Regions Covered | North America, Europe, Asia-Pacific, Latin America and Middle East & Africa |

Market Dynamics:
Rising demand for network infrastructure and increasing industrial automation
The 5G system integration market has expanded due to the growing use of industrial automation technologies, especially in advanced nations. There are now more battery manufacturing facilities due to the rising demand for hybrid and electric vehicles. Therefore, growing industrial automation demand is anticipated to drive the 5G system integration market forward.
Industries have substantially reduced process expenses and enhanced efficiency and productivity by upgrading their network infrastructure due to the rising need for high-speed bandwidth capacity. By implementing a robust, updated network infrastructure, companies can offer better customer service, which will spur market expansion.
Restraint:
The market for 5G system integration may be affected by various restraints, including:
High Cost: Investment in 5G infrastructure is necessary, which can be a significant barrier to entry for many businesses. Especially for small and medium-sized companies, integrating 5G networks and devices can be relatively inexpensive.
Limited coverage: Although 5G networks have been widely deployed, coverage still needs to be improved in many places. As a result, businesses might be reluctant to invest in a system that does not have widespread coverage, which could limit the adoption of 5G technologies.
Security concerns: The complexity of 5G networks and devices may increase their susceptibility to security flaws. Businesses might be willing to implement 5G technologies once the security risks are better understood and reduced.
Lack of standardization: Since there currently needs to be a global standard for 5G networks, businesses may find it challenging to integrate the technology across various systems and devices. This lack of standardization may hamper the interoperability of 5G systems with current infrastructure.
Regulatory barriers: There may be legal limitations on deploying 5G networks in some areas or nations. For instance, some governments might demand that businesses obtain licenses or permits before deploying 5G infrastructure, which can increase the overall cost and duration of the technology's implementation.
Opportunity:
The market for 5G system integration may present several opportunities, including:
Enhanced connectivity: 5G networks offer faster speeds, greater bandwidth, and lower latency than earlier wireless network generations. New use cases and applications, like smart cities, autonomous vehicles, and remote healthcare services, may be possible.
Increased productivity: Businesses may operate more effectively thanks to 5G networks' high-speed connectivity, which lowers latency and speeds up data transfer. This may result in more productive workers and more efficiently run businesses.
New revenue streams: Businesses, particularly those in sectors like healthcare, manufacturing, and logistics, may find new sources of income due to the adoption of 5G technologies. This includes new services and applications that are made possible by 5G networks' increased speed and bandwidth.
Improved customer experience: By enabling faster and more dependable connectivity, 5G networks can improve the customer experience, particularly for applications like online gaming, video streaming, and virtual reality.
Innovation: New products and services may be developed due to innovation made possible by 5G networks in several industries. This may involve the creation of new Internet of Things gadgets, smart home technologies, and augmented reality software.
COVID-19 Impact:
The COVID-19 pandemic has significantly impacted the market for 5G system integration. Although adopting digital technologies, such as 5G, was already underway before the pandemic, the outbreak has hastened its uptake as businesses and individuals have become more dependent on remote connectivity to run their operations.
On the one hand, the pandemic has slowed down the rollout of 5G networks because businesses and governments have had to divert their attention to the public health emergency. Furthermore, the pandemic's effects on the supply chain have caused delays in delivering crucial elements needed for the 5G infrastructure.
Conversely, the pandemic has also brought to light how critical 5G technology is for enabling remote work, telemedicine, e-learning, and other applications. As a result, businesses increasingly need 5G system integration services to benefit from the advantages of 5G technology.
The COVID-19 pandemic has generally had a mixed effect on the 5G system integration market. While it has led to some delays and disruptions, it has also demonstrated the value of 5G technology in a rapidly changing digital environment, which will likely spur further market expansion.
Segments Insight:
Services Type Insights
The infrastructure integration segment, which had a market share of more than 39% in 2022 in revenue, held the largest market share for 5G system integration. From 2023 to 2032, this segment is anticipated to grow at the fastest CAGR. The rapid growth of the fusion of current and next-generation network infrastructure is to blame.
Therefore, integrating legacy infrastructure allows customers to utilize the same hardware with improved features, decreasing the hardware price. Additionally, building management, network integration, and data center infrastructure management are included in the infrastructure system integration services.
During the forecast period, the consulting segment is anticipated to grow at a CAGR of 31.40%. Business enterprises first turn to system integrators to create updated network architecture for their organizations due to the rapidly increasing demand for 5G technologies, such as networking devices. These businesses will be able to expand business output overall in less time compared to this architecture. Additionally, it is anticipated that the requirement for application integration services will increase throughout the projected timeframe due to the spiraling demand for multi-vendor cloud-based applications all over enterprises.
Vertical Insights
The IT and telecom segment dominated the 5G system integration market in terms of value in 2022, with a share of 26%; from 2023 to 2032, a significant CAGR is expected to be recorded. This is explained by the rising demand for 5G integration services from IT and telecom firms to support New Radio (NR) waves. The requirement for 5G system integration facilities in the IT and telecom sector is expected to increase due to increasing preference for incorporating enterprise network infrastructure and data center network hardware. In addition, 5G network services are anticipated to experience significant enterprise implementation over the forecast period due to increased emphasis on delivering seamless connectivity during a virtual meeting to cut down on a consultant or specialist's overall travel time.
Manufacturing companies continuously automate their production lines to increase overall production efficiency as digitalization gains popularity in the industry. This has led to the requirement for seamless wireless communication among industrial robots, sensors, actuators, and other devices mounted in production facilities. Due to the increasing demand for system integration facilities to integrate the entire facility with 5G carriers' supporting network, the manufacturing sector is predicted to expand faster throughout the projected period.
Application Insights
The home and office broadband segment held the largest market share in revenue in 2022, with a market share of 24%; from 2023 to 2032, it is anticipated to grow at a significant CAGR. This is due to the increasing demand for 5G system integration facilities to connect customers and businesses to improved mobile broadband. The requirement for 5G system integration services to create such systems adaptable with next-generation network services is also anticipated to increase due to the significant rise in IoT devices across fast-developing smart cities worldwide. From 2023 to 2032, it is predicted that this factor will further accelerate the expansion of the smart city segment during the forecast period.
Globally, there has been a significant increase in the use of connected sensors and collaborative robots in industry applications. Establishing seamless connectivity is anticipated to increase the requirement for next-generation data services, fuelling the segment's expansion during the forecast period. A flawless communication setup among smart grids to automate and monitor power distribution and storage operations is another factor expected to contribute to the intelligent power distribution processes market segment experiencing a significant rise
Regional Insights
Throughout the forecast period, North America will dominate the 5G system integration market and generate for more than 35% of the revenue share in 2022. This results from increasing government spending on implementing cutting-edge solutions across numerous departments, rising industrial automation using the internet of things (IoT), growing use of energy-efficient production techniques, and rising demand for affordable products in this geographical area.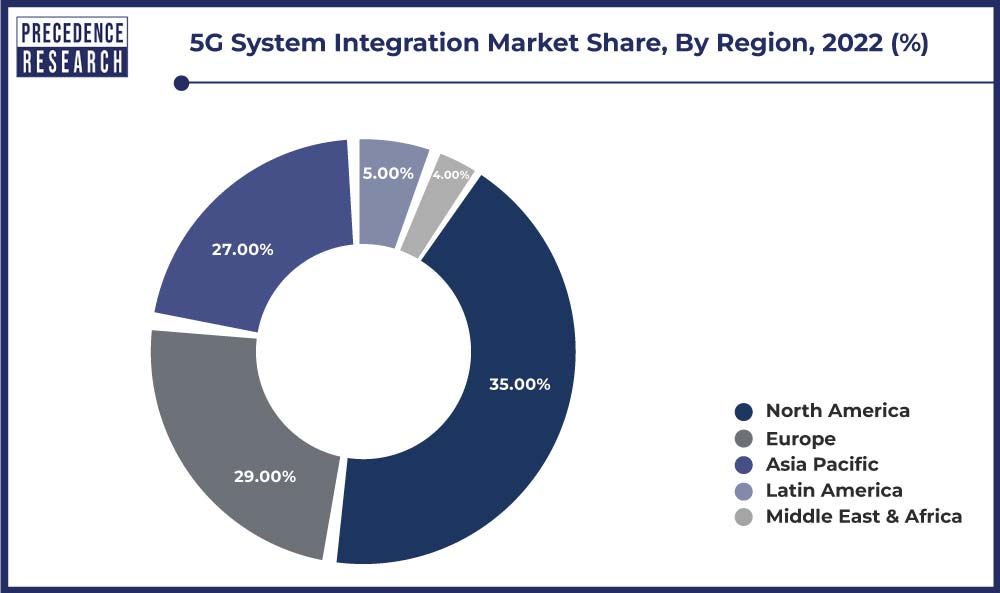 During the projected period of 2023–2032, Asia–Pacific is anticipated to experience the fastest growth because of the region's increasing internet of things (IoT) adoption in industrial automation as well as the sector's technological improvements and investment in utilized information technology systems.
Individual business variables and modifications to market regulation are also provided in the country section of the report, which affects both the market's current and future developments. Data points like technical trends, case studies, porter's five forces analysis, and downstream and upstream supply chain analyses are just a limited number of the indicators used to predict the market condition for particular countries. When supplying a forecast review of the country data, it also considers the presence and visibility of major brands, the problems they face because of significant or inadequate competition from national and local brands, the effect of domestic tariff barriers, and trade routes.
Recent Developments:
2021- The largest supplier of communications solutions in India, Bharti Airtel Limited and Qualcomm Technologies, Inc., will work together to hasten the rollout of 5G in that country. To implement virtualized and Open RAN-based 5G networks, Airtel will work with device partners, and network vendors using Qualcomm 5G RAN Platforms.
Key Market Players:
Accenture Inc.
ECI TELECOM
Huawei Technologies Co., Ltd.
Keysight Technologies
Cisco Systems, Inc.
Samsung Electronics Co., Ltd.
Infosys Limited
Ericsson
Wipro Limited
Ericsson
Tata Consultancy Services Limited
Hansen Technologies
Radisys Corporation
HPE
IBM Corporation
Oracle Corporation
ALTRAN
HCL Technologies Limited
CA Technologies
AMDOCS
Segments Covered in the Report:
(Note*: We offer report based on sub segments as well. Kindly, let us know if you are interested)
By Services
Infrastructure Integration
Consulting
Application Integration
By Vertical
Energy & Utility
Retail
Manufacturing
Healthcare
Media & Entertainment
Transportation & Logistics
IT & Telecom
BFSI
Others
By Application
Collaborate Robot /Cloud Robot
Smart City
Industrial Sensors
Wireless Industry Camera
Logistics & Inventory Monitoring
Drone
Vehicle-to-everything (V2X)
Home and Office Broadband
Gaming and Mobile Media
Intelligent Power Distribution Systems
Remote Patient & Diagnosis Management
P2P Transfers /mCommerce
Others
By Geography
North America
Europe
Asia-Pacific
Latin America
The Middle East and Africa