The global agricultural biotechnology market size was exhibited at USD 106.62 billion in 2022 and is projected to hit around USD 242.17 billion by 2032, poised to grow at a CAGR of 8.6% during the forecast period from 2023 to 2032.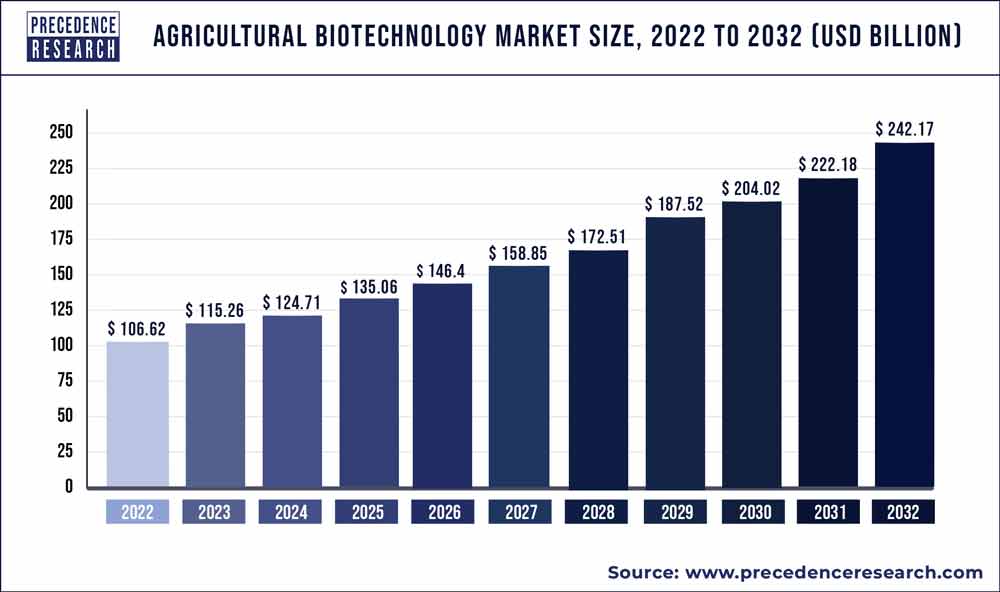 Key Takeaways:
North America has captured the maximum market share in 2022 and is predicted to grow at a remarkable CAGR of 10.45% from 2023 to 2032.
By application, the crop production segment has generated market share of around 30% in 2022.
By technology, the genetic engineering segment has accounted market share of around 25% in 2022.
Tissue culture technology segment has captured 20% market share in 2022.
By Type, the hybrid seeds segment has captured revenue share of around 30% in 2022.
The bio-fertilizer type segment has captured 26% revenue share in 2022.
Market Overview:
Agricultural biotechnology, also called 'Agritech', is a domain of agricultural science that involves the usage of scientific techniques and tools, including molecular markers, genetic engineering, vaccines, molecular diagnostics, and tissue culture. Agricultural biotechnology is adopted for modifying living organisms: animals, plants, and microorganisms.
The adoption of agricultural biotechnology is mainly for increasing the productivity of agricultural crops. The use of agricultural biotechnology for altering the genomics sequence of respective crops is common. Various latest agricultural techniques help in improving the resistance of plants to numerous diseases and viruses. With enhanced crop output and exceptional food quality, agricultural biotechnology is benefiting farmers, producers, and consumers.
Biotechnology tools are getting notable attention across various agricultural applications. Some of the popular biotechnology solutions include marker-assisted selection or molecular breeding, tissue culture and micropropagation, molecular diagnostic technologies, genetically modified crops & genetic engineering, and conventional plant breeding.
The rapid adoption of biotech crops has resulted in notable benefits for large as well as small farmers in industrial and developing nations. From 1996 to 2016, about 2.15 billion hectares of biotech crops are grown commercially. This cultivation comprises 0.64 billion hectares of biotech maize, 0.13 billion hectares of biotech canola, 1.04 billion hectares of biotech soybean, and 0.34 billion hectares of biotech cotton.
Plant biotechnology is playing a significant role in the sustainable production of numerous fruits. Biotechnology is creating enormous scope in fruit production by offering new genotypes for breeding applications. As per the US Food and Agriculture Organization, global fruit production increased to 883 million tons (2000 -2019), exhibiting a rise of 54%. In 2019, global vegetable production accounted for around 1128 million tons, which is high by almost 65% as compared to 2000. Thus, rapid growth in crop production is anticipated to drive the agricultural biotechnology market growth during the study period.
Report Scope of the Agricultural Biotechnology Market:
| | |
| --- | --- |
| Report Coverage | Details |
| Market Size in 2023 | USD 115.26 Billion |
| Market Size by 2032 | USD 242.17 Billion |
| Growth Rate from 2023 to 2032 | CAGR of 8.6% |
| Largest Market | North America |
| Base Year | 2022 |
| Forecast Period | 2023 to 2032 |
| Segments Covered | By Application, By Organism Type, By Type, and By Technology |
| Regions Covered | North America, Europe, Asia-Pacific, Latin America and Middle East & Africa |

Market Dynamics:
The commercialization of biotech crops (1996 - 2016) has proved that biotech crops can provide environmental, substantial agronomic, health, economic, and social benefits to growers as well as consumers. Genetic modification is helping the productivity of feed and food crops with improved characteristics such as high yield, high nutritional value, and enhanced food-processing qualities.
Rising incidences of pest outbreaks in agricultural produce, an increase in awareness regarding supreme quality farm produce, and the need for pest resistance for certain plants are some of the major factors driving the agricultural biotechnology market across various continents.
The United Nations (UN) Population Division has estimated that there will be around 9.7 billion people residing on Earth by 2050. This count is almost 30% more as compared to the world population in 2017. Thus, the rapidly rising population is driving the demand for agricultural biotechnology to enhance crop production.
The crucial demand for cereals and grains is creating a significant need for agricultural biotechnology solutions in numerous developing nations. According to the Ministry of Agriculture of India, rice production in the country accounted for 102.36 million tonnes in FY 2020-2021. This figure is higher by almost 6.70 million tonnes as compared to the previous 5 years average production of 95.66 million tonnes. Biotechnology techniques useful for rice production include biofortification. Biofortification is the process of enhancing the nutritional quality of various agricultural produce. Biofortification supports rice cultivars with abundant mineral nutrients and vitamins through transgenic approaches and traditional plant breeding methods.
Moreover, in order to gain further access to the regional markets, companies can undertake respective strategic initiatives including the expansion of existing product offerings. Such initiatives can result in more intensive market competition over the study period till 2032. Furthermore, rapidly evolving agricultural biotechnology solutions can make the existing agricultural biotechnology solutions obsolete very soon. This further intensifies the industry rivalry among the top market players.
Since the count of agricultural biotechnology providers (suppliers) is less in comparison to the count of buyers, the bargaining power of suppliers is relatively higher as compared to the bargaining power of buyers. Owing to considerable profit margins, the threat of new entrants in the agricultural biotechnology market is moderate as of now.
Our agricultural biotechnology report includes an in-depth analysis of the current market situation. The report covers numerous factors such as key players, competitive landscape, ongoing trends, and regional analysis. The analytical research on the impact of the COVID-19 situation helps in determining the effects on the supply and demand side. The segmental analysis provides a clear view of various agricultural biotechnology applications and particular distribution channels.
COVID-19 Impact:
In India, agriculture production in almost half (47%) of sample districts was impacted adversely owing to the COVID-19 pandemic. Due to the temporary closure of markets and shops, the availability of agricultural biotechnology provisions was very limited.
Logistical restrictions and labor shortages had become primary concerns for farmers. Since transport was largely affected in many parts of the world, the export of various agricultural biotechnology tools was severely impacted. The supply side of the agricultural biotechnology market was hindered to a certain extent due to numerous limitations.
In 2020 and 2021, the Department of Agriculture's Farm Service Agency offered help of $31 billion to over 950,000 producers of agricultural commodities. This financial help was provided in order to offset losses and costs associated with the sudden outbreak of COVID-19. The U.S. Department of Agriculture (USDA) paid around $13.8 billion to producers for field crops. Such kind of financial aid was intended for enhancing the farmer's purchasing power with respect to the required agricultural biotechnology solutions.
Segments Insight:
Application Insights:
Based on application, the global agricultural biotechnology market is segmented into transgenic crops & animals, vaccine development, nutritional supplements, antibiotics development, biofuels, and flower culturing. The transgenic crops & animals segment held the largest market share in 2022. The vaccine development segment is expected to grow with the highest compounded annual growth rate (CAGR) during the forecast period.
By incorporating advanced tools, agricultural biotechnology is highly useful in crop enhancement and livestock. Agriculture-integrated biotechnology has wide applications across cloning, embryo transfer, and artificial insemination among others.
Particularly since the evolvement of semen freezing techniques, artificial insemination has become the most widespread biotechnology solution adopted for livestock. Artificial insemination is prominently adopted for cattle production. In 2022, the global cattle population accounted for around 940 million, up from about 937.7 million in 2021.
The USDA, National Agricultural Statistics Service (NASS) shares data on cattle inventory in its semi-annual Cattle reports. As per these reports, the cattle herd count in the United States peaked at 94.8 million in 2019. As of the 1st of January 2022, the cattle herd count reduced by 3% to 91.9 million. Thus, the reduction in cattle count drives the demand for artificial insemination in the United States of America.
Organism Type Insights:
Based on organism type, the global agricultural biotechnology market is segmented into plants, animals, and microbes. Each of these segments can be further divided into three segments on the basis of techniques, i.e., established genetic modification, conventional techniques, and new breeding techniques. The plants' segment had the highest revenue share in 2022. The animal segment is predicted to grow with the highest compounded annual growth rate (CAGR) during the study period.
Advanced biotechnology techniques support professionals in incorporating new genes from one species into another unrelated species. Some of the most common subjects of genetic engineering include crops, farm animals, and soil bacteria.
From August 2018 to July 2019, the production of almonds in China was around 43 kilotons. In FY 2021, the production volume of almonds in Australia was about 178,000 metric tons. Such high production of almonds creates a promising opportunity for respective biotechnological treatment.
As per the Food and Agriculture Organization of the United Nations, global cereal production increased by about 7 million tons in July 2022 as compared to the previous month (June 2022) which accounted for approximately 2792 million tons. Thus, an increase in the production and demand for cereals is encouraging the adoption of fermentation biotechnology across the globe.
Regional Insights:
The agricultural biotechnology market is spread across North America, Europe, Asia Pacific (APAC), the Middle East and Africa, and Latin America. North America held the largest share of the global agricultural biotechnology market in 2022 and is expected to expand at the fastest CAGR of 10.45% from 2023 to 2032. The U.S. held the largest share followed by Canada and Mexico in 2022. North America is the most developed region due to the presence of countries with favorable agriculture policies, high gross domestic product, and early adoption of numerous agricultural biotechnology tools.
Funding of $7.5 million has been devoted to the Agricultural Biotechnology Education and Outreach Initiative. Under this initiative, the U.S. food and drug administration (FDA) decided to reach out to the public and provide education about agricultural biotechnology, and animal & food feed ingredients derived from biotechnology. The FDA works on this initiative in coordination with the U.S. Environmental Protection Agency (EPA) and the U.S. Department of Agriculture (USDA).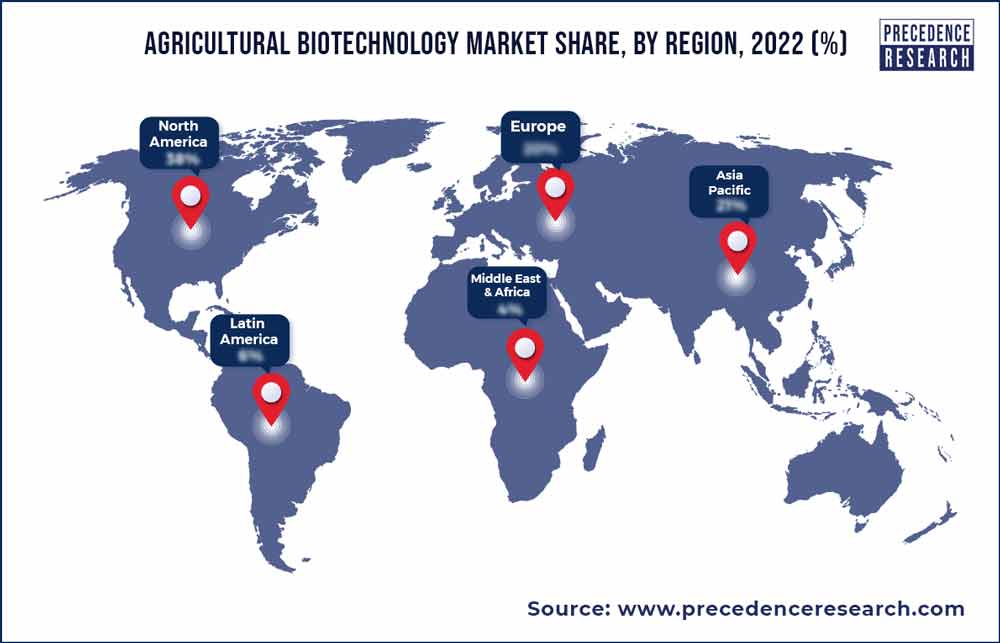 The European agricultural biotechnology market is segmented into Germany, France, the United Kingdom, Italy, and the Rest of Europe. The awareness of the advantages of agricultural biotechnology is considerably high across the European region. Germany is expected to hold the largest share of the European agricultural biotechnology market during the study period. In the European Union, major winter crops are wheat, rapeseed, triticale, and whereas major summer crops include soybeans, maize, sugar beet, rice, and potatoes. Thus, considerable production of all these mentioned crops is propelling the need for respective agricultural biotechnology techniques in the EU.
The agricultural biotechnology market in the Asia Pacific (APAC) region is segmented into India, China, Japan, South Korea, and the rest of the Asia Pacific (APAC) region. China dominated the Asia Pacific region followed by India and Japan in 2022.
The Latin America, Middle East, and African (LAMEA) agricultural biotechnology market is segmented into South Africa, North Africa, Saudi Arabia, Brazil, Argentina, and the Rest of LAMEA. The Latin America region is anticipated to have notable growth in the agricultural biotechnology market during the forecast period. Brazil held the largest share in the LAMEA region in 2022. Due to low literacy, uncertainty, and civil war in African countries, the agricultural biotechnology market in Africa is predicted to grow at a comparatively slow rate.
Recent Developments:
In June 2018, German pharma and chemical company Bayer AG completed the acquisition of Monsanto, an American agrochemical and agricultural biotechnology company. Bayer AG acquired Monsanto for $63 billion with the intent to create the world's largest agrochemical and seed company.
In 2020, the agricultural biotechnology domain was one of the fastest-growing domains in farming technology. In 2020, the agricultural biotechnology domain raised $1.6 billion from 173 deals. As per AgFunder's 2022 Agrifoodtech Investment Report, agricultural biotechnology startups raked around $2.6 billion from 209 deals in 2021.
Key Market Players:
ADAMA Ltd
Bayer AG
ChemChina
Corteva
Evogene Ltd.
KWS SAAT SE & Co. KGaA
Limagrain
Marrone Bio Innovations
MITSUI & CO., LTD
Nufarm
Performance Plants Inc.
Valent BioSciences LLC
Segments Covered in the Report:
(Note*: We offer report based on sub segments as well. Kindly, let us know if you are interested)
By Application
Vaccine Development
Transgenic Crops & Animals
Antibiotic Development
Nutritional Supplements
Flower Culturing
Biofuels
By Organism Type
By Type
Hybrid Seeds
Transgenic Crops
Bio-pesticides
Bio-fertilizers
By Technology
Genetic Engineering
Tissue Culture
Embryo Rescue
Somatic Hybridization
Molecular Diagnostics
Vaccine
Others
By Geography
North America
Europe
Asia-Pacific
Latin America
Middle East and Africa