The global ammonium sulfate market size was reached at USD 3.21 billion in 2022 and it is expected to attain around USD 6.26 billion by 2032, growing at a compound annual growth rate (CAGR) of 6.92% from 2023 to 2032.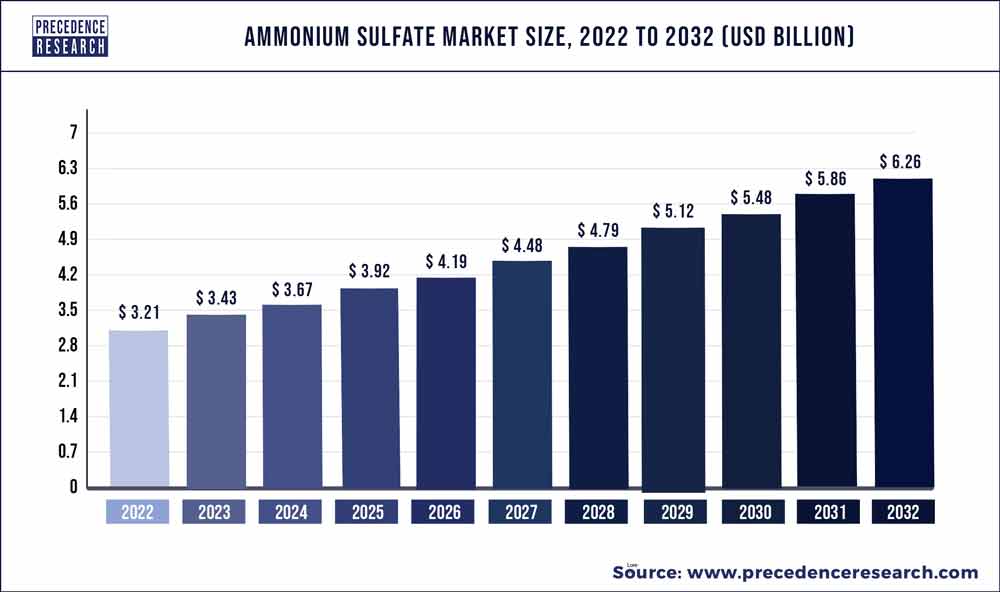 Access our Premium Real Time Data Intelligence Tool, Visit: Precedence Statistics
Key Takeaways:
Asia Pacific region generated more than 26% of revenue share in 2022.
By Form, the solid segment led the global market and captured more than 91% of the revenue share in 2022.
By Application, The fertilizers segment generated more than 71% of the revenue share in 2022.
Ammonium sulfate is an inorganic salt containing nitrogen and sulfur in water-soluble form. The composition shall be intended for widespread use as fertilisers in the agricultural activities. The substance is the most generally used nutrient additive for lawns and soils that are nitrogen deficient, because of its high nitrogen content. In addition, the product can be easily mixed up with nitrogen fertilizers, which increases the functionality and stability of the fertilizer.
Ammonium sulfate is primarily a by-product of the coke oven processes and caprolactam. Caprolactam is commonly used in the production of nylon fibers. Nylon fibers are used in a variety of products, including fishing nets and lines, industrial yarn, carpets, and textiles. Caprolactam production has grown due to the increase in the demand for nylon fibers and as a result, the global supply of products is increasing. However, product consumption is expected to propel slowly during the forecast period, resulting in an oversupply in the market. This factor has lowered the product's price.
These fertilizers' main advantages include nitrogen content, optimized sulfur, soil acidification, easy blending with nitrogenous fertilizers, water solubility in the soil application, and the nutriment of alkaline soils. These properties promote rapid plant growth, and it is thus commonly accepted by the world's farming communities. With rising global competition in product development by major players, the market is expected to grow steadily in the next coming years.
Report Scope of the Ammonium Sulfate Market:
| | |
| --- | --- |
| Report Coverage | Details |
| Market Size in 2023 | USD 3.43 Billion |
| Market Size by 2032 | USD 6.26 Billion |
| Growth Rate from 2023 to 2032 | CAGR of 6.92% |
| Largest Market | Asia Pacific |
| Base Year | 2022 |
| Forecast Period | 2023 to 2032 |
| Segments Covered | By Form and By Application |
| Regions Covered | North America, Europe, Asia-Pacific, Latin America, and Middle East & Africa |

Key Market Drivers:
The surge in the fertilizer demand
The usage of fertilizer products containing sulfur and nitrogen is the key driver of the global market. Because of their high pH, it is commonly used to decrease the alkalinity of alkaline soils. The product contains sulfur as well as nitrogenous components, that is used in the synthesis of plant proteins. Fertilizers based on nitrate are also unsuitable for flooded rice fields because they can cause leaching and denitrification. Ammonium sulfate is a water-soluble inorganic salt that contains nitrogen and sulfur. The formulation is intended for widespread use as a fertilizer in agriculture.
The chemical is the most regularly used nitrogen-deficient lawn additive and soils due to its high nitrogen concentration. Moreover, the product is easily combined with nitrogen fertilizers, increasing the fertilizer's stability and usefulness. Easily mixing up with nitrogenous fertilizers, water solubility, optimal nitrogen and sulfur content, increased soil acidity, in the soil that has been treated, and nourishing of alkaline soils are the main benefits of these fertilizers. Because these characteristics promote the development of rapid plant, the product is widely recognised by the global farming communities. With increased global competition in product development by major multinationals, the market is expected to rise steadily in the coming years.
Farmers all over the world are working to increase crop yield, which has resulted in significant advancements in the agriculture industry over the years. Furthermore, the world's limited total arable land will increase fertilizer consumption, which will eventually improve Ammonium Sulfate market share during the forecast period. As a result, rising fertilizer demand is expected to drive Ammonium Sulfate market revenue growth.
Agrochemicals are in high demand
An acidic fertiliser with fast action is ammonium sulfate which works best on alkaline soils. Around 20-25% nitrogen content aids in the re-fertilization of alkaline soil and nitrogen-deficient. Increasing food crops demand due to the growing population is expected to boost the agrochemicals market even further. The Food and Agriculture Organization (FAO) expected that the amount of ammonia for fertilizer usage will be around 160,492 million tonnes in 2020. Nitrogen is an essential nutrient in the soil that promotes plants food metabolism, chlorophyll production, and plant growth. Farmers' increased use of fertilizers that contain nitrogen to rise crop yields is estimated to increase ammonium sulfate demand.
Moreover, the reduced farmable land is fueling the fertilizers demand. As per the Food and Agriculture Organization (FAO), agricultural land accounted for 37% of total land area in 2017, and in 2018 it reached 36.9%. Moreover, ammonium phosphate usage as an additive for food and feed is estimated to boost the growth of the market. It is commonly used as a flour acidity regulator and bread, whereas in the production of feed, it is employed to increase the production of enzymes and eliminate vinasse's excessive potassium content, thereby improving feed quality.
Adoption in the industrial sector has increased
The rising usage of ammonium sulfate in the industrial sector for a variety of applications such as water treatment, wood preservation, NMR spectroscopy, flame retardants, feedstock chemical, and others is expected to boost the market demand. The material, when utilized as flame-retardant composition, performs identically to diammonium phosphate. It increases the level of heat at which substances burn and reduces weight loss rates, hence rising the rate at which residual is created. In sulfur NMR spectroscopy, a strong water solution containing saturated ammonium sulfate is employed as an outside reference with a shift value of 0. Furthermore, the use of ammonium sulfate as an element in vaccines in the healthcare sector by the Centers for Disease Control is likely to promote market growth.
Key Market Challenges:
Toxic to humans - Humans are thought to be harmful to ammonium sulfate. The product's exposure at the processing, manufacturing site, and transportation could result in serious infection via the respiratory route owing dust and aqueous aerosol inhalation. Prolonged contact with skin can cause dermatitis, as well as long-term eye and lung damage. These obstacles are projected to stymie market expansion.
Key Market Opportunities:
Technological advances in manufacturing techniques
Vacuum thermal stripping and vacuum absorption process advancements and implementation are expected to aid market growth. The vacuum thermal stripping process enables the manufacturer to produce ammonium sulfate granules. The ammonia recovery process includes vacuum thermal stripping with acid absorption, in which ammonia is extracted from the digest while it is boiling at temperatures below the boiling point using a vacuum. It is then absorbed by sulfuric acid, which crystallizes. Several tests revealed that this process produces high purity ammonium sulfate crystals. The high efficiency of the vacuum stripping production technique, combined with high purity output, is expected to increase manufacturer adoption. End-use sector demand for pure ammonium sulfate is expected to drive market growth.
Growing demand for nitrogen fertilizers
Nitrogen is a key element that is essential for plant growth and is a critical component of many fertilizers, including ammonium sulfate. The demand for nitrogen fertilizers is driven by the growing global population, which is increasing the demand for food and, in turn, the demand for higher crop yields. The use of nitrogen fertilizers has been shown to significantly increase crop yields, and the global demand for nitrogen fertilizers is expected to continue to grow in the coming years. According to the report of the Food and Agriculture Organization, the demand for nitrogen fertilizers has reached 111,591 thousand tonnes in 2022 from 105,148 tonnes in 2016.
The use of nitrogen fertilizers is especially important in developing countries, where agricultural productivity must be increased to meet rising food demand. As a popular nitrogen fertilizer that is widely used in agriculture, this presents a significant growth opportunity for the ammonium sulfate market. Furthermore, the growing adoption of precision agriculture practices, which involve using technology to optimize crop yields and reduce waste, is expected to drive nitrogen fertilizer demand. Precision agriculture techniques can assist farmers in applying fertilizer more efficiently, reducing waste, and increasing yields.
Segments Insight:
Form Insights:
In 2022, the solid segment dominated the ammonium sulfate market. This is because demand for the solid category has surged. A white, odourless material is known as ammonium sulfate classified as organic sulphate salt. It dissolves readily in water but not in alcohol or acetone. Solid ammonium sulphate crystals are commonly employed as fertilisers in alkaline soils around the world due to their capacity to enhance soil nitrogen content and sulfur deficiency. The pharmaceutical sector is expected to select the crystalline or solid grade since it is purer.
The product's liquid form is marketed as a light yellowish solution and is known to be non-hazardous, stable, and non-toxic. The solution of Ammonium sulfate in liquid form is widely used in the applications of water treatment. The liquid ammonium sulfate (LAS) market is expected to grow significantly as alternatives to LAS, such as anhydrous ammonia or aqueous have been identified as hazardous and require strict adherence to a plethora of protocols during transport and handling. Such type of sulfate is generally used as a reliable and ammonia source that is reliable for chlorination.
Application Insights:
The fertilizers segment generated the most revenue in the ammonium sulfate market. Because ammonium sulfate contains both nitrogen and sulfur, it is in high demand as a fertilizer for alkaline soils. Growing consumption of fertilizer in economies based on agriculture is anticipated to fuel the product demand during the forecast period. The product degrades in soil into nitrogen, sulfur dioxide, and water. Plants use ammonia and nitrogen to manufacture amino acids, while sulfur is needed for metabolism.
Ammonium sulfate is widely used in food and feed additives, fertilizers, water treatment, and pharmaceuticals. Almost all of the world's main producers of nitrogenous fertilizer employ ammonium sulfate as a common ingredient in fertilizer production, driving the market. The agricultural industry is increasingly using ammonium sulfate products in fertilizer formulations due to rising food demand. Over the forecast period, the pharmaceuticals segment is expected to grow at a profitable CAGR. Ammonium sulfate is an important ingredient in the pharmaceutical industry, in which it is frequently employed as a precipitation intermediary and protein fractionation.
Regional Insights:
The Asia Pacific region accounts for the largest share of the ammonium sulfate market. The increase is owing to a rise in the demand for fertilizers which are used in the region's agriculture sector, which will drive up ammonium sulfate demand. Agriculture is major sector in most of the region's economies, including Bangladesh, Sri Lanka, and India. Although the agriculture sector is growing slowly, ongoing advancements in the sector are expected to create significant opportunities for different fertilizers to grow which are being used in agriculture.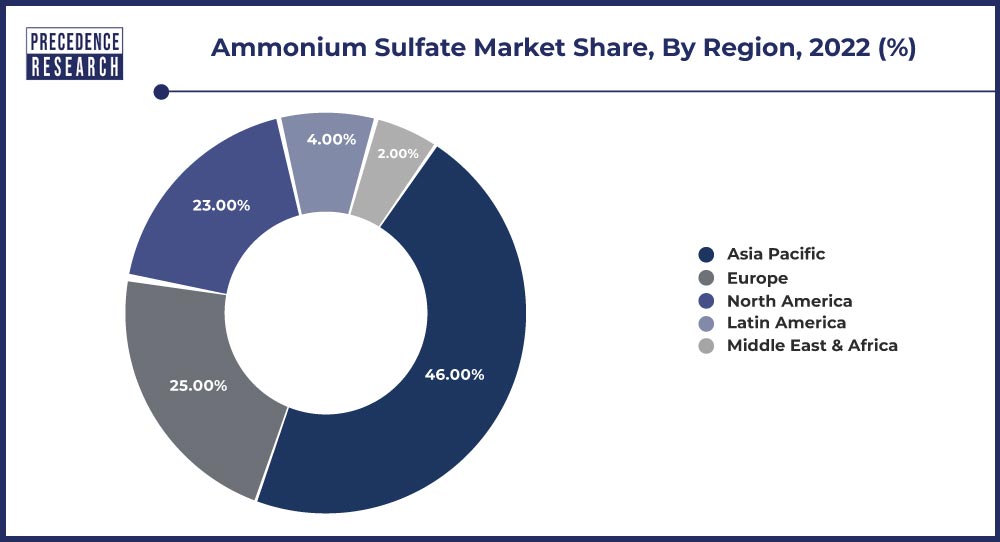 In terms of volume, Europe is the second-largest market in 2021. This increase is attributed to rising fertilizers demand which is used in the production of multiple crops. Several agencies are developing regulations for the use of artificial fertilizers in Europe. Due to a rise in high-quality fertilizers based on ammonium sulfate demand which have a usage in the major crops healthy growth such as wheat, sunflower seeds, soybeans, and grapes, Central and South America are expected to register a CAGR of 6.9% during the forecast period. In Central and South America, including Belize, Paraguay, Dominica, Bolivia, and Argentina, agriculture accounts for around 50% of the country's GDP.
Key Industry Developments:
January 2023 - Fertilizers containing ammonium sulphate will be made by Azersulfat LLC. The business intends to boost sulfuric acid and ammonium sulphate fertiliser output to offset the high fertiliser market pricing.
July 2019 - The purchase of Arrmaz by Arkema, a manufacturer of specialised surfactants for infrastructure, mining, and crop nutrition, has been finalised. Arkema has made progress towards specialty chemicals with this acquisition, which is intended to improve the company's product line.
June 2018 - The deal for Arkema, a producer of specialty surfactants for construction, mining, and crop nutrition, to acquire Arrmaz has been finalised. With this acquisition, Arkema has advanced towards specialty chemicals, which is intended to strengthen the company's product portfolio.
Key Market Players:
Royal DSM
Sumitomo Chemical
Honeywell International
Novus International
Lanxess Corporation
Evonik Industries
BASF SE
ArcelorMittal
Arkema
Domo chemicals
Fibrant
Segments Covered in the Report:
(Note*: We offer report based on sub segments as well. Kindly, let us know if you are interested)
By Form
By Application
Water Treatment
Food & Feed Additives
Pharmaceuticals
Fertilizers
Others
By Geography
North America
Europe
Asia-Pacific
Latin America
Middle East and Africa