The global animal feed antioxidants market size was exhibited at USD 257.37 million in 2022 and is expected to hit around USD 832.03 million by 2032, poised to grow at a notable CAGR of 12.5% during the forecast period from 2023 to 2032.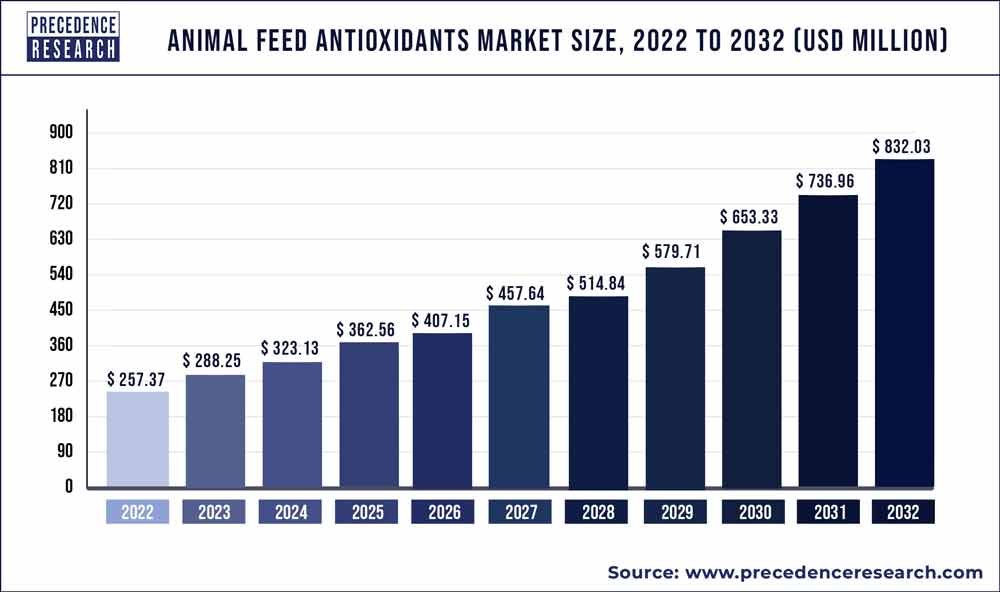 Key Takeaway:
The Asia Pacific region has dominated with a revenue share of 43% in 2022.
By product, the synthetic segment has accounted revenue share of around 61% in 2022.
The natural antioxidants segment is growing at a CAGR of 7.9% over the forecast period 2023-2032.
By livestock, the poultry segment has held the highest revenue share of over 42% in 2022.
The poultry and cattle dairy segment is expected to grow at a CAGR of 8.1% between 2023 to 2032.
Market Overview
Antioxidants for animal feed had a sizably large market in 2022, and it is anticipated that revenue will grow at a consistent CAGR during the projection period. Demand for premium feed is rising, feed production methods are getting better, and meat products are becoming more uniform, which are the main drivers influencing market revenue growth. One of the key elements driving an increase in demand for animal feed antioxidants is a growing concern about animal health and feed safety. Animal performance suffers as a result of oxidized feeds' lack of nutrients, which can cause several health problems. The feed's shelf life will be increased by adding antioxidants, protecting the feed's nutritional integrity. The inherent qualities of animal feed are impacted by several chemical changes that take place when it is being stored. The feed's antioxidant content is utilized to extend the feed's shelf life by minimizing lipid oxidation-related degradation. Antioxidants in the feed prevent autoxidation or hydrolysis from causing an oxidative reaction. As livestock farmers try to reduce feed costs to cut costs and maintain profitability, antioxidants have grown to be quite significant. The majority of antioxidants are synthesized and extracted naturally.
Impact of COVID-19 on the Animal Feed Antioxidants Market
Due to trade restrictions, the COVID- 19 epidemic caused concern among animal nutrition manufacturers. But the consistent demand from the animal feed industry has had less of an influence on the market for animal feed antioxidants. The animal feed sector is predicted to experience tremendous expansion as a result of the increased need for a sustainable, cost-effective solution. The expansion of animal feed for providing antioxidant and other feed additives to animals may be positively impacted by disruptions in agriculture and trading activities that cause fluctuations in the prices of agricultural commodities.
Report Scope of the Animal Feed Antioxidants Market
| | |
| --- | --- |
| Report Coverage | Details |
| Market Size in 2023 | USD 288.25 million |
| Market Size by 2032 | USD 832.03 million |
| Growth Rate from 2023 to 2032 | CAGR of 12.5% |
| Synthetic Segment Market Share | 61% in 2022 |
| Poultry Segment Market Share | 42% in 2022 |
| Asia Pacific Market Share | 43% in 2022 |
| Segments Covered | Product, Livestock, Farm, Region |
Market Dynamics:
Market Drivers
Demand for the product is anticipated to increase due to rising demand for foods high in protein.
People are demanding more protein and nutrient-rich foods as their purchasing power and sense of health grow. Currently, the world's intake of dairy products and meat is drastically declining. The United States Department of Agriculture (USDA) reports that over the past four to five years, the per-capita consumption of goods derived from dairy has decreased by 27 pounds and increased to over 650 pounds. In a similar vein, India alone uses more than 80,000 metric tonnes (or around 176,368,000 pounds) of milk annually. In addition to dairy goods, meat consumption is rising every year. The respective market is expected to be driven by all of the aforementioned variables shortly.
Product demand is anticipated to increase as a result of quick modernization, rising economies that increase disposable money, and the growing threat of animal diseases.
Incidences of spine flu and pathogenic avian influenza have somewhat increased. In 2009–10, when it killed more than 284,000 lives, the world health organization proclaimed the illness to be a pandemic. Furthermore, a small alteration like these viruses has been observed. According to some, there is a chance for the animal to the human transmission after a mutation. Farm owners are using a variety of feed additives to combat such dangers and to initially secure animal health. Additionally, a rapid rise in industrialization and technology is increasing people's disposable income. As a result, individuals are choosing things more logically and healthily. There are currently 670–680 million households, with the number expected to rise by 2.5–3% globally by 2030, especially if we take into account developing economies. This means that more people are escaping poverty.
Market Restraints:
Numerous adverse aspects significantly impede the expansion of the animal feed antioxidants market worldwide. One of the key reasons anticipated to slow market growth is the existence of stringent government rules governing the manufacture of antioxidant feeds.
Market Opportunity:
Animal feed antioxidants market expansion is being driven by growing concerns about animal healthcare and feed safety. Antioxidants that help increase the nutritional value of feeds and shelf life are being developed by businesses. A rise in dairy product demand is also likely to present profitable opportunities for industry participants.
Market Challenges
Lockdowns being reinstated and the rising veganism trend are expected to restrain market expansion.
One significant aspect that is anticipated to stifle the expansion of the animal feed antioxidants market is the intensification of vegan trends and the rising vegan population. Additionally, new mutations in COVID-19 variations are causing headaches for people all over the world. Therefore, numerous nations are considering the possibility of reimposing lockdown to lessen the impact. Since this, demand and supply chains are weakening because businesses are unable to use all of their resources, and consumers are reluctant to make more purchases.
Segment Insights
By Product Insights
The market for animal feed antioxidants is further divided into two categories: natural (Vitamins, Botanical Extracts, and others) and synthetic (Propyl Gallate, Butylated Hydroxyanisole, and others). The synthetic segment dominated the market in 2022 and contributed more than 51% revenue share. In order to address the growing demand for antioxidants in animal feed, a requirement that can't be fully met by natural antioxidants, antioxidants that are synthetic are extracted on a wide scale from plant materials such as vegetables using extractions that are enzyme-assisted and ultrasound-assisted. These antioxidants that are synthetic have become a popular choice for many poultry and farm owners due to their dependability, cost, and wide availability.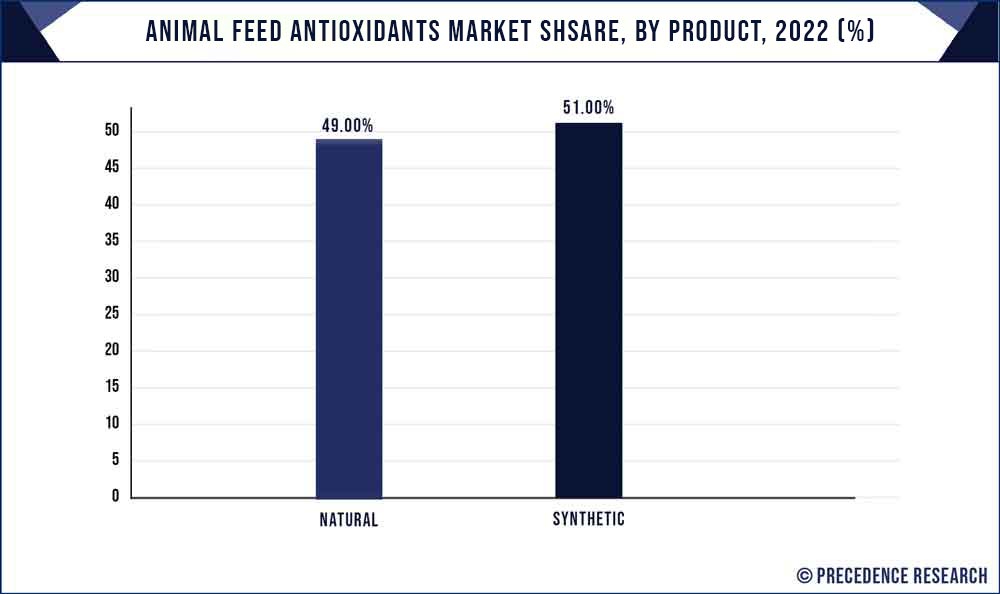 The adverse effects of using synthetic antioxidants excessively are to blame for this rise. Antioxidants often have negative impacts on an animal's liver and DNA deterioration when they are removed chemically. In both monogastric (such as pigs and rabbits) and ruminant species under moderate stress circumstances, which are common in intensive livestock production, PFA (natural or plant feed additives) and Vit have a similar impact on alleviating oxidative stress. PFA delivery technique or amount can affect how the substance affects antioxidant enzyme activity.
By Form Insights
The dry category is anticipated to account for a consistent revenue share during the projected period, based on form type. Dry feed antioxidants are highly sought after by livestock farmers because they are easy to handle, store, and blend with feed. The majority of feed antioxidant manufacturers on the market offer feed in dry forms such as powders, pellets, and granules due to the increased demand from numerous end-use applications.
By Livestock Insights
Poultry, dairy cattle, aquaculture, swine, and others can be used to further segment the animal feed antioxidants market based on conveyance mode. The massive consumption of poultry meat around the world is responsible for the growth. According to a survey released in 2022, chicken is the tastiest and most economical meat in the world, consuming more than 116 million tonnes annually. Therefore, poultry owners utilize feed additives like antioxidants and traces to meet the requirement. Utilizing food additives reduces overall costs and increases revenue. Additionally, the poultry and cattle dairy industry is predicted to develop at the quickest rate. This increase in demand for meals high in protein is due to increased health awareness among consumers. As a result, people now prioritize eating meat, milk, and related goods.
By Regional Insights
It is possible to further divide the animal feed antioxidants market by geography into North America, Europe, Asia-Pacific, South America, and the Rest of the World. Due to the enormous population density on the Asian continent, there is a growing demand for dairy products and meat, which is one of the reasons this market is expanding. In the world, China is where the majority of meat eaters reside. Pork, shellfish, and fowl from chicken and turkey make up the diet of the majority of Asian people. In China, Japan, and Indonesia, seafood including tuna, salmon, and shrimp are in practically every home. Therefore, to meet this enormous demand, meat producers are implementing modern techniques that use feed antioxidants to ensure the quality of the meat and prevent the development of disease. Asia–Pacific is also anticipated to present profitable growth prospects. This increase is the result of developing countries' booming economies, which have increased peoples' disposable income and, in turn, increased their desire for wholesome food. Over the projected period, North America is anticipated to continue to be one of the top markets, with revenue exceeding USD 40 million in 2014. High demand for these chemicals is anticipated as a result of the U.S.'s strong meat manufacturing base, which mostly consists of JBF, Tyson, Cargill, and National Beef. Rising red meat consumption in Mexico is anticipated to have a positive effect due to the expansion of stores that deliver frozen meals.
Over the next seven years, it is anticipated that the strong industrial bases for hog meat in European nations like Germany, France, and Russia will increase the supply of cattle. This would in turn spur industry expansion.
With an estimated 25,065 kilotons of meat produced worldwide in 2013, Brazil ranked fourth. As a result of impending sporting events like the Rio 2016 Summer Olympics, demand is also anticipated to increase for meat as a source of protein and retail food establishments.
Recent Developments in the Animal Feed Antioxidants Market
In November 2021, the pharmaceutical firm Synergia Life Sciences in India was purchased by the Danish biotechnology business "Novozymes." Synergia is renowned for producing natural Vitamin K2-7 and probiotics. The acquisition is completed by Novozymes with a $150 million payment. The business of functional foods will be strengthened by the acquisition.
Two food firms agreed to buy the American firm "Sanderson farms" in August 2021. The first company, "Cargill, Inc.," is established in Minnesota, and the second, "Continental Grain Company," is headquartered in Belgium. To consummate the acquisition, both companies agreed to pay Sanderson a total of $4.53 billion, or $203 per share.
The key players operating in the Animal Feed Antioxidants market are:
Cargill
DSM Nutritional Product
Adisseo
Novozymes
Beldem
Alltech
Ab Vista
Dupont
Zhenjiang Medicine
Kemin Industries
Segments Covered in the Report
(Note*: We offer reports based on sub-segments as well. Kindly, let us know if you are interested)
By Product
By Livestock
Swine
Cattle
Poultry
Aquaculture
By Form
By Region
North America
Europe
Asia Pacific
Latin America
MEA