The global AR and VR headsets market size was estimated at USD 6.78 billion in 2022 and it is expected to hit around USD 142.5 billion by 2032, growing at a CAGR of 35.6% during the forecast period from 2023 to 2032. North America is expected to hold the largest market share in the global AR and VR Headsets market.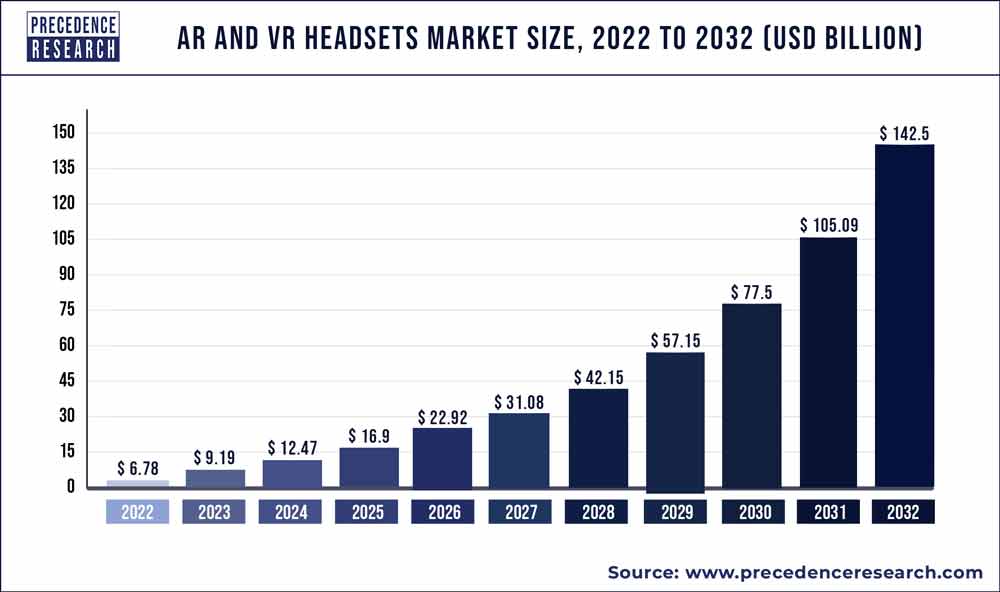 Market Overview:
AR (Augmented Reality) and VR (Virtual Reality) overlay digital content onto the real-world environment, enhancing the user's perception and interaction with the surroundings. VR headsets, on the other hand, create a completely simulated virtual environment, transporting users to a computer-generated world. To deliver an engaging and interactive user experience, these headsets often include a display screen, sensors for sensing head motions, and audio systems.
AR and VR headsets are becoming increasingly popular in the gaming and entertainment industries. These headsets offer a more realistic and exciting gaming experience, making players feel like they are inside the game world. They are also used for interactive entertainment and consuming content in a fun and engaging way. Also, in the education and training fields, AR and VR headsets are used to create lifelike and safe simulations. They help people learn new skills and improve their knowledge by immersing them in realistic virtual environments. This is especially useful for industries like aviation, healthcare, manufacturing, and the military.
Businesses are finding value in using augmented reality and virtual reality headsets for collaboration and productivity. Teams can work together in virtual spaces even if they are physically far apart. This helps save time and resources while enhancing teamwork. The integration of 5G networks and cloud services makes AR and VR headsets even better. They can process data and deliver content in real time, making the experiences smoother and faster.
Architects, designers, and engineers use AR and VR headsets to visualize and interact with 3D models, making it easier to review and modify designs. In the medical field, AR and VR headsets are used for surgical training, patient education, and pain management. Apart from this, AR headsets can provide interactive tour guides and virtual travel experiences, enhancing the tourism industry.
Report Scope of the AR and VR Headsets Market:
| | |
| --- | --- |
| Report Coverage | Details |
| Market Size in 2023 | USD 9.19 Billion |
| Market Size by 2032 | USD 142.5 Billion |
| Growth Rate from 2023 to 2032 | CAGR of 35.6% |
| Largest Market | North America |
| Base Year | 2022 |
| Forecast Period | 2023 To 2032 |
| Segments Covered | By Type, By Product Type, and By Application |
| Regions Covered | North America, Europe, Asia-Pacific, Latin America, and Middle East & Africa |

Market Dynamics:
Drivers:
Integration with 5G and cloud services
The integration of AR and VR headsets with 5G networks and cloud services allows for real-time data processing and content delivery. This results in smoother and more responsive AR and VR experiences, driving consumer interest and adoption. The gaming and entertainment sectors are major drivers for AR & VR headsets. These headsets offer a new level of realism and interactivity in gaming, attracting both gamers and content creators, leading to increased demand. Technological advancements in display technologies, such as higher resolutions and wider field-of-view screens, along with improved sensing capabilities for head tracking, enhance the quality and realism of AR & VR experiences, driving consumer interest. AR & VR headsets have found applications in the tourism industry, providing virtual travel experiences and interactive tours. Additionally, they are used in marketing campaigns to deliver engaging content and showcase products and services in innovative ways.
Restraints:
Health and safety concerns
Using AR & VR headsets for a long time can make some people feel uncomfortable, dizzy, or strain their eyes. These health concerns might make some potential customers hesitant to buy these devices. Some AR & VR headsets might not be as fast or long-lasting in their performance, affecting how well they work and the overall experience for users. The AR & VR headsets market is still young and developing, and not everyone knows about it yet, which could slow down how quickly people start using them. In businesses, it might take some time for companies to decide if investing in AR & VR headsets is worth it and how it will benefit their business before they start using them. The cost of high-quality AR & VR headsets can be a significant barrier for many consumers and businesses. Premium devices with advanced features can be expensive, limiting their accessibility to a broader market.
Opportunity:
Increasing consumer demand
More and more people want to experience immersive and exciting things like games and interactive content. That's why there's a growing demand for AR & VR headsets, which offer these incredible experiences. These headsets can be used in many different ways in industries like gaming, education, healthcare, and more, making them very versatile. The technology in these headsets keeps getting better, with improved displays, sensors, and processing power, making the experiences even more fun and realistic. AR & VR headsets are also getting smarter by connecting with other cool technologies like 5G, AI, and the cloud, making the experiences even better. As all of this keeps getting better, more people will want to use these headsets, creating lots of opportunities in the market.
Segments Insight:
Type Insights:
AR headsets come in different types. Smart glasses are lightweight and show digital information in the real world, useful for navigation and AR experiences. Head-mounted displays (HMDs) give a more immersive AR experience by blending digital content with the real world. HUDs are used in cars and planes, showing speed and navigation information on the windshield. AR headsets like smart glasses and HMDs are used in industries like manufacturing, logistics, and healthcare for AR training and visualizations.
For VR headsets, there are tethered ones that need to connect to a powerful computer or console for great VR experiences. They have awesome graphics but aren't very mobile. Standalone VR headsets are self-contained and don't need extra stuff to work. They're more portable and popular for gaming and entertainment. Smartphone-based VR headsets use your phone's screen and power for basic VR experiences, and they're cheaper but not as realistic. PC VR headsets need to connect to a strong computer for high-quality VR with amazing graphics. VR headsets, especially standalone and tethered ones, are loved by gamers and used a lot in entertainment. Smartphone-based VR is the cheaper option for those new to VR. PC VR headsets are for serious gamers and creators with powerful computers. Mixed reality headsets find use in design, architecture, and workplaces where people can work with virtual stuff in real settings.
Product Type Insights:
Standalone headsets are self-contained VR devices that operate independently, without the need for external connections. These headsets have gained popularity among gamers and entertainment enthusiasts due to their ease of use and the fact that they eliminate the requirement for a high-performance computer or gaming console. The integration of standalone headsets with 5G and cloud services has been a significant driving force in elevating their capabilities.
With access to 5G connectivity, these headsets can tap into high-speed internet and cloud resources, opening up a wide range of possibilities for users. They can now stream high-quality content, receive real-time updates, and collaborate with others in virtual environments seamlessly. Furthermore, the integration with cloud services enables offloading processing tasks, enabling more complex applications and reducing the reliance on onboard hardware.
On the other hand, tethered headsets require a physical connection to a powerful computer or gaming console via a cable. These headsets are renowned for delivering exceptional VR experiences, Leveraging the high-speed and low-latency capabilities of 5G networks, these headsets can now tap into remote computing resources through the cloud. This integration allows for realt time rendering and data processing, resulting in even more stunning visuals and immersive experiences. Moreover, cloud-based storage and collaboration features enhance content creation and professional workflows, benefiting users across various industries.
Screenless viewers, on the other hand, are affordable and straightforward headsets that work in conjunction with smartphones. By inserting the smartphone into the viewer, users can access basic AR and VR experiences without investing in dedicated, higher-end headsets. With the advent of 5G connectivity, these viewers can experience faster data transmission, resulting in reduced latency and an overall improved user experience. Furthermore, cloud-based AR and VR applications offer a richer and more dynamic experience for screenless viewers by leveraging remote processing and rendering capabilities to compensate for the limitations of smartphone hardware.
Application Insights:
Enterprise: AR and VR headsets are making a big impact on how businesses work and use technology. In marketing and sales, AR and VR headsets have revolutionized product demonstrations and showrooms. The integration with 5G and cloud services enables interactive and immersive experiences, allowing potential customers to engage with products in exciting ways. Virtual showrooms and interactive product demonstrations create a lasting impact on consumers, influencing purchasing decisions positively. For consumers, standalone and tethered headsets offer thrilling gaming adventures with immersive experiences in virtual worlds, providing a significant draw for gaming enthusiasts.
Additionally, these headsets grant access to interactive entertainment content, such as virtual travel and tourism experiences, opening up new avenues for leisure and exploration. The integration of 5G and cloud services has been a crucial driving factor behind the adoption of AR and VR headsets for remote collaboration. Companies can now facilitate teams from different locations to work together seamlessly in shared virtual spaces. This integration enhances productivity, fosters efficient communication, and encourages realt-time collaboration on projects, irrespective of geographical barriers. For commercial purposes, retailers are leveraging AR and VR headsets to provide customers with virtual shopping experiences. The integration with 5G and cloud services enables retailers to showcase products in exciting and interactive ways, enhancing the overall shopping experience for consumers.
Regional Insights:
North America leads the AR and VR headsets market due to its strong tech industry, gaming sector, and early adopters of new tech. People here love consumer headsets for gaming and entertainment. Moreover, businesses are ahead in using AR and VR headsets for employee training, remote collaboration, and marketing. Europe is a significant AR and VR headsets market with a growing interest in immersive tech among consumers and businesses.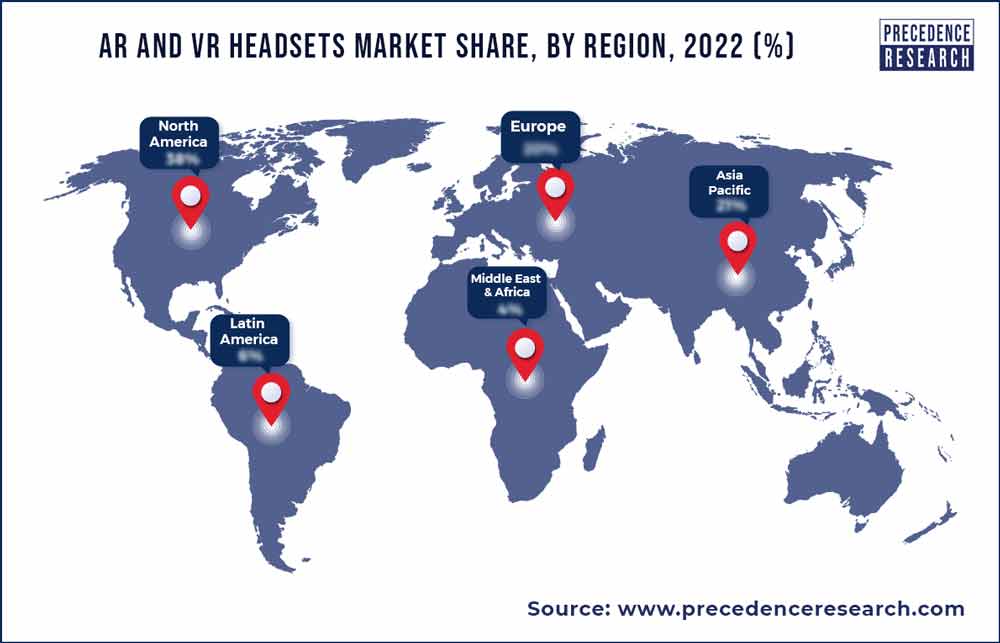 The Asia-Pacific region experiences fast growth in AR and VR headsets due to increased tech adoption and higher disposable income. Countries like China, Japan, and South Korea drive the demand for consumer headsets, especially for gaming. Asian businesses are using AR and VR for training and collaborative work. The region's manufacturing and industrial sectors also adopt AR headsets for maintenance tasks. Latin America has a large and young population that embraces new technologies, contributing to the region's interest in consumer-oriented headsets, especially for gaming and entertainment. In countries like Brazil and Mexico, the tourism and entertainment sectors are exploring the use of AR and VR headsets. In the Middle East, AR and VR headsets are increasingly used for virtual conferences, trade shows, and exhibitions, allowing businesses to connect and collaborate remotely.
Recent Developments:
In March 2023, Snap, the parent company of Snapchat, acquired Vertebrae, a company that develops augmented reality (AR) glasses technology. The acquisition is expected to help Snap accelerate the development of its own AR glasses product.
In May 2023, Magic Leap announced that it had raised $500 million in funding. The funding will be used to help Magic Leap develop its next generation of AR glasses.
In April 2023, Niantic, the developer of the popular AR game Pokémon Go, raised $300 million in funding. The funding will be used to help Niantic develop new AR games and experiences.
In June 2023, Facebook announced that it would invest $10 billion in augmented reality and virtual reality (VR) technology. The investment will be used to develop new AR and VR products and services.
Key Market Players:
Samsung Electronics
DPVR
Sieko Epson Corporation
TCL Technology
HTC Corporation
Sony Corporation
Bosch Group
Qualcomm Technologies Inc.
Penumbra, Inc.
Leke VR
Google LLC
Oculus VR (Meta)
Valve Corporation
Segments Covered in the Report:
(Note*: We offer reports based on sub segments as well. Kindly, let us know if you are interested)
By Type
AR Headset
VR Headset
AR/VR Headset
By Product Type
Standalone
Tethered
Screenless Viewer
By Application
Enterprise
Consumer
Healthcare
Commercial
By Geography
North America
Europe
Asia-Pacific
Latin America
Middle East and Africa