The global artificial intelligence (AI) in biotechnology market is surging with an overall revenue growth expectation of hundreds of millions of dollars from 2023 to 2032. North America dominated the global market in 2022.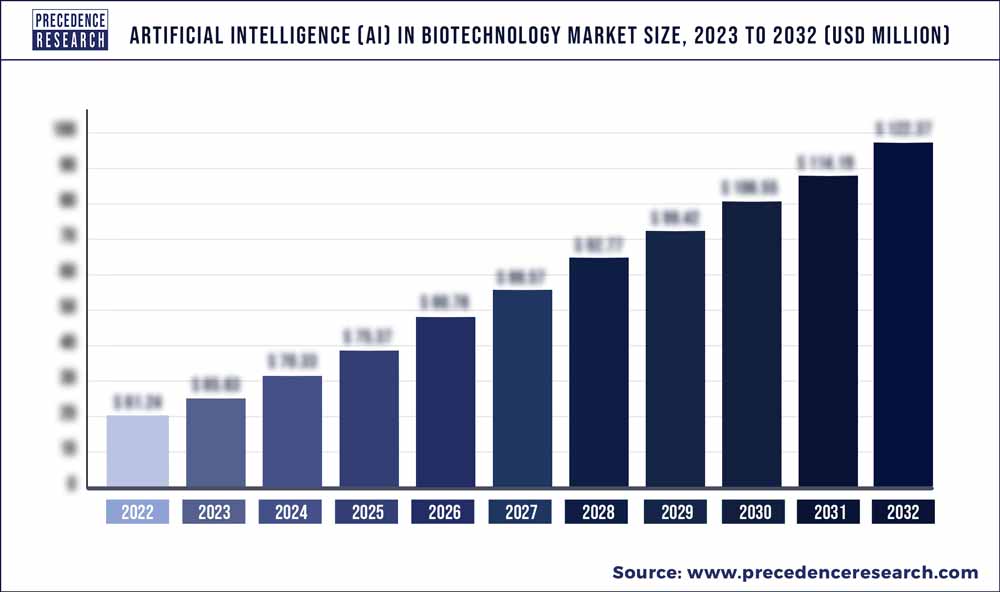 Access our Premium Real Time Data Intelligence Tool, Visit: Precedence Statistics
Key Points:
Asia Pacific is projected to expand at the fastest rate between 2023 and 2032.
The software offering segment generated the major revenue in 2022 and is predicted to be dominant
The drug target identification applications segment is expected to expand at the maximum revenue share between 2023 to 2032.
The predictive modeling applications segment is anticipated to grow at the fastest growth in 2022.
The agriculture biotechnology usage segment is predicted to hold the major revenue from 2023 to 2032.
The medical biotechnology usage segment is expected to grow at the fastest growth in 2022.
Market Overview:
The biotechnology industry will pursue artificial intelligence and its related applications in the coming years. According to Melanie Matheu, PhD medium article, the next generation of therapeutics joining drug pipelines will contain targets identified through AI screening, potentially improving the 86% clinical trial rate of failure for small molecules.
AI in biotech is critical for boosting invention in labs and throughout a medicine's or chemical compound's lifecycle. AI-based tools and applications aid in the development of molecule structures per the target market. Machine learning, a subset of artificial intelligence, aids in estimating combinations and permutations of different compounds to determine the best combination without the need for manual experiments in the lab.
Artificial intelligence's application in biotech brings about innovations that aid predictive modeling to forecast market demand for a specific drug or chemical. AI in Biotech can also assist in the smart distribution of raw materials needed by the biotech sector via cloud computing.
Report Scope of the Artificial Intelligence (AI) in Biotechnology Market
| | |
| --- | --- |
| Report Coverage | Details |
| Base Year | 2022 |
| Forecast Period | 2023 to 2032 |
| Largest Market | North America |
| Fastest Growing Market | Asia Pacific |
| Segments Covered | By Offering, By Applications and By Usage |
| Regions Covered | North America, Europe, Asia-Pacific, Latin America and Middle East & Africa |

Market Dynamics:
Drivers
AI technological advancement
Technological progress is a crucial trend in the biotechnology market for artificial intelligence. Major players in the artificial intelligence market are focusing on developing innovative technologies to strengthen their positions. AI is transforming research and development by utilizing data science and machine learning to large data sets, allowing for the faster discovery of novel molecules.
To identify therapies, AI in drug development can cross-reference authored scientific literature with additional information sources such as conference abstracts, clinical trial data, unpublished data, and public databases. For instance, in 2023, the FDA approved DiA Imaging Analysis's AI program to assist clinicians in performing cardiac ultrasound exams.
Increasing adoption of AI in biopharmaceutical industries
Pharmaceutical companies use AI to help with the high-cost and dynamic drug discovery process. AI solutions successfully identify illness patterns within large datasets and assist in determining which drug formulations are better placed for treating various diseases. This aids in the adequate access and analysis of massive amounts of chemistry data, which enhances business outcomes and processes. For instance, Abbott launched its new artificial intelligence-powered coronary imaging system in Europe in April 2021.
Diagnosis of diseases
Machine Learning is generally used in diagnosing disease as it uses real-world results to develop diagnostic procedures, i.e., the more clinical tests performed, the more precise the observations. AI is also aiding in streamlining the radiology and radiation therapy processes, saving time, and improving patient care. According to a survey, the detection rate for actionable lung tumors on chest X-rays seemed higher with AI assistance (0.59%) than without AI (0.25%).
Restraints
Stagnant wages
A robot is an application of artificial intelligence displacing jobs and boosting unemployment rates (in a few cases). As a result, some argue that there is always the possibility of job loss due to chatbots & robots replacing people. Robots, for example, are frequently used to remove human resources in production sectors in technically advanced countries such as Japan.
Opportunities
Increase in awareness regarding personalized medicine.
The awareness regarding personalized medicine is due to growing demands for innovative drug discovery to resolve the increasing incidence of various diseases, including cancer. In addition, multiple collaborations among researchers and market players are anticipated to fuel the growth. Government policies favorable to personalized medicine add to the opportunity to grow this market.
Significant innovations in pharmacogenomics are expected to produce an acceptable approach to developing drugs explicitly designed for a particular patient or group of patients. AstraZeneca plc and Renalytix AI plc collaborated in August 2020 to introduce precision medicine methods for various metabolic disorders.
Impact of COVID-19:
During the novel Coronavirus pandemic, pharmaceutical companies have taken center stage. As a result, the biotechnology market has expanded rapidly, and this trend is expected to continue in the coming years. Factors such as technological advancements, a rise in the aging population, a focus on the healthcare needs of developing countries, an increase in chronic disorders, and increased spending by pharmaceutical companies on research and development all contribute to market growth.
Segments Insight
Offering Insights
The software sector contributed the most revenue in 2022 and is expected to be dominant throughout the projected period because of the ongoing software revolution that meets the needs of the healthcare industry. The increasing penetration of software due to the increasing need for storing, managing, evaluating, and sharing data in drug discovery and development and clinical trials led to this segment's dominance.
The rising demand for big data analytics drives the need for AI software in the global AI biotechnology market. Furthermore, the software generates recurring income channels for market participants over time and has thus become the highest revenue factor for AI in the biotech market globally.
Services, on the other hand, are projected to be the fastest-growing sector during the projected period. The need for more understanding among life science experts about AI-based hardware and software activity is raising the need for third-party service providers who supply technically trained personnel to operate costly AI systems. During the forecast period, this aspect is driving prices for the services sector of the global AI in the biotech market.
Applications Insights
The drug target identification is anticipated to expand at the highest revenue share from 2023 to 2032. Artificial intelligence is an innovative technique for identifying new anticancer targets and discovering novel drugs since biology networks efficiently protect and evaluate the interaction among components of cellular systems affecting human diseases like cancer. Network-based biology analysis algorithms provide various innovative network strategies for identifying cancer targets.
AI-based nanorobots as drug delivery agents are used to avoid collisions, identify and attach targets, and excrete from the body. Nano/microrobot advancements enable them to navigate to the desired target according to physiological conditions, including pH, improving efficacy and minimizing systemic adverse effects.
The predictive modeling segment is expected to grow at the fastest pace in 2022. Machine learning and predictive modeling can aid in predicting the behavior and interactions of various therapeutic candidates, including their biochemical properties, pharmacological efficacy, and safety profiles. It requires an investment, advancement, and a mindset transition, but it will allow better delivery of medicines to patients faster, more efficiently, and with greater personalization.
AI aids in structure-based drug discovery by forecasting the 3D protein structure, which helps to determine the effect of a substance on the target as well as safety considerations before its synthesis or production. For instance, in 2023, AlphaFold, a Google subsidiary DeepMind algorithm, significantly improved the modeling of 3D protein systems from sequences of amino acids.
Usage Insights
Based on usage, the agriculture biotechnology sector is projected to generate the highest revenue from 2023 to 2032. Agriculture biotechnology cultivates hereditarily modified plants to increase crop yields or to introduce new qualities to existing plants. It includes traditional plant rearing, tissue culture, micropropagation, sub-atomic reproducing, and plant hereditary design. Biotechnology companies are currently utilizing machine learning and artificial intelligence methods to develop and program autonomous robots that handle significant agricultural tasks such as crop collection at a much faster rate than humans.
The information captured by the automatons is processed and examined using PC Vision and Deep Learning calculations. These are primarily useful for assessing harvest and soil health. AI calculations aid in tracking and forecasting various ecological changes, such as climate changes that influence harvest yield.
Furthermore, medical biotechnology is anticipated to grow at the fastest pace in 2022. Medical biotechnology employs living cells to improve human health by providing medicines and anti-toxins. It also involves examining DNA and hereditarily limiting the cells to generate significant and beneficial qualities. Artificial intelligence awareness and machine learning have been widely used in sedate revelation.
AI assists in the discovery of small particles that may provide therapeutic benefits if objective structures are realized. AI is commonly used in disease diagnosis because it uses real-world outcomes to enhance analytic tests, i.e., the more definitive tests run, the more precise results are possible. Artificial intelligence is also assisting in shortening the radiotherapy treatment planning process, saving time, and enhancing patient care.
Regional Insights
In 2022, North America dominated the global AI in the biotechnology market. The United States is the worldwide leader in AI in the biotech market. This increase is attributed to increased demand for AI technology across all life sciences applications. Furthermore, the United States is home to several leading pharmaceutical and biotech firms. The massive investments made by US-based pharma firms in drug discovery and clinical trials have resulted in a huge demand for AI in biotechnology.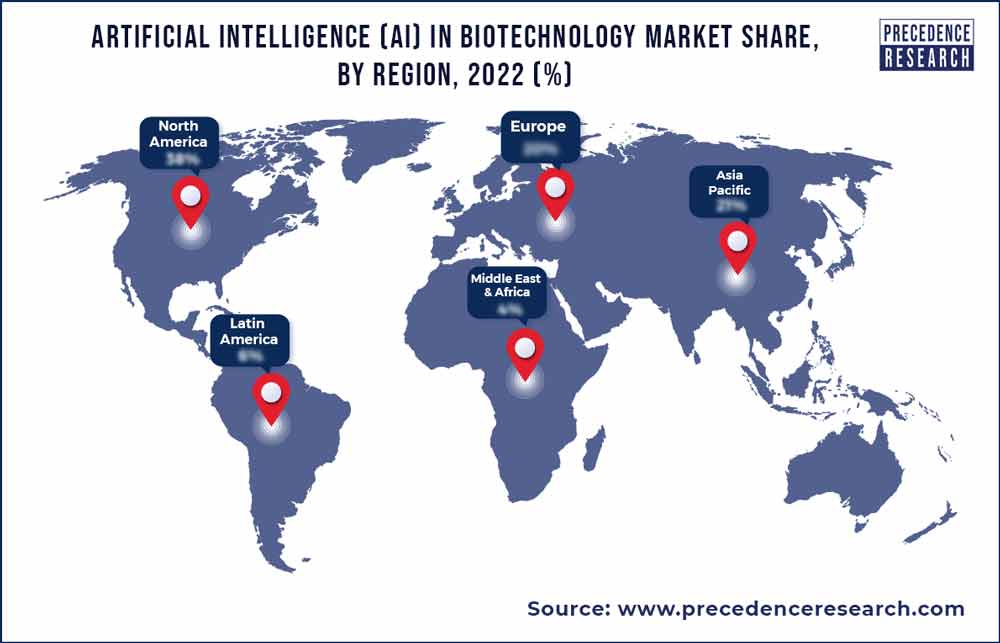 The United States owns the majority of newly developed drugs. It was stated that pharmaceutical companies invested approximately 19% of their total revenue in research and development. Various pharma companies and clinical research organisations in the United States are increasingly investing in the adoption of AI technologies, which will help North America maintain its dominance in the global AI in the biotechnology market in the near future.
Asia Pacific is projected to expand at the fastest rate during the projected period due to increased investments by multiple research firms in the deployment of artificial intelligence hardware and software to improve efficiency and productivity. Numerous top research organizations in the region are driving the market growth.
In AI development and integration, Japan, China, and South Korea have emerged as the most advanced nations. Numerous organizations are researching advanced artificial intelligence software applications in the aircraft industry.
Recent Developments:
Green Mountain Biotech and MeNow, Unveil Partnership for AI-Based Advancement of Skincare based on ancient Chinese Medicine in January 2023.
Insilico Medicine will open a sizeable AI-powered biotech laboratory in Abu Dhabi in 2023.
Zinc fingers, a new AI-powered biotech technology, offers distinct advantages over CRISPR while developing genomic disease therapies in 2023.
In 2022, Sanofi formed a collaboration with Exscientia, donating USD 100 million in cash to assist in developing 15 innovative minor molecule applicants in cancer treatment and immunology.
In 2022, the Utah-based AI biotech Recursion signed a deal with Roche and Genentech to discover molecules employing AI for cancer and neurological indications.
Bayer and Google Cloud revealed a collaboration in January 2023 to boost Bayer's quantum chemistry equations to initiate early drug discovery through machine learning.
GSK and Vir Biotechnology collaborated to identify antiviral molecules that cure coronaviruses using artificial intelligence.
Key Market Players
AstraZeneca
Bristol-Myers Squibb
Gilead Sciences, Inc.
Sanofi
Abbott Laboratories
Biogen
Pfizer, Inc.
Novo Nordisk A/S
Amgen, Inc.
Merck KGaA
Johnson & Johnson Services, Inc.
F. Hoffmann-La Roche Ltd.
Novartis AG
Segments Covered in the Report
(Note*: We offer report based on sub segments as well. Kindly, let us know if you are interested)
By Offering
Software
Hardware
Services
By Applications
Drug Target Identification
Drug Screening
Image Screening
Predictive Modeling
By Usage
Agriculture Biotechnology
Medical Biotechnology
Animal Biotechnology
Industrial Biotechnology
By Geography
North America
Europe
Asia-Pacific
Latin America
The Middle East and Africa