The global automatic emergency braking market size was estimated at US$ 57.67 billion in 2021 and is expected to worth around US$ 104.91 billion by 2030 and poised to grow at a compound annual growth rate (CAGR) of 6.9% during the forecast period 2022 to 2030.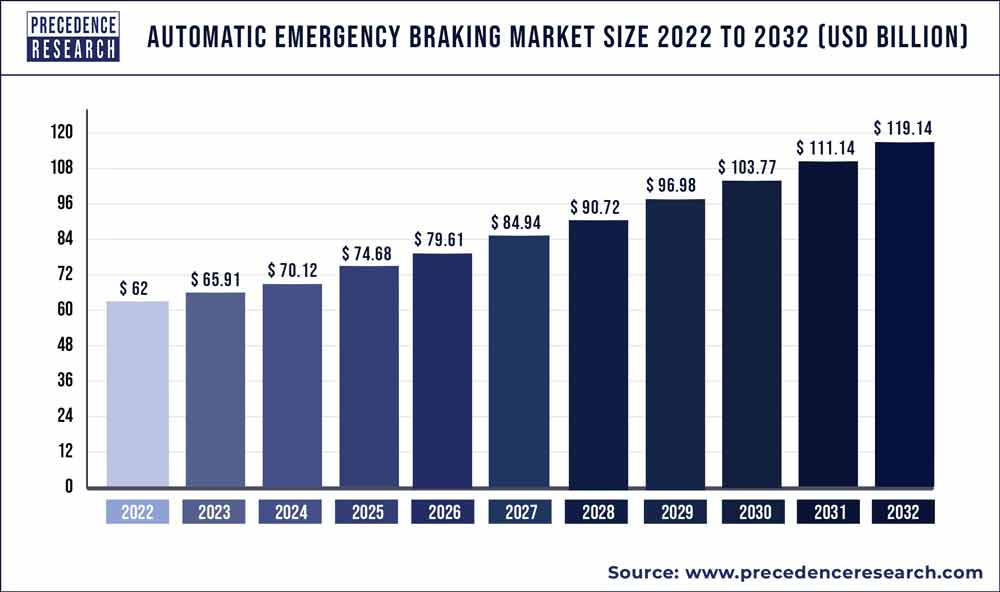 Automatic emergency braking is a mechanism that automatically applies the brakes in an emergency and helps to reduce the severity of a collision. The road vehicle safety system includes sensors that monitor the proximity of cars in front of them and recognize situations when the vehicle's relative speed and distance from the obstacle signal a collision is likely to occur. Automatic emergency braking (AEB) is a popular active safety device for averting rear-end and pedestrian crashes. Based on video detection of an item in front of the car, this system is an advanced assistance system that detects impending crashes and reacts by automatically engaging the brakes.
During the early months of the global COVID-19 outbreak, the car industry was slammed heavily and it affected on the braking system as well. Automotive sales in China decreased 71 percent in February 2020 and by April sales in the U.S. declined by 47 percent. In Europe too sales dropped by 80 percent in April 2020. But automotive industry bounced back faster than expected. Automakers all over the world saw increase in production levels from the third quarter of 2020 to the first quarter of 2021.The pandemic has accelerated tendencies across the mobility value chain that were already developing before it happened, as it did in other industries and geographic regions. Just like car buying, digitalization is also increasing efficiency in producing. With supply chain optimization elements are more consistently tracked across the particular supply chain. This, too, is a continuation of a pattern that began long before the COVID-19 pandemic. Such factors helped the industry get back on track quickly.
Report Scope of the Automatic Emergency Braking Market
| | |
| --- | --- |
| Report Coverage | Details |
| Market Size by 2030 | USD 104.91 Billion |
| Growth Rate from 2022 to 2030 | CAGR of 6.9% |
| Largest Market | Asia Pacifc |
| Fastest Growing Market | North America |
| Base Year | 2021 |
| Forecast Period | 2022 to 2030 |
| Segments Covered | Type, Product, Tecnology, Vehicle Type, Brake, Geography |
| Companies Mentioned | Robert Bosch GmbH, Continental Ag, Delphi Automotive LLP, ZF Friedrichshafen AG, Mobileye, Autolov Inc., Hyundai Mobis, Aisin Seiki Co., Ltd., Hitachi Automotives Systems, Ltd., Mando Corporation |
Product Type Insights
On the basis of product type the market is segmented on two sub segments; Low-speed AEBS and High-speed AEBS. High –speed AEBS holds the highest market share while Low-speed AEBS is the most lucrative segment. Low-speed AEB, also known as city AEB, operates at speeds ranging from walking to roughly 30 km/h, with only one camera keeping a watch on the road ahead. High-speed systems employ more advanced cameras, sensors, and radars, allowing them to operate at speeds much exceeding Australia's 110km/h highway limit.
The system monitors the speed and distance of objects in the vehicle's path using cameras, sensors, or radars - or a mix of the three - and intervenes if the driver fails to respond in an emergency situation. If the car senses a probable accident, it may issue auditory and/or visual warnings to the driver before applying the brakes autonomously, even if the driver does not. The car will attempt to either lessen the impact of a collision or stop before an event happens using a combination of anti-lock brakes (ABS) and electronic stability control (ESC).

Technology Insight
The AEBS is divided into two categories based on technology; crash imminent braking (CIB) and dynamic brake support (DBS). Dynamic brake support system is expected to remain dominant during the forecast time period. In circumstances where the driver fails to apply any braking or steering in response to an FCW warning, CIB systems additionally use forward-looking sensors to offer the information needed to determine when autonomous braking is necessary to avoid or lessen the impacts of a crash.In this case, a CIB system will automatically apply braking (varying from partial to complete braking based on the system design and circumstances) in an attempt to avoid or lessen the crash.
Vehicle Type Insight
The market is divided into passenger and commercial vehicles based on vehicle type. Passenger cars are known as the motor vehicles which comprise of at least four wheels, and are used for the transportation of passengers, have no more than additional eight seats to the driver's seat. Passenger cars are vehicles with at the least four wheels, applied for the transfer of passengers, in addition to comprising only 8-10 seats as well as the driver's seat. Commercial automobiles include light industrial vehicles, heavy pickup trucks, coaches and vehicles. Light commercial automobiles are automobiles together with at least 4 wheels, used for carrying goods. Buses and coaches are employed for the transfer of passengers, composed of greater than eight car seats as well as the driver's seats, and having a new maximum mass more than the limit of light industrial vehicles. Heavy pickup trucks are vehicles designed for the transfer of heavy goods. Optimum authorized mass is finished the limit of light industrial vehicles. They contain tractor vehicles made for towing semi-trailers.
Region Insight
On the basis of regional insights, the market is studied across North America, Europe, Asia Pacific, and Rest of World. Global automotive industry made over 70 million cars and around 25 million commercial cars, vans, trucks, and buses in 2018. Because of travel restrictions and an overall slowdown in economic activity owing to the COVID-19 pandemic, global motor vehicle production declined drastically in 2020, falling 15.4 percent from the previous year.
Passenger cars and commercial vehicles also saw considerable drops in output, with 16.9% and 11.6 percent declines, respectively. But on the other hand, global electric vehicle (EV) sales surged by 39% to 3.2 million units in 2020, bringing the entire global EV stock to 11.3 million units. The International Organization of Motor Vehicle Manufacturers' newest figures show a considerable drop in output across all manufacturing regions, with the most significant drops in Latin America (24.8 percent), Western Europe (24%), and North America (24%). As of 2021, Germany ranked second in EV sales, after China, by overtaking U.S. in 2020. In terms of sales share, Norway was the top country with 75% of cars sold in Norway being electric, followed by Sweden, Netherlands, and Denmark (16%). This trend is expected to prevail during the long run and will drive the market growth.
Nissan has claimed that autonomous emergency braking will be standard on a million vehicles in the United States by 2018.Except for those equipped with a manual transmission or a Nismo version, the AEBS technology will be added to the Rogue (X-Trail), Rogue Sport (Qashqai), Altima (Teana), Murano, Pathfinder, Maxima, Sentra (Sylphy), and Leaf EV.
Kia Australia intends to put out its Autonomous Emergency Braking (AEB) technology on the Picanto, which already boasts a long list of excellent features. To avoid crashes or lessen their consequences on other vehicles, the technology uses a radar-based system. This feature gives the Picanto a distinct advantage over the competition.
Some of the prominent players in the global Automatic Emergency Braking market include:
Robert Bosch GmbH
Continental Ag
Delphi Automotive LLP
ZF Friedrichshafen AG
Mobileye
Autolov Inc.
Hyundai Mobis
Aisin Seiki Co., Ltd.
Hitachi Automotives Systems, Ltd.
Mando Corporation
Segments Covered in the Report
By Product
Low-speed AEBS
High-speed AEBS
By Technology
Crash Imminent Braking
Dynamic Brake Support
Forward Collision Warning
By Vehicle Type
Passenger Vehicle
Commercial Vehicle
By Brake
By Type
Low Speed AEB System

High Speed AEB System

Pedestrians AEB System
By Geography
North America
Europe
Asia-Pacific

China
India
Japan
South Korea
Malaysia
Philippines

Latin America

Brazil
Rest of Latin America

Middle East & Africa (MEA)

GCC
North Africa
South Africa
Rest of the Middle East & Africa