The global automotive disruption radar market is driven by growing demands for hybrid vehicles, increasing stringency of vehicle safety regulations and the government's strict regulations.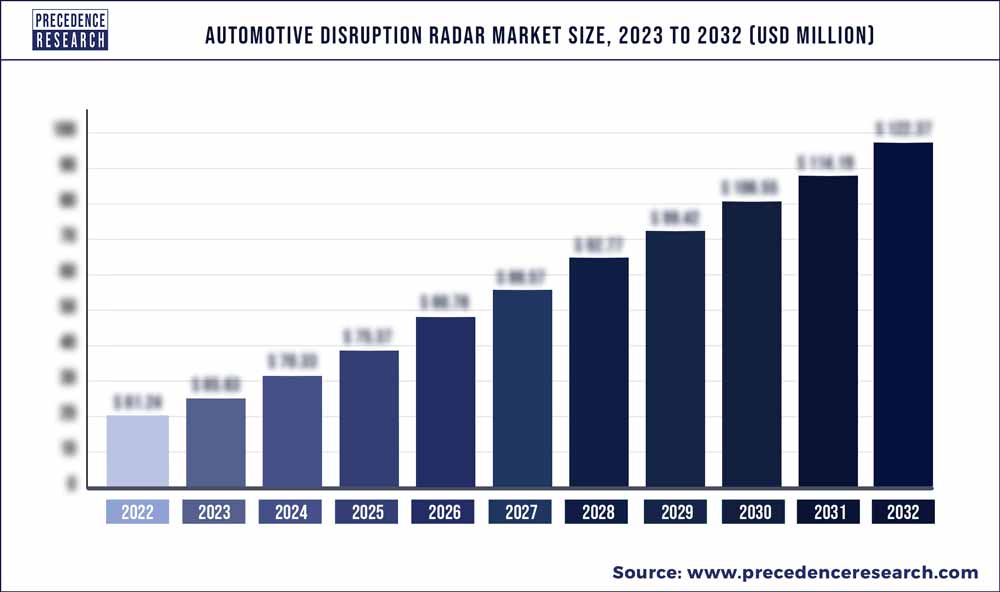 Key Points:
Europe region dominated the global market and is predicted to expand at a remarkable CAGR between 2023 and 2032.
The medium-range and short-range segment generated the major market revenue in 2022.
The passenger car vehicle type segment is anticipated to expand quicker between 2023 and 2032.
The plug-in hybrids EV preferences segment is predicted to expand at the fastest rate between 2023 and 2032.
The adaptive cruise control application segment captured the maximum market share in 2022.
The autonomous emergency braking application segment is projected to expand at a fastest CAGRs between 2023 and 2032.
Market Overview:
Government regulations and favorable radar system plans have supported the development of automotive safety devices, which are expected to propel the broad adoption of radar-based safety protocols over the projected period. Additionally, lower vehicle automated costs and advances in automotive innovation are expected to encourage automotive radar application. Its use allows for more precise object detection as well as better vehicle safety.
The World Health Organization predicts that if worldwide car safety protocols are not enhanced by 2030, traffic accidents will be the seventh most common cause of death. Approximately 90% of all road accidents happen in the middle- and low-income developing nations, which also have 54% of the globe's vehicle population. Automakers have a remarkable opportunity to expand in these countries since they lack advanced radar-based car safety systems.
Implementing radar-based safety systems like autonomous emergency braking (AEB), adaptive cruise control (ACC), forward collision warning (FCW), blind spot detection (BSD), and intelligent park assist, among others, would not only improve vehicle safety but would also help achieve a higher level of automation.
Report Scope of the Automotive Disruption Radar Market
| | |
| --- | --- |
| Report Coverage | Details |
| Base Year | 2022 |
| Forecast Period | 2023 to 2032 |
| Largest Market | Europe |
| Fastest Growing Market | Asia Pacific |
| Segments Covered | By Range, By Vehicle Type, By EV Preferences and By Application |
| Regions Covered | North America, Europe, Asia-Pacific, Latin America and Middle East & Africa |

Market Dynamics:
Drivers
Vehicle-to-vehicle communication
The ability of vehicle-to-vehicle (V2V) communication to wirelessly share information regarding the position and speed of surrounding vehicles has great potential for reducing crashes, easing traffic congestion, and improving the environment. However, the most significant benefits are realized only when all automobiles interact with one another.
These V2V communication messages can trace dangers obscured by traffic, terrain, or weather and have a range of more than 300 meters. V2V communication technology has the potential to enhance the efficiency of vehicle safety systems and save lives. As per the Ministry of Road Transport and Highways, Road accidents in India claimed approximately 1.5 lakh lives and injured over 3.8 lakh people in the year 2021.
The government should impose strict regulations on vehicle safety systems to promote growth.
Consumers' growing awareness of vehicle safety has increased the requirement for features like cruise control and blind-spot detection, which can assist drivers and decrease the number of accidents. Furthermore, the alarming rise in fatalities as a result of vehicular accidents has forced various governments to impose stringent laws and actively encourage the advancement of vehicle safety systems.
As a result, the growing adoption of radar-based software in automobiles is expected during the projected period as a means of improving vehicle safety.
Restriction of the internal combustion engine (ICE) makes way for EVs.
The government's decision to ban imports of internal combustion engine (ICE) vehicles for approximately eight months has benefited electric vehicles (EVs). Imports of EVs increased by 64.77% due to reduced customs duties as well as other taxes on imports and sales compared to ICE vehicles.
According to the Department of Commerce, imports of SUVs and cars increased by 60.75%, while imports of two-wheelers increased by 243.80%. The rise of electric four-wheelers up to 100kW has primarily driven growth in the car and SUV sectors.
In November 2021, India initiated the e-AMRIT portal as a one-stop target for all EV-related information, such as investment opportunities, charging locations, subsidies, and policies in the segment.
Restraints
The security risks associated with radar-based technology are limiting its adoption.
The signal structure used by automotive radar is specific, and they lack any inherent authentication, making technology vulnerable to spoofing attacks. A successful spoofing attack can severely compromise the integrity of car occupants by effectively causing the car to stop, change direction, or collide within a short period of time by breaching the target radar. Current technology is based primarily on frequency-modulated continuous-wave (FMCW) systems.
However, as the number of vehicles equipped with such systems grows, FMCW interference in congested areas is predicted to be challenging because it can cause significant performance degradation. As a result, security risks associated with the automotive industry, such as spoofing and interference, are probable to limit this technology's adoption during the anticipated period.
Opportunities
Rising demand for vehicle safety features
The popularity of safety features like collision prevention systems, parking assistance, traction control, lane change warnings, and so on is increasing as the number of road accidents increases worldwide. Automotive radar is a significant component of the advanced driver assistance system (ADAS), which is able to recognize and classify objects on the highway and warn the driver of potential hazards and accidents.
Furthermore, this system can automatically stop the vehicle based on the highway conditions. Road traffic accidents are a leading cause of death worldwide.
Impact of COVID-19:
After a disastrous year for the automotive industry, which saw a considerable drop of roughly 5% in worldwide vehicle production and ended a 10-year upward trend, the global automotive industry faced a halt in 2020 as a result of the COVID-19 pandemic. Sales have decreased in recent years as demand for novel vehicles and production have been severely impacted.
This had an impact on the revenue channels allocated to R&D and the adoption of novel technologies such as automotive RADAR. Moreover, as vaccination rates rise globally, the pandemic's effect on the automotive sector is projected to diminish steadily over the next few years. The post-pandemic requirement for automotive RADAR solutions is anticipated to increase significantly because they provide safety to vehicles and superior comfort.
Segments Insight
Range Insights
In 2022, medium-range and short-range radar had the largest market revenue and was anticipated to be the fastest-growing sector. These sectors of radars are commonly used in vehicle security systems to detect objects in the vehicle's vicinity. Blind spot identification, lane shift assistance, as well as parking assistance are the features offered by the systems. Reduced radar prices and the growing demand for more radars per system for increasing efficiency are expected to drive the market during the projected period.
Since long-range radars are widely used in ACC, the growing use of ACC in mid-priced automobiles is anticipated to propel growth in the long-range radar sector during the projected period. In 2022, the sector accounted for a significant share.
Vehicle Type Insights
The passenger car sector is predicted to expand faster than the commercial vehicles market. Increasing vehicle safety awareness among mid-priced vehicle owners is the key driver of the segment's growth. Luxury SUVs' enhanced autonomous safety processes and comfort, as well as benefits like greater adaptability, more space, as well as excellent comfort in comparison to sedans, are influencing customer preference towards small SUVs in progress.
Hyundai announced an INR 1,000 crore investment to build inexpensive EVs in February 2021. The automotive radar industry is poised to increase over the projected period as more passenger cars are outfitted with radar-based safety systems.
Furthermore, the expanding logistics industry and brisk e-commerce have boosted sales of commercial vehicles. The surge in demand for electric cars to reduce line emigration, stringent regulations and laws governing automotive emigration, and rising consumer awareness of the importance of electric vehicles in reducing emigration are all major contributors to this sector's rapid growth. Rising consumer expectations for vehicle autonomy in commercial vehicles are also expected to drive segment growth.
EV preference Insights
The considerable expansion of the BEV is primarily attributed to potential advantages such as reduced greenhouse gas (GHG) emissions, increased energy security, and reduced local pollutants. BEV-powered EVs depend solely on a battery-powered engine, and the electricity used to charge the car is kept in a huge battery pack that is charged by attaching it to the power grid.
The PHEV sector is anticipated to expand at the fastest pace from 2023 to 2032. Plug-in Hybrid Electric Vehicles, or PHEVs, are powered by an engine and an electric motor. They can recharge their batteries via regenerative braking. They differ from conventional hybrids by having bigger batteries and grid-rechargeable plugs.
Application Insights
Due to increasing application in prevalent automotive industries such as the United States, Germany, and China, ACC had the largest market share in 2022. Furthermore, it provides significant benefits in automation and vehicle safety. The ACC systems have been included in the National Transportation Safety Board's top ten vehicle safety improvements. Also, Europe has regarded the ACC system as one of the mandatory safety options for innovative vehicle safety.
On the other hand, The AEB segment is predicted to expand at one of the fastest CAGRs during the expected period. Favorable government initiatives, such as the licensing of radar frequencies as well as increased investment by automakers in the production of low-cost radar-based safety systems, are expected to drive expansion during the projected period.
According to the most recent Euro NCAP rating, vehicles equipped with AEB, in addition to other ADAS technologies such as ACC and FCW, will receive higher marks for overall safety. This regulatory step is expected to boost the demand for RADAR-based AEB even further.
Regional Insights
Europe led the worldwide market and is anticipated to expand at a registered CAGR over the projected period. This is attributed to the rising stringency of the European Commission for vehicle safety standards. German automakers produce roughly 70% of luxury vehicles. Furthermore, the country's automotive business invests approximately one-third of its revenue in R&D.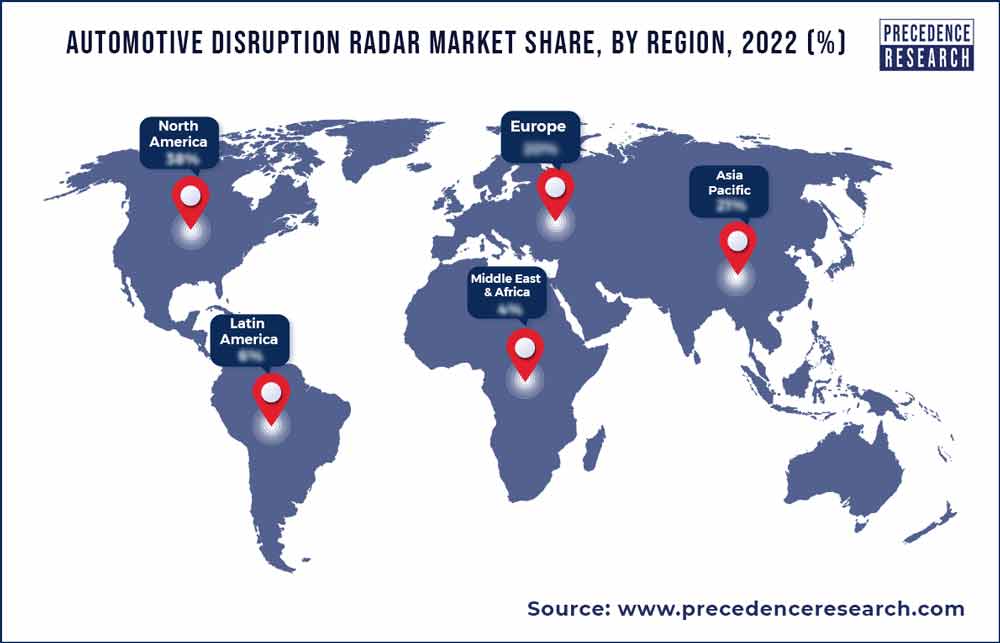 However, due to the low-cost benefits associated with vehicle production, the Asia Pacific region is predicted to emerge as the fastest-growing region. Vehicle sales in the Asia Pacific region have increased in recent years due to increasing disposable income.
The growing awareness of vehicle safety protocols and their benefits is one factor driving the automotive radar market growth. The Latin American industry is expanding because of the considerable support for the usage of the 79 Ghz frequency band for vehicles' short-range radar. Customers in China are overwhelmingly enthusiastic about electric cars, and 60% are considering purchasing an EV as their next vehicle.
Recent Developments:
In January 2023, Texas Instruments announced the release of the new automotive battery cell as well as pack monitors that offer the most precise measurement potential on the market, maximizing electric vehicle (EV) drive period and aiding safer operation.
In January 2023, NXP Debuts an Innovative Automotive Radar One-Chip for Next-Generation ADAS as well as Autonomous Driving Systems
In December 2022, Chicony Power and TI team up to bring GaN technology to the next generation of energy-efficient laptop power adapters.
In November 2022, Texas Instruments (TI) announced innovative Matter-enabled software advancement kits for Thread SimpleLink Wi-Fi microcontrollers (MCUs), which will simplify Matter protocol adoption in IoT apps.
In November 2022, NXP Introduced the S32K39 Series of High-Performance MCUs for Modern Electrification Uses.
Key Market Players
NXP Semiconductors
Continental AG
DENSO Corporation
Autoliv Inc.
Delphi Automotive Company
Analog
Texas Instruments
ZF Friedrichshafen
Robert Bosch GmbH
Valeo
Segments Covered in the Report
(Note*: We offer report based on sub segments as well. Kindly, let us know if you are interested)
By Range
Long Range
Medium & Short Range
By Vehicle Type
Passenger Cars
Commercial Vehicles
By EV Preferences
Battery Electric Vehicles
Plug-in Hybrids (PHEVs)
Fuel Cell Electric Vehicles
By Application
Adaptive Cruise Control (ACC)
Autonomous Emergency Braking (AEB)
Blind Spot Detection (BSD)
Forward Collision Warning (FCW)
Intelligent Park Assist
Other ADAS Systems
By Geography
North America
Europe
Asia-Pacific
Latin America
The Middle East and Africa