The global automotive cybersecurity market size was estimated at USD 3.1 billion in 2022 and it is projected to hit around USD 16.43 billion by 2032, growing at a CAGR of 18.15% between 2023 and 2032. North America automotive cybersecurity market was valued at USD 0.92 billion in 2022.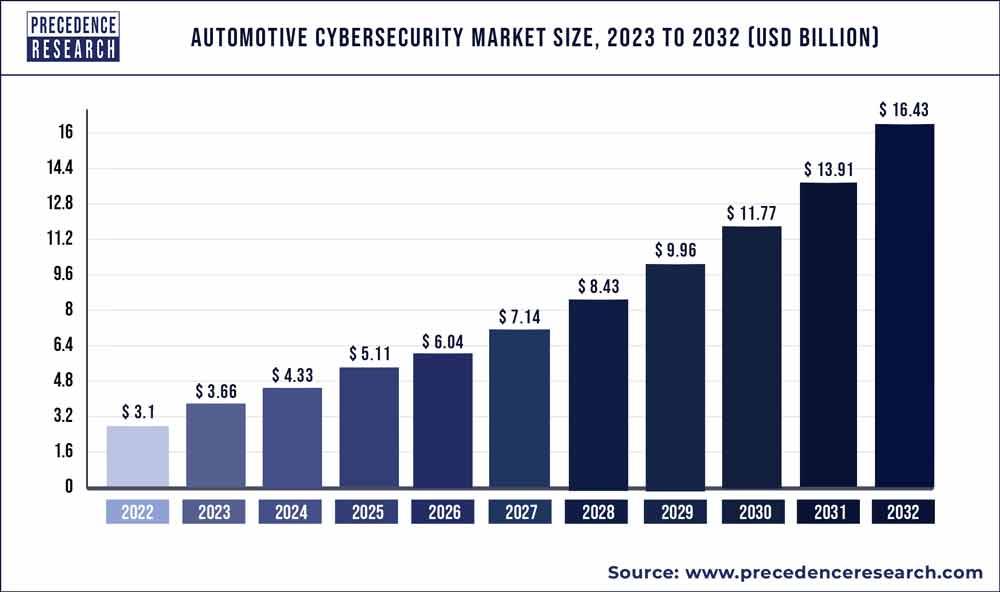 Access our Premium Real Time Data Intelligence Tool, Visit: Precedence Statistics
Key Takeaways:
Asia Pacific generated the largest market share of around 37% in 2022.
North America became the second-largest market between 2023 and 2032.
By vehicle type, the electric vehicle (EV) segment is predicted to grow at a remarkable CAGR of 29% from 2023 to 2032.
By security type, the wireless network security segment captured more than 43% of revenue share in 2022.
By security type, the application security generated more than 35% of revenue share in 2022.
By application, the infotainment segment contributed more than 37% of revenue share in 2022.
By application, the ADAS & safety system segment is expected to grow at a noteworthy CAGR of 22% from 2023 to 2032.
By form, the in-vehicle segment was the market leader in 2022.
Market Overview
Automotive cybersecurity is a programme that guards against unauthorized access, damage, assaults, and other wrongdoing on internet-connected automobiles, automotive communication systems, users, and data. Today's cars can connect to the internet, giving them increased independence, improved communication capabilities, and mobility sharing capabilities. Cars can now transmit data to both their makers and consumers, despite the fact that this better connection has left them more susceptible to hacks.
All contemporary vehicles include electronic brake, accelerator, control, engine, steering, and security system controls, making it easy for hackers to remotely commandeer the vehicle. Also, there can be a security issue with connected intelligent security systems for cars. Moreover, cybersecurity solutions for data protection are required by a number of governmental rules and regulatory frameworks. The need for automotive cybersecurity has grown as a result of the industry's increasing demand for cybersecurity.
Growth Factors
The market for automotive cybersecurity is expanding as a result of rising demand for automotive cybersecurity solutions brought on by a rise in cyberattacks on the car industry. Cybercrime is on the rise, and it is anticipated that customer comprehension of information security will result in lucrative business opportunities. As a result, owners and organisations are urged to put automotive cybersecurity safeguards in place, which is what propels the sector.
The development of connected cars and the enforcement of vehicle data security regulations by regulatory bodies are expected to fuel further market expansion.
Report Scope of the Automotive Cybersecurity Market
| | |
| --- | --- |
| Report Coverage | Details |
| Market Size in 2023 | USD 3.66 Billion |
| Market Size by 2032 | USD 16.43 Billion |
| Growth Rate from 2023 to 2032 | CAGR of 18.15% |
| Largest Market | Asia Pacific |
| Second Largest Market | North America |
| Base Year | 2022 |
| Forecast Period | 2023 to 2032 |
| Segments Covered | By Security Type, By Vehicle Type, By Application and By Form |
| Regions Covered | North America, Europe, Asia-Pacific, Latin America and Middle East & Africa |

Market Dynamics
Driver
Increased use of electronics per vehicle and growing number of connected cars
The weight of a car has been decreased because to electrification. As a result, the need for electronics in the automotive industry has dramatically increased. The increasing use of electronics has made vehicles more vulnerable to cyberattacks.
The electronic components used in telematics, infotainment, engine, body, communication, and advanced driver assistance systems (ADAS) systems, among other purposes, might be the subject of cyberattacks. As a result, parties with an interest in providing trustworthy electronic platforms for autos have started to invest in cybersecurity technology.
Due to the increase in car connectivity, a vehicle is becoming increasingly susceptible to hackers. The complexity of in-vehicle applications is growing as more ECUs and software with 30 to 40 million lines of code are used. Each line of software code needs to be secure.
By 2022, a sizable majority of new cars, according to industry estimates, will be network connected. Several OEMs and security solution providers are acting to mitigate cyber dangers. Yet, no guarded architecture will ever offer unwavering security over the long run. Security codes must be used regularly in connected vehicles as a result. Manufacturers are focusing on lowering the possibility of security flaws and strengthening software updates as a result. As a result, the market for automotive cybersecurity is anticipated to grow in the next years as the number of connected cars increases.
Restraint
Growing complexity in vehicle electronic system
Due to the increased demand for vehicle safety in terms of accident avoidance, driver safety, and sophisticated communication & data safety, electronic driver aid systems are becoming more and more necessary (parking, speed regulation, lane assist, blind spot detection, pre-collision warning, etc.). Because of this, automotive electronic designs are now more complicated, which makes it simpler for hackers to attack a car. Also, there is a desire for modern infotainment systems and comfort features like automatic cooling, memory-assisted seat adjustment, automated tailgate opening, and performance control.
The software in a modern, high-end car currently has 100 million lines of code (greater than Windows 7 and Boeing 787). There are several lines of code because of the potential for a Man in the Middle attack during an over-the-air software upgrade. As a result of the physical hardening of the hardware and more intricate software solutions needed to solve these problems, OEM implementation costs will rise, slowing the market's growth momentum.
Opportunity
Introduction of electric vehicle wireless battery management system
For OEMs worldwide, the introduction of wireless battery management systems (wBMS) has opened a sizable Return on Investment (ROI) possibility. For the next generation of EVs, wBMS can reduce the volume of battery packs by up to 15% and up to 90% of the wiring. In addition, the battery life span is extended with this new system.
As a result, it is essential that the wireless power pack management system maintain a strict security procedure. General Motors and Analog Devices, Inc. (Analog) partnered to deploy Analog's wBMS in its Ultium battery platform once the company debuted its wBMS in 2020.
By integrating all integrated circuits, hardware, and software for power, battery management, RF communication, and system functions into a single system-level product that supports ASIL-D safety and module-level security, the new wBMS expands on the company's well-established, leading-industry BMS battery cell measurement technology. As a result of the expanding use of wBMS, it is projected that the demand for cybersecurity solutions in the global automotive industry would rise.
Impact of COVID-19:
The COVID-19 is likely to be in effect for a few years, but its effect on the automotive cybersecurity sector is uncertain.
Governments all around the world were driven by the COVID-19 breakout to enact strict lockdown measures and ban the import and export of raw materials for the majority of 2020 and a few months of 2021. As a result, the supply of crucial raw materials used in the production of automobiles suddenly decreased.
Also, a widespread shutdown caused firms that produce parts to completely or partially halt production. Global delays in projects and actions related to the development and integration of cutting-edge automotive cybersecurity solutions in connected automobiles have been brought on by the COVID-19 pandemic's detrimental impacts.
Segments Insight:
Vehicle Type Insights
Based on vehicle type, commercial vehicles, passenger cars, and electric vehicles make up the market segments (EV). The market's electric vehicle (EV) category, which took the lead in 2022, is anticipated to grow at a CAGR of 29%. Due to more people becoming aware of the negative effects of hybrid vehicles and paying attention to economic development, the market has grown. However, in anticipation of greater infrastructure development, local governments in a number of locations are providing incentives to encourage the purchase of electric vehicles.
Innovations in energy and information technologies are transforming how EVs generate, manage, store, and use energy. This has increased the likelihood that cyberattacks will have undesirable results. The rising automation and connectivity of electric and modern automobiles has raised the potential of cybersecurity breaches.
The majority of OEMs and other large electric vehicle operators rely on security because of the rise in cyberattacks and the management of this more complex environment, whether it be network security or in-car security. Many businesses also feel obligated to rely on independent producers and publicly available resources in the absence of knowledge or control.
Security Type Insights
Based on security insights, endpoint, application, and wireless network security are the market segments. In 2022, the wireless network security segment generated more than 43% of revenue share. In order to track vehicle operational aspects and adjust the test as it is being done, automotive specialists can use the Wi-Fi-based wireless system to simultaneously monitor hundreds of data channels during test runs.
A modern vehicle incorporates numerous networks for information sharing, including wireless channels, to enable a variety of application scenarios.
As the automotive industry advances, vehicles will support more complicated wireless communication use cases; therefore, it will be crucial to think about building protected wireless technology based on a strong equipment foundation and software layers created to secure software development methodologies.
Application security accounted for a sizeable revenue share of 35% of the market in 2022. Automobile Makers now frequently provide mobile applications that provide a smooth user and owner interface. These applications provide a wide range of capabilities, such as wireless vehicle starting, fuel level monitoring, and enhanced inspections. Also, the development of new mobile applications has included a number of advantages for users of vehicles.
Application Insights
Based on application, the ADAS & safety system, powertrain, infotainment, body electronics, and telematics segments of the vehicle cyber security market. The infotainment sector captured more than 37% of revenue share in 2022 and is anticipated to increase rapidly over the next few years.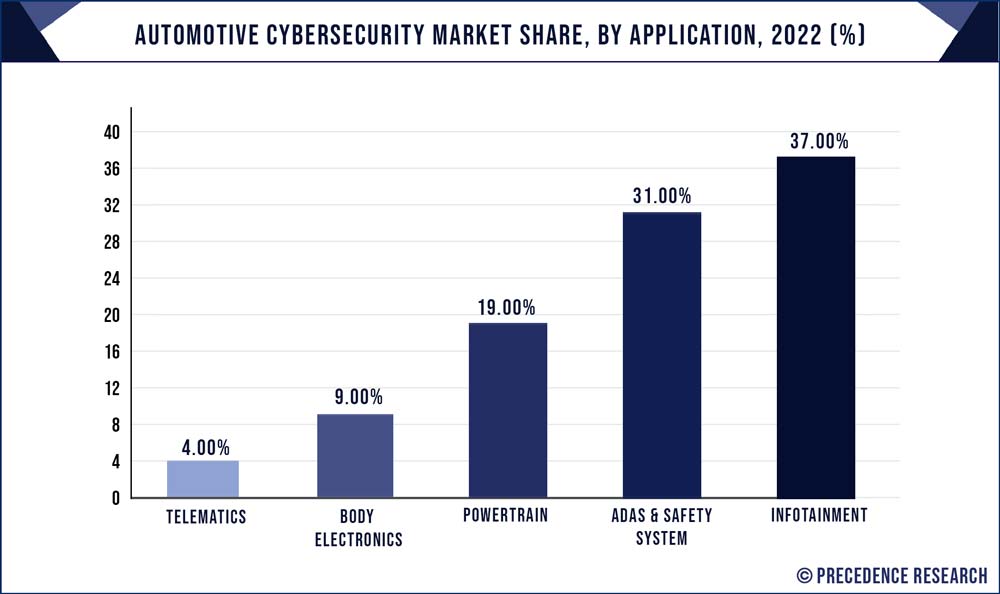 The entire automotive industry is working hard to develop cutting-edge technology to give better connectivity options, increase vehicle safety, and enhance the in-car user experience. One of the key technologies, known as the "In-Vehicle Infotainment System," serves as the focal point for all modern automobile systems, integrating their functions so that they can be managed and controlled from a single hub.
The ADAS & safety system market is anticipated to grow at a remarkable CAGR of 22% from 2023 to 2032. Vehicles may behave similarly to a driver watching the weather, recognizing objects on the road, and making a decision in real-time to boost safety with the aid of ADAS technology. Some examples of ADAS capabilities include automatic clutch control, driver monitoring, front pedestrian recognition, and collision avoidance.
The requirement for a constant link from the car's electronic control unit (ECU) to a number of cloud services that enhance sensor processing and subsequent vehicle navigation is expected to rise as a result of the market's rapid advancements in autonomous driving technology.
Form Insights
In 2022, the in-vehicle category was the market leader. In-vehicle-connected services are technologies that allow links between internal systems and those present in remote or external systems. Due to its mobile connectivity, the device with the most connections in a modern automobile. Car OEMs had to adjust to changing consumer demands and expectations, which resulted in the development of ever-more-advanced technologies.
Also, the growth of external cloud services is accelerated by improvements in cloud infrastructure and framework. Cloud services offer a very dependable technology because automated vehicles generate a large amount of data. Moreover, cloud technology will lead to a faster pace of information as more vehicles and devices become cloud-connected.
Regional Insights:
Asia Pacific held the maximum market share of around 37% in 2022 and is anticipated to continue expanding over the course of the projection. The number of cyberattacks has been rising steadily across APAC. Yet, a lack of security measures and the rising popularity of work-from-home policies have led to a rapid increase in cyberattacks. The two most prevalent kinds of cyberattacks are malware and ransomware assaults.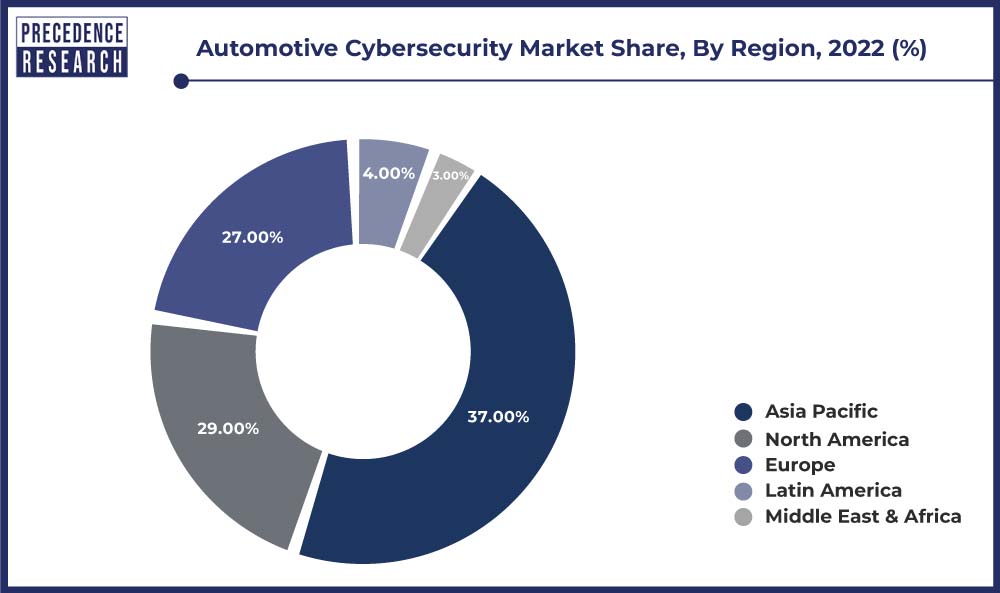 The number of malware and ransomware attacks in APAC nations is still 1.6 times greater than worldwide. During 2018, ransomware assaults have increased in frequency across the globe. Cyberattacks on the auto industry have become more frequent as connected cars and digitization have proliferated. These attacks target the car and compromise crucial vehicle data, causing owners to incur significant losses.
Throughout the forecast period, North America became the second-largest market for automotive cybersecurity. The market for automotive cybersecurity in North America will expand due to the widespread use of automated passenger vehicles. Due to the increased focus on reducing vehicle emissions, the automobile industry's focus has switched to hybrid vehicles, which are currently dominating the market.
In response to expanding environmental concerns, governmental organisations and environmental agencies are enforcing emission standards, regulations, and laws. This could push up the price of delivering electrical drivetrain components and energy diesel engines during the projection period.
Recent Developments:
In October 2022, Denso Company and NTT Communications Corporation announced the creation of the vehicle security operation centre (VSOC) in response to the growing cyber risks against automobiles.
The next generation of vehicles will have powerful network management systems due to the launch of the EB zoneo SwithCore Shield pre-integrated solution in September 2022 from Argus Cyber Security Ltd. and Elektrobit.
Key Market Players:
Sheelds
Vector Informatik GmbH
NXP Semiconductors N.V.
Harman International
Broadcom Inc.
Denso Corporation
Honeywell International, Inc.
Continental AG
Guard Knox Cyber-Technologies Ltd.
Robert Bosch GmbH
Segments Covered in the Report:
(Note*: We offer report based on sub segments as well. Kindly, let us know if you are interested)
By Security Type
Endpoint Security
Application Security
Wireless Network Security
By Vehicle Type
Passenger Car
Commercial Vehicle
Electrical Vehicle
By Application
ADAS & Safety System
Infotainment
Body Electronics
Powertrain
Telematics
By Form
In-Vehicle Services
External Cloud Services
By Geography
North America
Europe
Asia-Pacific
Latin America
The Middle East and Africa