The global biopreservation market size accounted for USD 1.94 billion in 2022 and is expected to hit around USD 24.28 billion by 2032, growing at a CAGR of 28.8% from 2023 to 2032. North America generated more than 36% of revenue share in 2022.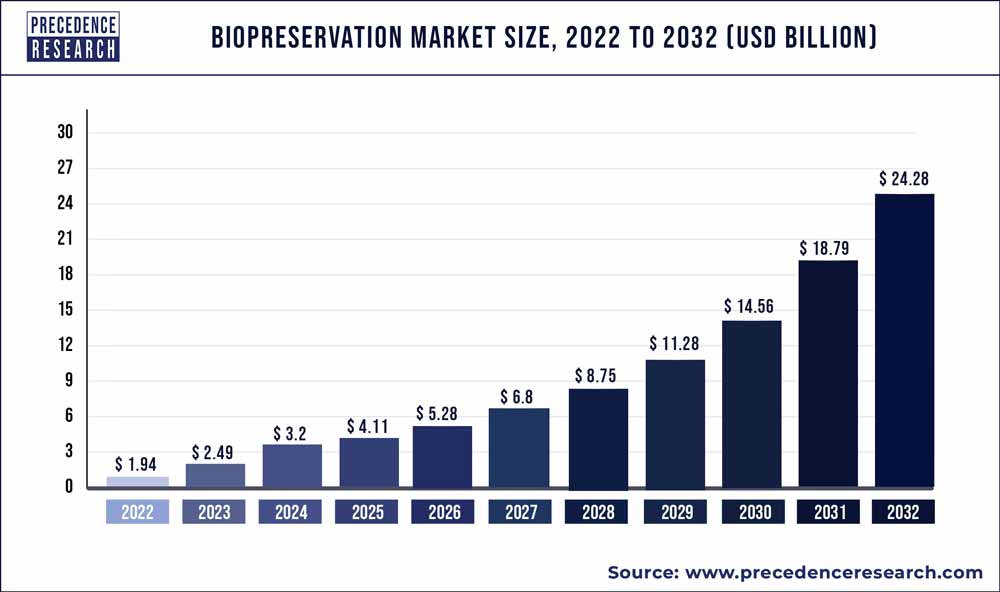 Access our Premium Real Time Data Intelligence Tool, Visit: Precedence Statistics
Key Takeaways:
By region, North America led the market recently, and the U.S. will grow the most in the forecast period. Germany will see significant growth in the European market.
By product, the media industry will likely develop at a 30.6% CAGR from 2022 to 2032.
By volume, the iPSC segment is predicted to grow significantly during the forecast period due to its ability to multiply indefinitely and its usage in restorative therapy.
By application, the biobanking segment dominated the global market. The regenerative medicine segment is expected to develop at the quickest CAGR of 30.3% over the forecast period, owing to increased demand for technologically upgraded bio-storage techniques.
Market Overview:
Biopreservation employs microorganisms and their metabolic by-products to boost food safety and shelf life. It keeps biospecimens alive for longer periods and protects them from harm outside of their natural environment. Biospecimens are material samples like urine, tissue, blood, DNA, cells, and others stored in a bio repository for future research or used in laboratory tests.
Bio-preservation media and bio-preservation equipment are the two basic types of bio-preservation. Bio-preservation equipment includes tools that preserve biospecimens such as bio-based therapeutics, cells, clinical biomarkers, diagnostic biochips, viruses, etc. Many biospecimens, such as human tissue samples, stem cells, organs, and others, are processed using it.
Improving healthcare expenditure, implementing in-house storage of samples in labs and hospitals, and increasing R&D investment are all factors driving the market growth.
Biopreservation is critical in the advancement of regenerative medicine. The increase in investment for bio-preservation-based pharmaceutical businesses to meet the growing need for tissue and cell preservation is expected to drive market growth. For example, X-Therma Inc., a biotechnology business developing organ preservation and regenerative medicine technology, completed an oversubscribed USD 13 million Series A fundraising round in December 2021. LOREA AG, an entrepreneur-run investment firm, handled the fundraising, including involvement from renowned return angel investors and Graphene Ventures, Zen11 Holdings, Methuselah Foundation, V.U. Venture Partners, and others.
Growth Factors:
Increasing investments in research and developments, biobanking advancements, and the growing practice of preserving newborn cord blood stem cells are significant factors predicted to propel the market throughout the forecast period. Rising investments in research of regenerative medicine, as well as rising demand for personalized treatment, are driving the biopreservation market growth.
Some of the primary drivers expected to drive market expansion throughout the forecast period include advancements in the hypothermic storage solutions formulation, next-generation systems of cryopreservation, and design and integration with nanoscale technologies.
Furthermore, technological developments, increased product approvals, alliances, and acquisitions by key companies are assisting in market expansion. For example, Guy's and St Thomas' Hospital in the United Kingdom will begin a fertility preservation service for ovarian tissue cryopreservation for women receiving cancer treatment in February 2022. Growing technological developments and launches in biopreservation, as well as the cost-effectiveness of these devices, are likely to generate attractive chances for target market expansion throughout the timeframe specified.
Report Scope of the Biopreservation Market:
| | |
| --- | --- |
| Report Coverage | Details |
| Market Size in 2023 | USD 2.49 Billion |
| Market Size by 2032 | USD 24.28 Billion |
| Growth Rate from 2023 to 2032 | CAGR of 28.8% |
| Largest Market | North America |
| Base Year | 2022 |
| Forecast Period | 2023 to 2032 |
| Segments Covered | By Product, By Application, and By Cell Providers Volume |
| Regions Covered | North America, Europe, Asia-Pacific, Latin America and Middle East & Africa |

Market Dynamics:
Drivers:
The rising prevalence of chronic illnesses, the advancement of regenerative medicine, and the growth of biospecimen testing are the primary factors driving the market growth.
The increased frequency of obesity and chronic diseases worldwide is one of the primary reasons driving the market growth. Patients with chronic diseases such as diabetes, heart disease, and degenerative illnesses affecting joints, nerves, and bones, among others, are increasing the demand for biopreservation.
The growing number of patients has significantly burdened the healthcare industry with utilizing improved biospecimen preservation techniques. This has resulted in the widespread adoption and use of bio-preservation technology, facilitating market expansion. Regenerative medications manage and treat various chronic illnesses and degenerative ailments.
To maintain the integrity and efficacy of regenerative treatments, biopreservation techniques are widely used. The increasing use of regenerative medicine has directly contributed to the exponential growth in demand for biopreservation. Furthermore, increased testing by the general public due to various health issues has raised the demand for the healthcare industry to retain biospecimens. The increasing preservation workload has directly raised the need for biopreservation approaches.
Restraints:
The high costs of biopreservation activities
Biopreservation is an advanced preservation technology with significant expenses due to the expensive processes and equipment utilized throughout the preservation process. Biopreservation also has significant stability concerns due to tissue damage during freezing and thawing. Furthermore, the introduction of low-cost preservation procedures like processes of room temperature preservation will hinder market growth.
Opportunities:
Increasing investments in research and development of new drugs, increasing biobanks, and government attempts to create profitable market opportunities.
Major investments have been made by private and public organizations in research and development efforts connected to the creation of new medications, which could potentially assist in fighting the growing number of chronic diseases. The significant increase in expenditure is intended to provide access to superior medical care and advanced products, including biopreservation facilities.
The growing number of biobanks that especially maintain biospecimens has provided significant potential opportunities for the biopreservation market. Governments throughout the world are adopting a variety of steps to encourage cell therapies for the cure of different diseases. Government healthcare efforts provide grants, contracts, and cash for research work, resulting in increased R&D expenditure by organizations.
Segments Insight:
Product Insights:
Due to increased demand for bio-banking for storing DNA, stem cells, plasma, and tissue culture, the equipment category represented the greatest revenue share in 2022. The broad adoption and use of preservation have resulted in low maintenance and sufficient storage capacity, which is anticipated to drive market growth.
From 2022 to 2032, the media sector is predicted to grow at a lucrative CAGR of 30.6%. The market has the potential to expand because it is an important aspect of the biopreservation method. Media applications provide more features and information that enable researchers to access and share research data and analysis, enhancing their ability to research, monitor, diagnose, and treat health conditions, which are expected to boost the market during the forecast period.
Cell Providers Volume Insights:
Tumor cells had the highest revenue share in 2022. This is due to an increase in cancer research, diagnosis, and treatment activities involving the creation of cancer therapies. Tumor cells, including colon, prostate, and breast carcinomas, are used as biomarkers in cancer research. The clinical value of tumor cells has aided the segment's expansion.
Because of its potential to replicate indefinitely, the iPSC segment is expected to rise significantly throughout the forecast period due to its use in therapeutic therapy. It encompasses a broad spectrum of biological studies focused on cells, including disease models, drug discovery, organ manufacturing, RBCs, and tissue repair. Rising finance support provides an additional lucrative prospect for business growth.
Application Insights:
The biobanking category led the worldwide market. Rising knowledge of stem cell preservation, increased acceptance of egg and sperm banking, and use of animal-assisted reproductive technologies are driving the segment's growth. Pharmaceutical corporations work with reserve biobanks and hospitals to preserve tissue.
Due to the rising demand for technologically enhanced bio-storage techniques, the regenerative medicine category is predicted to grow at the fastest CAGR of 30.3% during the forecast period. Furthermore, introducing specific preservation procedures will drive industry expansion in the coming years.
Regional Insights:
North America is leading the market with the highest revenue share. This is due to advances in biomedical research and the development of improved medicines. Furthermore, the increasing prevalence of chronic diseases necessitating treatment increases demand for biopreservation in the region, bolstering its market position. These actions will likely contribute to expanding biopreservation products on the market, hence propelling growth. The United States is expected to increase significantly during the forecasted period due to government organizations and numerous biobanking institutes contributing to the spread of biopreservation techniques.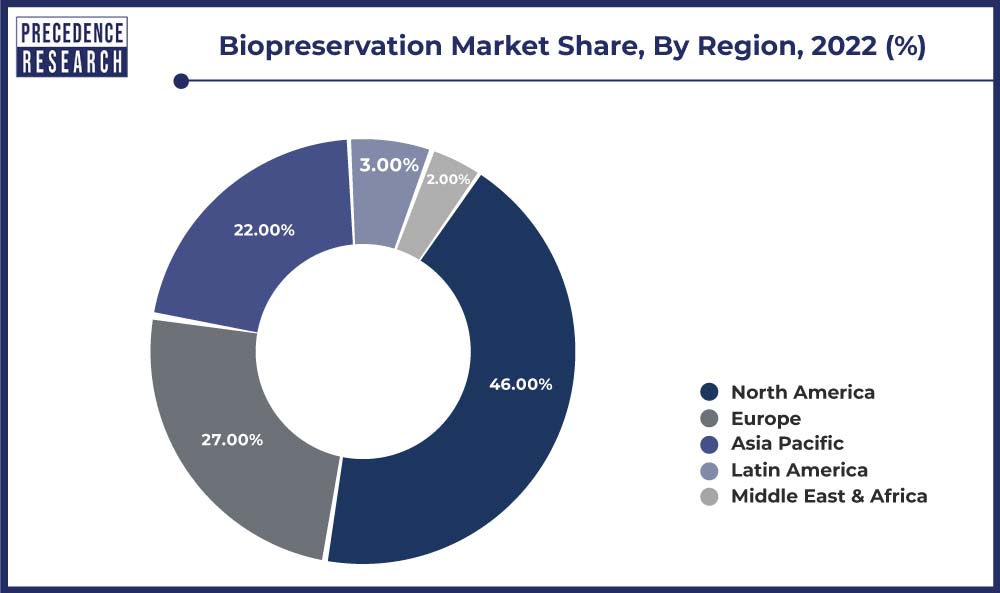 For example, the National Institutes of Health (NIH) funds biospecimen collection in biobanks and biorepositories, while the National Cancer Institute (NCI) assists with managing such bio-banking programs. These biobanks help fund clinical trials and research programs in the United States, which increases the need for biopreservation techniques.
Europe is expected to be the most attractive segment of the market during the forecast period. Germany is predicted to progress the quickest in Europe over the forecast period, owing to increased funding support for biobanking techniques and services and increased partnerships and collaborations, including bio-preservation techniques.
Recent Developments:
In May 2022, BioLife Solutions, Inc. signed a co-marketing contract with Coriell Institute of Medical Research. Under the terms of the agreement, BioLife will promote Coriell's biospecimen processing services under the SciSafe® brand, while Coriell will market BioLife's services of biologic storage to the biopharma and scientific research markets. The revenue generated by these co-marketing initiatives will be split between the parties.
In March 2022, Biolife Solutions declared its goal to expand in the USD 400 m bio storage service industry. Biolife Solutions and Seattle Children's Hospital will collaborate in January 2022 to improve viral vector and gene and cell therapy manufacturing.
In December 2021, X-Therma Inc., a biotechnology company developing regenerative medicine and organ preservation technology, finished a Series A investment round of US$13 million with Graphene Ventures, LOREA AG, Zen11 Holdings, Methuselah Foundation, V.U. Venture Partners, and some other investment firms.
Key Market Players:
Biomatrica, Inc.
Azenta US, Inc.
MVE Biological Solutions
BioLife Solutions
LabVantage Solutions, Inc.
Thermo Fisher Scientific, Inc.
Taylor-Wharton
Panasonic Corporation
PrincetonCryo
X-Therma Inc.
Stirling Ultracold
Segments Covered in the Report:
(Note*: We offer report based on sub segments as well. Kindly, let us know if you are interested)
By Product
Equipment

Refrigerators
Freezers
Consumables

Straws
Vials
Microtiter Plates
Bags

Liquid Nitrogen

Media
Laboratory Information Management System (LIMS)
By Application
Regenerative Medicine

Gene Therapy
Cell Therapy
Others

Bio-banking

Human Sperms
Human Eggs
Veterinary IVF

Drug Discovery
By Cell Providers Volume
CD19+
CD34+
iPSC
MSC
Tumor Cells
hESC
Others
By Geography
North America
Europe
Asia-Pacific
Latin America
Middle East and Africa