The global CAR T-cell therapy market size was evaluated at USD 2.19 billion in 2022 and is expected to attain around USD 6.43 billion by 2032 with a noteworthy CAGR of 11.37% from 2023 to 2032.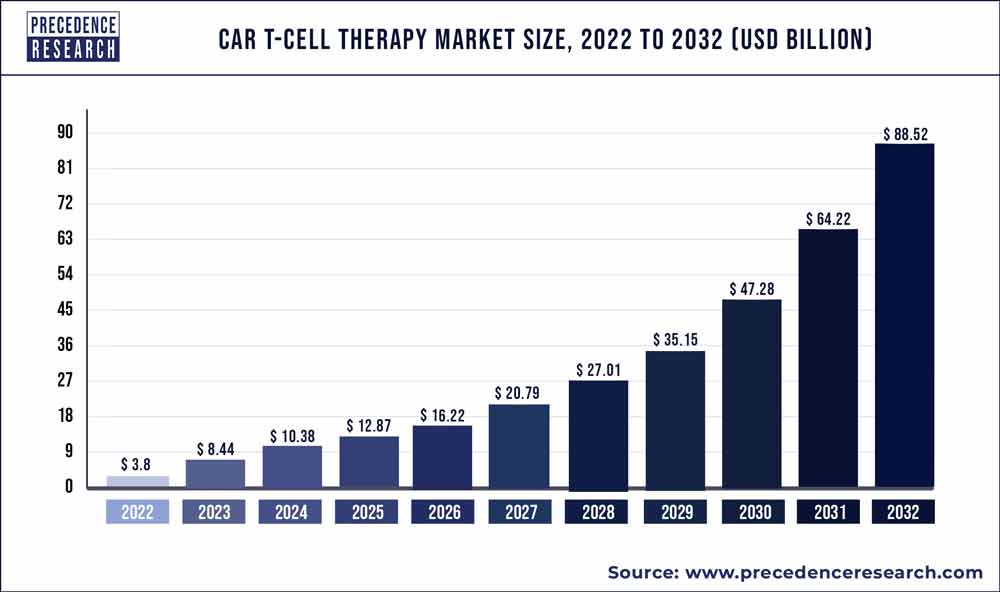 Key Points:
By geography, The North America dominates the market.
By drug type, the axicabtagene ciloleucel segment dominate the market.
By drug type, the tisagenlecleucel is expected to be the fastest segment between 2023 and 2032, In terms of growth rate.
By indication, the lymphoma segment dominates the market and is estimated to grow between 2023 and 2032.
By end user, the hospital segment led the market and contributed more than 55% of revenue share in revenue in 2022.
By end user, the cancer treatment center segment is predicted to witness the largest CAGR from 2023 to 2032.
Market Overview:
CAR T-cell therapy is a type of T-cell therapy or cancer therapy that accounts for approximately 27% of the overall T-cell therapy market. The rising incidence of cancer worldwide is anticipated to propel the development of CAR T-Cells for therapeutic applications. The potential use of synthetic T-cell receptors in treating various cancers has been widely accepted. Chimeric immunoreceptors are becoming more popular because they help T-cells find and kill cancer cells that contain the specific protein to which the receptor can bind.
Research and development in life science and biotechnology for treating cancer using chimeric antigen receptors continue to grow.
In various countries, studies are being conducted to validate the efficacy of CAR T-Cell therapy, which will aid in improving data availability regarding efficacy, mechanism of action, and compliance in patients with leukemia and lymphoma.
Report Scope of the CAR T-Cell Therapy Market
| | |
| --- | --- |
| Report Coverage | Details |
| Market Size in 2023 | USD 2.44 Billion |
| Market Size by 2032 | USD 6.43 Billion |
| Growth Rate from 2023 to 2032 | CAGR of 11.37% |
| Base Year | 2022 |
| Forecast Period | 2023 to 2032 |
| Segments Covered | By Drug Type, By Indication and By End User |
| Regions Covered | North America, Europe, Asia-Pacific, Latin America and Middle East & Africa |

Market Dynamics:
Drivers
Increased prevalence of cancer
The CAR-T cell therapy market is expanding due to increasing patient assistance programs (PAPs), growing government measures to raise cancer awareness, rising cancer prevalence globally, and robust R&D investments from major companies. As the demand for cell-based therapy grows, manufacturers have begun to invest in its development.
An increase in cancer incidence is estimated to fuel the expansion of the global CAR T-Cell treatment market during the projected period. Cancer is the leading cause of death in the world. Most cancer cases are caused by lifestyle factors such as drinking alcohol and smoking and some dietary components such as nitrites and polyaromatic hydrocarbons.
Another primary driver of the requirement for CAR T-Cell therapy products is the robust product pipeline. For instance, AUTO1, an innovative product from Autolus Therapeutics plc, is undergoing a phase I trial to treat adult acute lymphoblastic leukemia. An investigational cell therapy, AUTO1 containing a CD19 CAR T-Cell, is designed to overcome clinical safety and activity limitations associated with existing CD19 CAR T-Cell therapies.
Opportunities
Rising awareness and increase in approval of novel medications.
The development of new technology and increasing awareness regarding CAR-T cells generates "armored CARs" that co-express pro-inflammatory cytokine like IL-12 or IL-15. It increases CAR T-Cell proliferation and persistence at the beginning of tumor-mediated immunosuppression.
Restraints
Side effects of CAR-T cell therapy
Like all cancer treatments, CAR T-Cell therapies have serious side effects, such as a mass death of antibody-producing B cells and infections. Cytokine release syndrome (CRS) is one of the most common and severe side effects. T cells release chemical messengers (cytokins) which stimulate and direct immune responses as part of immune-related duties.
In the case of CRS, the infused T cells flood the bloodstream with cytokines, resulting in serious side effects such as highly elevated fevers and sudden drops in blood pressure. Severe CRS can be fatal in some cases. Another primary concern with CAR T-Cell therapies is neurologic side effects such as extreme confusion, seizure-like activity, and impaired speech. The exact cause of these neurologic side effects (immune effector cell-associated neurotoxicity syndrome, or ICANS) is unknown.
Impact of Covid-19:
The coronavirus pandemic has significantly impacted the administration of adoptive cell treatments, particularly CAR T-Cell therapy. The decline in the transportation of human organs, border closures, and population confinement disrupted supply networks for these critical medicines. As a result of the ongoing pandemic, the market for CAR T-Cell treatment is expected to grow more slowly.
While stakeholders in the CAR T-Cell therapy industry are stepping up efforts to ensure treatment continuity, hospitals have been forced to change their typical workflows to deal with hospitalized patients' saturation of health services. This situation affects patients with relapsed/refractory hematologic malignancies the most.
Furthermore, the rapid expansion of telemedicine services will drive market growth. Telemedicine promotes early intervention of tocilizumab-based neurotoxicity or cytokine release syndrome and prophylactic/preventive infection.
Segments Insight
Drug Type Insights
The global CAR T-Cell therapy market segmentation based on drug type is Axicabtagene Ciloleucel, Brexucabtagene Autoleucel, Tisagenlecleucel, and others. The global CAR T-Cell therapy market was dominated by axicabtagene ciloleucel in 2022, and this trend is predicted to continue throughout the coming years. Yescarta is a medication that contains the active ingredient axicabtagene ciloleucel. The need for Yescarta in treating diffuse large B-cell lymphoma and follicular lymphoma is expected to drive segment growth during the estimated period.
In terms of growth rate, tisagenlecleucel is expected to be the fastest segment between 2023 and 2032. An increased need for Kymriah for acute lymphoblastic lymphoma therapy and product approval in various countries drives the segment expansion. It is also approved for adult patients with diffuse large B-cell lymphoma (DLBCL), high-grade B-cell lymphoma, and DLBCL arising from follicular lymphoma.
Indication Insights
Based on indication, the worldwide CAR T-Cell therapy industry has been segmented into lymphoma, acute lymphocytic leukemia, chronic lymphocytic leukemia (CLL), multiple myeloma (MM), and others. The lymphoma segment dominates the market and is estimated to grow during the projected period due to an increase in non-Hodgkin lymphoma cases.
According to WHO, approximately 544,352 new non-Hodgkin lymphoma cases were recorded globally in 2020. Furthermore, the growing geriatric population, which is more susceptible to such ailments, is propelling segment growth.
The acute lymphocytic leukemia segment is anticipated to grow the fastest due to increased awareness of CAR-T cell therapeutics for treating acute leukemia and the anticipated introduction of these drugs for treating acute lymphoblastic leukemia involving blood cell cancer testing. Along with this, key factors expected to drive the segment growth are an increase in Acute Lymphoblastic Leukemia (ALL) and initiatives undertaken by public and private organizations.
Technological advancements for detecting affected cells are also regarded as one of the market's growth drivers. For instance, Novartis AG's Chimeric Antigen Receptor (CAR)-T cell therapy is a cutting-edge treatment. This therapy is in phase II clinical trials and is anticipated to be approved by the FDA.
End User Insights
The global CAR T-Cell therapy market is categorized into cancer treatment centers and hospitals based on end-users. The hospital segment led the market and generated more than 55% revenue share in revenue in 2022, and this development is projected to continue during the anticipated period. Hospitalization for cancer therapy is expected to drive hospital growth. The increased application of CAR T-Cell therapy in cancer treatment also promotes the segment's large market share. The segment is being accelerated by an increased number of cancer patients seeking treatment in hospitals.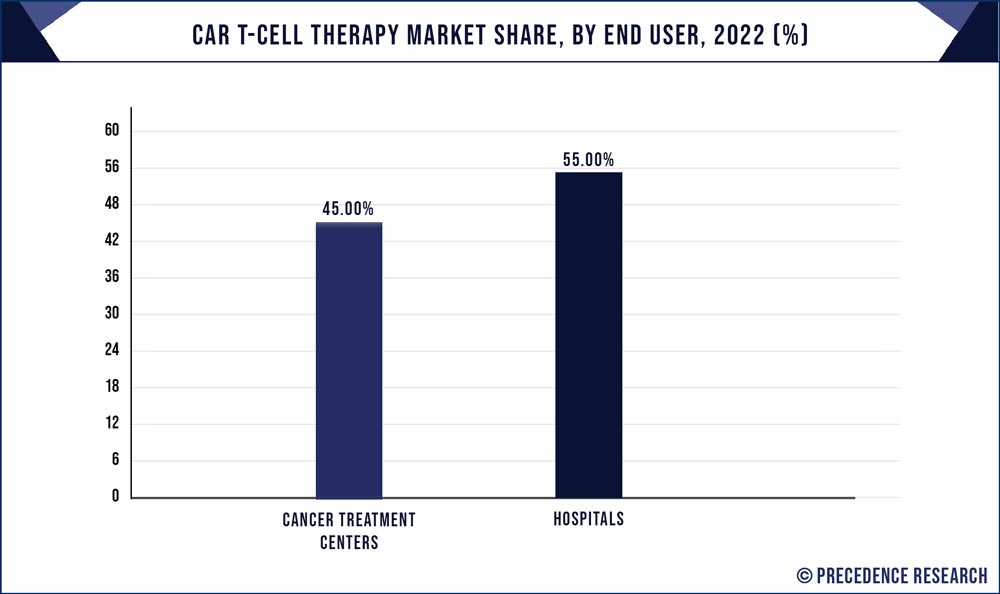 The cancer treatment center segment is anticipated to witness the highest CAGR during the predicted period due to the availability of an extensive range of treatment choices and the rise in cancer centers in some developing countries. The growing global oncology burden caused by increased alcohol and tobacco consumption propels the segment forward. In the report GLOBOCAN, the International Agency for Research on Cancer (IARC) stated that approximately 19.3 million new cancer cases and about 10 million cancer-related deaths were recorded globally in 2020.
Regional Insights
North America dominates the CAR-T market owing to the large number of life sciences companies focusing on developing and commercializing CAR T-Cells and advancements in quality control systems in North America.
From 2023 to 2032, the Asia Pacific CAR T-Cell therapy market is expected to multiply. This can be attributed to developing countries with commercial centers, developing business organizations, increased awareness of CAR T-Cell therapy, improved healthcare infrastructure, and increased company investments.
The funds and regulatory support from government bodies and regulatory agencies have greatly aided growth. For example, the South Korean government passed the Act on the Safety and Support of Advanced Regenerative Medical Treatment and Medicine in August 2020 to establish a regulatory system for patient safety during quality control and clinical trials and strengthen regulatory support for regenerative medicine development.
Recent Developments:
In September 2020, Seattle Genetics, Inc. announced a collaboration with Merck for two new strategic oncology studies. The partnership conducts a wide-ranging joint development program in various cancers. KEYTRUDA is approved for the adjuvant treatment of melanoma patients with lymph node(s) involvement following complete resection.
Atara Biotherapeutics, Inc. announced a collaboration with Bayer AG in December 2020 to develop mesothelin-targeted CAR T-Cell therapies for solid tumors. According to the agreement, the company is concentrating on developing ATA2271 for treating malignant pleural mesothelioma and non-small-cell lung cancer. This collaboration advanced the company's research and development for ATA2271, allowing it to become the leading manufacturer of allogeneic CAR-T cell therapy.
Key Market Players
Kolon TissueGene, Inc.
JCR Pharmaceuticals Co., Ltd.
MEDIPOST
PHARMICELL Co., Ltd.
ANTEROGEN. CO., LTD
Bristol-Myers Squibb Company
Novartis AG
Gilead Sciences, Inc.
Curocell, Inc.
JW Therapeutics (Shanghai) Co., Ltd.
Stempeutics Research PVT LTD
Segments Covered in the Report
(Note*: We offer report based on sub segments as well. Kindly, let us know if you are interested)
By Drug Type
Axicabtagene Ciloleucel
Tisagenlecleucel
Brexucabtagene Autoleucel
Others
By Indication
Lymphoma
Acute Lymphocytic Leukemia
Chronic Lymphocytic Leukemia (CLL)
Multiple Myeloma (MM)
Others
By End User
Hospitals
Cancer Treatment Centers
By Geography
North America
Europe
Asia-Pacific
Latin America
The Middle East and Africa