The global carbonated beverage market size was estimated at USD 442.07 billion in 2022 and it is predicted to reach around USD 654.37 billion by 2032, expanding at a CAGR of 4% during the forecast period from 2023 to 2032.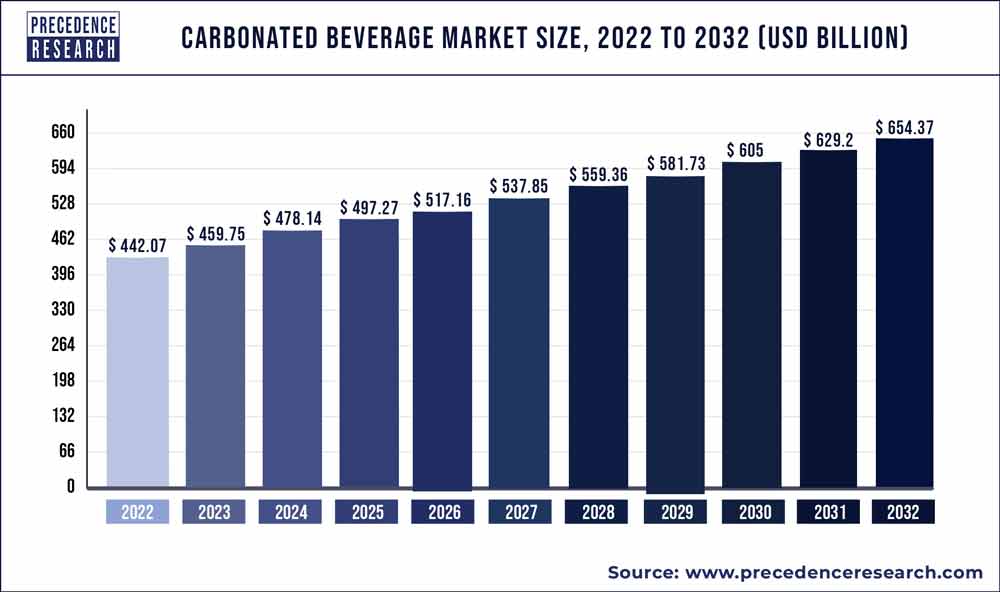 Access our Premium Real Time Data Intelligence Tool, Visit: Precedence Statistics
Key Takeaways:
North America dominated the global market in 2022.
By Type, the standard carbonate segment led the market in 2022.
By Distribution Channel, the supermarket segment led the global market in 2022.
By Drinks, the soft drink segment dominated the global market in 2022.
Market Overview:
The carbonated beverage market refers to the industry that produces and sells carbonated drinks, also known as fizzy drinks or soda. These beverages are infused with carbon dioxide gas, creating effervescence, and giving them a characteristic bubbly or fizzy texture. The increase in customers becoming health-conscious is one of the major factors reshaping the industry. People are actively seeking better alternatives to sugary beverages as awareness of health and fitness rises. Demand for low- and zero-calorie carbonated products, such as diet sodas and sparkling water, has increased as a result.
The market is also being driven by innovation in flavour. To attract consumers attention and satisfy their wide range of tastes, manufacturers constantly create new and different flavours. The carbonated beverage business has made flavour innovation a prominent theme, luring customers with an ever-growing menu of options.
Sustainability has also become a crucial factor in the market's landscape. Environmentally conscious consumers are demanding eco-friendly and recyclable packaging solutions. As a result, companies are increasingly focusing on sustainable packaging options to lessen their environmental impact and meet consumer expectations. The trend of premiumization is on the rise. Premium carbonated beverages, often positioned as craft or artisanal products, have gained popularity among consumers who are willing to pay a premium for exceptional quality and unique offerings.
The carbonated beverage market is experiencing global expansion, with a particular focus on emerging markets in Asia-Pacific and Latin America. The rapid urbanization, changing lifestyles, and rising disposable incomes in these regions are fuelling the growth of the carbonated beverage industry. North America, especially the United States, has been a leading region in terms of carbonated beverage consumption and market size.
Growth Factors:
The carbonated beverage market is a dynamic and ever-evolving industry driven by various growth factors. One key factor is the continuously changing consumer preferences. As consumer tastes evolve, there is a rising demand for a wide array of carbonated beverages. To meet these preferences, manufacturers are constantly innovating, introducing new flavours, healthier options, and unique combinations to entice consumers. Health and wellness trends also play a significant role in the market's growth.
There is a rising demand for low-calorie and sugar-free carbonated beverages as people become more aware of the health risks associated with excessive sugar intake. Health-conscious consumers are actively seeking alternatives to traditional sugary sodas, leading to the development of diet sodas and sparkling water options. Innovation in ingredients and formulations is another critical factor driving the market's expansion. Manufacturers are investing in research and development to create innovative formulations that enhance the taste, texture, and nutritional value of carbonated beverages.
This includes the use of natural flavours, functional ingredients, and additives that appeal to health-conscious consumers. The convenience of carbonated beverages aligns well with the on-the-go lifestyles of consumers. Ready-to-drink cans and bottles make carbonated drinks easily accessible, making them a popular choice for refreshment and hydration.
Effective marketing and branding strategies also contribute to the market's growth. Innovative marketing campaigns, celebrity endorsements, and a strong social media presence help increase brand visibility and attract new consumers. The carbonated beverage market is expanding globally, with a focus on emerging markets such as Asia-Pacific and Latin America. The increasing disposable incomes, urbanization, and westernization of lifestyles in these regions present significant growth opportunities for manufacturers.
The trend towards premiumization is influencing the market as well. Consumers are willing to pay more for high-quality, artisanal carbonated drinks with unique and sophisticated flavours. In addition to product innovation, the industry is also focusing on eco-friendly and sustainable packaging solutions to cater to environmentally conscious consumers. This shift towards sustainable practices can attract a larger consumer base. Diverse distribution channels, including supermarkets, convenience stores, restaurants, cafes, vending machines, and online platforms, ensure wider market penetration and accessibility for consumers.
The carbonated beverage market also adapts to evolving beverage consumption patterns. It incorporates trends such as increased snacking, the demand for premium beverages during social gatherings, and the popularity of healthier drink alternatives. The carbonated beverage market is a dynamic and developing business as a result of the combination of these development drivers. It continues to be attentive to the shifting demands and preferences of customers throughout the world, which supports its success and development.
Report Scope of the Carbonated Beverage Market:
| | |
| --- | --- |
| Report Coverage | Details |
| Market Size in 2023 | USD 459.75 Billion |
| Market Size by 2032 | USD 654.37 Billion |
| Growth Rate from 2023 to 2032 | CAGR of 4% |
| Largest Market | North America |
| Base Year | 2022 |
| Forecast Period | 2023 to 2032 |
| Segments Covered | By Type, By Distribution Channel, and By Drinks |
| Regions Covered | North America, Europe, Asia-Pacific, Latin America, and Middle East & Africa |

Market Dynamics:
Driver:
Premiumization trend
The market for carbonated beverages is seeing a premiumization trend, which is being driven by customer's shifting preferences and expectations. Customers are prepared to pay more for goods that offer more quality, creativity, and exclusivity as they grow more discriminating and seek out distinctive and sophisticated experiences. The premiumization trend is not just seen in the market for carbonated beverages; it is also shown in other sectors where customers are prepared to pay more for goods or services that provide extra value.
Restraint:
Plastic packaging waste
The substantial amount of plastic packaging waste produced by carbonated beverage items, particularly plastic bottles, and single-use cans, is one of the main worries which could hamper the market growth. The improper disposal of these containers increases pollution, particularly in landfills and the oceans.
Opportunity:
Flavor innovation
Flavor innovation presents a significant opportunity in the carbonated beverage market. Demand for novel and distinctive taste sensations is rising as consumer tastes continue to change. The industry may appeal to the varied and adventurous palates of customers and entice them to try various carbonated beverages by developing unique flavors. Flavor innovation allows manufacturers to differentiate their products and stand out in a competitive market. Offering a wide range of appealing flavors, including exotic and natural options, can attract and retain consumers, leading to increased sales and brand loyalty.
Challenge:
Intense competition
Intense competition poses a significant challenge in the carbonated beverage market. The sector has grown extremely competitive as a result of the large number of firms seeking for market share, making it difficult for both existing businesses and new entrants to achieve a competitive edge.
Impact of Covid-19:
The COVID-19 epidemic has had a conflicting effect on the market for carbonated beverages. Sales of carbonated beverages fell as a result of lockdowns that resulted in the closure of pubs, restaurants, and amusement centers. Production and distribution were also impacted by supply chain interruptions and logistical difficulties. As of the outbreak, people spent more time indoors at home, which boosted at-home consumption. This led to a sharp rise in demand for carbonated beverages through retail channels including supermarkets and online marketplaces. Demand for diet sodas and sparkling water increased as a result of the pandemic's increased emphasis on health and wellbeing, which led to an increasing demand for these beverages. While COVID-19's first effects on the carbonated beverage sector were difficult, the change in consumption patterns and the response to shifting customer tastes created chances for market expansion and innovation.
Lockdowns and social isolation measures led to a change in spending habits, with less consumption outside the home and more consumption within. Transportation limitations and supply chain interruptions had an impact on sourcing and distribution, which caused delays. Uncertainty in the economy, panic purchasing, and modifications in consumer spending patterns all contributed to variations in demand. Trends in health and wellness picked up speed, and there was more demand for healthier beverage alternatives. Businesses modified their marketing and promotion plans for a digital audience. Single-serve choices have increased as a result of packaging issues. Sales were hampered by closures in the restaurant and hotel industries. Despite obstacles, several businesses grabbed the chance for innovation. Market dynamics were also impacted by governmental rules and taxes. Effective answers to changing consumer preferences in a post-pandemic world are essential for recovery and future growth.
Segments Insight:
Type Insights:
In 2022, the standard carbonate segment dominated the carbonated beverage market. Standard carbonate represents the traditional and timeless offerings in the market, including popular choices like cola, lemon-lime, and orange sodas. These beverages are typically sweetened with sugar or high-fructose corn syrup, providing a familiar and indulgent taste. Despite increasing health concerns related to sugar consumption, standard carbonates continue to enjoy popularity among consumers who seek classic and refreshing soda experiences.
Dietary carbonates have gained prominence due to the growing emphasis on health and wellness. These beverages are formulated with artificial sweeteners or natural sugar substitutes, delivering the same fizzy and carbonated experience with significantly reduced calorie content. Diet carbonates cater to health-conscious consumers who desire guilt-free options without compromising on taste.
The fruit-flavoured carbonates segment offers a diverse array of non-cola options, such as lemon, lime, grape, cherry, and berry-flavoured beverages. These carbonates appeal to consumers seeking unique and refreshing fruit-infused flavours. Many fruit-flavoured carbonates use natural fruit extracts or flavours, making them an attractive choice for those seeking more natural and less artificial beverage options.
Distribution Channel Insights:
In 2022, the supermarket segment dominated the carbonated beverage market. Supermarkets are essential players in the distribution network, offering a diverse selection of carbonated beverage brands and flavours all in one place. Supermarkets serve a wide variety of customers with differing interests and inclinations. Ample shelf space allows manufacturers to effectively showcase their products, while promotional displays within supermarkets increase visibility and drive sales.
Convenience stores serve as easily accessible points of purchase for carbonated beverages, targeting consumers seeking quick refreshments on the go. Operating with extended hours and strategic locations, these stores focus on the best-selling carbonated beverage brands and popular flavours due to limited shelf space. Their proximity to high-traffic areas ensures a continuous stream of customers seeking immediate satisfaction.
The digital revolution has significantly impacted the distribution landscape through online stores. Increasingly, consumers are turning to e-commerce platforms to purchase carbonated beverages. Online stores offer convenience, variety, and the opportunity to explore niche and hard-to-find flavours. Manufacturers benefit from direct-to-consumer interactions, which enable them to engage with their audience and tailor offerings to specific preferences. Targeted marketing and personalised promotions in the online space enhance the overall customer experience.
Drinks Insights:
In 2022, the market for carbonated beverages was controlled by the soft drink category. traditional and widely available in the market, soft drinks include cola, lemon-lime, orange, and different flavored sodas. Soft drinks, which are often sweetened with sugar or high-fructose corn syrup, offer a comfortable and indulgent beverage experience that appeals to a wide customer base.
Sparkling beverages, a more varied category, provide tastes other than those found in typical sodas. It consists of sparkling water, club soda, and mildly flavored sparkling drinks. Sparkling beverages draw people who value their health and prefer a fizzy feel without the additional sugars or artificial flavors found in soft drinks.
The section of carbonated beverages with added health benefits or useful components is called functional drinks. This group of beverages includes energy drinks, sports drinks, and liquids fortified with vitamins, electrolytes, or botanical extracts. Functional beverages are popular among athletes, fitness enthusiasts, and others seeking an active lifestyle as they appeal to consumers looking for health benefits or an energy boost.
Regional Insights:
The market for carbonated beverages in 2022 was led by North America. The demand for both conventional soft drinks and cutting-edge effervescent and functional beverages has been particularly high in the United States, which has been a large market for carbonated beverages. The region's dominance in the market is a result of its established and mature customer base as well as a strong distribution network.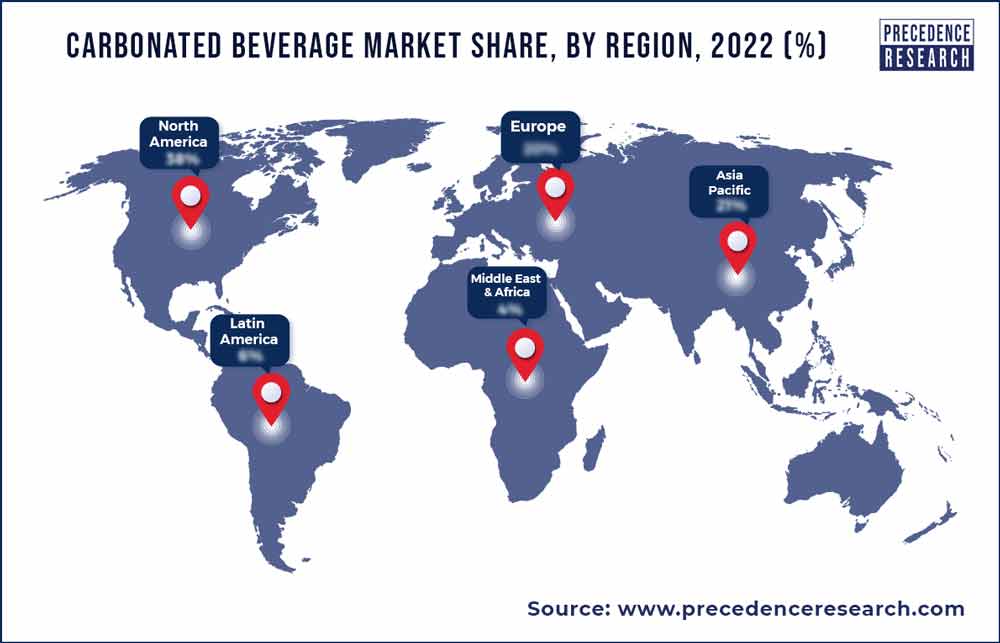 Europe has a long history of soft drink consumption and many well-known brands, there is a clear trend towards healthier choices such naturally flavored and low-sugar beverages. A combination of urbanization and rising affluence, markets in the Asia-Pacific region, including China, India, and Japan, are expanding quickly. As a result of its warm temperature and diverse cultures, Latin America, which includes Mexico, Brazil, and Argentina, is popular, but there are also new trends in health-consciousness. Although regional differences in consumer patterns exist, the Middle East and Africa is seeing increased demand, driven by youthful, urban populations with rising disposable incomes.
Recent Development:
On June 22, Food and beverage giant PepsiCo India invested an additional Rs 186 crore for the expansion of its food manufacturing facility at Kosi Kalan, Mathura, in Uttar Pradesh, to produce nacho chip brand Doritos. PepsiCo's overall investment in its largest greenfield food manufacturing plant, which produces Lay's potato chips, would be Rs 1,022 crore.
Key Market Players:
The Coca-Cola Company
PepsiCo Inc.
Keurig Dr Pepper Inc.
Suntory Holdings Limited
Nestlé S.A.
The Coca-Cola Bottling Co. Consolidated
The Dr Pepper Snapple Group
Cott Corporation
National Beverage Corp.
Britvic PLC
Segments Covered in the Report:
(Note*: We offer reports based on sub-segments as well. Kindly, let us know if you are interested)
By Type
Standard
Diet
Fruit-Flavoured Carbonates
By Distribution Channel
Supermarkets
Specialty Stores
Convenience Stores
Online Store
By Drinks
Soft Drink
Sparkling Drinks
Functional Drinks
By Geography
North America
Europe
Asia-Pacific
Latin America
Middle East and Africa