The global citric acid market size was evaluated at USD 3.52 billion in 2022 and is projected to hit around USD 5.12 billion by 2032, growing at a CAGR of 3.82% during the forecast period from 2023 to 2032.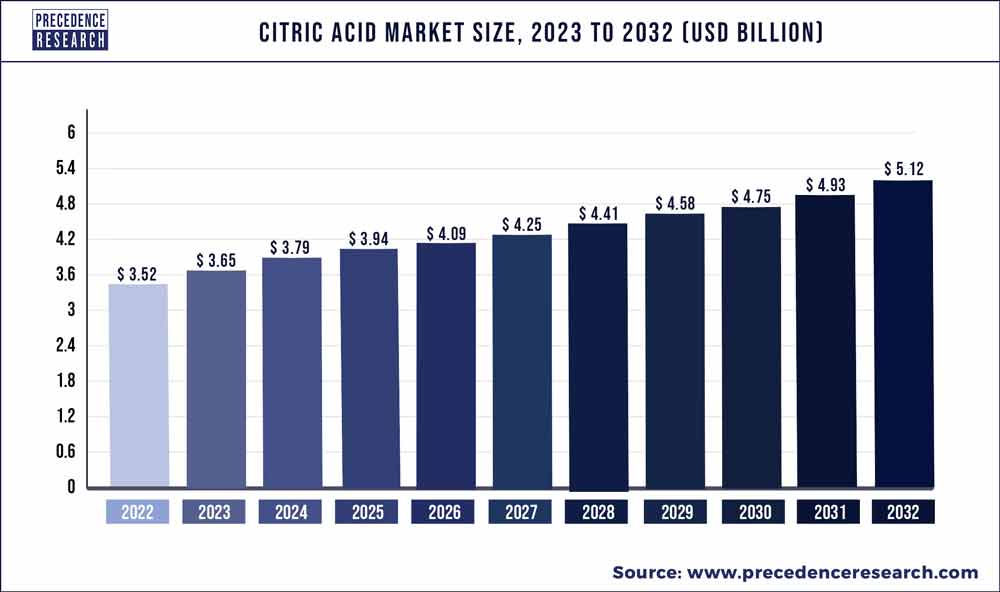 Access our Premium Real Time Data Intelligence Tool, Visit: Precedence Statistics
Key Takeaways:
In 2022, the North America region led the citric acid market in terms of market size.
By Form, the product is mainly available in the market in the form of liquid and powder. In terms of market share the powder dominated the market in 2022.
Liquid had a great properties like Texture modification, acidifying agents and flavor enrichment though it is used in number of dairy and food product.
By Application, it is divided in two categories these are Food and Beverages and Pharmaceuticals. In terms of market size, the food and beverages dominated the market in 2022.
Market Overview:
The global citric acid market revolves around the production, sales and distribution of citric acid and other products associated with citric acid. Citric acid is significantly used in preserving the freshness of multiple items. Citrus fruits contain significant levels of the chemical component, citric acid. Because of it, lemons or limes have a distinctly sour flavor. In recent years, the citric acid market has started witnessing a growth due to the expansion of end-users including cosmetics and personal care products industry. Additionally, the market is anticipated to benefit from the pharmaceutical industry's rising demand for the component used in the production of digestive treatments.
In the bioindustries, consideration of the environmental effects of the process and facility is becoming increasingly important. Additionally, citric acid is employed in buffers, as an antioxidant, and for metal complexes. Citric acid production has steadily and significantly expanded during the last few decades.
Growth Factors:
The global citric acid market is intended to be fueled by the favorable government regulations. Government regulations related to food additives and pharmaceutical ingredients have been favorable for citric acid market, this has enabled manufacturers to increase their production and expand their market presence. Additionally, citric acid is widely used in the production of carbonated beverages, including soft drinks, energy drinks and sports drinks. As the demand for these beverages continues to rise, the demand for citric acid is observed to grow.
Report Scope of the Citric Acid Market:
| | |
| --- | --- |
| Report Coverage | Details |
| Market Size in 2023 | USD 3.65 Billion |
| Market Size by 2032 | USD 5.12 Billion |
| Growth Rate from 2023 to 2032 | CAGR of 3.82% |
| Largest Market | North America |
| Base Year | 2022 |
| Forecast Period | 2023 to 2032 |
| Segments Covered | By Form and By Application |
| Regions Covered | North America, Europe, Asia-Pacific, Latin America and Middle East & Africa |

Market Dynamics:
Drivers:
Increasing use of packaged and ready to eat foods
The demand for ready-to-eat meals rises along with the need for convenience. Several factors have contributed to the development of this sort of food products over the past few years, including busy lives and rising disposable income and the increased usage of delivery and takeout services. For preserving such kind of food the most often used food ingredient is citric acid. Citric acid may boost a food's acidity while also keeping a food's color, texture, and flavor.
This may aid in limiting the development of fungus, bacteria, mold, and mildew. Citric acid is commonly used in canned and jarred goods to stop the growth of harmful bacteria that can result in serious sickness. Citric acid was is utilized by manufacturers to make frozen meals, vegetable juices, soft drinks, energy drinks, syrups, sweets, and other products. Citric acid is utilized in all of these as a preservative to lengthen the product's shelf life. The expansion of the citric acid market is consequently positively impacted by the food processing industries.
Restraints:
Rising risks of health issues owing to the excess use of citric acid
While there are worries that artificial citric acid, especially when consume in big quantities from packaged goods, may have some harmful health impacts. Concerns exist with citric acid toxicity. Manufactured citric acid is found in small amount in foods and drinks. The majority of citric acid adverse effects are related to oral consumption. One or more of the adverse reactions to citric acid medications or supplements may include nausea, vomiting, diarrhea, lightheadedness, and numbness in the hands or feet. These are the most frequent issues preventing market expansion.
Opportunities:
Rising application of citric acid in cosmetics industry
Natural formulations frequently use citric acid as it may improve product stability and shelf life. Citric Acid can lengthen the shelf life of cosmetic goods by aiding in formulation pH stabilization. The use of a pH-balanced solution guarantees the best stability for a safe-to-use product since the pH can have a significant impact on how some preservatives function. Citric acid is being widely used in skin care products owing to multiple beneficial properties offered by citric acid. Citric acid is also considered a member of the AHA family of acids, which helps exfoliate the skin to reveal a smoother, younger-looking complexion. Additionally, it functions as an antioxidant in anti-aging treatments.
To lower the pH, citric acid is frequently utilized in shampoo formulas, which enhances the hair's look and manageability by eliminating frizz. It may also be utilized in rinses to assist in lifting or fading hair color. Thus, it demonstrates that the cosmetic business is providing many more opportunities for the citric acid market to flourish.
Segments Insight:
Form Insights:
The powder segment held the largest share of the market in 2022. Due to its anti-microbial characteristics, citric acid powder is frequently added to both carbonated and non-carbonated soft beverages as a flavoring ingredient, giving the beverage a sour taste. In addition to giving candy a tart taste and improving texture, it stabilizes the sugars. Additionally, the flavor of citric acid powder can be used to medical preparations to cover the taste of the chemical ingredients. It is frequently included as an emulsifier to prevent component separation in liquid recipes. The citric acid powder is most frequently used in mixtures with bicarbonates to produce an effervescent, fizzing effect.
On the other hand, the liquid segment in citric acid market is expected to show a significant increase during the forecast period owing to the rising application from the pharmaceuticals industry. Pharmaceuticals, personal care items, and cosmetics all employ liquid citric acid, due to its advantageous qualities, such as acidifying agents, texture alteration, and taste improvement, liquid form is utilized in a range of food and dairy products.
Application Insights:
The food and beverage segment dominates the global citric acid market. Multiple food products and beverages are preserved and offered flavors with the application of citric acid, it is significantly used in processed food items including frozen food products, dairy products and carbonated drinks.
It is used in pharmaceuticals to create salt derivatives of minerals and metals and to regulate the pH level in medications. Additionally, it is used in combination with sodium bicarbonate in effervescent formulations to create goods for oral consumption and personal care.
Regional Insights:
North America dominated the citric acid market in terms of market size. The demand for citric acid in the region is attributed to the pharmaceuticals and food industry. In addition, the emerging demand for packaged and preserved food materials in the region is supporting the growth of citric acid market in North America.
The United States dominates much of the market for items containing citric acid in North America. States like Texas, Florida, and California produce a significant amount of citrus fruit in the US. 5.61 million tons of citrus were produced and used in the 2021–22 season. Florida generated 36% of the citrus grown in the United States, Texas and Arizona produced 2%, while California produced 62% of the total. Additionally, the rising demand for retail items is giving American exporters lucrative opportunities in the near future.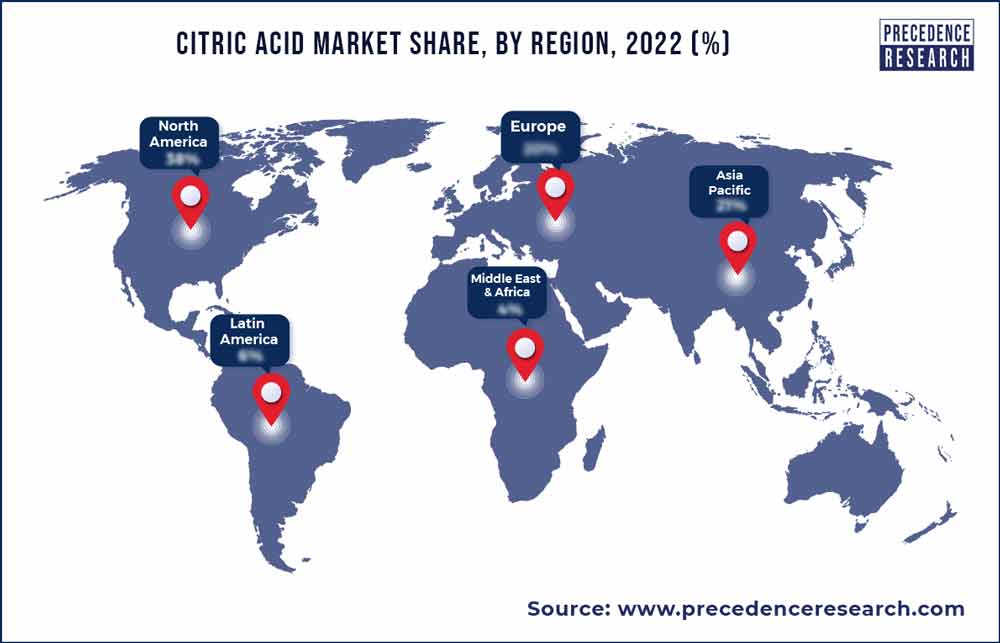 Europe is expected to be the most lucrative marketplace for citric acid during the forecast period. The market is anticipated to grow in the forecast period owing to the rising application in the pharmaceuticals and cosmetics industry.
The largest citrus provider to the EU market is Spain. UK, Switzerland, Norway, Canada, Serbia, then Brazil and the Middle East are still important markets for EU citrus exports. Imports of citrus from the EU may be encouraged by anticipated decreases in local supply, increased demand for citrus due to the COVID-19 epidemic, and the reopening of the hotel industry. A robust supply chain to retail distribution, which will support long-term development possibilities, is anticipated to benefit the German market.
Recent Development:
November 2022: Cal2Mg, a new product from Gadot Biochemical Industries, is made up of calcium citrate and magnesium citrate. A special granulation procedure with a binder addition is used to create the product. The product's texture is improved by this procedure, making it simpler to handle and use in a variety of food applications. Gadot Biochemical Industries hopes that this introduction will help meet the rising demand for premium, useful food components that may provide customers extra nutritional advantages.
June 2022: A significant leader in the citric acid industry, Jungbunzlauer, has just unveiled a brand-new item called Monomagnesium citrate. It is a monobasic magnesium salt with a 1:1 molar ratio that is largely utilized as a mineral source in dietary supplements, functional foods, and drinks. Monomagnesium citrate is the recommended magnesium salt for mineral-fortified beverage powders due to its pleasantly acidic flavor and excellent solubility. With this new product, Jungbunzlauer hopes to meet the rising demand for functional food components that provide customers extra nutritional advantages in addition to a delicious flavor.
Major Key Players:
Jungbunzlauer Suisse AG
Cofco Biochemical
Cargill, Incorporated
Gadot Biochemical Industries Ltd
Shandong Ensign Industry Co. Ltd
Segments Covered in the Report:
(Note*: We offer report based on sub segments as well. Kindly, let us know if you are interested)
By Form
By Application
Food and Beverages
Pharmaceuticals
Others
By Geography
North America
Europe
Asia-Pacific
Latin America
Middle East and Africa