The global clinical trials site management organizations market was valued at USD 6.4 billion in 2022 and it is expected to be worth around USD 12.27 billion by 2032, growing at a remarkable CAGR of 6.72% during the forecast period 2023 to 2032.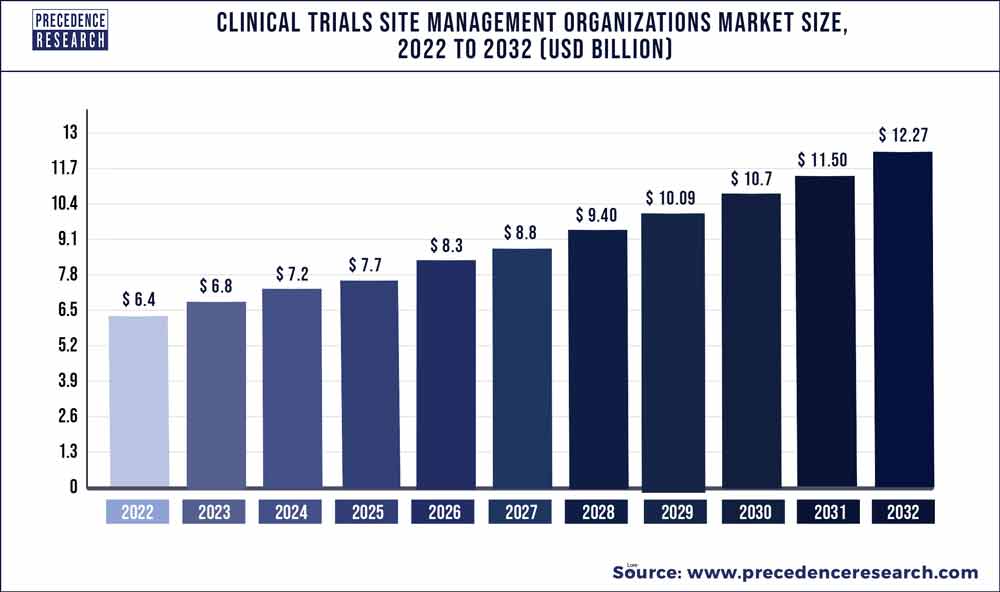 Access our Premium Real Time Data Intelligence Tool, Visit: Precedence Statistics
The market for site management organizations is being driven by rising demand for drug discoveries, high prevalence of chronic diseases, an increase in the number of clinical trials for novel drugs and therapies, booming pharmaceutical industries, and a growing preference for clinical trial outsourcing to CROs (contract research organizations). As drug development processes become more complex, the number of clinical trials and complexities in the clinical trial phases increases and it results in increasing the demand for SMOs in the coming years.
Covid 19 Impact:
The COVID-19 pandemic had caused a rapid change in businesses and organizations, affecting hundreds of thousands of workers worldwide. Despite this, organizations such as pharmaceutical companies, food manufacturers, logistics, health care, and site management organizations, among others, continued to operate in covid conditions.
Clinical trials were halted during the pandemic to slow the spread of the virus. However, due to the critical need for vaccines, diagnostics, and therapeutics, clinical trials were restarted with social distancing measures. Globally, public organizations have made significant investments in R&D to support the clinical trials of COVID-19 vaccines and therapeutics. For example, the United Kingdom government has invested USD 119.1 million in the development of the Oxford/AstraZeneca COVID-19 vaccine as of February 2022.
Report Scope of the Clinical Trials Site Management Organizations Market:
| | |
| --- | --- |
| Report Coverage | Details |
| Market Size in 2023 | USD 6.8 Billion |
| Market Size by 2032 | USD 12.27 Billion |
| Growth Rate from 2023 to 2032 | CAGR of 6.72% |
| Base Year | 2022 |
| Forecast Period | 2023 to 2032 |
| Segments Covered | By Clinical Trial Services, By Phase, and By Therapeutic Area |
| Regions Covered | North America, Europe, Asia-Pacific, Latin America and Middle East & Africa |

Market Dynamics:
Drivers:
Increased use of CTMS software
CTMS software streamlines clinical operations by providing insight into research portfolios and ensuring regulatory and billing compliance. These solutions also centralize and standardize the billing process, which includes sponsor invoicing and tracking of subject visits. CTMS solutions frequently integrate with electronic health records systems to speed up patient data transfer. They also simplify reporting, which is critical for the scientific review committee process. CTMS solutions will become increasingly important as the number of clinical trial sites grows due to the expansion of decentralized clinical trials that allow trial activities to be conducted remotely.
Restrains:
Delay in trials
The conduct of clinical trials is frequently fraught with difficulties, including scientific and operational complexities, concerns about recruiting and retaining suitable patients, data handling issues, and increasingly stringent regulatory guidelines. Furthermore, because of the inherent complexity of the overall process and the involvement of multiple stakeholders, clinical trials are prone to delays. More than 80% of clinical trials are delayed by one to six months, with only 10% of studies completed on time. As a result, pharmaceutical industry innovators are constantly working to improve the procedure for conducting clinical trials and managing research sites.
Opportunities:
Technological advancement
Site networks and providers of clinical trial services have begun to implement and improve the technological infrastructure on which their systems rely. Technology improves efficiencies at the site level by improving metrics on-site identification, selection, and performance, as well as across the patient spectrum by analyzing recruitment, selection, enrollment, retention, and adherence metrics at sites. Furthermore, technological advancements have resulted in increased biostatistics and data analytics analysis to understand a drug's feasibility earlier in the development process.
To increase data transparency between the patient, clinical trial site, and trial sponsor/CRO, industry leaders have migrated their data management to the cloud. Previously, technology was out of date and required multiple systems for clinical trial management, necessitating the need for automation and integration of multiple systems to track milestones more efficiently, provide better process management, and overall site improvement.
Segments Insight:
Clinical Trial Services Insights:
The project management segment dominated the market in 2022
In 2022, project management dominated the market for clinical trial site management organizations, accounting for 28% of total revenue. A clinical trial is a lengthy and complicated project. Many complex components and moving parts are involved in project management. Study design, labs, recruiting investigational products, data, materials, and site management are examples of these components.
Before beginning a clinical trial, various project tools and templates can be used to successfully design and execute a clinical trial. Microsoft Access, Excel, Outlook, SharePoint, and Visio are among the tools available, as are Web-based applications. Study start-up, team management, recruiting, clinical evaluation, and intervention are all part of the clinical trial project management life cycle.
During the forecast period, the onsite monitoring segment is expected to grow at the fastest rate of 6.90%. The site monitoring service tracks the progress of clinical trials and ensures that monitoring is carried out and reported by clinical study SOPs. Clinical trial sites must be monitored by GCP guidelines. The growing number of clinical trials has increased the market for clinical trial site management organizations' demand for onsite monitoring services.
Therapeutic areas Insights:
CNS segment dominated the market in 2022
In 2022, the CNS segment dominate the market for clinical trial site management organizations, accounting for 17% of total revenue. The high prevalence of CNS-related issues is driving the segment by increasing demand for clinical trials. For example, the WHO reported in 2021 that over 55.0 million people worldwide have dementia. One of the primary causes of dementia's high prevalence is the growing geriatric population. The funding for CNS-related clinical studies from various government agencies is expected to boost demand for site management and support the segmental market.
During the forecast period, the oncology segment is expected to grow at the fastest CAGR of 6.95% in the market for clinical trial site management organizations. Cancer is a leading cause of death worldwide. Cancer Tomorrow estimates that 30.2 million people will be diagnosed with cancer by 2040. The disease's high prevalence contributes to its demand for research, which is the primary reason for the segment's growth. Sedentism is also contributing to an increase in cancer incidence, fueling the research demand for cancer trials.
Phase Insights:
The Phase III segment dominated the market in 2022
The phase III segment dominated the market, accounting for 55% of total revenue in 2022. Even during the forecast years, the segment is expected to remain dominant. Clinical studies in phase III are more complicated than those in earlier stages; additionally, this phase includes a larger number of patients than other phases, increasing the demand for site management in this phase of clinical trials. This phase also has the highest failure rate because the sample size and research design require precise dosing at an optimal level. Such complications raise the demand for site management in phase III trials even more.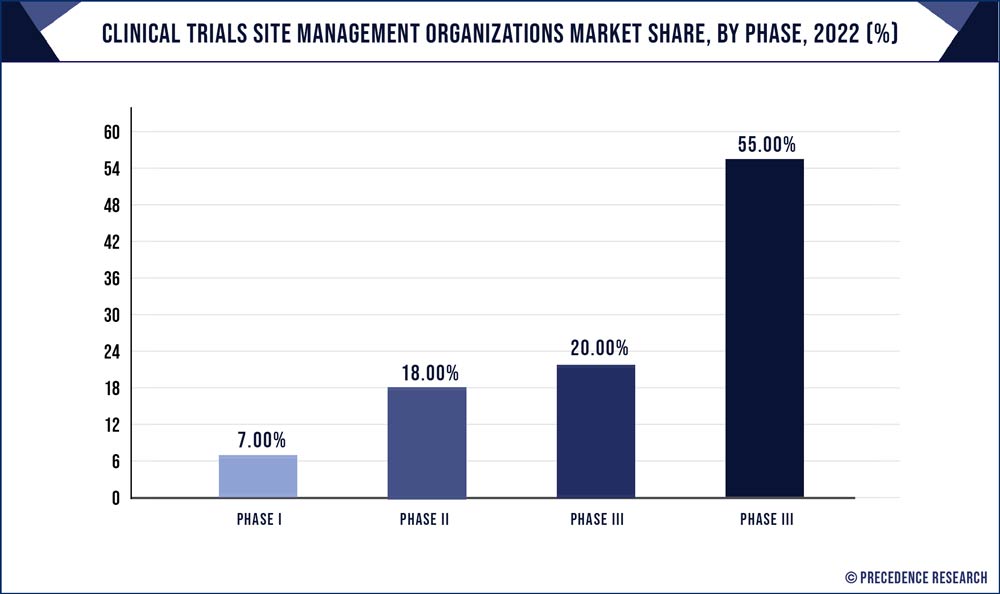 During the forecast period, the phase I segment is expected to grow at the fastest CAGR of 6.95% in the market for clinical trial site management organizations. The increase in R&D spending and demand for innovative treatments is increasing the demand for phase I trials, promoting the need for site management services. The high global disease burden, which contributes to the demand for new research, is expected to have a positive impact on segment growth.
Regional Insights:
Asia Pacific is expected to grow in the forecast period
Asia Pacific is expected to grow at a 7% CAGR during the forecast period. Because of the ease of regulatory compliance, low study costs, a growing patient population, and the presence of a few elite clinical institutions serving as sites, the region has become a hotspot for conducting clinical trials. These factors are driving up demand for site management services, which is driving up the market for clinical trial site management organizations.
Site management organizations that operate as independent contract research organization (CRO) divisions provide some significant benefits in the changing Asian clinical trial market, where rapid recruitment of large patient numbers is critical. They are commonly used as investigators by district and hospital physicians. The patient's doctor oversees most study visits, who are assisted by research/practice nurses. SMOs of this type would oversee site training and assistance and would be part of a regional coordination framework. Because patients are recruited through database searches and doctor visits, the model is suited for enrolling many people.
North Clinical trial site management in North America involves the coordination and management of all activities related to clinical trials conducted in North America, including the United States and Canada.
The United States is one of the largest and most important markets for clinical research in the world, with a large and diverse population, a well-established regulatory framework, and a strong infrastructure for clinical trial site management. Canada also has a well-developed clinical research infrastructure and a supportive regulatory environment for clinical trials.
Recent Development:
In 2021, Trialbee (Sweden) worked with Castor, a leading provider of decentralized and hybrid clinical trial solutions, to increase patient enrollment, improve patient engagement, and reduce the burden on clinical trial sites around the world.
In 2021, Worldwide Clinical Trials, Inc. (US), a global full-service contract research organization (CRO), partnered with Triumph Research Intelligence (TRI), a leader in risk-based quality management (RBQM) technology, to improve clinical trial quality worldwide.
In 2020, As a CRO (Contract Research Organization), CMIC Group (Canada) began providing monitoring services for "Avigan Tablet" (an influenza antiviral drug for novel influenza virus infections) in Japan. As a CDMO, the company also supported the product's manufacturing (Contract Development & Manufacturing Organization)
Key players present in clinical trials site management Market
Mergers, acquisitions, and partnerships, among other strategies, are used by prominent players to maintain their market share. ClinChoice, for example, partnered with clinical research and development solution provider Cloudbyz in April 2022. Cloudbyz provided its clinical research management technology platform to help ClinChoice with clinical studies, including site identification, site feasibility, and clinical monitoring, as part of the partnership. Similarly, Elligo Health paid USD 135 million for ClinEdge in September 2021 to expand its clinical trial service offerings. Among the key players in the clinical trials site management organizations market are:
Clinedge
WCG
ClinChoice
Access Clinical Research
FOMAT Medical Research INC.
SGS
KV Clinical
SMO-Pharmina
Xylem Clinical Research
Aurum Clinical Research
Segment Covered in the Report:
This report forecasts revenue growth at the global, regional, and country levels and analyses the most recent industry trends in each sub-segment from 2022 to 2032. Precedence Research has segmented the global clinical trials site management organizations market report based on clinical trial services/components, phase, therapeutic areas, and region for this study:
(Note*: We offer report based on sub segments as well. Kindly, let us know if you are interested)
By Clinical Trial Services
Site Management
Project Management
Regulatory
Onsite monitoring
By Phase
Phase I
Phase II
Phase III
Phase IV
By Therapeutic Area
Oncology
Cardiology
CNS
Pain management
Endocrine
By Geography
North America
Europe
Asia-Pacific
Latin America
Middle East and Africa