The global diabetes drug market size was estimated at USD 61.87 billion in 2022 and is projected to hit around USD 118 billion by 2032, growing at a CAGR of 6.67% during the forecast period 2023 to 2032.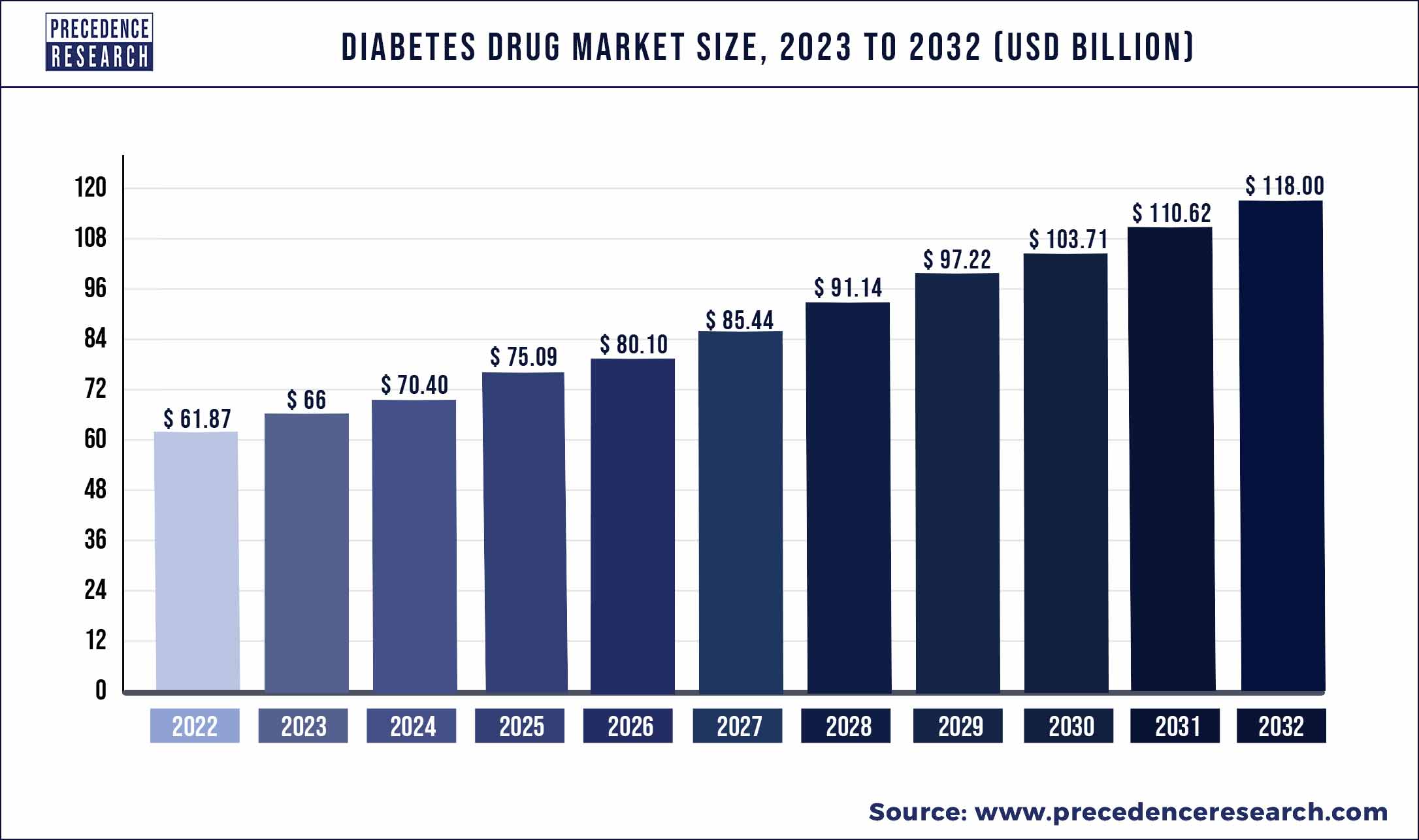 Access our Premium Real Time Data Intelligence Tool, Visit: Precedence Statistics
Diabetes is a chronic metabolic disease characterized by high blood glucose levels, which causes severe damage to the heart, blood vessels, eyes, kidneys, and nervous system. Type 2 diabetes develops when the body develops insulin resistance or fails to produce enough insulin. Diabetes affects 62 million people in the Americas, with the majority living in low- and middle-income countries.
Diabetes is directly responsible for 284,049 deaths each year. With an increase in the diabetic population, technological advancements, and rising adoption rates in emerging regions, the global market may become more robust. Furthermore, an increase in obesity, an increase in sedentary lifestyle adoption, and an increase in the consumption of unhealthy diets are expected to increase the incidence of diabetes, fueling industry growth. Diabetes Drugs Market is driven by the rise in the diabetic population, technological advancement, increased sales of novel medicines, and a growing adoption rate in developing regions.
Key Takeaways:
North America is predicted to generate the maximum market share during the forecast period.
By Drug Class, the insulin segment is expected to expand at the fastest CAGR between 2023 and 2032.
By Diabetes Type, the 2 types segment is expected to dominate the global market during the forecast period.
By Route of Administration, the oral segment has generated more than 46% of revenue share in 2022.
By Distribution Channel, the hospital pharmacies segment has captured more than 54.0% of revenue share in 2022.
Impact of COVID-19:
The COVID-19 crisis negatively impacts the world economy, public health, and our way of life. The virus has now infected over 3.6 million people worldwide, killed 250,000 people, and prompted governments to take drastic measures to curb the spread of coronavirus disease in 2019. Roughly half of the world's population is restricted from moving, international border crossings have been closed, and economic activity has plummeted as many countries have chosen to close non-essential businesses.
The impact of the COVID-19 pandemic response measures appears to have been most homogeneous to date at the very end of the diabetic drug supply chain in the markets. Many countries in all regions have reported an overall shortage of numerous diabetic drugs at the retail level. Moreover, many countries have reported retail drug shortages, with reports of diabetic drug shortages in Europe, South-West Asia, and North America. Drug supply shortages may coincide with a general decrease in consumption.
Report Scope of the Diabetes Drug Market:
| | |
| --- | --- |
| Report Coverage | Details |
| Market Size in 2023 | USD 66 Billion |
| Market Size by 2032 | USD 118 Billion |
| Growth Rate from 2023 to 2032 | CAGR of 6.67% |
| Largest Market | North America |
| Base Year | 2022 |
| Forecast Period | 2023 to 2032 |
| Segments Covered | By Drug class, BY Diabetes Type, and By Distribution Channel |
| Regions Covered | North America, Europe, Asia-Pacific, Latin America and Middle East & Africa |

Market Dynamics:
Drivers:
Excessive sugar diet leads to incidences of diabetic patients
Diabetes is increased by consuming an excessive amount of sugar. Furthermore, advancements in diabetes diagnosis devices, such as portable glucometers, propel the diabetes diagnostics market forward. A glucometer is a small, portable machine primarily used by people with diabetes to measure blood glucose levels. For example, Ascensia Diabetes Care, a global diabetes care company, received FDA approval for its implantable, next-generation Eversense E3 continuous glucose monitoring (CGM) system in February 2022. These standards and continuous glucose monitoring (CGM) devices help with diabetes diagnosis and treatment. As a result, the availability of such advanced glucose monitoring devices contributes to market growth.
Furthermore, an increase in R&D activities for developing novel diabetes treatments and market product approvals contributes to the company's diabetes market share growth. For instance, in July 2021, the FDA approved Semglee (insulin glargine-fun), a biosimilar to the reference product Lantus (insulin glargine), a long-acting insulin analog. Semglee is the first interchangeable biosimilar insulin product approved to improve glycemic control in adults and children with type 1 diabetes and adults with type 2 diabetes. However, the side effects of long-term use of anti-diabetes drugs impede the market's growth.
Restrains:
A stringent regulatory environment limits the market growth
The stringent regulatory environment and time-consuming approval process are two significant factors that may limit market growth. The Food and Drug Administration (FDA) in the United States requires labeling changes for metformin-containing diabetes medicines to expand metformin's use in certain patients with impaired kidney function. Metformin is not recommended for some patients whose kidneys do not function normally. FDA reviewed many medical studies on the safety of metformin use in patients with mild to moderate kidney function impairment and changed the measure of kidney function in metformin drug labeling used to determine whether a patient can receive metformin. However, cost issues, strict regulatory rules, and long drug approval times may restrict the market growth.
Opportunities:
Technological advancement in diabetics treatment provides future opportunities
Diabetes device technological advancements, such as the introduction of high-end insulin pumps and pens, drive demand for these products. Leading manufacturers focus on technological innovations and developing advanced products to gain a significant market share.
Abbott and Novo Nordisk formed a non-exclusive partnership in February 2019. This collaboration is expected to aid in the advancement of digital diabetes solutions. The data collected by Novo Nordisk prefilled durable connected pens will be reflected in the digitally connected FreeStyle Libre system via the FreeStyle LibreLink mobile app and the LibreView cloud-based system under this partnership. This technological integration allows healthcare professionals to analyze glucose and insulin data simultaneously, potentially simplifying diabetes management.
Segments Insight:
Drug Class Insights:
The insulin segment dominated the market in 2022
The insulin segment is expected to grow at a CAGR of more than 3% during the forecast period, owing primarily to demand from the Type-1 diabetes population, which is expected to number more than 58 million by the end of 2027.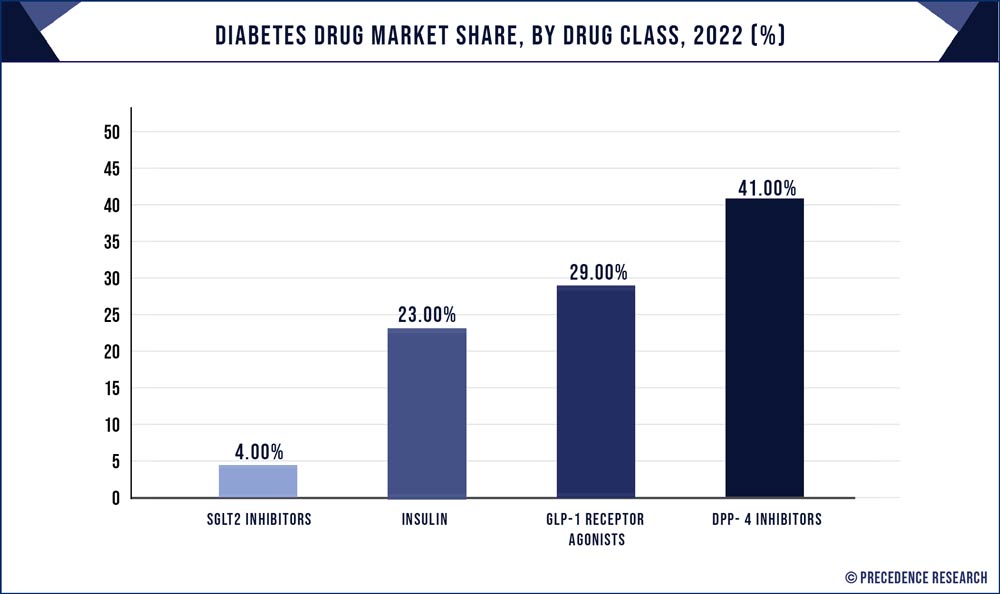 According to the International Diabetes Federation, diabetes patients will spend USD 966 billion in 2021, with Type 1 diabetes patients spending most of their money on insulin drugs. Only a small percentage of Type 2 diabetes patients require insulin. Although Type 1 diabetes affects only 10% of the population, their insulin consumption is higher. Increased awareness about the benefits of insulin for diabetes patients, particularly in emerging economies, is driving demand for insulin.
Diabetes Type Insights:
Type 2 diabetes dominated the market in 2022
The global T2DM market has become increasingly crowded with the introduction of generic medications. With disease prevalence expected to rise, global sales are expected to reach USD 67.7 billion in 2022, with the United States accounting for USD 38.8 billion. The primary trend driving the type 2 diabetes market growth is therapeutic innovation, and several vendors are introducing advanced diabetes therapeutics.
GLP-1 and glucose-dependent insulinotropic polypeptides (GIPs) are incretins secreted by the GI tract in response to food intake. GLP-1 and GIPs stimulate pancreatic beta cells, producing 60% of the insulin secreted after a meal. GLP-1 secretion is reduced in type 2 diabetes, as is responsiveness to GIP. Incretin hormones improve glycemic control by increasing satiety, decreasing GI motility, increasing glucose-dependent insulin secretion, decreasing glucagon secretion, and decreasing hepatic glucose release.
Route of Administration Insights:
The oral anti-diabetic drugs segment is expected to dominate the diabetes drugs market in North America.
The oral anti-diabetic drugs segment held the largest market share of approximately 46% in 2022 and is expected to dominate the North America diabetes drugs market with roughly USD 20 billion in revenue. Oral anti-diabetic drugs have been available internationally and are recommended for use when escalation of type 2 diabetes treatment is required, in addition to lifestyle management. Patients want effective treatment options for diabetes that are minimally intrusive. The FDA welcomes the advancement of new therapeutic options that can make it easier for patients to control their condition. FDA's Division of Metabolism and endocrinology Products in the Center for drug evaluation and Research.
Distribution Channel Insights:
The hospital segment dominated the market in 2022
Hospital pharmacies dominated the diabetic drug market. Owning to the presence of trained medical staff for medicine sales. Most of the population also visits hospitals for primary treatments as a result of segment growth. Moreover rising popularity of e-tail and the proliferation of e-commerce, online pharmacies seem to be a promising segment for developing the diabetic drug market. Due to high footfall and product availability, hospital pharmacies segment accounted for more than 54.0% of market penetration in 2022. Within a hospital campus, there are two types of pharmacies: inpatient and outpatient. Within the hospital, an inpatient pharmacy is only accessible to authorized personnel serving operation rooms, ICU, inpatient wards, and special service areas. On the other hand, outpatient pharmacies are typically found in hospital lobbies and customer entrances.
The outpatient pharmacy stocks handheld glucose meters and insulin delivery devices
Diabetes devices are purchased directly from manufacturers by online pharmacies, allowing them to offer customers attractive discounts. Growing patient awareness of online pharmacies, as well as increased public-private funding, are driving the segment. The COVID-19 pandemic has positively impacted the e-pharmacies business; the volume of diabetes devices sold through this platform has increased.
Regional Insights:
North America dominated the market in 2022
The United States has the largest market share in the North America diabetes drugs market and is expected to grow at a CAGR of around 3% during the forecast period. According to the American diabetes association, an estimated 1.4 million Americans are diagnosed with diabetes each year. Diabetes is one of the leading causes of death in Canada and the rest of North America. Because of the disease's increasing occurrence, frequency, and progressive nature, new drugs are being developed to offer additional treatment options for diabetic patients.
Non-insulin procedures, used as first-line therapies for patients with type 2 diabetes, now account for more than half of the anti-diabetic market. Over the last decade, two important classes of drugs have entered this market: DPP-4 inhibitors and sodium-glucose cotransporter-2 inhibitors (SGLT-2). Oral diabetes medications work in various ways to lower blood sugar levels in people with type 2 diabetes; some stimulate pancreatic insulin secretion, while others improve cell responsiveness to insulin or prevent glucose production by the liver. Others slow glucose absorption after meals.
For instance, the Food and Drug Administration (FDA) approved Semaglutide as an adjunct to diet and exercise for treating obesity in June 2021.
The FDA has not approved Dulaglutide or Exenatide for the treatment of obesity. However, both medications are effective in weight loss and are increasingly used clinically. Several studies have looked at the cost-effectiveness of GLP-1RAs in diabetes treatment. In addition to using health insurance to help cover the costs of prescription drugs, many pharmaceutical companies offer discounts on the drugs themselves.
Recent Development:
In 2022, Mounjaro (tirzepatide) injection has been approved by the US Food and Drug Administration to improve blood sugar control in adults with type 2 diabetes, in addition to diet and exercise. Mounjaro was more effective than other diabetes treatments when it came to lowering blood sugar levels in clinical trials.
In 2022, Insulin glargine and liraglutide outperformed the other three medications approved by the US Food and Drug Administration to keep blood glucose levels within the normal range.
In 2021, Semglee, the first interchangeable biosimilar insulin product, has been approved by the US Food and Drug Administration (insulin glargine). Semglee is the first interchangeable biosimilar product approved for the treatment of diabetes in the United States. The approval of these insulin products could provide patients with more safe, more high-quality, and potentially cost-effective diabetes treatment options.
The Key Players:
Key players are expanding geographically and developing niche business units that cater to the industry. The following companies are major players in the global clinical trial supplies market:
Novo Nordisk A/s
Sanofi
Merck & Co, Inc
Eli Lilly and Company
AstraZeneca
Takeda Pharmaceuticals Company Limited
Boehringer Ingelheim International GmbH
Novartis AG
Johnson & Johnson Services, Inc.
Bayers AG
Segments Covered in the Report:
(Note*: We offer report based on sub segments as well. Kindly, let us know if you are interested)
By Drug Class
Insulin
DPP- 4 Inhibitors
GLP-1 Receptor Agonists
SGLT2 Inhibitors
By Diabetes Type
By Route of Administration
Oral
Subcutaneous
Intravenous
By Distribution Channel
Online pharmacies
Hospital Pharmacies
Retail pharmacies
By Geography
North America
Europe
Asia-Pacific
Latin America
Middle East and Africa