The global digital breast tomosynthesis equipment market size was estimated at USD 3.07 billion in 2022 and it is projected to surpass around USD 11.79 billion by 2032, growing at a CAGR of 14.4% over the forecast period from 2023 to 2032.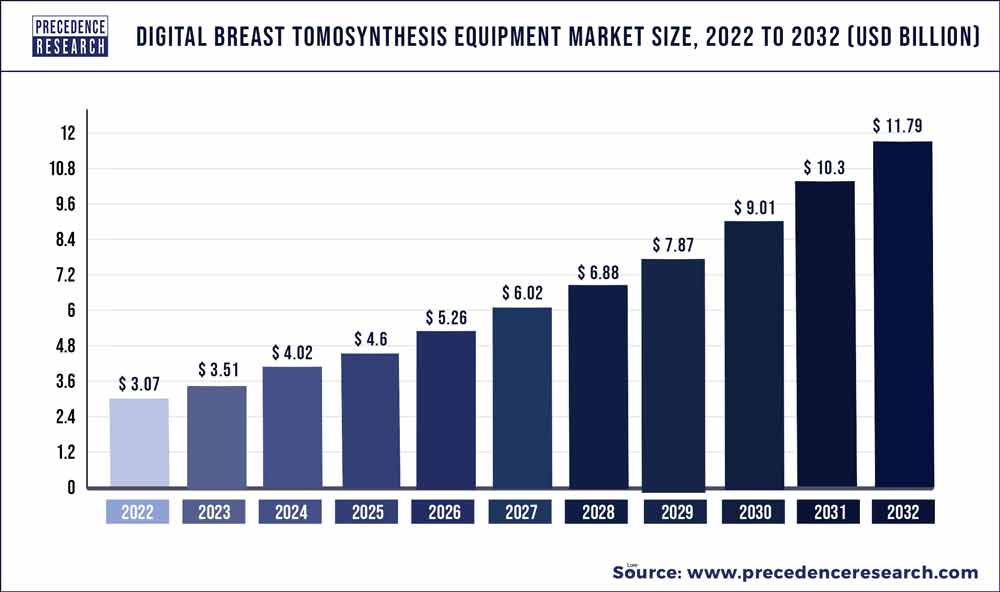 Key Takeaways:
North America captured more than 47% of revenue share in 2022.
By Product, Standalone 3D dominates the digital breast tomosynthesis equipment market.
By End-user, Hospitals shares the maximum CAGR during the projection period.
Market Overview:
Breast tomosynthesis is a breast imaging technique that uses low-dose X-rays to diagnose cancer in an early phase when it is most treatable and an advanced form of mammography. It is only available in some imaging facilities. Digital breast tomosyntheses, like digital mammography and film, still require breast compression. It offers the potential to overcome one of the fundamental drawbacks of mammography, which is the inability to image over-lapping dense normal tissue. This common clinical finding can reduce conventional and digital mammography's accuracy in distinguishing malignant and benign lesions. It creates multiple projections reflected across various viewing angles to produce a series of section images. It eventually reduces the superimposition of breast tissue in each tomosynthesis section with presumed improved sensitivity for small tumors.
Hologic, a global medical-based technology company, offers cutting-edge solutions that focus on improving people's lifestyles. The company has stated its annual revenue in the breast health market to be $275.1 million by 2022.
Growth Factors:
Breast cancer is considered one of the most common cancers affecting women worldwide. The rising incidence of breast cancer creates a demand for advanced screening and diagnostic techniques, such as Digital Breast Tomosynthesis (DBT), which drives market expansion. Expanding healthcare infrastructure provides better access to advanced medical imaging technologies, allowing for increased adoption of DBT equipment, mostly in developing countries.
Women's health has gained significance worldwide, heading towards significant investments in the screening and diagnosis of breast cancer. Government bodies and healthcare organizations are actively promoting the adoption of DBT technology. Patients increasingly opt for barely invasive diagnostic techniques, such as DBT. AI is being integrated into DBT systems, which is improving the accuracy of breast cancer diagnosis. For example, the National Breast Cancer Foundation in the United States funds breast cancer research, and its screening programs act as the growth factors for the digital breast tomosynthesis equipment market.
Report Scope of the Digital Breast Tomosynthesis Equipment Market:
| | |
| --- | --- |
| Report Coverage | Details |
| Market Size in 2023 | USD 3.51 Billion |
| Market Size by 2032 | USD 11.79 Billion |
| Growth Rate from 2023 to 2032 | CAGR of 14.4% |
| Largest Market | North America |
| Base Year | 2022 |
| Forecast Period | 2023 To 2032 |
| Segments Covered | By Product and By End-user |
| Regions Covered | North America, Europe, Asia-Pacific, Latin America and Middle East & Africa |

Driver:
Dominance of digital breast tomosynthesis equipment over mammography
With the advancements in the overall healthcare sector, the oncology sector also demands multiple technological advancements. Digital breast tomosynthesis equipment digital breast tomosynthesis is used to improve the detection and characterization of breast lesions especially in women with non-fatty breasts. As tomosynthesis is the only equipment that detects the total radiation dose, patient motion, image time, detector motion, and detector performance, and even picturizes the whole breast, with a complete future biopsy ability for those lesions fueling the breast tomosynthesis equipment market.
According to the published journal in the Radiological Society of North America, researchers have established that digital breast tomosynthesis has developed breast cancer screening performance in the community and identifies more invasive cancers.
mainly in the developing regions, the high cost of equipment is hindering the growth of the market. The cost of digital breast tomosynthesis equipment varies for different models and companies. For instance, the 2D model mammography price is between $65,000-$95,000 for Hologic and GE Healthcare Inc products, whereas the 3D model of the same company is between $90,000-$200,000.
Moreover, the 3D models of premium equipment of Hologic Inc. and GE Healthcare are priced between $1,40,000 and $2,75,000. The high cost of breast tomosynthesis equipment is a significant concern for the clients, the high cost of equipment results in hefty diagnosis processes along with which, it limits healthcare providers to install such equipment. Such conditions are projected to hamper the growth of the breast tomosynthesis equipment market.
Opportunities:
Incorporation of AI with breast tomosynthesis technique
Technology, such as AI and machine learning, play an integral part in acknowledging risk. Analytical, integrative techniques and advanced data are used as information for an individual based on multiple data sources, such as medical health records, smartphone health data, and germline genome data, to assess cancer risk. The demand is growing due to the aging population, changing patient expectations, lifestyle changes, and the never-ending innovation cycle. Artificial intelligence (AI) has the potential to revolutionize healthcare and help address challenges by rapidly improving breast imaging and mammography. Digital breast tomosynthesis serves its purposes in almost every step: generating a picture, denoising risk prediction, cancer detection, and, finally, selecting therapy and, later, the results.
Segments Insight:
Product Insights:
Standalone 3D System shows significant growth in the digital breast tomosynthesis equipment market. Advancements in the healthcare infrastructure across the globe demand advanced machinery for diagnosing breasts under 3D mammography, which can make tumor detection easier by limiting the effect of covering the breast tissue. The 3d standalone system has brought modification in mammography. Allowing radiologists to take images from various angles for proper cancer diagnosis by looking into multiple pictures helped specialists discover more significant cancer growths than with 2D images alone. 3D mammography can help reduce the chances of false outcomes. Rising cases of cancer require a rapid diagnosis.
2D-3D Combination System are expected to grow in the digital breast tomosynthesis equipment market.
This combination of 2D-3D systems helps us to detect cancerous factors more than a single mammography method. Integrating 2D and 3D capabilities into a single system streamlines the imaging process. Instead of using separate equipment for 2D and 3D imaging, healthcare providers can perform both procedures with a single device, reducing patient waiting times and optimizing resource utilization. Furthermore, image acquisition and interpretation workflows can be more efficient as radiologists can switch seamlessly between 2D and 3D modes. As the benefits of tomosynthesis become more recognized and its adoption increases, the integration of 2D capabilities allows for a smoother transition for healthcare providers who may still rely on 2D mammography for some reference. It provides a more gradual and adaptable approach to fully embracing 3D tomosynthesis.
End-user Insights:
Hospitals are dominating the end-user segment in the digital breast tomosynthesis equipment market during the predicted period. The rising prevalence of breast cancer in female is highly growing and so the demand for hospitals have increased on a large scale. Cancer patients undergoing nausea, pain, and shortness of breath highly prefer hospitals for casualty as it provides specialized treatments under brilliant teams of doctors, nurses, allied professionals and support staff.
Diagnostic Centers is the fastest growing segment in the digital breast tomosynthesis equipment market throughout the forecast period.
Governments worldwide are implementing various initiatives to improve breast cancer screening rates and outcomes. For example, some governments offer free or subsidized breast cancer screening programs, increasing the demand for DBT equipment and diagnostic services. Increase in awareness among women about the importance of early detection of breast cancer, leading to an increased demand for breast cancer screening services.
Regional Insights:
North America held the largest share of 47% in 2022, the region is expected to maintain dominance during the forecast period.
Breast cancer is significant in North America because of its growth due to well-trained healthcare professionals, greater affordability, well-developed healthcare infrastructure, and a rise in breast cancer. Breast cancer is frequent in women in the United States, and about 13% of every American woman may have invasive breast cancer.
For instance, in 2022, an estimation of 287,850 new patients with invasive breast cancer will be detected in women in the United States, in addition to 51,400 new breast cancer cases. Growing instances require more healthcare infrastructure to provide medical support to patients and raise the use of digital breast tomosynthesis to detect breast issues.
Asia- Pacific shows lucrative growth in the digital breast tomosynthesis equipment market during the forecasted timeframe.
Asia Pacific regions mainly the countries like India with lack of proper hygiene, and poor lifestyle leads to the increase a greater number of breast cancer, requirement for good hospital such as Fortis hospital considered as the best cancer hospitals in India with a stellar reputation to have digital magnetic resonance imaging (MRI) technology and expertise in radiation therapy.
For instance, In December 2022, AI-derived medical imaging instrument company Lunit signed a deal to supply AI-derived breast cancer screening solutions to Hong Kong Women's Imaging diagnosis imaging center and Mongolia's National Cancer Center, indicating an increasing demand for advanced mammography solutions worldwide.
Recent Developments:
In April 2023, according to the publication in the journal Radiology, it was found that the ultrasound is the most effective diagnostic tool for women facing problems such as pain, discharge or lumps.
In January 2023, Bayer declared the acquisition of Blackford Analysis Ltd to address the increasing demand for medical imaging and lack of radiologists. It is basically to improve the patient's quality of life by driving innovation in radiology with the adoption of AI during the clinical workflow.
In January 2023, University College London Hospitals (UCLH) launched the first UK proton beam therapy trail for breast cancer that will aim radiotherapy beams mor accurately basically for patients prone to long-term heart issues. Proton beam therapy will help to focus on the adequate doses of radiotherapy to breast tissue meanwhile reducing off target radiation to heart.
In June 2022, DetectedX declared that it provides access to Radiology Online Learning Platform to participate for the Screening Programme by radiologists and are selected by the National Breast Screening Programme to improve the detection of breast lesions in 2D AND 3D.
Key Market Players:
Hologic
Siemens
Fujifilm
GE
Internazionale Medico Scientifica
Planmed
Shenzhen Mindray Bio-Medical Electronics Co., Ltd
Abbott
BD
F. Hoffmann-La Roche Ltd
Thermo Fisher Scientific Inc.
Koninklijke Philips N.V.
Shimadzu Medical (India) pvt. Ltd
General Electric
Quest Diagnostics Incorporated
Sysmex India Pvt. Ltd
Hitachi, Ltd
Canon Inc.
Segments Covered in the Report:
(Note*: We offer report based on sub segments as well. Kindly, let us know if you are interested)
By Product
2D-3D Combination System
Standalone 3D System
By End-user
Hospitals
Diagnostic Centers
By Geography
North America
Europe
Asia-Pacific
Latin America
Middle East and Africa