The global DNA synthesizer market size accounted for USD 274.11 million in 2022 and it is expected to hit around USD 1,070.02 million by 2032, poised to grow at a CAGR of 14.59% over the forecast period 2023 to 2032.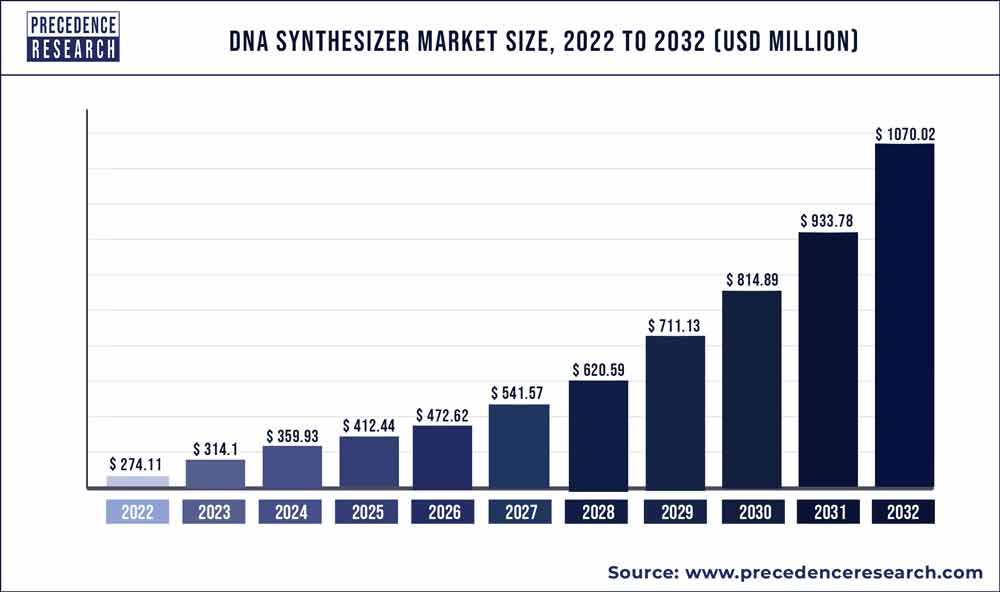 Access our Premium Real Time Data Intelligence Tool, Visit: Precedence Statistics
Key Takeaways:
North America contributed more than 41% of the revenue share in 2022.
By Product Type, the automated DNA synthesizers are expected to register the most significant market CAGR.
By Application, the diagnostics segment is predicted to generate the highest market revenue share.
By End-user, the biotechnology companies' segment registered more than 53% of revenue share in 2022.
Market Overview:
DNA synthesizers are the devices used to understand a particular DNA molecule from a given sequence of nucleotides. DNA synthesizer helps to create DNA molecules to cure disorders by replacing damaged DNA with repaired DNA. We required enzymes, substrates, primers, and templates as components to initiate and generate a DNA synthesis. Gen Script, Synbio Technologies, Ansa Biotechnologies, and Camena Bio are the companies involved in the DNA synthesizer market across the globe. The Human Genome Project was conducted by the DNA synthesizer which the scientists proposed. DNA synthesizers can be programmed to handle batch-wise analysis, also are different from cycle time. This synthesizer is computer-based and operated by including the website.
Players involved in the DNA synthesizer market are involved in the development, production, and distribution of DNA synthesizers. DNA synthesizers are machines that enable the automated synthesis of DNA molecules. These machines are widely used in various research fields, such as genomics, proteomics, and synthetic biology.
Danaher is the leading market player in the DNA synthesizer market, headquartered in Washington, D.C., United States; generated a core revenue growth of 9.5% and a gross profit margin of 60.2% in 2022.
In April 2023, Tekna accepted three orders for plasma systems worth $2.6 million and addressed new appliances to focus on R&D. These clients are from Europe, Asia, and Latin America.
Growth Factors:
With the rising growth of research and development activities, there is an increase in DNA synthesis and sequencing. Even Danaher showed a $7.0 billion revenue share in life science in 2022. Advancements in technology, such as novel genes, enzymes, the latest software, and other factors, are anticipated to reduce the synthesizing time. With the increasing demand for the newest technology, such as Next Gen Sequencing (NGS), there is a proportional rise in DNA synthesis, which expands the DNA synthesizer in the market. NGS captures every DNA molecule leaving nothing behind and provides maximum depth coverage. It helps in detecting and tailoring minimal residual disorder.
Growing investments in synthetic biology and research have fueled the growth of DNA synthesizers across the globe. The National Human Genome Research Institute (NHGRI) has recorded the DNA expenses used for sequencing that the Institute funds have helped in the improvisation of DNA technologies.
Report Scope of the DNA Synthesizer Market:
| | |
| --- | --- |
| Report Coverage | Details |
| Market Size in 2023 | USD 314.1 Million |
| Market Size by 2032 | USD 1,070.02 Million |
| Growth Rate from 2023 to 2032 | CAGR of 14.59% |
| Largest Market | North America |
| Base Year | 2022 |
| Forecast Period | 2023 to 2032 |
| Segments Covered | By Product Type, By Application, and By End-User |
| Regions Covered | North America, Europe, Asia-Pacific, Latin America, and Middle East & Africa |

Driver:
Rising demand for diagnostic activities for multiple diseases
The rising need to diagnose various diseases boosts the DNA synthesizer market growth during the projection period. Nearly 1 in 10 Americans are affected with the ongoing Type-2 diabetes mellitus, which is predicted to be around 30 million Americans who suffer from undiagnosed or rare diseases. For a better understanding of the disease and its treatment, accurate diagnosis is necessary where DNA synthesizer actively performs and prevents people from passing the disorder to future generations.
For instance, Nutcracker Therapeutics, Inc. has presented NTX-250, an oncology mRNA therapeutic that can draw out anti-tumor responses in murine tumor models and induce an immune response in human papillomavirus.
Restraints:
Risks of false detection
Numerous diseases can be detected through DNA samples, such as Sickle cell, Cystic fibrosis, Down syndrome, etc. DNA testing helps us understand any mutation in the chromosomes, genes, or proteins. When sequencing, there is a false detection of DNA strands from the nucleotides, and this leads to higher error rates with less output. The performance as per the requirement needs to improve. Epigenetic factors, mosaic mutations, and mitochondrial genome mutations are a few of the limitations of DNA sequencing. Epigenetic factors can be termed as the individual behavior and environment that alter the function of the responsible genes. Such risks associated with DNA sequencing limit the growth of the market by acting as a restraint for the market.
Opportunities:
Use of DNA synthesizer in synthetic biology
The rise in demand for therapeutic genome editing and disease diagnostics is leading to the need for more DNA synthesizers in the market. Synthetic biology includes DNA storage, molecular diagnostics and biological medicine which apparently increases the demand for advanced machines to detect the DNA strands. Natural medicine is prepared from living organisms that can detect, prevent and treat various diseases. Few biological drugs include vaccines, antibodies, therapeutic proteins, and others. And the purchase price of this medicine is costly as it is mixed with chemical ingredients, which is challenging to prepare.
For instance, In May 2023, Cellular Biomedicine Group addressed that they jointly licensed and collaborated with Janssen Biotech, which studies the cure of lymphoma specifically for C-CAR066.
Segments Insight:
Product Type Insights:
Automated DNA synthesizers are anticipated to dominate the global market during the projection period.
As a growing need for efficient synthesizers in the different life science labs for research activities to study and understand the vital role of DNA synthesizers in molecular biology. In the development and manufacturing of novel drugs and funds being supplied from major key players. This has raised the number of biotechnologies, life science, and pharmaceutical companies in the growing need for new treatments to cure disorders.
The benchtop DNA synthesizers segment shows an attractive growth in the DNA synthesizer market during the forecast period.
The purpose of using a benchtop DNA synthesizer is to raise the speed and efficacy of research conducted in industries and academic laboratories. It prevents the DNA sequences that can be harmful. This synthesizer is mainly used by trainees in biosecurity and biosafety.
Application Insights:
Diagnostics shows a lucrative growth in the DNA synthesizer market throughout the forecast period.
Proper diagnosis can be made by considering data and understanding from physical examination, various tests such as blood tests, biopsies, and patient medical history. The prevalence of Alzheimer's disease has increased in the last decade. Alzheimer's is affected due to the combination of multiple genes, which can increase or decrease the risk of the disorder. As per the Alzheimer's Association International Conference, it was found that consuming processed foods leads to a decline of cognitive; nearly 6.5 million are living with Alzheimer's. Using a DNA synthesizer makes it easier to detect and then later leads to the treatment of the disease.
The research and development segment is anticipated to grow during the forecast period.
The increase in DNA content based on genomics, transcriptomics, and proteomics to improve the technologies for the growth of the DNA synthesizer business. Thereby staying ahead of the competitors' companies and growing research on a micro-scale which eventually increases the biological products such as antibodies, vaccines, etc. The demands for drug discovery have evolved, which has enrolled more clinical trials.
End-User Insights:
Biotechnology companies are expected to dominate the DNA synthesizer market throughout the forecast period.
Biotechnology companies initiate their business from an embryonic stage, that is, diagnosis, prevention, and treatment of disease. These firms have majorly scaled in the market after covid-19 with the rise in the detection of virus strains, how it can be controlled on a large scale, and its cure. Increase in the research and development for the vaccine to prevent its spread, latterly growing the economics of biotechnology companies worldwide. Developed biotechnology regions like North America and Europe monitor India's development of biotechnology firms such as Biocon Biologics Limited, with Rs 1,507 crores for biosimilars in 2022. This economic development from biotechnology firms is attracting overseas similar markets for collaboration, thereby growing the market worldwide.
For instance, Statista's data states that India has recorded revenue of 39.3% covid-19 vaccine in the Indian market in the year 2021-22.
Academic and research organizations are anticipated to grow in the predicted period.
DNA synthesizers are used in nucleic acid assays, which include primers and probes, plasmid control, and serological assays, such as in the SARS CoV-2 neutralization antibody detection kit, even for controlling monoclonal antibodies, vaccine production, etc. Academic and research organizations are researching these significant tests and received funds from government bodies bolstering the DNA synthesizer market expansion.
Regional Insights:
North America is the leading region in terms of DNA synthesizer market during the forecast period. There is an increasing prevalence of autoimmune disorders in North America, including the United States, Canada, and Mexico. The presence of the maximum number of key players in the region is contributing to significant global revenue. According to the National Institute of Health (NIH), around 5-6% of the United States population has been affected by autoimmune diseases. AbbVie, a biotech company mainly deals with immunology drugs, is based in North Chicago, United States, with a revenue of $58.05 billion in 2022. The demand for immunological tests has increased for many DNA synthesizers in the next few years.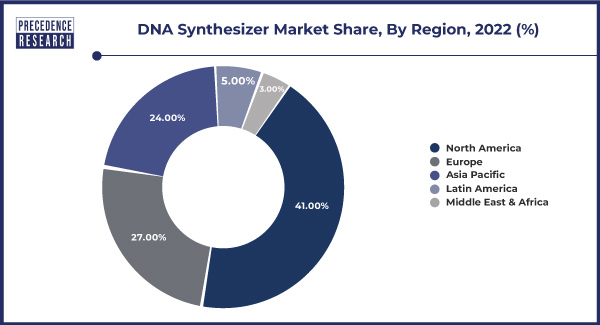 Asia-Pacific shows a significant growth in the DNA synthesizer market throughout the projection period. The rise in funding from startup companies, growth in research and development, and increase in metabolomics pathway studies in well-known research institutes such as India are boosting the growth of Asia- the Pacific DNA synthesizer market. For example, In June 2022, Axbio raised about $100 million for the growth of sequencing technology in series B.
In September 2022, He Jiankui, founder of genetically edited babies, sought help from the Government of China to raise a fund of US $7.2 million for a DNA synthesizer project. The project aims to develop China's first third-generation DNA synthesis platform.
In addition, the rising rate of business activities in the market including partnerships, acquisitions, new product launches and investments are propelling the growth of DNA synthesizer market in Asia Pacific. GSK, Takeda, and Sanofi partnered with the Biologics Pharma Innovation Programme in December 2022 to research and produce the latest biologics, such as vaccines, recombinant proteins, etc.
Recent Developments:
In February 2023, Evonetix launched $24 million to a total of $54 million for a funding round done by Foresite Capital, along with various other participants such as Morningside, DCVC, Molten Ventures, Cambridge Consultants, Providence, and Civilization Ventures.
In August 2022, Evonetix brought proprietary and semiconductor chip design together with the synthesis of the gene (the company's future gene) with a controlled thermal synthesis.
In May 2022, Evonetix stated that it granted a European patent that encompasses a unique binary method for the synthesis of genes.
In April 2022, DNA Script brought out a novel program that uses new EDS technology. The early access program includes the Base facility and the London Biofoundry.
In January 2022, Ribbon Biolabs addressed raising EUR 18 million in its funding round, enabling a more excellent facility for commercial production and the United States to expand the synthesis of DNA technology.
Key Market Players:
Danaher
Twist
CsBio
K&A Laborgeraete
DNA Scrip
Kilobaser
DNA Script
Biolytic
Segments Covered in the Report:
(Note*: We offer reports based on sub segments as well. Kindly, let us know if you are interested)
By Product Type
Benchtop DNA Synthesizers
Automated DNA Synthesizers
By Application
Research And Development
Diagnostics
Therapeutics
By End-User
Biotechnology companies
Academic and Research Organizations
Contract Research Organizations (CRO)
By Geography
North America
Europe
Asia-Pacific
Latin America
Middle East and Africa