The global synthetic biology market size was estimated at USD 13.4 billion in 2022 and is expected to hit around USD 116.04 billion by 2032, poised to grow at a CAGR of 28.3% between 2023 and 2032. The U.S. synthetic biology market was valued at USD 3.97 billion in 2022.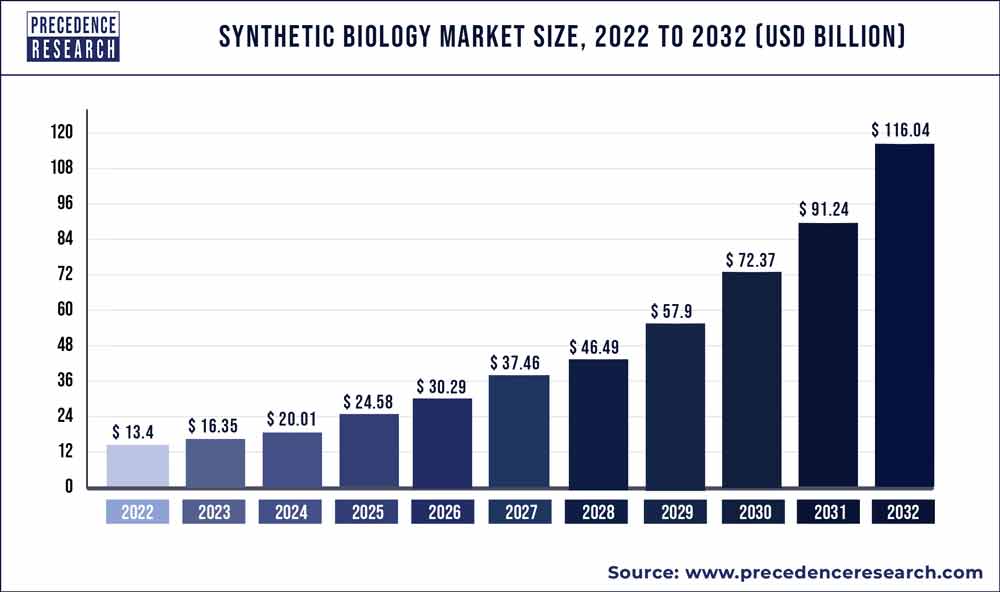 Access our Premium Real Time Data Intelligence Tool, Visit: Precedence Statistics
Key Takeaways:
North America dominated the market with the largest market share of 40% in 2022.
By region, Asia Pacific is expected to be the fastest-growing region, driven by rising investments, partnerships, and collaborations.
By technology, in 2022, the PCR sector held the biggest market share at 28%.
By technology, the genome editing segment is expected to expand at the fastest CAGR of 28.9% between 2023 and 2032.
By product, over the forecast period, the enzymes segment is predicted to develop at a CAGR of 25%.
By product, the oligonucleotide/oligo pools & synthetic DNA segment show significant growth during the forecast timeframe.
By application, the healthcare sector leads the market and is expected to grow at a 27.5% CAGR during the forecast period.
By end-use, the pharmaceutical and biotech companies' group had the highest revenue share of 52% in 2022.
Regional Insights:
North America led the regional market with a share of 40% in 2022. This significant portion can be assigned to rising private company investment, reasonable regulations, and government support. To fuel the expansion of the synthetic biology business, the U.S. primarily focuses on drug screening and discovery, research in proteomics, and genomic structure prediction.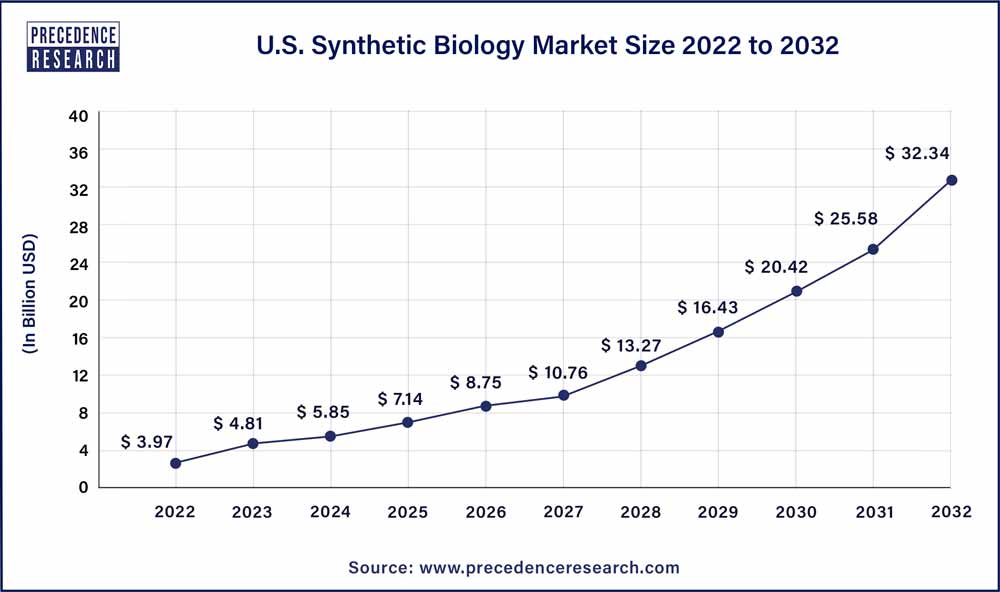 Synthetic biology is predominantly implemented in the drug development process in North America, where it is practiced by a number of businesses and academic organizations. For instance, the Synthetic Biology Innovation Lab at Harvard Medical School is dedicated to harnessing synthetic biology to create innovative medicinal approaches. Synthetic biology has made a lot of advancements recently and is developing quickly. Genome mapping, artificial intelligence, and more powerful computers have encouraged academics to swiftly adopt novel approaches and expand on existing ideas to develop new capabilities.
Furthermore, the market in this region has advanced with new discoveries owing to the collaboration of thousands of researchers, scientists, academic institutions, government departments, private investors, and product engineers. The expansion of this business is being supported by high-profile universities like Harvard, the University of California, the US Department of Energy (US DOE), the US Department of Health & Human Services (US DHHS), and sizable biotech companies.
In addition to these considerations, the consumer demand for early disease diagnosis and treatment is accelerating the speed of research and development in novel genetic technologies. The increase in investments and the accessibility of cash and grants contribute to this surge in R&D activity.
Also, due to the widespread use in a variety of applications and positive effects on health, enzymes are useful in biotechnology and research. Oncology and cancer treatment utilize oxidase, arginase, glutaminase, dehydrogenase, ribonuclease, and deiminase. The development of technology, commercial processing, and advanced enzyme compositions for human welfare are the main areas of attention for the R&D departments of many firms. Thus, the industry is expected to be driven by the rising demand for funding efforts, intensive research activities, and prescription pharmaceuticals, which will likely increase demand in the approaching years.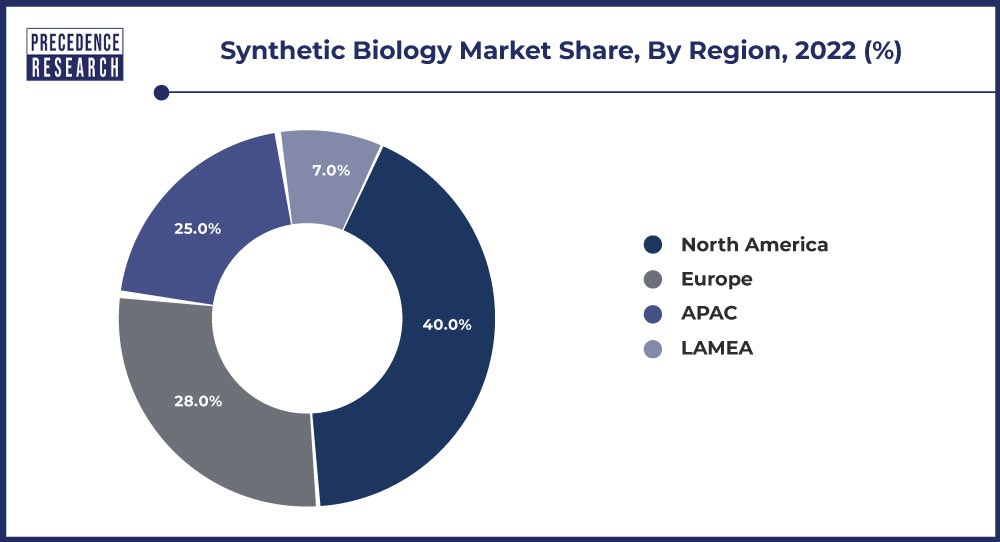 The Asia Pacific region is expected to be the fastest-growing region, with significant developments such as the Asia Pacific region's rising investments, increased partnerships and funding in the Chinese market, and increased collaborations in the field of synthetic biology, among the factors expected to drive market growth. Furthermore, several Asian countries have lately established state-sponsored research programs, national institutes, and academia-industry alliances to foster technological innovation to advance synthetic biology.
Governments and private investors in Asia are becoming increasingly interested in synthetic biology research and technology translation, where the field holds enormous promise for fostering a sustainable biobased economy.
Establishing technologies also plays a crucial role in facilitating synthetic biology research. These comprise biomolecular and host engineering technologies, data science, DNA reading, writing, and editing technologies. For synthetic biology to advance, these enabling technologies must continue to be developed. In order to enhance technological advancements for the advancement of synthetic biology, a number of Asian nations have recently launched state-sponsored research programs, national institutions, and academia-industry alliances. Leading DNA synthesis and sequencing companies have increased their market penetration in Asia, highlighting the region's rising need for instruments that enable synthetic biology.
Additionally, Asia is poised to be a key player in the application of synthetic biology for the creation of innovative treatments. The incidence of non-communicable diseases like diabetes, cancer, and cardiovascular diseases has increased due to growing urbanization in Asian countries, changing lifestyles, and an aging population.
Further, Asia may have the biggest demand for treatments of any continent when you consider the prevalence of several infectious diseases, a large population, and this rise. As a result, numerous regional governments support medical innovation by providing funding, generous tax incentives, developing infrastructure, and reducing laws in order to address the growing healthcare load and meet local demands.
Technology for tackling numerous problems that the environment and the expanding population are experiencing is also being driven by synthetic biology. Technologies in food and agriculture have received a lot of funding to find ways to keep up with the rate of climate change and global population growth. Increasing agricultural productivity or enhancing the nutritious content of food products is one constant issue. Precision breeding enabled by genome editing has advanced in plant synthetic biology, greatly reducing the time required for choosing desirable features.
Global Synthetic Biology Market Revenue, By Region, 2022-2032 (US$ Bn)
| | | | | |
| --- | --- | --- | --- | --- |
| Region | 2022 | 2023 | 2027 | 2032 |
| North America | 5.36 | 6.51 | 14.61 | 44.15 |
| Europe | 3.75 | 4.59 | 10.59 | 33.15 |
| APAC | 3.35 | 4.12 | 9.74 | 31.42 |
| LAMEA | 0.94 | 1.14 | 2.51 | 7.33 |
Market Overview:
Synthetic biology is a field of study that combines multiple areas, including molecular biology, biophysics, biotechnology, and genetic engineering. In synthetic biology, two techniques are commonly used: top-down and bottom-up. The top-down technique entails re-designing and fabricating existing biology systems to produce synthetic products. Products created in the synthetic biology system are used in multiple industries including pharmaceuticals, diagnostics and bioplastics.
The market has witnessed significant investments from private and public partnerships. According to SynBioBeta data, startups within the synthetic biology sector raised 18.0 billion in 2021. For example, DNA Script and Arbor Biotechnologies increased by approximately 167.2 m and USD 215 m, respectively. The significant investment enhances the market's capital flow and helps enterprises grow throughout the supply chain.
Growth Factors:
The global synthetic biology market is predicted to rise due to increased research and development activity in various industries. Players are adopting synthetic biology technologies to improve performance and maximize the utilization of low-cost inputs, including waste, to enhance conventional biofuel production. Biotechnology is being used by fashion firms like Bolt Threads, Modern Meadow, and Vitro Labs to produce sustainable materials.
Certain factors are driving market growth, including increased government and private sector support, increased R&D funding in drug discovery, and the decreasing cost and development of DNA sequencing and synthesizing.
The increasing engagement of research institutes, government entities, and large organizations in synthetic biology research will probably boost the industry in the following years. Because of the wide range of synthetic biology uses, governments worldwide have provided research funding. Many research investigations and projects related to synthetic biology have been conducted in many nations to tap multiple intricacies in the genomes of animals, which has helped produce more efficient and effective medications to treat them.
Furthermore, industry participants are focused on introducing innovations to meet rising demand and capitalize on undiscovered market opportunities. Synthetic biology products and technologies are also finding widespread application in various fields. Because organisms made using artificial biology techniques are generally inexpensive due to their use in many industrial applications, which translates into lower research costs, demand for these approaches is increasing globally.
Report Scope of the Synthetic Biology Market:
| | |
| --- | --- |
| Report Coverage | Details |
| Market Size in 2023 | USD 16.35 Billion |
| Market Size by 2032 | USD 116.04 Billion |
| Growth Rate from 2023 to 2032 | CAGR of 28.3% |
| Largest Market | North America |
| Fastest Growing Market | Asia Pacific |
| Base Year | 2022 |
| Forecast Period | 2023 to 2032 |
| Segments Covered | By Technology, By Product, By Application, and By End-Use |
| Regions Covered | North America, Europe, Asia-Pacific, Latin America and Middle East & Africa |

Market Dynamics:
Drivers:
Increasing synthetic vaccinations and medications
The market will likely develop in response to the rising demand for protein treatments, individualized medicine, and studies into synthetic drugs and vaccines. During the forecast period, the growth of the synthetic biology market is predicted to be accelerated by other variables such as increasing artificial biology applications, more excellent synthetic biology investment, decreased synthesizing prices and DNA sequencing, and increased R&D spending and activities.
Improvements in diagnosis and treatment
Synthetic biology is employed in the healthcare business because it can improve diagnosis and therapy options for a wide range of disorders by targeting precisely the site of the disease and causing no side effects. Furthermore, the use of genetically modified viruses to repair damaged genes in individuals with inherited illnesses like severe combined immune deficiency (SCID) or epidermolysis bullosa has skyrocketed.
Aside from that, technology for carrying out synthetic biology has grown more accessible, and internet use has enabled the free exchange of ideas and information, supporting market growth. Furthermore, considerable expansion in the healthcare industry and a rise in the number of research units of synthetic biology globally are favorably influencing the market.
Restraints:
Concerns about ethics and biosafety
The primary biosafety risk in synthetic biology is the unintentional or planned introduction of synthetic organisms to the environment for research or other reasons. When synthetic microorganisms are put into the atmosphere, they can mutate or interact with existing species, resulting in crossbreeding and bio errors. These consequences may endanger the habitats of wild animals. Furthermore, the rise of antibiotic-resistant superbugs poses a significant biosecurity danger. In recent years, the European Union (EU) has funded several studies on the environmental effects of genetically modified bacteria released for bioremediation or plant growth. These limitations could hamper market expansion in the coming years.
Opportunities:
Rising funding for research and development
The rising spending, booming investments and funding for research and development activities in the market are observed to offer a plethora of opportunities for the market's growth. To find new treatments, pharmaceutical companies have gotten more significant funding for research and development. The government has taken initiatives to subsidize various biotech and pharmaceutical businesses to improve the pharmaceutical industry and increase global competitiveness. As a result, funding and investment in R&D have increased over time. Pharmaceutical and biotechnology companies invest a lot of money in research to develop revolutionary drugs that may treat new diseases and meet the growing demands of the healthcare sector.
Technology Insights:
In 2022, the PCR segment held the largest share of 28% of the market. This trend will likely continue during the forecast period. Polymerase Chain Reaction (PCR) has evolved as a crucial technology for detecting and analyzing specific gene sequences. Real-time PCR tests have excellent specificity and sensitivity, which makes them the preferred method for much PCR-based genomic research. This approach is commonly utilized in forensic analysis, molecular diagnostics, DNA cloning, and genomics.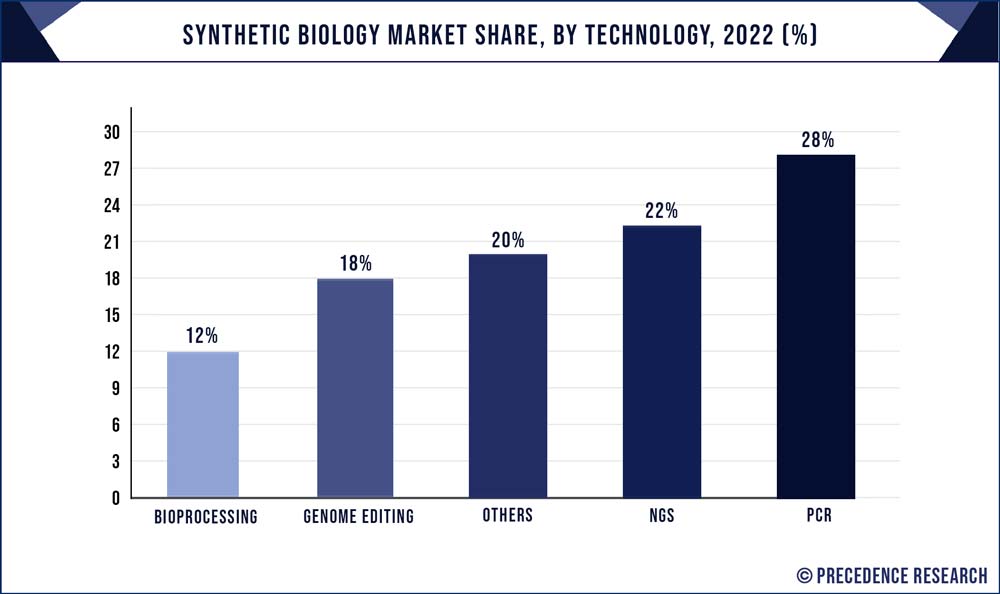 Genome editing technology, on the contrary, is expected to grow at a significant CAGR during the forecast period. The anticipated expansion of gene-editing technologies can be linked to several benefits connected with genetically modified and synthetic organisms. The possibility of gene editing techniques to create goods with desired qualities has revolutionized various industries, including human and animal healthcare and agriculture.
Global Synthetic Biology Market Revenue, By Technology, 2022-2032 (US$ Bn)
| | | | | |
| --- | --- | --- | --- | --- |
| Technology | 2022 | 2023 | 2027 | 2032 |
| PCR | 3.75 | 4.59 | 10.59 | 33.15 |
| NGS | 2.95 | 3.59 | 8.20 | 25.27 |
| Bioprocessing | 1.61 | 1.96 | 4.43 | 13.51 |
| Genome Editing | 2.41 | 2.96 | 6.91 | 21.95 |
| Others | 2.68 | 3.26 | 7.32 | 22.15 |
Product Insights:
Oligonucleotides are the primary point in many synthetic and molecular biology applications. The primary segment drivers are increasing utilization of targeted NGS, DNA computing, mutagenesis experiments, and CRISPR gene editing. OligoMix, for example, is a novel and personalized solution for genomics research, and it massively parallelizes the synthesis of multiple oligonucleotide sequences. The equivalent cost is less than 0.8 cents per base.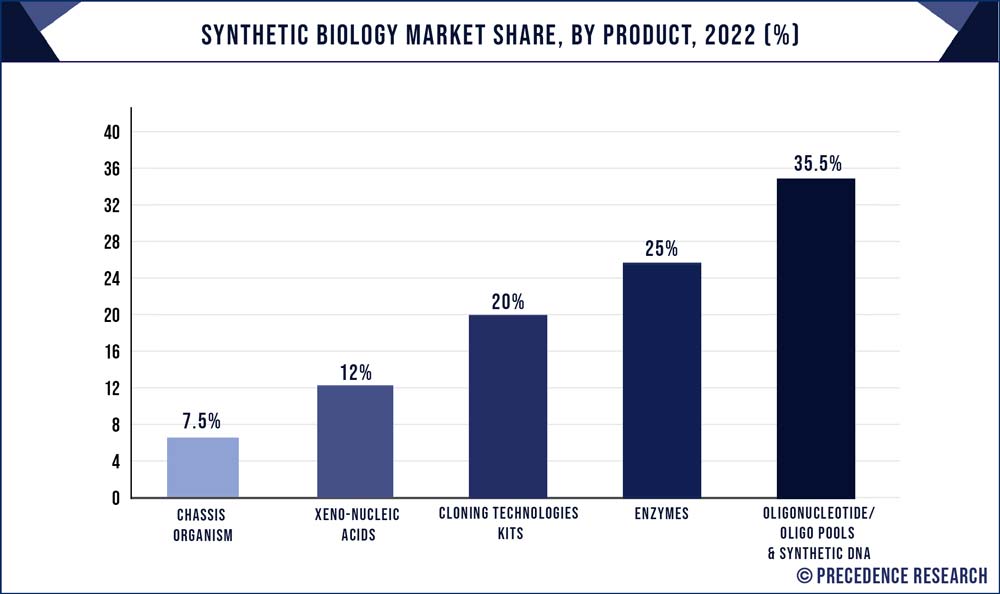 On the other hand, the enzymes segment is predicted to witness a major growth during the forecast period, enzymes have become significant product in the global synthetic biology market due to the neutral properties offered by enzymes by acting as a catalyst during the biochemical reactions.
Global Synthetic Biology Market Revenue, By Product, 2022-2032 (US$ Bn)
| | | | | |
| --- | --- | --- | --- | --- |
| Product | 2022 | 2023 | 2027 | 2032 |
| Enzymes | 3.35 | 4.09 | 9.41 | 29.30 |
| Oligonucleotide/Oligo Pools & Synthetic DNA | 4.76 | 5.83 | 13.57 | 42.87 |
| Xeno-Nucleic Acids | 1.61 | 1.95 | 4.38 | 13.24 |
| Cloning Technologies Kits | 2.68 | 3.27 | 7.45 | 22.98 |
| Chassis Organism | 1.01 | 1.21 | 2.64 | 7.65 |
Application Insights:
The healthcare sector led the market and is predicted to grow at a CAGR of 27.5% over the forecast period. Synthetic biology diagnostics offer a sensitive, highly specific, real-time, and non-invasive method of identifying infectious pathogens, cancer cells, and medicines. Researchers use rational engineering methods to create dynamic bio-sensing systems, including sensors, processors, and reporters.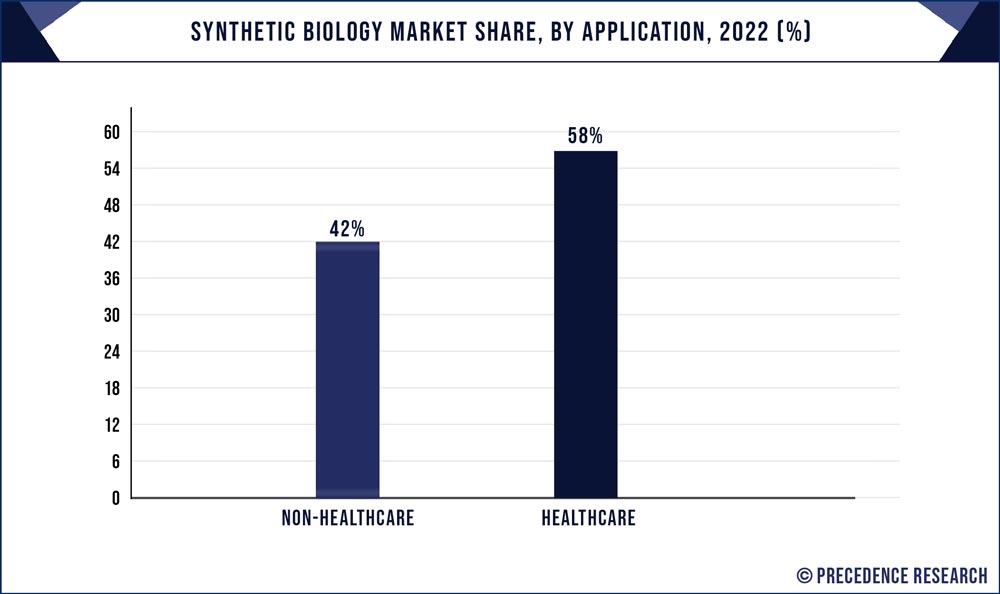 A growth in neurological illnesses such as multiple sclerosis also propels the category. For example, as of July 2022, scientists in synthetic biology at the University of Toronto Engineering are creating personalized stem cells from patient tissues to treat ailments. These research initiatives are expected to improve segment expansion.
Global Synthetic Biology Market Revenue, By Application, 2022-2032 (US$ Bn)
| | | | | |
| --- | --- | --- | --- | --- |
| Application | 2022 | 2023 | 2027 | 2032 |
| Healthcare | 7.77 | 9.42 | 21.08 | 63.37 |
| Non-Healthcare | 5.63 | 6.92 | 16.38 | 52.67 |
End-Use Insights:
In 2022, the pharmaceutical and biotechnology companies' segment had the most significant revenue share of 52%. Synthetic biology has benefited biotech and pharmaceutical businesses in creating new chronic disease therapies. Merck, for example, used synthetic biology techniques to develop Januvia (sitagliptin), a diabetes medicine. Furthermore, Novartis launched Kymriah (Tisagenlecleucel) to treat B-cell acute lymphoblastic leukemia.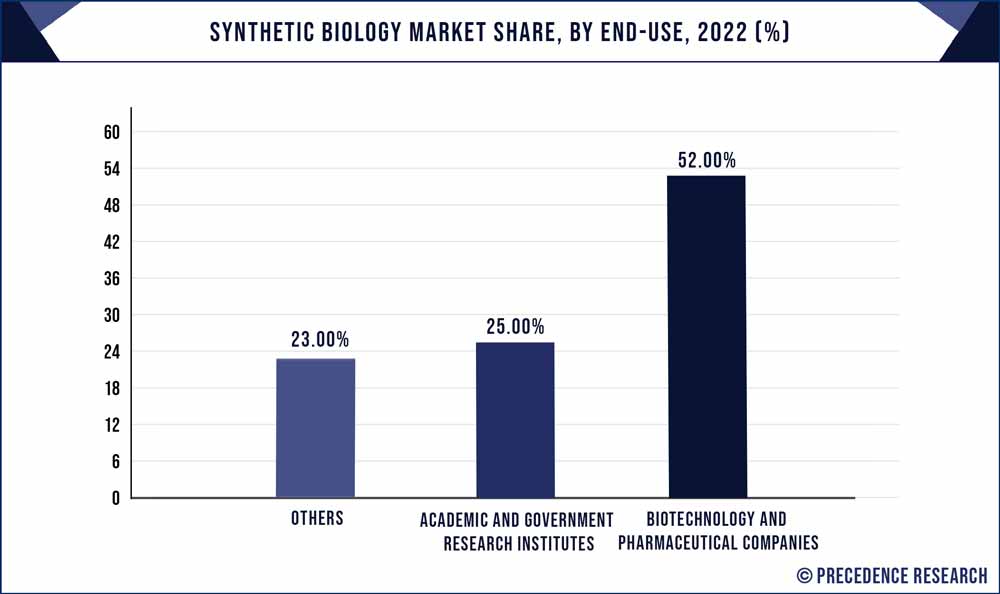 Furthermore, academic and government research institutes will likely increase steadily over the forecast period. Because of the lengthy development and approval cycles, the R&D sector is believed to be capital-intensive, and R&D spending and funding have steadily increased throughout the years.
Global Synthetic Biology Market Revenue, By End-Use, 2022-2032 (US$ Bn)
| | | | | |
| --- | --- | --- | --- | --- |
| End-Use | 2022 | 2023 | 2027 | 2032 |
| Academic & Research Institutes | 3.35 | 4.10 | 9.55 | 30.19 |
| Pharma & Biotech Companies | 6.97 | 8.52 | 19.67 | 61.56 |
| Others | 3.08 | 3.73 | 8.23 | 24.29 |
Recent Developments:
On 31st January 2022, Ribbon Biolabs, a DNA synthesis firm, raised a EUR 18 series A financing fund. With this fund, the company facilitated commercial-scale manufacturing facilities and the expansion of DNA synthesis technology in the United States.
On 30th November 2021, GenScript increased its gene synthesis production capabilities in the United States with fully automated sequencing and oligo synthesis platforms.
On 20th November 2022, a strategy for optimizing the production of monoclonal antibodies along with other valuable proteins was discovered by researchers. MIT researchers have developed a way of using CRISPR proteins to precisely control the quantity of a specific protein produced in mammalian cells. This process is fine-tuned by synthesizing beneficial proteins, such as monoclonal antibodies, used to treat cancer and other diseases or other cellular behavior. In their most recent study, published in Nature Communications, the researchers proved that this mechanism may operate in many mammalian cells with astonishingly consistent results.
Key Market Players:
Codexis, Inc.
Bota Biosciences Inc.
Creative Enzymes.
Creative Biogene.
Illumina, Inc.
Enbiotix, Inc.
New England Biolabs
Merck Kgaa (Sigma-Aldrich Co. Llc)
Novozymes
Euro fins Scientific
Scarab Genomics, Llc
Pareto Bio, Inc.
Synthetic Genomics Inc.
Synthego
Thermo Fisher Scientific, Inc.
Market Segmentation:
(Note*: We offer report based on sub segments as well. Kindly, let us know if you are interested)
By Technology
PCR Technology
NGS Technology
Bioprocessing Technology
Genome Editing Technology
Other Technologies
By Product
Enzymes
Oligonucleotide/Oligo Pools and Synthetic DNA
Xeno-Nucleic Acids
Cloning Technologies Kits
Chassis Organism
By Application
Healthcare
Non-healthcare

Specialty Chemicals
Biotech Crops
Bio-fuels
Others
By End-Use
Academic and Government Research Institutes
Biotechnology and Pharmaceutical Companies
Others
By Geography
North America
Europe
Asia-Pacific
Latin America
Middle East and Africa