The global electric vehicle (EV) charging cables market size was estimated at USD 0.89 billion in 2022 and is expected to hit around USD 11.22 billion by 2032, expanding at a notable CAGR of 28.79% from 2023 to 2032.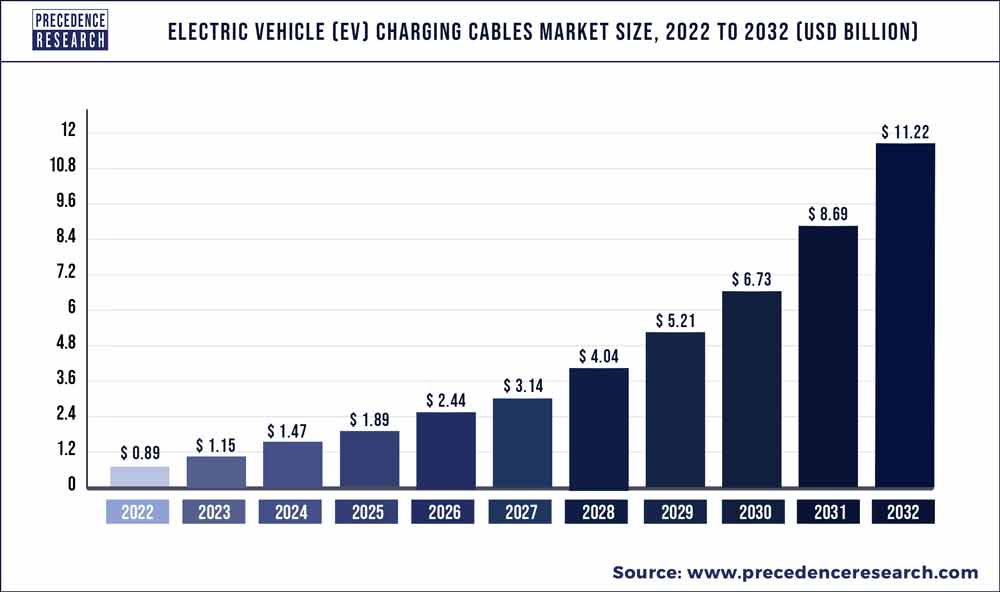 Key Takeaways:
By power supply, the AC segment has generated market share of over 76% in 2022.
By cable length, the below 5 meters cable length segment accounted 55% market share in 2022.
By charging level, the level 2 segment has accounted 48% market share in 2022.
By cable shape, the straight cable has made up 64% market share in 2022.
By application, the private charging segment has reached 73% revenue share in 2022.
Asia Pacific has captured 60% market share in 2022.
The market is also expected to be driven by increasing fast charging cable demand and rapid advancements in EV charger equipment. In various locations, electric car charging cables offer multiple charging modes. The Electric Vehicle charging market is anticipated to expand quickly and intensify competition in order to support rising sales of battery electric cars as well as plug-in electric vehicles.
Rechargeable battery is put in electric vehicles (EVs) to provide the energy needed to power them, and may be charged using either private or public terminal outlets. The noise, air quality, and greenhouse gas emissions associated with driving are drastically reduced with battery electric vehicles, which are powered completely by electricity. The need for EVs is being driven by the tightening of CO2 emission standards in emerging economies. As a result, the need for infrastructure for electric car charging is growing exponentially. For instance, the number of charging stations developed for EVs worldwide increased by almost 44%.
Over the following ten years, it is anticipated that such factors would increase need for Electric Vehicle Charging cables in emerging economies. In addition, the market is expanding as a result of an increase in government programmers and efforts to promote the use of EVs. Countries like China, the Netherlands, the United States, France, and Japan have made large investments in the construction of charging infrastructure that also has an influence on the size of the market for EV charging cables. For example, the installation of a charger that is dedicated for homes to charge the electric car is available in the U.K. for USD 650.
However, the automobile industry's supply chain system and demand for the product are anticipated to be significantly impacted by COVID-19. Production halts at Hyundai and Fiat Chrysler Automobiles plants throughout the world were immediately noticeable as a result of the effect. As per significance and size of the Chinese market for the whole automotive industry, particularly for the Electric vehicle category, it is anticipated that the short period outlook for sales of electric vehicles would be poor. As a result, the current environment is having an impact on the market for EV charging cords. On the demand, the pandemic's recovery is anticipated to have a favorable effect. The subsequent rise in electric vehicle manufacturing will necessitate greater infrastructure for charging, which is anticipated to have a favorable influence on the demand for charging cables for EVs in the coming years.
Growth Factors
The market for EV charging cables has grown as a result of factors including the expansion of EV use. Additionally, the demand for EV charging connections is being driven by government concerns about lowering carbon footprints. Furthermore, the market's expansion will be aided by the need for rapid charging cables. The market for EV charging cables is predicted to increase rapidly due to infrastructure improvements for public EV charging stations and technological breakthroughs in EV charging cables.
Report Scope of the Electric Vehicle Charging Cables Market
| | |
| --- | --- |
| Report Coverage | Details |
| Market Size in 2023 | USD 1.15 Billion |
| Market Size by 2032 | USD 11.22 Billion |
| Growth Rate from 2022 to 2030 | CAGR of 28.79% |
| Base Year | 2022 |
| Forecast Period | 2023 to 2032 |
| Segments Covered | Shape, Power Supply, Charging Level, Application, Length, Mode, Diameter and Geography |
| Companies Mentioned | Tesla, Inc.m Phoenix Contact, Dyden Corporation, TE Connectivity, Coroplast, Leoni AG, BESEN International Group, TE Connectivity, General Cable Technologies Corporation, Chengdu Khons Technology Co., Ltd., Manlon Polymers, Eland Cables, EV TEISON, Aptiv Plc., Brugg Group |

Key Market Drivers
Increased sales of electric vehicles - The adoption of electric cars has increased over the past several years as a result of the technology's maturation, falling costs, increased support for clean transportation, increased charging opportunities, and increased public awareness. Additionally, worries about car emissions and the depletion of non-renewable energy sources have prompted a number of governments to invest in electric vehicles. Even tax credits for buying electric vehicles have encouraged buyers to buy more EVs.
Growth in the need for high-speed charging infrastructure - Electric car charging cable producers are creating sophisticated cables for high-speed charging in response to the increase in demand for high-speed charging stations. The global market for electric car charging cables is expected to be fueled by an increase in government spending to provide charging infrastructure. The market for electric car charging cables is expected to continue to grow quickly due to the manufacture of electric components throughout the world.
Key Market Challenges
Expensive EV charging cables - A fast charging cable costs around $126, which is a lot more than a slower charging cable. The price of charging cables for rapid charging stations might prevent this technology from being used as much. The total cost of installing a slow charging station, for instance, is $1700 in the UK, which is highly expensive. Additionally, as charging cable technology continues to progress, users will increasingly embrace the newest models. Therefore, the initial expense of installing the charging station might cause significant losses for certain people. All of these elements could prevent this market from expanding.
Key Market Opportunities
Demand for quick speed charging
To meet the need for quick speed charging, cable makers are working to produce advanced EV charging cables. Typical DC charging voltages range from 400 Volts to 480 Volts and may provide up to 50kW of power. Many businesses engage in R&D, for example Phoenix Contact, which has created a high-power fast charging cable with advanced cooling technology that uses a water-glycol combination to quickly recharge automobiles. The interface of the charging has changed as a result of technological improvements.
Rise in demand for vehicle electrification across the globe
The market for electric car charging cables is projected to increase due to the implementation of strict emission rules worldwide to limit the emission of dangerous gases from automobiles. The need for charging stations is growing as electric car use increases. During the forecast period, this is projected to be a major element that would likely propel the market for electric car charging cables.
Segments Insight
Shape Insights
Straight wires are typically employed when several stations are close together. Though less sturdy, these cables are less expensive than coiled cables. Increasing thickness of the cable affects the current carrying capability of these cables. Since Type 1 (J1772) connections are found on the majority of charging stations, straight cables are frequently utilised while charging electric vehicles. The single-phase capacity of this kind of EV cable is 7.4 kW. Nissan, Toyota, Mitsubishi, Volvo, BMW, Audi, and Mercedes Benz are among the automakers who utilise a Type 1 EV direct charging connection. To make EV cables easier to handle, their diameter must be tiny, yet doing so exposes them to overheating. Therefore, a liquid-cooling system is installed on these wires. The US and Japan both employ Type 1 AC charging cords that adhere to SAE J1772/IEC 62196-2 specifications. An efficient cable design takes into account a number of important factors. A connection, an insulating substance, and an electrical conductor are a few examples.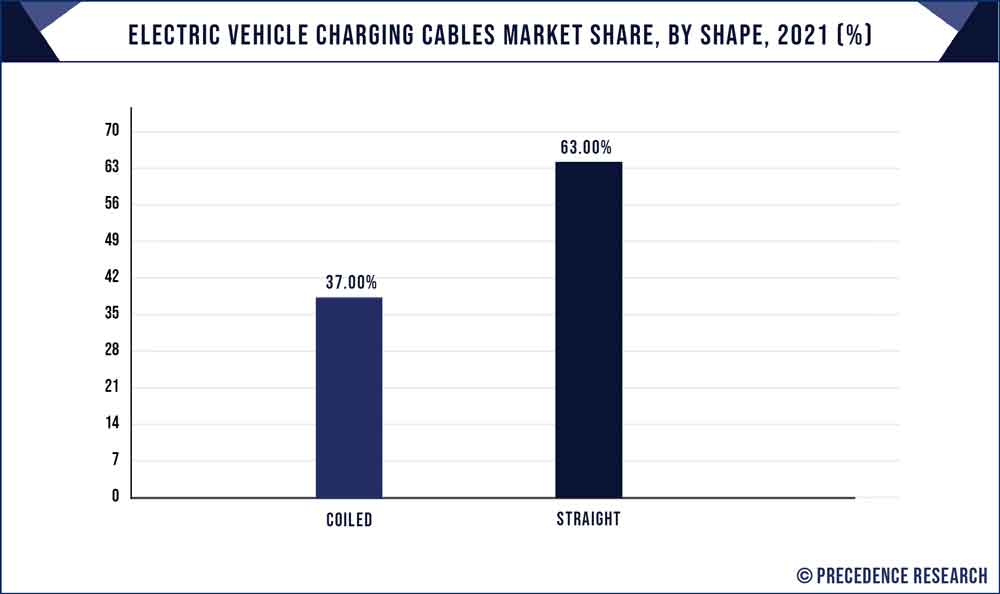 During the projected period, straight cables are anticipated to have the greatest market in Asia Pacific. The majority of the nations in this area have cost-sensitive economies. Straight cables might cost up to 30% less than coiled cables, according to specialists in the field. Because they are less costly and easier to handle than coiled cables, straight cables are chosen. Apart from being inexpensive, straight cables are lightweight, simple to store, and straightforward to use. Additionally, the bulk of the region's public EV chargers feature straight-shaped wires.
Power Supply Insights
With a share of 76%, the AC category led the market in 2022. Depending on the car and the criteria of the charging infrastructure, alternate charging provides a 120 V with a 22-kW charging speed. Around the world, household and semi-commercial stations mostly use AC power supplies. This kind of power supply power outlet is inexpensive to install and provides a meagre power output. Additionally, wall-mounted chargers for electric vehicles are favoured over floor-mounted chargers since they reduce the expense of subterranean electrification.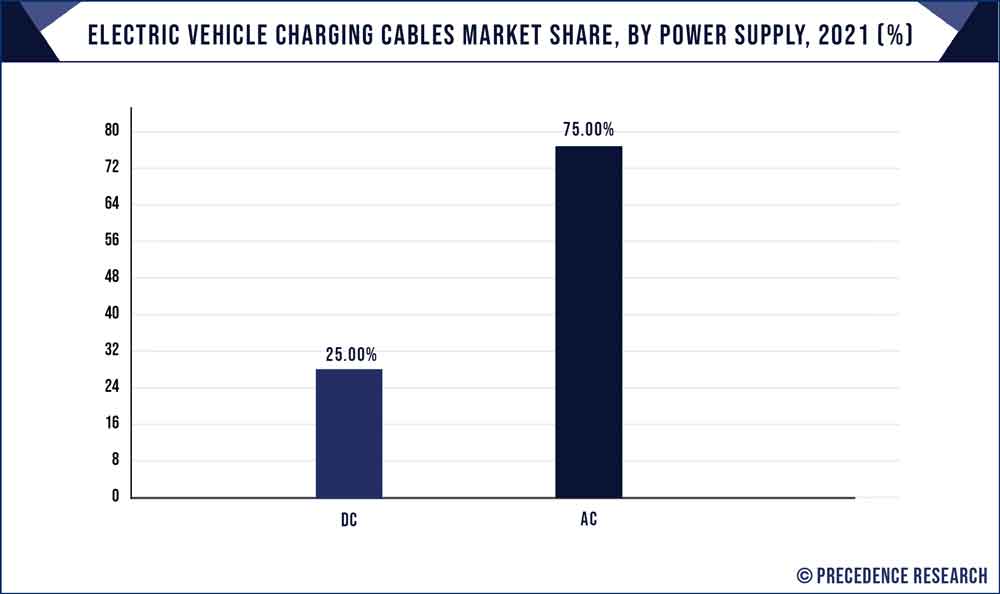 Additionally, domestic stations are ideally suited for wall-mounted chargers. Due to many developments in public stations, the DC category is predicted to have the greatest CAGR of 28.5% from 2023 to 2032. DC fast chargers quickly transfer energy, giving users of electric vehicles a lot of freedom. Additionally, it is projected that during the forecast period, rising demand for speedier in less time would fuel the segment's growth.
Charging Level Insights
The market has been divided into level 1, level 2, and level 3 charge levels. As they are increasingly employed in residential and semi-commercial applications, including individual houses, condominiums, apartments, hotels, parking lots, and retail facilities, the level 2 category led the market in 2021 with a 49% share.
From 2023 to 2032, the level 3 segment category is predicted to have the greatest CAGR, at a rate of 28%. A Level 3 system has CHAdeMO technology, which recharges using 480V. A level 3 charger can recharge an electric car battery that has been completely depleted by 80% in far less than 15 minutes. The main driver of the segment's growth is the high-power charging ability that can be accomplished in less than 30 minutes. The category is expected to see growth throughout the forecast period as a result of the rising demand for fast charging station in nations like China, South Korea, and Japan as well as the quick improvement of high-power electric car charging infrastructure.
Electric Vehicle Charging Cables Market Share, By Region, 2022 (%)
| | |
| --- | --- |
| Regions | Revenue Share in 2022 (%) |
| North America | 15% |
| Asia Pacific | 60% |
| Europe | 19% |
| Latin America | 4% |
| MEA | 2% |

Regional Insights
In 2022, Asia Pacific led the market and accounted for 60% of total revenue. China, South Korea, and Japan are principally responsible for this region's growth. The greatest market for electric car charging cables is China. The governments of China and Japan have developed different policies and efforts to encourage key market participants to produce Electric Vehicle Charging Infrastructure in their home countries because they anticipated the growing potential of the worldwide market for EV supply equipment. The region's high density of Electric Vehicle Charging Stations is anticipated to boost regional market expansion throughout the projection period.
The COVID-19 outbreak, however, has a particularly negative impact on South Korea and China, which gives the situation an interesting twist for the auto industry. Since CATL, LG Chem, and Samsung HDI are the main Chinese and South Korean providers of EV batteries, their supply may be limited, and finding them from alternate sources would be extremely difficult. Manufacturers in Europe are undoubtedly really concerned about this as they strive to meet their own emissions objectives. In a prolonged situation, EV demand may be impacted further by the need for EV charging lines due to decreased government subsidies, declining oil costs, and the economic effects of the pandemic.
From 2023 to 2032, North America is expected to experience a CAGR of 32.5%, which will be preceded by Europe and Asia Pacific. This is due to manufacturers' increased focus on creating electric cars with excellent performance, greater efficiency, and quicker speeds. The presence of significant EV supply equipment manufacturers in the area and the expanding installation of sophisticated charging infrastructure are projected to propel the regional market.
Recent Developments
TE Connectivity Ltd. introduced the AMP+ charging inlet for electric cars and hybrid passengers and commercial trucks in January 2021. These devices can manage AC currents of up to 32 amps and DC currents of up to 200 amps.
In April 2021, RADOX HPC500, a recent arrival to the RADOX increased power lineup, was introduced by HUBER+SUHNER AG, a leading provider of optical and electrical communication solutions. This is a cooled charger cable technology that enables 500 Ampere continuous charging even in hot settings.
Segments Covered in the Report
(Note*: We offer report based on sub segments as well. Kindly, let us know if you are interested)
By Shape
By Power Supply
By Charging Level
By Application
Private charging
Public charging
By Length
2-5 meters
6-10 meters
>10 meters
By Mode
By Diameter
Up to 10mm
10mm to 20mm
More than 20mm
By Geography
North America
Europe
Asia-Pacific
Latin America
Middle East & Africa (MEA)