The global electric vehicle motor market was worth USD 8.5 billion in 2022 and is predicted to be worth around USD 56.95 billion by 2032, expanding growth at a CAGR of 21% during the forecast period 2023 to 2032.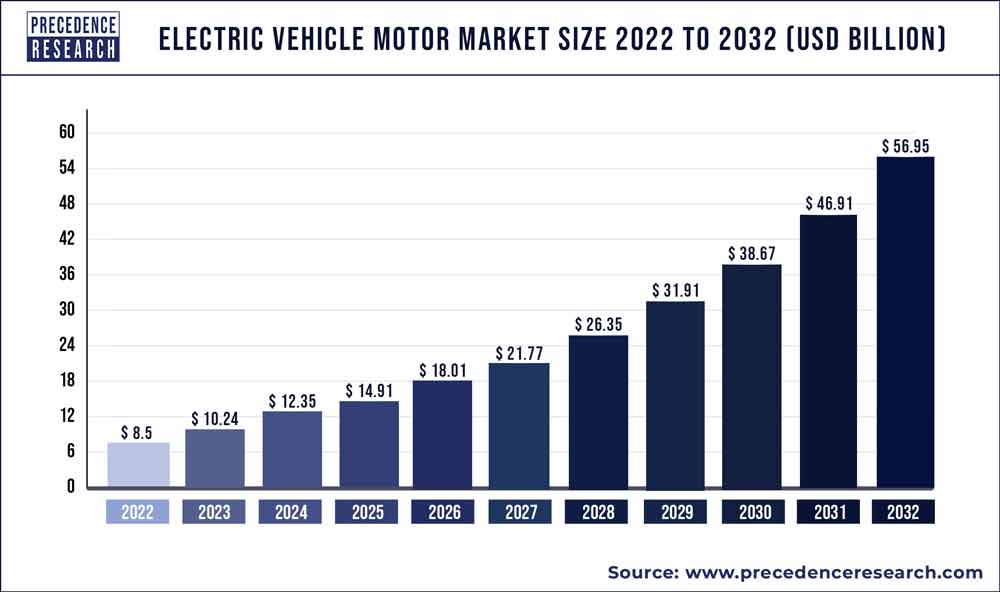 Access our Premium Real Time Data Intelligence Tool, Visit: Precedence Statistics
Key Takeaways:
AC motor type segment accounted 59% of revenue share in 2022.
DC motor type segment garnered 43% revenue share in 2022.
Asia Pacific region accounted market share of around 48% in 2022.
Latin America and the Middle East and Africa are expected to grow at a remarkable CAGR from 2023 to 2032.
The execution of thorough contamination and efficiency norms, government motivating forces, and improved charging foundation are a portion of the essential drivers driving the market's development, bringing about expanded reception of electric vehicles. During the anticipated period, the presentation of electric vehicles will increment interest for electric engines. Worldwide energy utilization, as well as the use of electrical hardware and apparatus in different areas and the renewables area, will drive market development.
The electric vehicle engine is an electromechanical gadget that changes electric energy into mechanical energy over completely to control electric vehicles. This impact is brought about by the communication of the attractive field and flow of an electric engine. End section for an electric vehicle engine, which incorporates direction, a cooling outline, an edge, a rotor, and a stator. The electric vehicle engine market is anticipated to grow fundamentally during the estimate time frame because of an expansion in the quantity of electric vehicles, which is credited to advantages, for example, zero-outflow, low upkeep cost, high productivity, and independent control. These engines are valuable in bikes that have at least one electric engines, while traveler and business vehicles have at least two electric engines relying upon the aspects and utilization of the vehicle.
Development in the electric vehicle area, as well as an expansion in government regulations and guidelines with respect to vehicular emanations, are the essential reasons driving the electric vehicle engine market. Nonetheless, the high starting expense of an electric engine, as well as the high support costs related with an electric engine, limit market development. Additionally, notwithstanding these snags, mechanical progressions, like the development of energy-effective engines, are projected to help market development soon. Moreover, a flood in government exercises connected to electric vehicles is probably going to make various possibilities for market development.
Growth factors
The ascent popular for extending the driving scope of electric vehicles is the essential driver driving the development of the electric vehicle engine, which affects the market's development all through the figure period. The electric vehicle's reach is intensely dependent on the electric powertrain control frameworks. One more significant driver of market extension is the execution of serious administrative guidelines. Numerous countries all through the world have set thorough discharge norms to diminish GHG emanations thus moderate the reasons for an unnatural weather change. Subsequently, it expects automakers to create zero-discharge vehicles to satisfy more stricter emanation rules. These regulations have brought about a more noteworthy accentuation on the assembling of additional proficient electric vehicles, which will drive market extension during the projection time frame.
Different variables driving business sector extension incorporate the execution of tax reductions and appropriations for EV makers and end clients. Certain obstacles and imperatives are being capable, which will obstruct generally speaking business sector extension. The high introductory expense of an electric engine, as well as the high upkeep cost associated with an electric engine, are compelling business sector development.
Besides, the shortfall of normalization of charging framework smothers industry development. Besides, the significant expense of EVs in contrast with ICE vehicles, tight necessities for charging station establishment, and restricted scope of EVs are potential constraints on the general development of the overall electric engines for the electric vehicle market. Regardless, mechanical advances, the utilization of Vehicle to Grid, Electric Vehicle Charging Stations, EV charging focuses renewables, and likely worth in arising locales give positive improvement possibilities.
Report Scope of the Electric Vehicle Motor Market
| | |
| --- | --- |
| Report Coverage | Details |
| Market Size by 2032 | USD 56.95 Billion |
| Growth Rate from 2023 to 2032 | CAGR of 21% |
| Asia Pacific Market Share in 2022 | 48% |
| AC motor Type Market Share in 2022 | 59% |
| Base Year | 2022 |
| Forecast Period | 2023 to 2032 |
| Segments Covered | Type, Vehicle Type, Motor Type, Power Rating, Application, Powertrain Type, Marketplace, End User, Geography |
| Companies Mentioned | Yasakawa Electric, Gkn Driveline, Toshiba, Continental, Denso, Baldor Electric, Hitachi Automotive Systems |
Key market Drivers
Increase in demand for electric vehicles
A primary factor influencing the growth of the electric vehicle engines, which has an impact on the market's growth during the forecast period, is the rise in popularity for expanding the range of electric cars. The electric vehicle powertrain control frameworks have a significant impact on the electric vehicle's range. The implementation of strict administrative restrictions is another important factor in industry expansion.
Many governments have established stringent discharge standards to reduce GHG emissions and mitigate the causes of unnatural weather change. It thus anticipates automakers to develop zero-discharge automobiles to abide by tougher emission regulations. These laws have resulted in a more significant focus on the production of more capable electric car, which will fuel market expansion during the forecast period.
Increased demand for HVAC systems in residential, commercial, and industrial end-users
HVAC which is also known as heating, ventilation, and air conditioning systems uphold the quality of interior air and provide thermal comfort. They are among the basic elements of modern infrastructures, especially for massive office or commercial complexes. Electric DC motors are frequently used in HVAC systems to increase the efficiency of the airflow system and extend the life of the motors.
HVAC systems are becoming more and more necessary as the region's industrial and commercial sectors continue to grow, especially in China and India. According to a study by the market intelligence company Timetric Construction Intelligence Center, USD 1.08 trillion is expected to be invested in the global construction sector over the course of the next four to five years, primarily for the development of industrial structures (CIC).
Key Market Challenges
Changing costs of raw materials from China
A small number of Chinese producers are in charge of setting the costs of raw materials including speciality alloys, copper wires, permanent magnets, steel bars, and thin precision metals required to create electric motors. The price of the product defines the dominance of specific providers in the market because there is little to no product differentiation. The other producers and suppliers in the market must bear the ensuing price changes. For instance, manufacturers and suppliers are unable to pass on price changes to end-user consumers when rare-earth permanent magnet costs fluctuate during the production processes. As a result, raw material suppliers' profit margins are impacted significantly.
Key market opportunities
Growing robotics technology and the global automotive industry's transition to electric cars
The worldwide automotive industry is making a technological shift toward electric means of transport. The encouraging steps made in Europe to decarbonize people are encouraging an increase in the usage of electric cars which are embedded with electric motors. Also, the cost associated with batteries has decreased, and innovations related to batteries have improved time for charging. Increasing government assistance such as tax breaks and incentives to peruse the utilization of electric motors in eco-friendly electric cars is also acting as a development opportunity for the electric motor market.
Vehicle Type Insights
The passenger vehicle fragment is supposed to overwhelm the market. In light of vehicle type, this market might be separated into traveler cars and business vehicles. In 2022, the passenger car area will overwhelm the overall market. Quick urbanization, which increments interest for monetary transportation mediums like as electric vehicles, is a key driver influencing market extension. When contrasted with IC vehicles, electric vehicles are more financially savvy and have a lower ecological effect. Accordingly, legislatures in significant economies like the China, India and USA energize the utilization of such vehicles. Such government backing, joined with expanded public interest in EV innovation, is projected to fuel EV interest before very long. Since the Electric vehicle On-Board charger business is inseparably connected to the EV business, development in the last option will ultimately prompt expanded interest for chargers. In spite of the fact that there are restricted potential outcomes in the business market from the EV environment, what's to come looks encouraging as key makers offer new items. Business EV reception is more troublesome than traveler vehicle reception since such vehicles utilize greater power and require more upkeep. We guess that interest for business EV on-board chargers will ascend as the quantity of business EV models available extends all through the gauge period.
Type Insights
The overall Market has been fragmented into D.C. Brushless Motors, DC Brushed Motors, Induction Motor, Switched Reluctance Motor, and Synchronous Motor. The D.C. Brushed Motors classification is supposed to lead the Market concerning development.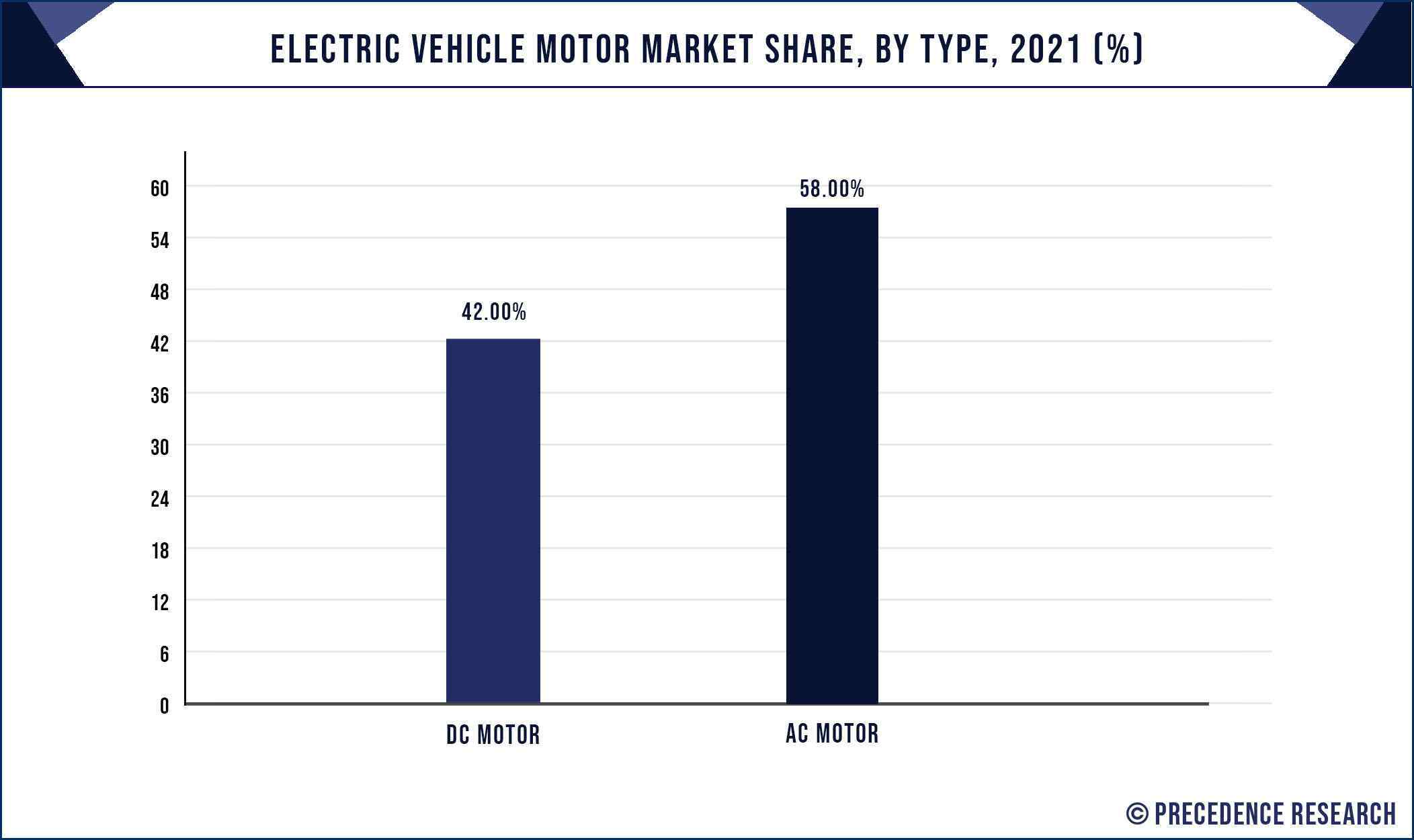 This fragment contains brushes and commutators that interface the engine's armature to the outer stockpile circuit. Carbon graphite, carbon, copper, and metal graphite are among the materials used to make these brushes.
Technology Insights
The developing ascent of self-driving trucks will influence the electric vehicle market. Top OEMs like as Tesla, Volvo, Vera, and Daimler, among others, have been creating self-driving electric vehicles for the market. New companies like Uber, Waymo, Embark, TuSimple, Einride and Ike have additionally started to make self-driving electric vehicles. For instance, Tesla uncovered plans to send its self-driving electric vehicle toward the finish of 2022. In this way, self-driving innovation will upgrade interest for electric vehicles in the long haul inferable from different advantages, for example, decreased mishap risk, comfort of purpose, and the consideration of significant worth added highlights. This innovation is projected to develop during the following 6 years. Consequently, the headway of self-driving electric vehicle innovation is profitable for market development.
Application Insights
The market is separated into applications like modern hardware, engine vehicles, HVAC gear, electrical machines, and others. In view of expanded interest in electric vehicles and the car business to meet worldwide targets for diminishing fossil fuel by products, the engine vehicle class is projected to go on at the front line. Developing modern speculation and rising requirement for energy-effective engines increment interest for modern hardware and HVAC gear. The rising arrangement of electrical engine based merchandise in the private area, like vacuum cleaners, clothes washers, coolers, and others, will drive the extension of the electrical machines section later on years.
End User Insights
Expanding accentuation on vehicles to decrease fossil fuel by products and lift the transportation portion the market is separated into modern, business, private, agribusiness, and transportation fragments in light of end-client. With states all through the world zeroed in on creating supporting regulations and guidelines to bring issues to light about the utilization of electric vehicles in their singular countries, the interest for electric engines from the car business in the transportation area has been expanding. This example is supposed to continue for a considerable length of time, driving interests in the transportation business. As a fundamental component of the functioning framework, the growing requirement for rural and modern siphons and engines, as well as homegrown machines, will drive the interest for electric engines.
Geography Insights
During the projected period, Asia Pacific is supposed to have the most elevated portion of the electric engine market. China, India, Japan, South Korea, Australia, and the remainder of Asia Pacific make up Asia Pacific. With developing industrialization, Asia Pacific countries are moving toward web based modern exercises in all areas. The GSM Association reports that created Asia Pacific nations like as Japan, Australia and South Korea are progressively exploring the conceivable outcomes of new administrations and connected items. The district's car industry is in like manner flourishing. Asia Pacific is the world's most noteworthy producer of cars. In 2018, the region delivered north of 50 million business vehicles. These variables are projected to support the development of the Asia Pacific electric engine market.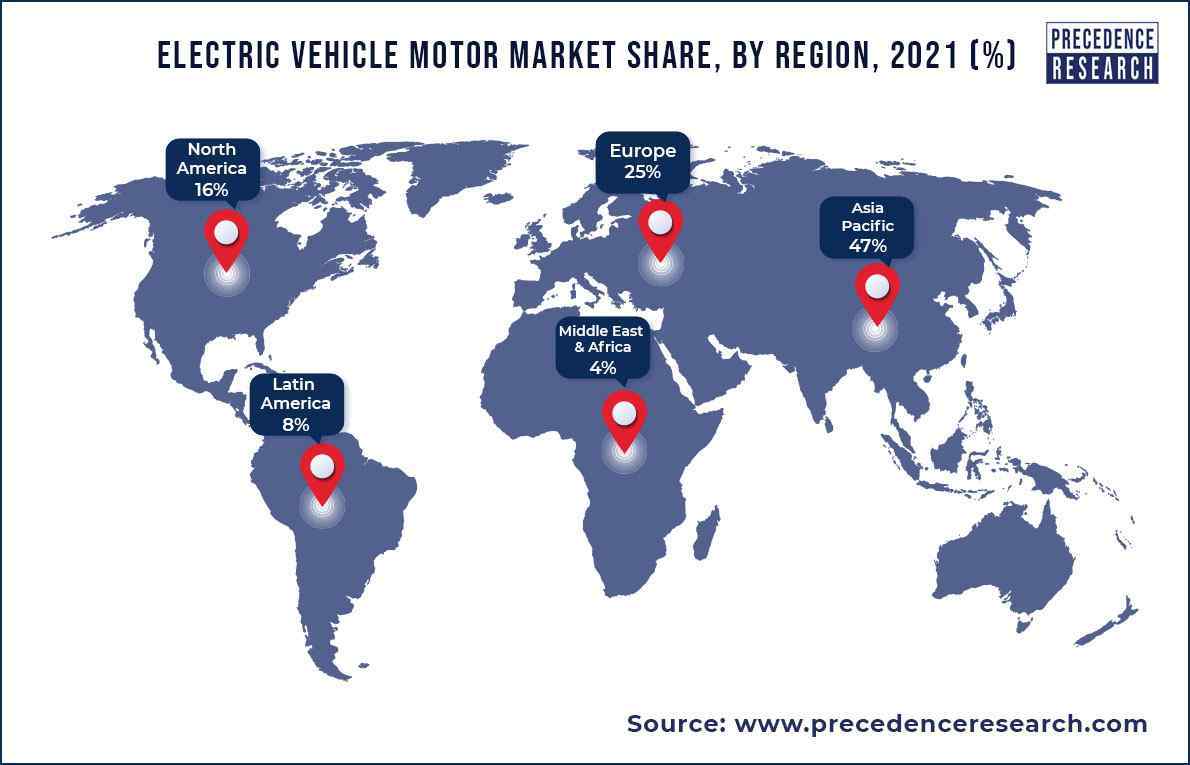 Moreover, with rising industrialization, Asia Pacific nations are moving toward web based modern exercises in each space. Nations like as Japan, Australia, and South Korea as per the GSM Association, are progressing in their investigation of the conceivable outcomes of new administrations and connected gadgets. Also, the car business is flourishing in the locale. Asia Pacific is the world's most noteworthy producer of automobiles. Thus, the extension of these end-use enterprises is probably going to drive the APAC market over the conjecture period.
Latin America and the Middle East and Africa are anticipated to see dramatic improvement because of expanded interests in the oil and gas industry and expanded building movement inside the areas, which advances the extension of the private and business areas.
Key market developments
Electric vehicles have turned into a fundamental part of the car business. It gives a way toward more noteworthy energy effectiveness, as well as lower outflows of toxins and other ozone depleting substances. The key components driving this ascent incorporate rising ecological worries, as well as gainful government endeavors. The yearly deals volume of electric traveler vehicles is assessed to surpass 5 million units toward the finish of 2025, and it is normal to represent 15 percent of complete vehicle deals toward the finish of 2026.
Super Power Systems marked another coordinated effort manage Statcon Energiaa (SE), an India-based power hardware producing business, in April 2021. The understanding is supposed to expand two associations' involvement with the examination, assembling, and showcasing of force hardware items for the energy, rail, and protection businesses.
In February 2021, Johnson Electric presented another line of Low Voltage DC (LVDC) engines with highlights like little size, high power thickness, low working commotion, and high force. The new things are explicitly intended to give Smart Furniture like clinical beds, level flexible workstations, savvy chairs, and other buyer items a 17 percent longer life.
Mabuchi Motors expressed in June 2021 that it will finish a 100% procurement of Electromag SA for a complete capital of about CHF 0.1 million or USD 0.11 million. Mabuchi's portfolio will be extended with new brushless engines used in medical care offices like ventilators and dental therapy.
Key market players
Shenzhen V&T Technologies Co. Ltd.
Time High-Tech Co. Ltd.
Shanghai E-drive Co. Ltd.
Kelly Controls LLC
BYD
Zhuhai Enpower Electric Co. Ltd.
Delta Electronics
Profile
Chroma ATE Inc.
DEC Dongfeng Electric Machinery Co. Ltd.
Canadian Electric Vehicles Ltd
Fujian Fugong Power Technology Co. Ltd.
Hunan CRRC Times Electric Vehicle Co. Ltd.
Nidec (Beijing) Drive Technologies Co. Ltd.
Jing-Jin Electric Technologies (Beijing) Co. Ltd.
United Automotive Electronic Systems Co. Ltd. (UAES)
Shenzhen Inovance Technology Co. Ltd.
JEE Automation Equipment Co. Ltd.
Shandong Deyang Electronics Technology Co. Ltd.
Beijing Siemens Automotive E-Drive System Co. Ltd.
Zhongshan Broad-Ocean Motor Co. Ltd.
Parker
Prestolite E-Propulsion Systems (Beijing) Limited
Segments covered in the report
(Note*: We offer report based on sub segments as well. Kindly, let us know if you are interested)
By Type
AC Motor

Synchronous AC Motor
Induction AC Motor

DC Motor

Brushed DC Motor
Brushless DC Motor
By Vehicle Type
Pure Electric Vehicle
Hybrid Electric Vehicle
Plug-in Hybrid Electric Vehicle
Fuel Cell Electric Vehicle (FCEV)
By Motor Type
Induction Motor
Synchronous Motor
Switched Reluctance Motor
By Power Rating
Up to 60 KW
60 to 90 KW
Above 90 KW
By Application
Electric Two-Wheeler
Electric Three-Wheeler
Electric Commercial Vehicles
Electric Passenger Cars
By Powertrain Type
Single Motor
Dual Motor
Triple Motor
Four Motor
By Marketplace
By End User
Agribusiness
Transportation
Private
Business
By Geography
North America
Europe
Asia-Pacific

China
India
Japan
South Korea
Malaysia
Philippines

Latin America

Brazil
Rest of Latin America

Middle East & Africa (MEA)

GCC
North Africa
South Africa
Rest of the Middle East & Africa