The global emulsifiers market size accounted for USD 7.87 billion in 2022 and it is expected to hit around USD 15.27 billion by 2032, growing at a CAGR of 6.9% during the forecast period 2023 to 2032. The growth and establishment of natural emulsifiers for use in the manufacture of organic hair care, skincare, and food items are the primary centers of significant firms in the emulsifiers sector.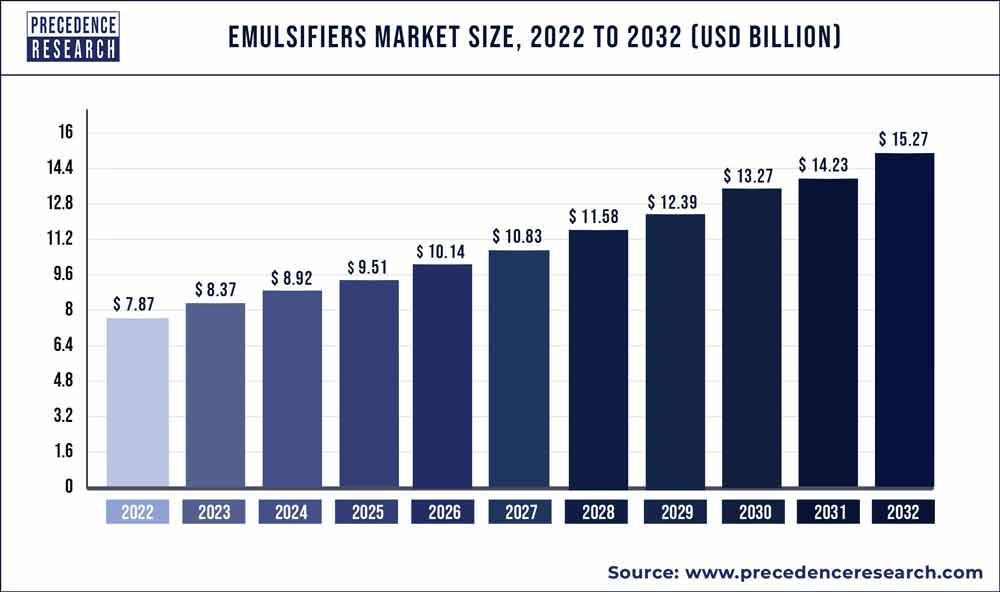 Key Takeaways:
North America led the global market in 2022.
Asia-Pacific is predicted to be the fastest-growing CAGR from 2023 to 2032.
By product, the mono and di-glycerides segment is predicted to grow at a significant CAGR from 2023 to 2032.
By application, the baking segment is expected to expand at a remarkable CAGR between 2023 and 2032.
Market Overview:
Emulsions combine two or more unblendable constituents that use external agents known as emulsifiers to get a firm kinetic state. They have broad applications in the food & beverages, cosmetic, and pharmaceutical industries. Oil companies are surveying oilfields to understand the endorsement of digitalized remedies to boost production ability. Some companies, like ABB and CGG, are taking part in exploring both onshore and offshore oil reservoirs.
70% of the earth's oil and gas is obtained from onshore sites, and the remaining 30% is from offshore oil deposits. The exploration of the onshore oil sector has been widespread, and most corporations have surveyed the bulk of onshore oilfields. The North American market is anticipated to grow at a higher CAGR between 2023- 2032. A notable number of bitumen emulsions is required to upkeep and repair these roads, increasing the need for emulsifiers. The United States government's new road construction scheme will also support the expansion of the bitumen emulsifiers industry.
Growth Factors:
Between 2023 and 2033, North America is expected to account for 50% of the international non-GMO protein market. In the decade, the cosmetics market has modified entirely. Customers quest for organic products with condensed ingredient lists and organic certification. Cosmetics formulators are researching to swap certain ingredients, for instance, obtained from petroleum or poisoned into the atmosphere, with natural and non-polluting remedies. Consumers believe in having more transparency and responsibility from brands that must reformulate or establish beauty goods.
Gellant gum business giants' investment will rise dramatically. It is a vegan thickener added to foods to create and retain a desired consistency and further added to various foods as an emulsifier and stabilizer. It is said to be an efficient food stabilizer.
The fast growth in urban development and the general population, particularly in evolving economies, is predicted to create a high need for the food emulsifier market. Ice cream is the only food designed, formulated, constructed, stored, circulated, and sold to be eaten and frozen. And this can be protected by managing the behavior of water and fat where the stabilizers and emulsifiers come into action. Numerous non-GMO soy protein applications in various industries are expected to increase demand.
Report Scope of the Emulsifiers Market
| | |
| --- | --- |
| Report Coverage | Details |
| Market Size in 2023 | USD 8.37 Billion |
| Market Size by 2032 | USD 15.27 Billion |
| Growth Rate from 2023 to 2032 | CAGR of 6.9% |
| Largest Market | North America |
| Base Year | 2022 |
| Forecast Period | 2023 to 2032 |
| Segments Covered | By Product, By Source, and By Applications |
| Regions Covered | North America, Europe, Asia-Pacific, Latin America and Middle East & Africa |

Market Dynamics:
Driver:
Rising demand for antibiotic-free meat replacement and the anticipated introduction of animal feeding initiatives are set to help increase demand. Growing user awareness of the health benefits of functional foods is significant to favorable trends in soy protein hydrolysate needs worldwide.
Restraints:
High cost and government support
Fluctuations or volatility in the expense of raw materials and machinery apparatus pose a significant hazard to the market's growth. Furthermore, the uneven accessibility of raw materials at one location degrades the market's growth. The presence of alternatives at an affordable range will further derail the market growth rate. Increased financing from the federal government for R&D proficiencies is also strengthening the market's growth. R&D functions targeted towards sustainable development will ensure optimal and sensible use of resources, hence improving the market value.
Increasing health and environmental problems
Emulsifiers' increasing health and environmental problems are predicted to restrain the market, and the health hazards could force people to shy away from products consisting of emulsifiers. Specific proof has been found that dietary emulsifiers affect gut health by impairing intestinal barrier tasks, thus probably growing the incidence of inflammatory bowel disease and metabolic syndrome, which badly affects the human race. Thereby, the associated health problems could restrain the emulsifiers market in the future.
Opportunities:
Global population growth is anticipated to be among the significant emulsifier market drivers. A population increase boosts the need for various foods, beverages, and other goods, driving the condition for emulsifiers. According to a study, the international food market is predicted to reach 60%-100% by 2050. In addition to protecting crops from pests, these mixtures raise crop yield and production. Natural gums are at the prominence of the trends in the cosmetics market.
Their adaptability can help replace multiple additives usually used for different roles and helps simplify formulas awaited by customers looking for better products. According to Lucie Birchler, a cosmetic expert in the R&D team of Alland & Robert, "the properties of natural gums are manifold: they can therefore be used to great advantage as emulsifiers, texturing agents, tightening agents, technological aids, film-forming agents, suspension agents, and sensory improvers."
Over the past two decades, the upsurge in the consumption of oil and petroleum products across the globe has been highly uncertain. The suspense illustrates the need and supply of petroleum-oil products, which push oil and gas production or derivation of new oil wells on a global scale.
Impact of COVID-19:
The novel coronavirus has brought on havoc on the planet. Although COVID-19 is causing massive devastation to global economies, the emulsifiers industry remains to deepen. This is seen on the supply and demand sides, as driving businesses like Eastman Chemical Company, LANXESS, The Lubrizol Corporation, Clariant and Lonza, and others persist in financing severely in the emerging application of emulsifiers touching the lives of humankind.
Food supply has proven fantastic resilience in dealing with Covid-19 stress, and customers are prepared to pay a higher amount for a given high standard of goods. Governments remain to invest remarkedly in acquiring newer methods to increase the production scale and eventually hit profit margins.
Segments Insight:
Product Insights:
Based on products, mono-, di-glycerides & derivatives are widely consumed for manufacturing dairy and bakery items, which include ice creams, cakes, bread, and margarine. Due to its widespread use in the bakery industry, mono-, di-glycerides & derivatives product is expected to grow at a remarkable CAGR from 2023 to 2032. Stearoyl lactylates are expected to provide lucrative facilities in the international market. Owing to their extensive consumption for the production of pancakes, sauces, snacks, dietary products, and cream-based alcoholic beverages has enhanced the emulsifier market. The U.S. FDA renders safe services to all these products, even the need for the same will likely grow at the highest rate over the coming years.
Source Insights:
Based on the source, the emulsifier industry is divided into three categories: animal, plant, and synthetic. Plant derivatives have dominated growth over the past decade. Gellan gum, xanthan gum, agar-agar, soy lecithin, as well as other emulsifiers are popular on the market. The soy lecithin segment is anticipated to grow at the highest CAGR from 2023 to 2032. Soy lecithin is a versatile and cost-effective emulsifier that is widely used in the food industry.
It is used in many products, such as chocolate, margarine, salad dressings, baked goods, and ice cream. In the pharmaceutical industry, soy lecithin is used as a coating agent for tablets, as well as in creams and ointments. In the cosmetic industry, it is used as an emollient and a skin conditioning agent.
Application Insights:
The application segregates it into food & beverages, pharmaceuticals, personal care & cosmetics. In 2022, the most significant segmental market proportion was used in the food & beverages industry. The food sphere has experienced progress over the years, and in the modern world, favored by growing knowledge of food and its components along with the endorsement of technology by R&D method to find more ingredients to the end-production of food goods, the industry has identified a drastic alteration in the last couple of years.
Although some naturally sourced emulsifiers have existed for decades, market players have operated to draw up artificially enhanced emulsifiers that can offer additional advantages. By application, the baking and confectionery sector is predicted to increase at a considerable CAGR from 2023- 2033.
The requirement for innovative baked food products, notably gluten-free and with demonstrated prolonged shelf life, is one of the significant trends leading to the development of the bakery area. In addition, rising customer standard for nutritious and fibrous biscuits are an alternative trending feature of the food emulsifier market. These cases will likely upsurge the intake of natural ingredients, particularly emulsifiers, in the following couple of years.
Regional Insights:
North America dominated the market worldwide in 2022. This is attributed to the substantial existence of food & beverages, pharmaceutical, cosmetics, and paints & oils firms in North America, which raise the need for emulsifiers. For instance, In 2022, food technology enterprise Benson Hill Inc. united forces with Denofa, a top Scandinavian protein maker, to encourage sustainable soy protein constituents in the Northern European aquafeed sector.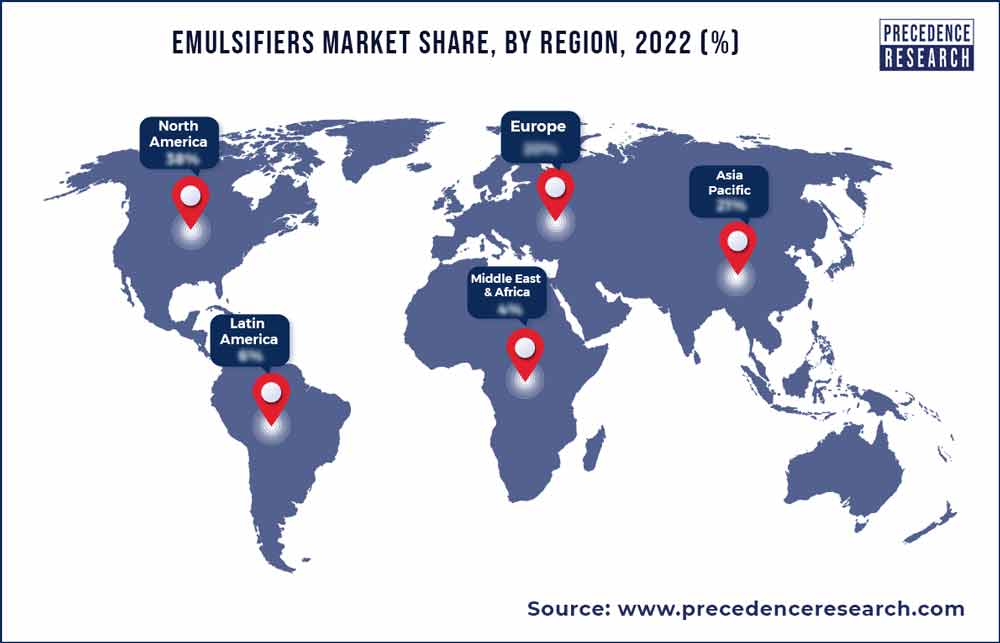 Rapid urbanization, advancement in modern farming mode, an increasing need for eco-friendly goods, and government help for crop production in the region are expected to push the regional market throughout the forecast time.
Asia-Pacific was the central region in the emulsifiers market in 2022 and is projected to be the fastest-expanding territory in the projection period. The increased revenue could conduct advancement in Asia-Pacific in cosmetics in South Korea, which is one of the substantial providers of skincare and makeup goods with clients and consumers worldwide.
Recent Developments:
In 2022, the formation of a novel extrusion manufacturing plant in Serbia was reported by ADM, a global leader in human and animal nutrition. This occurred less than a period after ADM purchased SojaProtein, a European supplier of non-GMO soy components.
In 2022, the launching of silver and gold metallic toners for the Cheetah 2.0 Series by Xeikon rendered printers and converters a competitive advantage, offering firms the possibility to add value. This considerable progress in digital foiling results from Xeikon's innovation approach, which highlights establishing more long-lasting, cost-effective, and application-particular solutions.
In August 2021, Infineum, a UK-based specialty chemical business, signed a deal to obtain the ISCA UK emulsifiers business cell for an unrevealed amount. The agreement ensures ISCA UK's formulation proficiency and the ISCAMUL emulsifier hallmark. This acquisition constitutes Infineum's return to the emulsion explosive substance sector, where its current proficiency can be utilized to better serve existing and potential new customers.
In Sep 2020, The Brazilian cell of U.S. commodities dealer Cargill built a new establishment to produce pectin, a fruit by-product used in jams, dairy products, beverages, and confectionery.
In July 2020, Indian Oil Corporation advertised establishing a joint enterprise with Total, a French petroleum firm. This joint venture aims to manufacture and trade high-quality bitumen by-products and comparable specialty products for road construction deeds. This joint venture is expected to boost the market share of both partnering companies.
Key Market Players:
Arkema
Eastman Chemical Company
The Lubrizol Corporation
Clariant
LANXESS
Lonza
Stepan Company
DSM
Corbion
Estelle Chemicals Pvt. Ltd.
ADM
Dow
DuPont
Cargill, Incorporated
Kerry Group plc.
Ingredion Incorporated
Evonik Industries AG
BASF SE
Solvay
Akzo Nobel N.V.
Segments Covered in the Report:
(Note*: We offer report based on sub segments as well. Kindly, let us know if you are interested)
By Product
Lecithin
Mono and Di-Glycerides
Stearyl Lactylates
Sorbitan Esters
Polyglycerol Esters
Other Products
By Source
By Applications
Food Emulsifiers

Dairy
Bakery
Meat
Others (Mayonnaise, Cheese)

Cosmetics & Personal Care

Creams & Lotions
Makeup Components
Personal Hygiene

Oilfields Chemicals

Drilling fluids
Wetting fluids
Gelling fluids

Pharmaceutical
Agrochemicals

Seed Coating
Crop Protection

Others (Paints & Polymers, Oil spill dispersants, Household)
By Geography
North America
Europe
Asia-Pacific
Latin America
The Middle East and Africa