The global energy ingredients market size was estimated at USD 22.27 billion in 2022 and it is expected to hit around USD 47.87 billion by 2032, growing at a CAGR of 8% during the forecast period 2023 to 2032.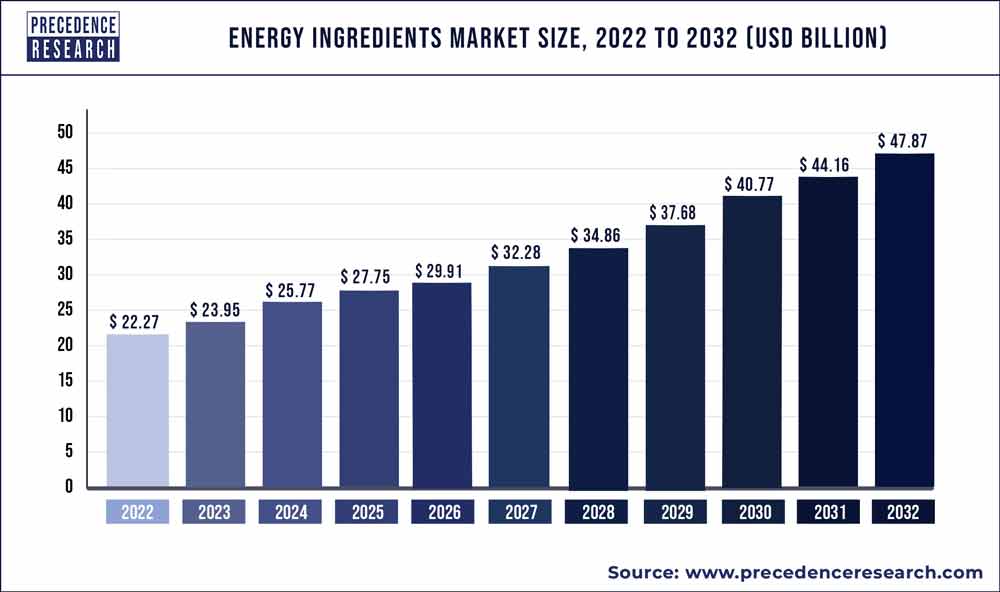 Access our Premium Real Time Data Intelligence Tool, Visit: Precedence Statistics
Key Takeaways:
Asia Pacific generated the maximum revenue share in 2022.
Europe is expected to expand at a remarkable CAGR between 2023 and 2032.
By product, the caffeine segment captured more than 88% of revenue share in 2022.
By application, the beverage sector held the maximum market revenue between 2023 and 2032.
By application, the supplements segment is predicted to grow at a CAGR of 7% from 2023 to 2032.
By application, the beverage sector held the biggest market revenue from 2023 to 2032.
Market Overview:
The market is acquiring traction and undergoing high demand due to increasing demand for protein-based food products such as cold cuts, margarine, bakery products, yogurt, milk sausages, and spreads. Based on an article posted on a platform that links sellers and buyers, 37% of customer snacks were made from proteins in September 2022. The growing popularity of products with health-conscious as well as older consumers is promoting the expansion.
Elevated consumption of power elements by athletic visitors will further contribute to enhanced revenues of these products manufactured by major industry participants. For instance, in November 2021, 50% of all school athletes in the US used creatine to improve their physical as well as athletic performance, as per an article published on the blog Noob Gains. It is a website for beginners looking to discover how to build muscle and lose fat.
Furthermore, the requirement for energy content in the supplement industry is expected to rise in the coming years due to an increase in the usage of energy-boosting products to maintain better health even following the pandemic.
Furthermore, rising consumer focus on snacks that are high in fiber, minimally processed, as well as consist of energy-based ingredients will help the market grow. According to an article posted in Molecular Diversity Preservation International (MDPI), energy drink consumption in young adults in France increased steadily from 0.5% to 5.5% in January 2021. In addition, the increasing popularity of products with a variety of cognitive health benefits will drive market growth during the forecast period.
Report Scope of the Energy Ingredients Market
| | |
| --- | --- |
| Report Coverage | Details |
| Market Size in 2023 | USD 23.95 Billion |
| Market Size by 2032 | USD 47.87 Billion |
| Growth Rate from 2023 to 2032 | CAGR of 8% |
| Largest Market | Asia Pacific |
| Base Year | 2022 |
| Forecast Period | 2023 to 2032 |
| Segments Covered | By Product and By Application |
| Regions Covered | North America, Europe, Asia-Pacific, Latin America and Middle East & Africa |

Market Dynamics:
Drivers
Preference of consumers for sugar-free and fewer-sugar beverages.
Due to the rising incidence of diabetes, customers are more conscious of the significance of an active life as well as a balanced and nutritional diet. Consumers are implementing low calories, sugar-free, and low-sugar dietary preferences in beverages and foods due to rising health awareness and increased efforts to prevent the progression of lifestyle-related diseases. Stevia, as well as other natural sweeteners, are preferred by consumers in drinks. Market players such as PepsiCo Inc. and Coca-Cola have committed to lessening the sugar in products.
The athletic division is propelling the need for various energy drinks.
The younger generation must be involved in moderate or vigorous physical movement to overcome lifestyle-related diseases for at least an hour. This is achieved by contributing to various sports. Furthermore, the prospects of youth according to social, economic, physical, and academic well-being, are improved by learning the correlation between achievement and effort.
Restraints
Possibly hazardous components risk.
Consumers are concerned about the possibility of items including illegal additives and colors, drug residues, undetected allergies, heavy metals, and industrial chemicals. Intake of these residues may have negative health consequences, potentially limiting the growth of beverages that are non-alcoholic. These beverages are dangerous for individuals with diabetes as they include caffeine, sugar, and taurine, which increase the level of insulin.
Opportunities
Caffeine's increasing use as a psychoactive in a variety of beverages, including tea, coffee, energy drinks, and soda, is projected to boost sales of caffeine-containing products. As per an article issued in the American Society of Nutrition's peer-reviewed journal Nutritional Journal, approximately 90% of adults in the United States consume caffeinated products. Caffeine also improves various aspects of physical, occupational, and mental performance, projected to propel market growth in the coming years.
Impact of COVID-19:
Brands are attempting to capitalize on the "immunity-boosting" trend by incorporating fictitious chemicals or the concept of immunity inducer into their marketing initiatives. The COVID-19 pandemic has also raised consumer spending for healthier food options, which motivates people to buy products with caffeine-based energy components.
As stated in a blog post by Med Alert Help, 85% of Americans will consume no fewer than one caffeinated beverage in January 2021 to enhance focus as well as awareness during the COVID-19 quarantine. Furthermore, the trend of consumers seeking healthy goods that are simple to incorporate into their daily activities and lifestyles has created new industries for energy ingredients.
Segments Insight:
Product Insights:
The caffeine segment generated the highest market share of 88% in 2022 and is anticipated to continue to dominate throughout the predicted period. Caffeine's popularity as an energy agent is due to its ability to increase energy by limiting the intake of calories. Furthermore, caffeine stimulates the nervous system, known as the sympathetic system, which aids in controlling hunger, increasing satiety, as well as raising the meltdown of fat cells to generate energy, all of which are expected to contribute to the market's growth during the projected period.
In 2022, the taurine sector was projected to be the next fastest-growing segment. Functional foods are fortified with energy additives such as caffeine, antioxidants, ginseng, fatty acids, and taurine to improve human health beyond the intake of essential nutrients. Energy drinks and beverages containing the aforementioned ingredients are being introduced to the market by manufacturers. For example, AB InBev, the world's largest brewer, will launch the Budweiser Beats energy drink in India in October 2021, which contains organic B-vitamins (B5, B3, B12, B6), taurine, and caffeine.
Application Insights:
In 2022, the beverage sector held the largest market revenue from 2023 to 2032. The increasing acceptance of energy beverages due to the manufacturing of rapid energy with physical as well as mental stimulation help intensify the range of the sector. As a result, key companies are launching beverages in which caffeine is the primary ingredient in order to support the health of the consumer. For example, Starbucks Coffee Company initiated Starbucks Baya Energy: RTD beverage in collaboration with PepsiCo Coffee JV, in February 2022. Such launches containing energy ingredients significantly propel the market over the following years.
Supplements segment is expected to growing at a CAGR of 7% during the prediction period. With a rising number of supplements introduced containing ingredients like caffeine and taurine, market players will have more opportunities to innovate current products with specific energy-based components. As per William Reed Ltd., roughly 80% of Americans utilize energy-based dietary supplements such as riboflavin, niacin, and thiamine. Furthermore, a shift in customer lifestyle and increased awareness of health and wellness are projected to propel the segment's expansion.
Regional Insights:
In 2022, Asia Pacific had the largest revenue in the worldwide energy ingredients industry. The choice of options to regular supplements, as well as a modern lifestyle that requires the consumption of beverages containing caffeine, are the primary factors driving the market. For instance, Heineken entered the energy drink industry in February 2021, utilizing ingredients derived from sources like caffeine. Furthermore, excessive demand for these beverages as a result of claims to boost endurance, alertness, and performance will boost customer awareness of the product.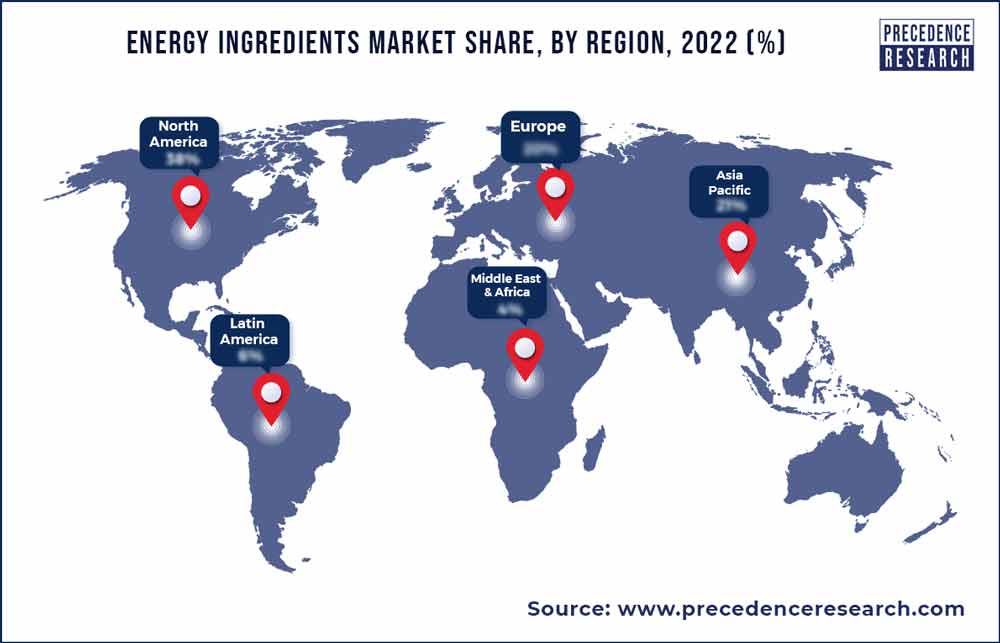 Europe is projected to grow at a remarkable CAGR over the projected period. The increasing development of 'nutrition declarations' on product packages or labels will attract potential consumers to such components in the coming years. For example, Prinova Europe initiated a trehalose component, endura-carb, for athletic stamina, in May 2022. Double-sugar and Slow-acting ingredients are used to increase muscles for extended periods of time.
Moreover, the benefits of caffeine, like improved cognitive attention, performance, and reaction speed, will support business growth. PepsiCo, for example, has introduced Rockstar Energy, a beverage containing hemp seed extract. According to PepsiCo, Rockstar Energy + Hemp contains caffeine, guarana, taurine, and an "intense" hemp flavor. On April 3, 2021, a product was released that is only sold in Germany.
Recent Developments:
PepsiCo introduced Rockstar Energy drink with an extract of hemp seed in April 2021. Caffeine, taurine, and guarana are also present in the product.
Nexba will launch Natural Energy, the United Kingdom's first caffeine as well as sugar-free drink packed with prebiotics and vitamins, in May 2022.
Babasucco introduced its latest Energy Estratto beverage in Italy in January 2021, claiming that it contains all of the characteristics of avocado.
Key Market Players:
Spectrum Chemical Mfg. Corp.
BASF SE
RFI Ingredients
Orkla
Korea Ginseng Corporation
ILHWA CO., LTD.
Naturalin Bio-Resources Co., Ltd.
Applied Food Sciences, Inc. (AFS)
Changsha Huir Biological-Tech Co., Ltd.
KOEI KOGYO CO., LTD
Sinochem Pharmaceutical Co., Ltd.
Aarti Industries Ltd.
Segments Covered in the Report:
(Note*: We offer report based on sub segments as well. Kindly, let us know if you are interested)
By Product
Creatine
Ginseng
Caffeine
Taurine
Others
By Application
Supplements
Food
Beverage
Others
By Geography
North America
Europe
Asia-Pacific
Latin America
The Middle East and Africa