The global enteral feeding devices market size was estimated at USD 3.50 billion in 2022 and is projected to hit USD 5.8 billion by 2032, exhibiting an immersive CAGR of 5.30% during the forecast period 2023 to 2032.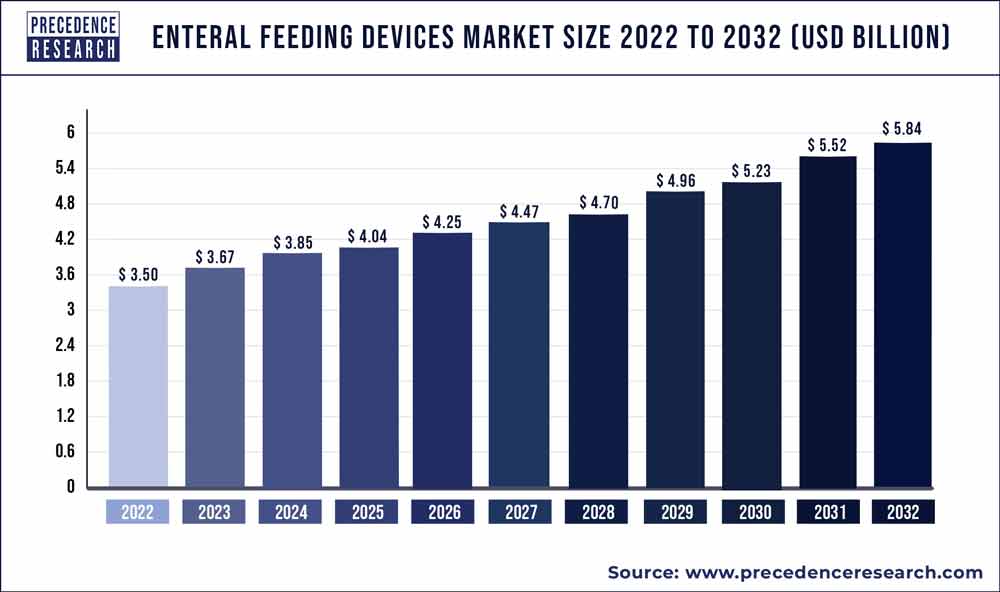 Access our Premium Real Time Data Intelligence Tool, Visit: Precedence Statistics

Key Takeaways:
North America led the global market with the highest market share in 2022.
The enteral feeding pump segment claimed the leading market stake in 2022.
By Application, the rising influence of cancer is set to lead to generating revenue within the enteral feeding devices market.
By End-User, Hospitals played a dominant role in driving revenue within the enteral feeding devices.
Market Overview:
One of the important factors that have augmented requirement for the enteral feeding equipment is raising geriatric populace suffering from neurological ailments for example dementia, stroke, and multiple sclerosis that affects swallowing. Consequently, facility of nutritional support in the form of oral nourishment supplements and enteral nourishment feeding tube alleviates the issue of nutrition discrepancy among the diagnosed people. Moreover, usage of enteral nutrition to care for patients with neck and head cancer, those at greater risk of malnourishment, is among significant factors projected to drive the market for enteral feeding equipment's. Patients detected with these kinds of cancer usually have abridged oral intake due to throat or mouth pain or trouble in swallowing which results in poor nutritional condition of these patients. Thus, enteral feeding is suggested to sustain the vital nutrients in the body, or to deliver medication and liquids among these individuals.
Enteral Feeding Devices Market Size in U.S. 2023 To 2032
The U.S. enteral feeding devices market size was valued at USD 0.77 billion in 2022 and is expected to be worth USD 5.3 billion by 2032, growing at a CAGR of 5.9% between 2023 and 2032.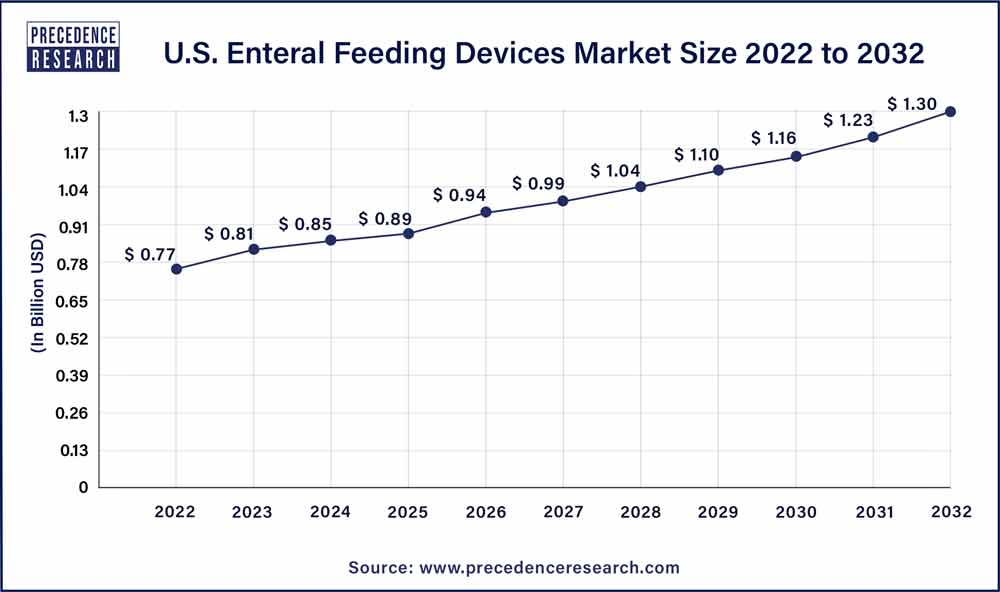 North America is Estimated to be the Largest Market for Enteral Feeding Devices
The comprehensive research account covers substantial projections and inclinations of enteral feeding devices throughout chief regions encompassing Africa, Asia Pacific, Europe, Latin America, North America, Middle East, and. By region, enteral feeding devices market is led by North America due to higher healthcare spending, presence of modern healthcare set-up, and availability of latest products. Europe accounted for subsequent highest stake chiefly due to high geriatric population and encouraging reimbursement scenario. Asia Pacific is anticipated to grow at the fastest CAGR majorly due to increasing incidence of cancer and gastrointestinal ailments, high rate of preterm child birth, and increasing number of hospital admissions. Middle East, Latin America, and African region is expected to exhibit note-worthy growth in the projected time-frame.
Crucial factors accountable for market growth are:
Integration of safety and programming features within the feeding devices
Development of portable feeding devices
Growing number of preterm child birth
Increasing healthcare expenditure
Increasing geriatric population
Increasing prevalence of chronic ailments such as cancer and diabetes
Rapidly increasing awareness regarding enteral feeding
Increased focus on the improvement of healthcare infrastructure
COVID-19 Impact on Global Enteral Feeding Devices Market
Due to the COVID-19 pandemic, it has been assessed that the major stake of the medical devices business that comprises dental care devices, imaging devices, medical supplies, and surgical devices amongst others, that grant 60-75% of the total medical devices business, will have a stationary growth or deep drop in the progress degree in 2020 and couple of quarters of 2021. However, a market opportunity of USD 5-7 billion is expected to open up in the health devices industry, by 2021 that consist of critical care medical equipment's. On the contrary, equipment's such as enteral feeding devices aren't expected to exhibit a major revenue swing in 2020 and 2021, when compared with other health devices. Nevertheless, there is a surge in the market for enteral feeding equipment's with the rising need for diet management in COVID susceptible patients.
Scope of the Enteral Feeding Devices Market
| | |
| --- | --- |
| Report Highlights | Details |
| Market Size | USD 5.84 Billion by 2032 |
| Growth Rate | CAGR of 5.30% From 2023 to 2032 |
| Base Year | 2022 |
| Historic Data | 2020 to 2021 |
| Forecast Period | 2023 to 2032 |
| Segments Covered | Age Group, Product, Application, End User |
| Regional Scope | North America, Europe, Asia Pacific, Latin America, Middle East & Africa (MEA) |
| Companies Mentioned | Cook Medical, Abott Laboratories, Fresenius Kabi, Halyard Health, Medtronic, Moog, Inc, Nestle Health Science, VYGON, Danone, Cardinal Health, Braun, Boston Scientific, R. Bard, Conmed Corporation |
Significant Market Trends:
Enteral Feeding Pump Segment Reported Foremost Market Stake in 2022
The enteral feeding pump segment displayed a major share in the worldwide enteral feeding devices market in 2022. Technological advancements in the feeding pumps are expected to boost the growth of the segment in the near future.
Enteral feeding tubes are expected to grow at the highest CAGR within the forecast time duration.
Adults Dominated the Market Revenue by Form in 2022
Enteral feeding devices are required for supplying nutritional supplements to people suffering from cancer and gastrointestinal disorders among other chronic ailments. Moreover, old-aged people suffering from dementia and stroke also require enteral feeding devices.
Cancer Will Dominate the Enteral Feeding Devices Market Revenue By Application
As per WHO (World Health Organization), the number of cancer cases globally reached 19.3 million in the year 2022. With increasing number of cancer cases, the demand for enteral feeding devices is also on the rise.
Hospitals Dominated the Enteral Feeding Devices Market Revenue by End-User
Hospitals segment displayed a major share in the worldwide enteral feeding devices market in 2022 due to factors such as accessibility of latest equipment's and availability of funds.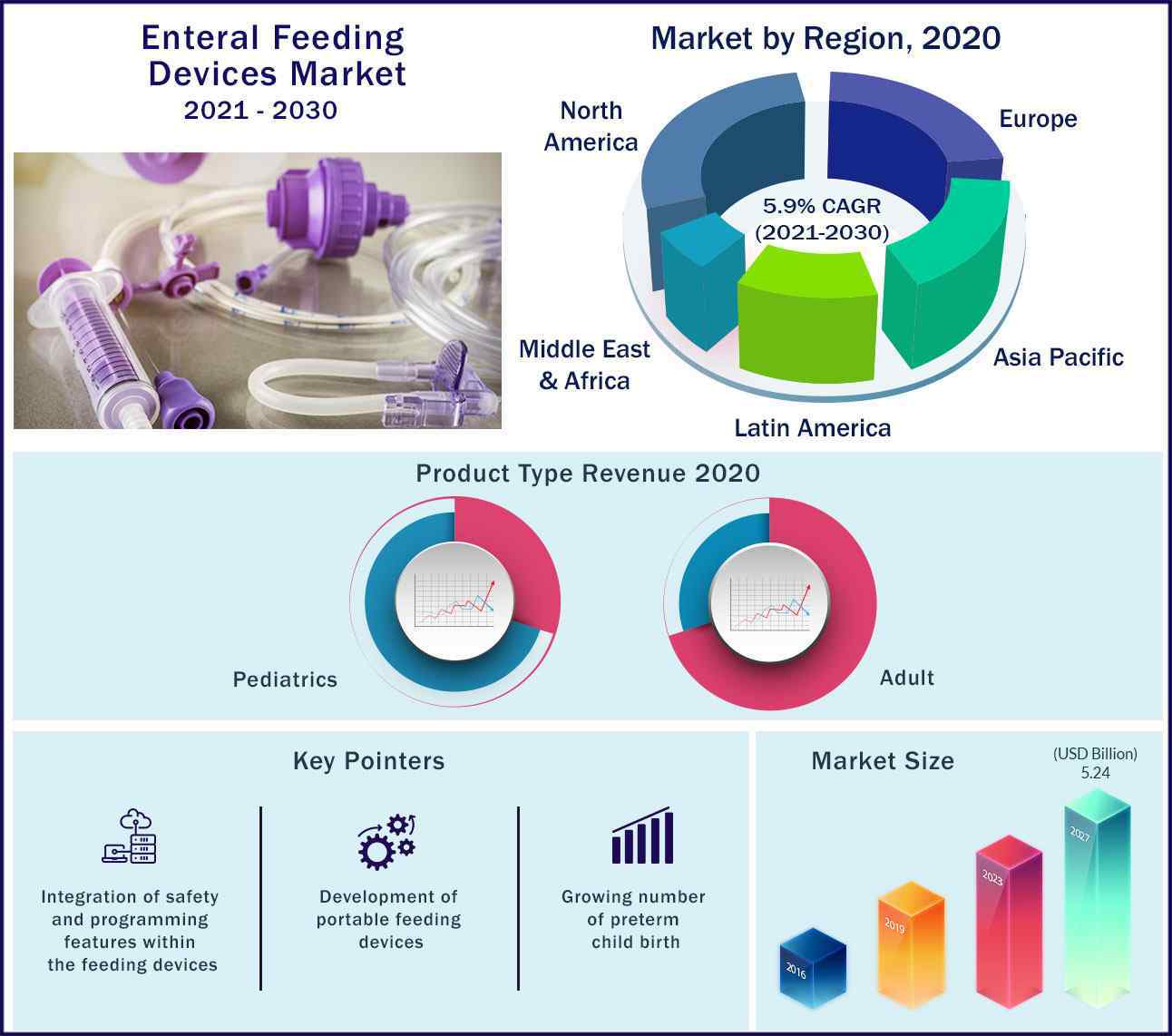 Top Players contending in the Market:
Leading competitors contending in global enteral feeding devices market are as follows:
Cook Medical
Abott Laboratories
Fresenius Kabi
Halyard Health
Medtronic
Moog, Inc
Nestle Health Science
VYGON
Danone
Cardinal Health
Braun
Boston Scientific
R. Bard
Conmed Corporation
In order to well recognize the present status of enteral feeding devices, and policies implemented by the foremost nations, Precedence Research projected the future progress of the enteral feeding devices market. This research report bids quantitative and qualitative insights on enteral feeding devices market and valuation of market size and progress trend for probable market segments.
Major Market Segments Covered:
By Product Type
Administration Sets
Enteral Feeding Pump
Enteral Syringe
Enteral Feeding Tube
Others
By Age Group
By Application
Gastrointestinal Disease
Cancer
Malnutrition
Neurological Disorder
Others
By End User
Ambulatory Surgical Center (ASCs)
Hospital
Home Care
Others
By Geography
North America
Europe

Germany
France
United Kingdom
Rest of Europe

Asia Pacific

China
Japan
India
Southeast Asia
Rest of Asia Pacific

Latin America

Brazil
Rest of Latin America

Middle East & Africa (MEA)

GCC
North Africa
South Africa
Rest of Middle East & Africa