The global fermentation chemicals market size was evaluated at USD 79.84 billion in 2022 and is expected to hit around USD 134.55 billion by 2030 with a registered CAGR of 6.74% from 2022 to 2030.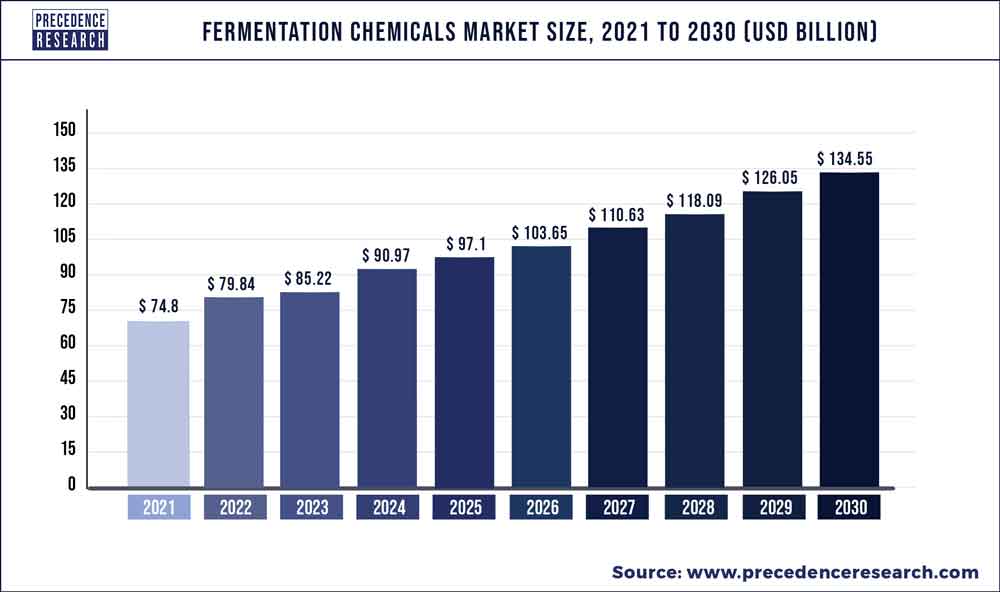 Access our Premium Real Time Data Intelligence Tool, Visit: Precedence Statistics
Chemicals used in fermentation are essential for starting the chemical process. processing or acting as a catalyst It facilitates reaction speed in a reaction. As a result, it can reduce both the reaction's time and cost. The most crucial raw material in the ethanol sector is fermentation chemicals. Fermentations result in the manufacture of ethanol, a key component needed for the synthesis of alcohol and alcoholic beverages. As a result, the global market for fermentation chemicals is expanding due to the increase in demand for alcoholic drinks. Additionally, other sectors need fermentation chemicals to conduct their production processes, including the pharmaceutical, cosmetic, food, and beverage industries. Therefore, the fermentation chemicals industry is also driven by the expansion of these businesses across diverse geographic regions. Lactic acid cannot be used in the dairy business because of the high expense involved in the fermentation process. Additionally, the variability of the production process for ethanol, bacteria, and lactic acid also inhibits market expansion. Environmentally friendly fermentation chemicals would find use in industries like the conversion of biomass.
Growth Factors
The main ingredients in fermentation chemicals are vegetable feedstocks like corn, sugar, and starch. Many end-use industries prefer these products in fermentation processes as a result of the lack of synthetic feedstock. To lessen reliance on petrochemicals, major businesses have moved their attention toward bio-based raw resources. The main factors influencing the transition toward bio-based chemicals are rising crude oil prices, the degradability of petrochemical-based goods and rising worries about carbon emissions. The multistep industrial fermentation process used to produce goods like bioplastics, biofuels, polymers, and composites is quite complex. In bioreactors or fermenters, the conversion is carried out using enzymes or microorganisms like yeast and algae that may have undergone genetic modification.
The growing pharmaceutical industry.
Flourishing food & beverage industry.
Report Scope of the Fermentation Chemicals Market
Report Coverage
Details
Market Size in 2022
USD 79.84 Billion
Market Size by 2030
USD 134.55 Billion
Growth Rate from 2022 to 2030
CAGR of 6.74%
Base Year
2021
Forecast Period
2022 to 2030
Segments Covered

By Product
By Application

Regions Covered

North America
Europe
Asia-Pacific
Latin America
Middle East & Africa

Key Market Drivers
Increasing application in the meat production industry - Due to the expanding population and economies of developing countries, it is anticipated that the demand for meat will increase significantly on a global scale. Due to changing dietary preferences around the world, it is projected that meat consumption would rise in the future. Based on consumption, meat is divided into four groups: sheep, pork, poultry, beef, and veal. Pork and chicken make up the majority of the meat eaten in poor countries. Animal growing needs natural feedstock and amino acids. Amino acids increase the quantity and quality of meat. The demand for amino acids is expected to rise in the global meat market because they are one of the most important animal feed additives due to their nutritional value. With their help, animal muscle tissues can form. Since amino acids make it possible to utilize feedstock effectively, the market for fermentation chemicals is predicted to grow. Major players are focusing on increasing their ability to synthesize amino acids in order to meet the growing demand on a global scale.
Growing pharmaceutical industry - It is projected that the pharmaceutical market in the U.S. will grow, particularly in the nation. Pharmaceutical companies are expected to carry out more research to produce novel medications by growing microorganisms. Strict regulations governing greenhouse gas (GHG) emissions from the chemical industry have been put in place by regulatory organizations including the U.S. Department of Energy and Environmental Protection Agency (EPA). Therefore, this led industry players to start focusing on using biological techniques for chemical synthesis.
Key Market Challenges
Fluctuating costs of lactic acid fermentation - The cost of lactic acid fermentation restricts its use in the dairy industry. This aspect is projected to limit the market growth of fermentation chemicals throughout the forecast period.
Key Market Opportunities
Rising cosmetic demand - A growing awareness among people about personal cleanliness and cosmetics has led to an enormous increase in demand for these products in recent years. Skin issues have increased as a result of environmental change, which has opened up a significant market opportunity for cosmetic applications. These fermented skin care products frequently contain fruits, herbs, and yeast, which have anti-inflammatory and other relaxing properties.
Segments Insight
Product Insights
On the basis of product, the organic acid segment has held the largest market share in 2021. Acids having pKa values of 3 (carboxylic) or above are considered organic acids (phenolic). The industrial generation of organic acids is now possible because of developments in fermentation technology. Foods are frequently preserved by adding organic acids such as fumaric acid, tartaric acid, and lactic acid. A significant contributing cause to their usage as a preservative has been their ability to prevent bacterial development. Demand for organic acids in processed meat and foods is anticipated to increase as consumers become more aware of the value of products with longer shelf lives.
The use of enzymes in a variety of chemical and industrial processes is the main factor driving enzyme use. Detergents use enzymes as an active component. Enzymes are also used in the pre-treatment of biomass for the creation of biofuels. The demand for enzymes as a catalyst is anticipated to rise in response to growing concerns about the depletion of oil supplies and uncertain fuel prices.
Application Insights
On the basis of application, the industrial applications segment accounted largest market share in 2021. Fermentation chemicals are frequently employed in industrial settings. The adoption of green chemistry and several regulations for commercial and industrial purposes has led to higher penetration. Industrial fermentation is the process of producing goods like ethanol, citric acid, and acetic acid by using microorganisms like bacteria, fungi, and eukaryotic cells. It is generally accepted that food additives originating from various items, such as vitamins, preservatives, antioxidants, and colors, are superior to those obtained from chemicals.
Another application area where diverse fermentation chemicals are widely consumed is food and beverages. It is anticipated that the increasing population will have a direct impact on consumption. Dairy products including kefir, yogurt, sour cream, and cheeses, as well as vitamins, proteins, and carotenoids are among the food items that are traditionally generated through the fermentation process.
Regional Insights
On the basis of geography, the North America region contributed the highest revenue share in 2021. This is a result of the region's growing need for enzymes in a variety of applications involving paper, starch, and personal care. Growth in the business is expected to be greatly impacted by the rising demand for enzymes from a variety of industrial applications, including paper, personal care, and starch. By 2030, the North American fermentation chemical market might be worth more than 38.5 million USD. Due to rising individual awareness of personal care and cleanliness, cosmetics and toiletries have seen enormous demand in recent years. Environmental change has increased skin and dermatological issues, which has opened up a significant market opportunity for cosmetic applications. These fermented skin care solutions frequently include herbs, yeast, and fruits that provide anti-inflammatory and other relaxing properties for the skin.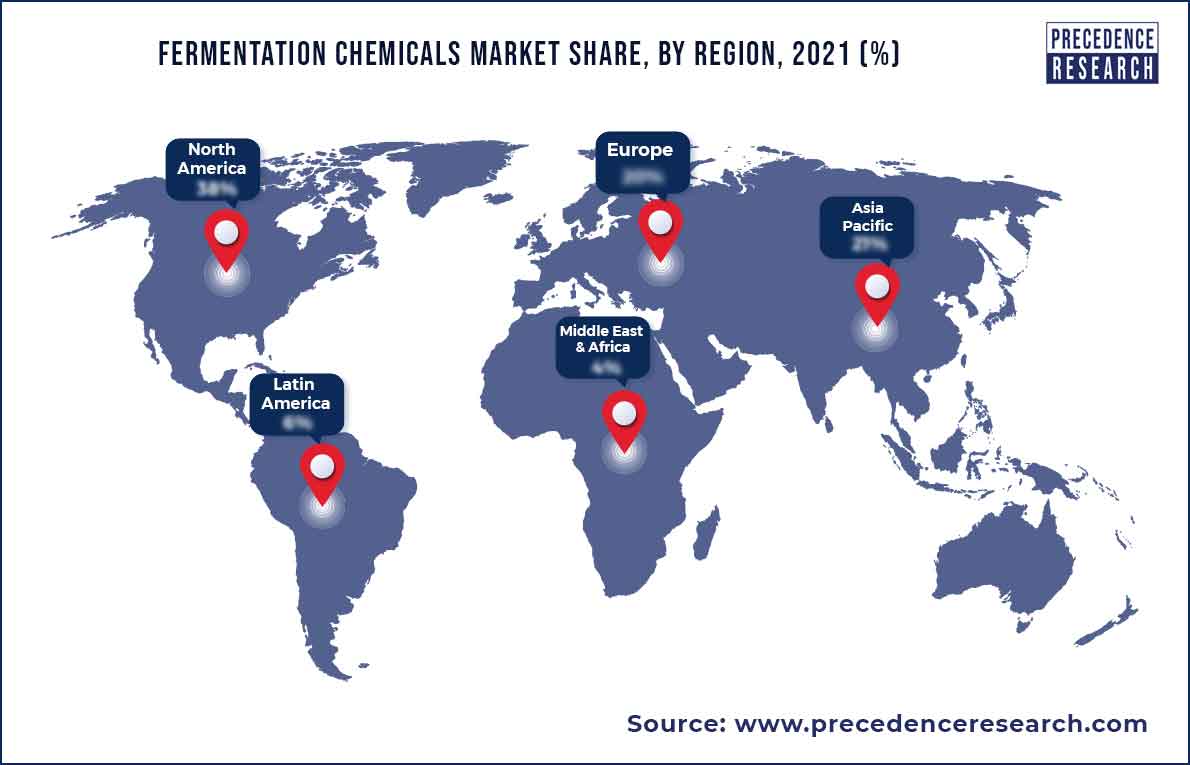 From 2022 to 2030, demand from the Asia Pacific region is anticipated to grow at a 6.5% CAGR. Over the course of the projection period, it is anticipated that the expansion of important end-use sectors including food and beverage, pharmaceuticals, and polymers, notably in China and India, will continue to be a major driver of the regional market. Over the projected period, it is anticipated that rising per-capita middle-class disposable income levels and expansion in the food and beverage sector in nations like China and India will boost regional demand.
Recent Developments
In May 2021 – A collaboration between LanzaTech and BASF aims to produce useful compounds from the carbon found in industrial off-gases. The partners have now made a significant breakthrough: using specialized bacteria, they were able to manufacture n-octanol at a laboratory scale from carbon monoxide and hydrogen, the major elements of emissions, such as those from the steel sector. Among other things, n-octanol is a crucial chemical used in cosmetics.
Key Market Players
Novozymes A/S
Ajinomoto Co., Inc.
BASF SE
ADM
Cargill, Incorporated
AB Enzymes
DuPont
DSM
LANZATECH
MicroBiopharm Japan Co., Ltd.
Novasep, TCI Chemicals (India) Pvt. Ltd
Biocon
Evonik Industries AG
Dow
Lonza
Amano Enzyme Inc.
INVISTA
Chr. Hansen Holding A/S
Segments Covered in the Report
(Note*: We offer reports based on sub-segments as well. Kindly, let us know if you are interested)
By Product
Organic Acid

Amino acids
Citric acids
Lactic acids
Others

Enzymes
Alcohol
Others
By Application
Food and Beverages
Pharmaceuticals
Plastic and Fibers
Industrial
Others
By Geography
North America
Europe
Asia-Pacific
Latin America
Middle East & Africa (MEA)