The global flow cytometry market size was exhibited at USD 4.6 billion in 2022 and is expected to hit around USD 10.26 billion by 2032, poised to reach a CAGR of 8.4% during the forecast period 2023 to 2032.
The flow cytometry market share would increase as more people contract diseases like cancer and HIV. However, issues including expensive instrument and reagent costs, a lack of awareness among prospective end users, and a shortage of technical know-how are anticipated to restrain market expansion. The preference for ow cytometry in drug research, development, and diagnostics is anticipated to provide the market potential for ow cytometry.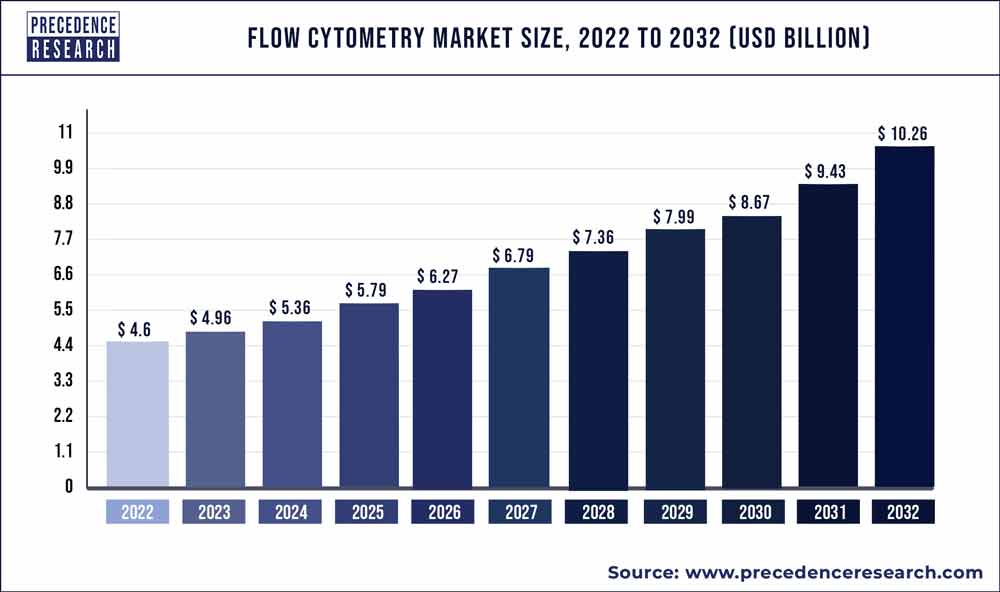 Key Takeaways:
The North America market accounted largest revenue share of around 39.8% in 2022.
By component, the reagents & consumables segment is poised to grow at a CAGR of 10.6% from 2023 to 2032.
By technology, the bead-based segment is growing at a CAGR of 8.7% during the forecast period 2023 to 2032.
By application, the diagnostic applications segment is expected to reach a CAGR of 8.8% over the forecast period.
By end user, the commercial organizations' segment is expected to witness growth at a CAGR of 9.3% over the forecast period.
Asia-Pacific is expected to reach a CAGR of 9.8% over the forecast period from 2023 to 2032.
Growth Factors
The rising incidence of cancer and HIV/AIDS, the growing use of flow cytometry techniques in research, the expansion of public-private initiatives in immunology and immuno-oncology research, and the development of flow cytometry software are all major factors in the growth of the flow cytometry market.
Some of the main factors driving the growth of the flow cytometry market are the rapid advancements in technology, the rise in chronic diseases that call for validation testing, and the demand for precise and delicate methods for disease validation. In order to forecast the consequences of immunotherapy, researchers are increasingly adopting flow cytometry to subjectively and quantitatively study peripheral blood cells. High resolution, increased effectiveness, and the development of effective statistical platforms are the main factors influencing the flow cytometry industry.
Report Scope of the Flow Cytometry Market
Report Coverage
Details
Market Size in 2023
USD 4.96 Billion
Market Size by 2032
USD 10.26 Billion
Growth Rate from 2023 to 2032
CAGR of 8.4%
Base Year
2022
Forecast Period
2023 to 2032
Segments Covered

By Product
By Technology
By Application
By End-Use

Regions Covered

North America
Europe
Asia-Pacific
Latin America
Middle East & Africa

Key Market Drivers
Studies into immunology and immuno-oncology are receiving more attention
The major factors driving the growth of the worldwide flow cytometry market are the growing emphasis on immunology and immuno-oncology research, the rising acceptance of flow cytometry methods in research activities and clinical trials, and the expanding technical improvements.
The market is receiving support from the growing investment and public awareness of academic research. Currently, the United Nations has put over USD 38 billion into basic and lower secondary education to fill the external funding shortfall. This will contribute to the maintenance of high standards in education while fostering strategic growth that will positively affect the progress of the country. In today's technologically advanced world, several institutions and colleges are putting unique teaching techniques into practice. This new genome-based knowledge has sparked a new era of research into single cells.
There doesn't seem to be a stop in sight for the growth of this sector. The workhorse of the pharmaceutical sector is becoming a significant player in biotechnology. Recent research has shown that microfluidic flow cytometry devices are useful tools for handling and examining the input of single cells and micron-sized particles. The development of new products, which is expected to drive market growth over the course of the forecast period, is where the major players in the market are focusing their efforts.
The increasing number of HIV cases
A key market driver for flow cytometry is the rise in HIV diagnoses throughout the world. This is due to the direct use of flow cytometry technology in HIV diagnosis. Light scattering is used in flow cytometry to identify cells. Depending on the kind of scattering, these cells are given specific markers known as CDs (clusters of differentiation).
The clusters of differentiation for the HIV virus cell are known as CD4s, and flow cytometry may be used to detect HIV based on the quantity of CD4s present in a medium. The need for diagnostic methods like flow cytometry is rising along with the worldwide HIV population.
Key Market Challenges
The availability of cheaper and better substitutes - A significant barrier to the market for flow cytometry is the existence of better and less expensive alternatives. These alternatives include radioimmunoassay and ELISA (enzyme-linked immunosorbent assay). While all three techniques flow cytometry, ELISA, and radioimmunoassay help to diagnose HIV by identifying "problem cells" among a population of cells, ELISA and radioimmunoassay are less expensive and simpler than flow cytometry.
High cost & lack of awareness - The prevalence of chronic illnesses like cancer and HIV is predicted to rise, which will increase the use of flow cytometry in diagnostic applications. On the other side, issues including high prices for equipment and reagents, a lack of awareness among prospective end users, and a lack of technical competence are anticipated to hinder the growth of the flow cytometry market.
Key Market Opportunities
The market observed substantial growth in the bioengineering segment
In terms of market opportunity, the bioengineering segment and its applications in a number of industries, including drug development, cell culture, and stem cell treatment, have seen significant growth. Additionally, the market is anticipated to develop as a result of the rising frequency of infectious illnesses and the rising need for quick and accurate cancer prognostic tools. In general, it is anticipated that increased demand would be driven by rising applications in the life science sector. The growth of the market is more likely to be caused by the increase in healthcare organizations that support the use of high-quality treatments and medical procedures.
Increased use of flow cytometry methods in academic and research settings
With millions of cells per second, flow cytometry is an advanced method for detecting individual cells and other particles in suspension. Extracellular vesicle analysis, environmental studies, and the ability to employ up to 30 distinct parameters are all now possible using flow cytometry. The context of immunology is where it is most frequently used. For instance, according to a News-Medical.net story from December 2018, cancer researchers frequently utilize fluorescent-tagged monoclonal antibodies in conjunction with flow cytometry. Similarly, high-throughput image-based flow cytometry is now acknowledged and widely utilized in scientific research and academia, notably in cancer biology, following more than 10 years of intensive study.
Segments Insight
Product Insights
The instruments segment led the flow cytometry market in 2022, accounting for the biggest revenue share of 35.9%. It is anticipated that this segment will continue to dominate the market during the forecast period. This high proportion is credited to recent technological developments and the introduction of innovative cytometers by significant players. The high cost of these devices is another factor in this segment's strong income creation.
Technology Insights
The market for flow cytometry was led by the cell-based category, which in 2022 had the highest revenue share (76.9%). Its biggest proportion is driven by rising interest in early diagnosis and expanding knowledge of the advantages of cell-based tests. Additionally, it is projected that improvements in cell-based assay technology, including innovation in tools, labels, affinity reagents, software, and algorithms, will spur usage in the upcoming years.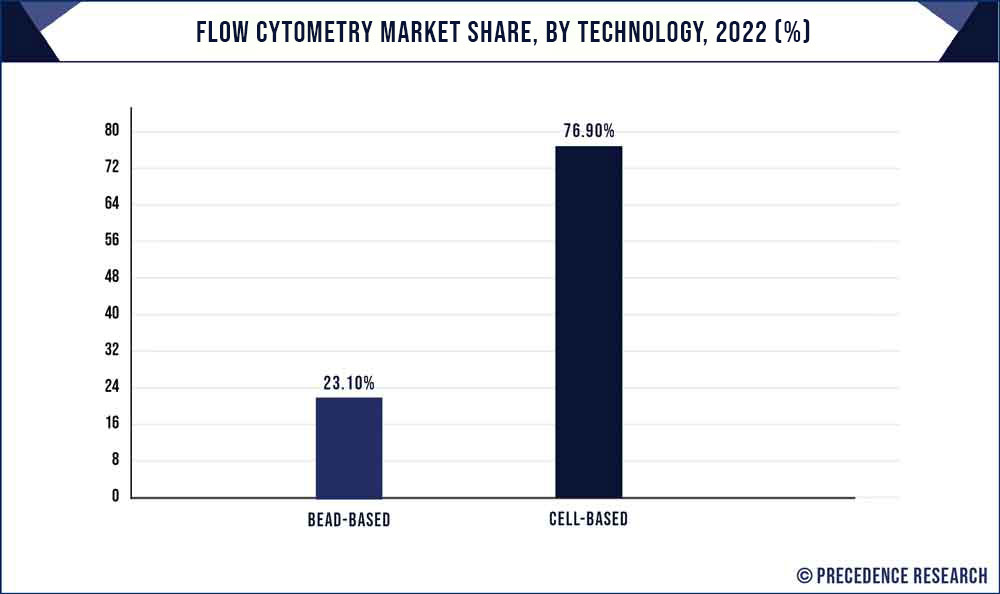 Infectious illness research uses tests using beads. Due to developments in molecular engineering and monoclonal antibody manufacturing and the benefits they bring, such as cost-effectiveness, a low sample need, and quick turnaround times, the market for these assays is anticipated to expand profitably throughout the projection period. These tests, also known as indirect or sandwich immunoassay formats are used to gauge the number of antibodies present in biological fluids. In these assays, conjugated antigen molecules are coated on beads to assess the presence of antibodies in the fluid.
Application Insights
With a market share of 49.9% in 2022, the research sector led the industry. It is predicted that this dominance will continue during the forecast period. The rise in R&D efforts for infectious illnesses like COVID-19 and cancer can be blamed for this high percentage. Additionally, it is anticipated that rising R&D expenditures in the pharmaceutical and biotechnology sectors would foster market expansion.
Due to the rising need for affordable illness diagnosis and the benefits of flow cytometry in disease detection, such as quicker and more precise findings, the clinical diagnostic market is predicted to develop at the quickest rate. The launch of innovative flow cytometry technologies for clinical applications and ongoing organic expansion strategies by leading companies are also projected to considerably help segment growth. For instance, in April 2019, the Chinese FDA approved the use of Cytek Biosciences' new flow cytometer, DxP Athena, which is intended for clinical diagnostic applications in labs, hospitals, and clinics.
End-Use Insights
With a 40% revenue share in 2022, the commercial organization sector led the flow cytometry market.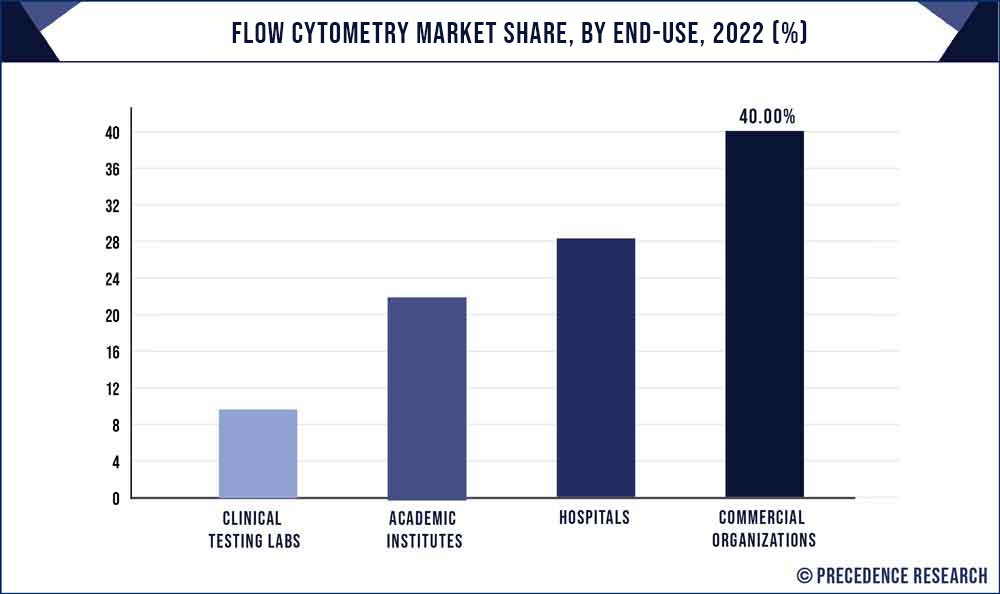 Additionally, it is projected that there will be a significant increase in demand for flow cytometry solutions due to commercial companies' increased research efforts to discover efficient therapies for fatal diseases like cancer. On the other hand, due to the rising need for affordable detection of target diseases like cancer, the hospitals, and clinical testing labs segment is predicted to have profitable growth.
Flow Cytometry Market Share, By Region, 2022 (%)
| | |
| --- | --- |
| Regions | Revenue Share in 2022 (%) |
| North America | 39.8% |
| Asia Pacific | 21.5% |
| Europe | 27.4% |
| Latin America | 7% |
| MEA | 4.3% |

Regional Insights
The Flow Cytometry market is divided into five geographic regions: North America, Europe, Asia Pacific, Latin America, and the Middle East & Africa. The largest percentage was held by North America, followed by Europe. With significant adoption of flow cytometry technology among important end users, the North American market is mature. However, due to the growing range of clinical contexts where flow cytometry is being used, this industry is still anticipated to present significant growth prospects.
Recent Developments
June 2020: In Hong Kong, China, Apogee Flow Systems Ltd. founded Apogee Flow Asia Ltd. Apogee Flow Systems increased the market reach of their flow cytometer solutions in the Asia Pacific region with this.
Key Market Players
Danaher Corporation
Becton
Dickinson and Company
Luminex Corporation
Agilent Technologies, Inc.
Bio-Rad Laboratories, Inc.
Miltenyi Biotec
Sysmex Corporation
Stratedigm, Inc.
Apogee Flow Systems Ltd.
Sony Biotechnology, Inc.
Thermo Fisher Scientific, Inc.
Market Segmentation
(Note*: We offer reports based on sub-segments as well. Kindly, let us know if you are interested)
By Product
Instruments

Cell Analyzers
Cell Sorters

Reagents & Consumables
Accessories
Software
Services
By Technology
By Application
Research

Pharmaceutical

Drug Discovery
Stem Cell
In Vitro Toxicity

Apoptosis
Cell Sorting
Cell Cycle Analysis
Immunology
Cell Viability

Industrial
Clinical

Cancer
Organ Transplantation
Immunodeficiency
Hematology
By End-Use
Commercial Organizations
Academic Institutes
Hospitals
Clinical Testing Labs
By Geography
North America
Europe
Asia-Pacific
Latin America
Middle East & Africa (MEA)