The global lateral flow assay market size was estimated at USD 15.59 billion in 2022 and is expected to attain around USD 22.10 billion by 2032, poised to grow at a CAGR of 3.6% over the forecast period from 2023 to 2032. The North America lateral flow assay market size was valued at USD 4.19 billion in 2022.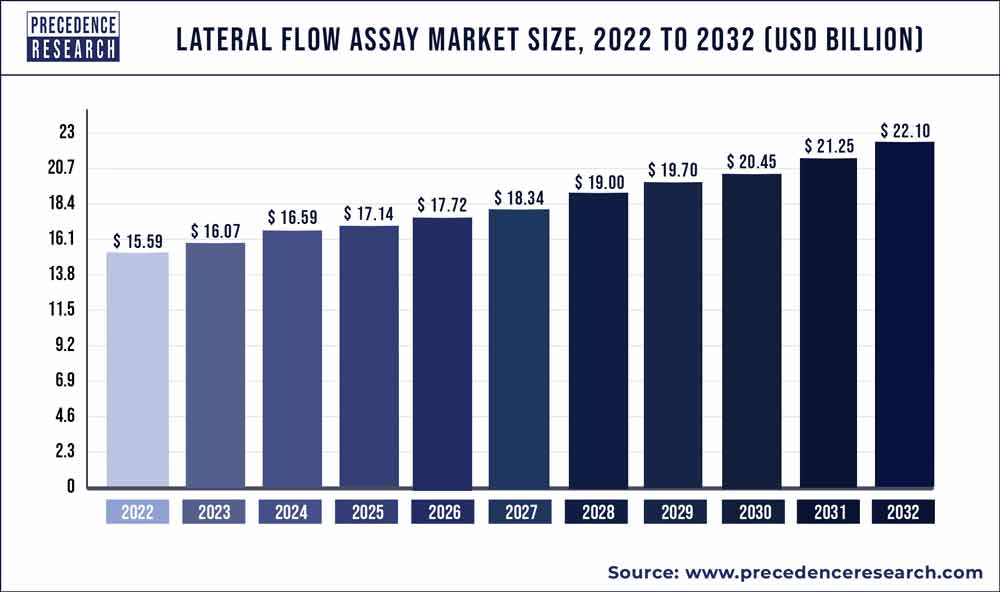 Access our Premium Real Time Data Intelligence Tool, Visit: Precedence Statistics
A lateral flow assay (LFA) is a diagnostic test used to detect the presence or absence of a particular analyte (such as a protein, antibody, or nucleic acid) in a sample. It is a rapid and easy-to-use diagnostic test that produces results within a few minutes, making it suitable for point-of-care testing in resource-limited settings.
Key Takeaways:
North America has generated more than 37% of revenue share in 2022.
By Product, the kits and reagents segment held a maximum revenue share in 2022.
By Application, the clinical testing segment generated more than 77% of the revenue share in 2022.
By Application, the drug development and quality testing segment is predicted to grow at the highest CAGR between 2023 and 2032.
By Technique, the sandwich assays segment is predicted to generate the greatest revenue share between 2023 and 2032.
By Technique, the multiplex detection assay segment is expected to expand at the largest CAGR between 2023 and 2032.
By Test Type, the lateral flow immunoassays segment had the largest revenue share in 2022.
By Test Type, the nucleic acid lateral flow assay segment is predicted to grow at a remarkable CAGR between 2023 and 2032.
By End-user, the pharmaceutical and biotechnology firms segment is expected to expand at the fastest CAGR between 2023 and 2032.
Growth Factors:
Without the use of costly or specialist apparatus, lateral flow assays are used to identify the existence of a target component in the liquid sample. During the projection period, it is expected that the lateral flow assay industry will expand at a faster rate due to the increasing incidence of infectious illnesses. For instance, the WHO estimates that approximately 10 million individuals globally had tuberculosis in 2020.
In addition, the industry is expanding as a result of new product clearances and rising purchases of COVID-19 rapid tests. At least 12 rapid antigen at-home tests for the identification of COVID-19 were authorized by the U.S. FDA as of January 2022. Companies like Abbott Laboratories and Quidel Corporation were among the main participants.
Additionally, to stop the spread of COVID-19, governments all over the world and foreign groups like the WHO and the European Commission have concentrated on mass population testing followed by contact tracing. Without the need for complicated and extensive infrastructure, lateral flow assays have made frequent testing and dispersal of healthcare possible to support large-scale testing initiatives.
Globally, lateral flow test applications are considerably expanding. Campaigns to educate the public about infectious disease signs and prevention techniques are crucial for containing disease outbreaks. As a result, there is a high demand for lateral flow assays due to greater patient knowledge. The lateral flow assay market is also being propelled by the clearance of new products and rising sales of COVID-19 fast tests.
The integration of digital technology with LFAs is expected to improve the sensitivity and accuracy of these tests. Digital LFAs use a reader to analyze and interpret the test results, reducing the potential for user error and increasing the reliability of the results.
Lateral flow analyses (LFA) technology developments have contributed to the market's expansion.
The launch of diagnosis systems in home care settings, increased awareness campaigns about the spread of infections, diagnosis, and prevention, and increased government involvement in the fight against infectious disease outbreaks are all anticipated to help the global market expand over the course of the forecast period.
Report Scope of the Lateral Flow Assay Market:
| | |
| --- | --- |
| Report Coverage | Details |
| Market Size in 2023 | USD 16.07 Billion |
| Market Size by 2032 | USD 22.10 Billion |
| Growth Rate from 2023 | CAGR of 3.6% |
| Largest Market | North America |
| Base Year | 2022 |
| Forecast Period | 2023 to 2032 |
| Segments Covered | By Product, By Application, By Technique, By Test Type, and By End-User |
| Regions Covered | North America, Europe, Asia-Pacific, Latin America and Middle East & Africa |

Key Market Drivers:
The frequency of infectious illnesses is rising
The covid-19 pandemic has demonstrated how escalating globalization can have a disastrous impact on the movement of microbes across national boundaries. When isolated infection risks are not managed and promptly disclosed, as was the case with the COVID-19 pandemic, they can turn into a worldwide disaster. The likelihood of indigenous diseases reemerging has grown with the threat of climate change. New types of viruses, bacteria, and other pathogens become more resilient to the available immunizations and medications as a result of the needless and avoidable use of antibiotics and other medications.
Additionally, the rising intake of meat and exotic meat has raised the danger of vector-borne illnesses, leaving people more vulnerable to animal viruses because they can now infect humans. Infectious illnesses are now more common as a result of increased climate change risk, rapid development, globalization, pathological variables, and other human factors. The worldwide market for lateral flow assays will expand in response to the increase in infectious illnesses.
Key Market Challenges:
Unpredictable lateral flow assay test results
Although lateral flow assay tests are simpler to carry out and less costly than laboratory testing, they are less accurate, which restrains the market's development during the projection period.
Key Market Opportunities:
Evolving application of lateral flow assay
The lateral flow test has quickly changed over the past 20 years. It is now frequently used in diagnosis and point-of-care uses. The production of lateral flow assays can make use of capillary flow and nitrocellulose film. Point-of-care (POC), pregnancy exams, and the identification of infectious diseases all use the lateral flow assay. There are lateral flow assay instruments for antibodies, membrane, medicinal, veterinary, food, and industrial use on the market.
The analysis of the flow cytometry business has made these instruments essential. Rising applications of lateral flow assays in drug testing, veterinary, and cancer diagnostics are creating huge growth opportunities in the lateral flow assay market. In addition, other evolving applications such as plant disease diagnostics, and environmental monitoring are projected to generate extensive growth opportunities over the forecast period.
Segments Insight:
Product Insights:
Kits and reagents are the most common and widely used products in the LFA market. These are complete sets of components required for performing an LFA test, including the test strips, sample preparation solutions, conjugates, and controls. During the forecast period, it is expected that key participants will expand the market by releasing new kits. For instance, Abbott introduced its Panbio COVID-19 Antigen Self-Test in India in July 2021. In a similar vein, Roche Diagnostics India introduced its COVID-19 At-Home Test in January 2022.
In a matter of minutes, lateral flow assays deliver precise findings and are inexpensive and simple to use. The SARS-CoV-2 virus, which is the source of illnesses like COVID-19, is detected by these assays in both immunoglobulin G and immunoglobulin M forms. OZO COVID-19 Rapid Test Kits were introduced by Ozo Life in March 2020. The industry's development is therefore anticipated to be boosted during the projection period by an increase in strategic efforts made by market participants.
Application Insights:
Due to a rise in the prevalence of infectious diseases, the clinical testing sector had the biggest portion with 77% in 2022. The growing danger of pathogen illnesses and their exposure is driving up demand for fast testing tools like lateral flow tests.
Lateral assay flow tests are frequently used to screen for infectious illnesses, pregnancy, and urine analysis because they produce findings quickly. the market for LFAs in infectious disease testing is expected to continue to grow, driven by the increasing demand for rapid and accurate diagnostic tests in the face of emerging infectious disease threats and the growing prevalence of chronic conditions.
The industry sector with the highest CAGR growth is medication research and quality testing. Due to their simplicity of use, affordability, and ability to identify multiple markers in data, lateral flow tests are being used more frequently for therapeutic medication tracking. Such assays are used in a number of controlled and unregulated sectors to produce full and semi-quantitative findings.
The ubiquitous accessibility of antibiotic tests is another element boosting market expansion over the course of the projection period. Aflatoxin M1 and a few other commonly used antibiotics for the treatment of dairy calves are both detectable using the Charm ROSA lateral flow test, which is provided by Charm Sciences Inc. These tests make use of patented technology to target drug sensitivities at safe and controlled levels, stopping the needless rejection of milk brought on by screening tests that are overly sensitive.
Technique Insights:
Due to their accuracy, ease, and simplicity, sandwich exams are expected to have the greatest income share. Without the need for qualified people, the test can also be used in healthcare environments with limited resources. Sandwich assays are frequently used to identify bigger analytes that have two or more binding sites or epitopes.
For instance, Abcam provides a Universal Lateral Flow Assay Kit that combines GOLD coupling and Ulfa-Tag kit technologies to allow the creation of unique sandwich assays. Such a kit's versatility to function with any set of detection and capture antibodies is one of its benefits. Therefore, it is anticipated that a rise in the supply of cutting-edge sandwich tests will fuel the sector's expansion.
During the research period, the multiplex detection assay sector is anticipated to experience the highest CAGR growth. One of the key factors expected to affect market expansion is the rising number of multiplex lateral flow assays being developed by academic and research institutions. For instance, a new advancement includes the development of a novel multiplex spot array called Blind Spot, which was published in the ACS Omega journal in August 2021.
Test Type Insights:
In 2022, the sector of lateral flow immunoassays had the highest revenue share. A broad range of antibodies and antigens are detected quantitatively and qualitatively using lateral flow-based tests in medical offices, hospitals, clinical labs, and clinics. It is a simple and affordable analytical technique used for the detection, follow-up, and identification of many illnesses. Due to these variables, lateral flow immunoassays have a very high applicability; patients at home or any member of the medical team can use them.
Over the anticipated years, the nucleic acid lateral flow assay is expected to expand significantly. The business is currently controlled by antibodies. However, new advancements in nucleic acid lateral flow assays have been made as a result of a number of lateral flow immunoassay constraints, including high inter-batch variations, error margin, and storage needs of traditional antibody-based lateral flow assays. Nucleic acid-based diagnostic assays have drawn a lot of interest recently.
End User Insights:
Because these businesses are engaged in strategic efforts like mergers and acquisitions, product research, product approvals & launches, and the growth of worldwide operations, the pharmaceutical and biotechnology firms sector is anticipated to expand at the fastest CAGR during the forecast period. Emerging market participants are working together in various ways to improve their lateral flow test products.
LFAs are widely used in hospitals and clinics for the diagnosis of infectious diseases, pregnancy, and other conditions. The hospitals & clinics segment is the largest end type for lateral assay flow tests and is expected to continue to grow, driven by the increasing demand for point-of-care testing and the growing prevalence of chronic conditions. During the projection period, it is expected that a rise in these strategic partnerships will accelerate the creation of lateral flow tests and support sector growth.
Regional Insights:
In 2022, North America had the highest revenue share of about 37%. The COVID-19 epidemic, which has raised public consciousness and increased access to a variety of diagnostic tests, is predicted to drive substantial development. For instance, in the U.S., there were approximately 300 million at-home, fast COVID-19 tests available as of December 2021, ten times more than the 24 million tests that were accessible in August 2021. Additionally, the Biden Administration declared in November 2021 that it would spend about USD 650 million in enhancing fast diagnostic testing and expanding access to COVID-19 tests.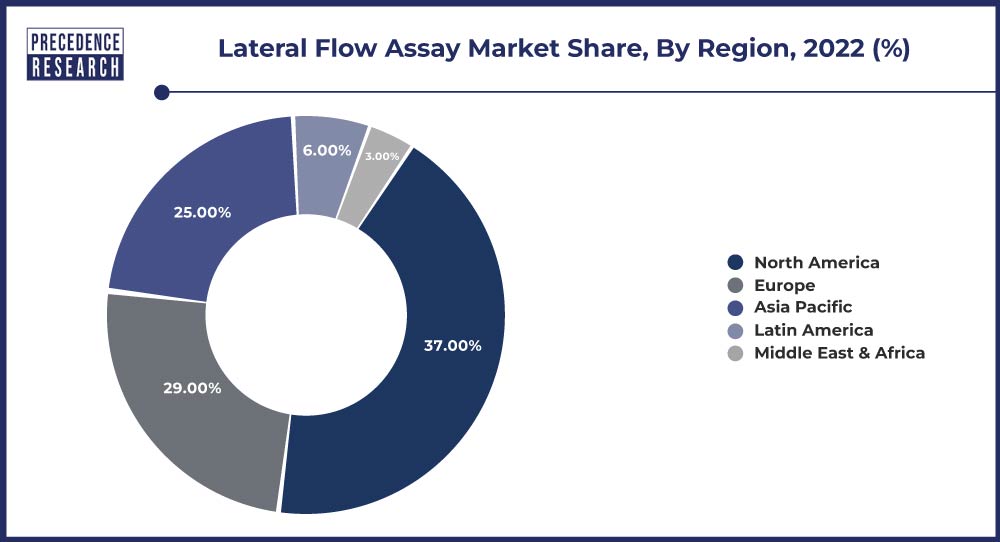 Additionally, it is expected that the industry will expand faster than average during the forecast period due to an increase in new players and permits in this field. For instance, InBios International, Inc.'s SCoV-2 Ag Detect Rapid Self-Test, which can yield findings in about 20 minutes, obtained Emergency Use Authorization (EUA) from the U.S. FDA in November 2021.
Due to greater market entry collaborations, government programs, and efforts made by important actors, Asia Pacific is predicted to expand at a rapid CAGR. Additionally, it is expected that a rise in awareness efforts by major actors will fuel the expansion of the local industry.
Recent Developments:
The RapidScan ST5-W lateral flow scanner from Eurofins Technologies was introduced in December 2021. It was designed for field and in-process testing uses needing qualitative to semi-quantitative test findings.
In January 2021, Abbott declared that it had obtained the CE Mark for two novel applications of its Panbio COVID-19 Ag Rapid Test Device to identify the SARS-CoV-2 virus, including silent screening and self-administered sample collection using a nose swab.
Key Market Players:
Abbott Laboratories
Thermo Fisher Scientific, Inc.
F. Hoffmann-La Roche AG
Bio-Rad Laboratories, Inc
bioMérieux SA
Quidel Corporation
Hologic, Inc.
PerkinElmer, Inc.
Merck KGaA
BD
Siemens Healthineers
Danaher Corporation
QIAGEN N.V.
Segments Covered in the Report:
(Note*: We offer report based on sub segments as well. Kindly, let us know if you are interested)
By Product
Kits & Reagents
Lateral Flow Readers

Lateral Flow Readers
Benchtop Readers
Digital Readers
By Application
Clinical Testing

Infectious Disease Testing

COVID-19
Mosquito Borne Disease Testing
Influenza Testing
Sexually Transmitted Infection Testing

STI Testing
HIV Testing
HPV Testing
Chlamydia Testing
Gonorrhea Testing
Syphilis Testing
Other STI Testing

Hepatitis
Tuberculosis
Other Infectious Diseases

Cardiac Marker Testing

Troponin I and T Testing
CK-MB Testing
BNP and NT-Probnp Testing
Myoglobin Testing
D-Dimer Testing
Other Cardiac Marker Tests

Pregnancy & Fertility Testing

Pregnancy Testing
Fertility Testing

Cholesterol Testing/Lipid Profile
Drugs of Abuse Testing
Other Clinical Tests

Veterinary Diagnostics
Food Safety & Environment Testing
Drug Development & Quality Testing
By Technique
Sandwich Assays
Competitive Assays
Multiplex Detection Assays
By Test Type
Lateral Flow Immunoassay
Nucleic Acid Lateral Flow Assay
By End-User
Hospitals & Clinics
Diagnostic Laboratories
Home Care
Pharmaceutical & Biotechnology Companies
Others
By Geography
North America
Europe
Asia-Pacific
Latin America
Middle East and Africa