The global generative AI in agriculture market size was estimated at USD 138.06 million in 2022 and it is projected to be worth around USD 1,287.84 million by 2032, poised to grow at a CAGR of 25.02% during the forecast period from 2023 to 2032.
Key Takeaways:
North America generated more than 48% of revenue share in 2022.
By technology, the computer vision segment is expected to grow at the highest CAGR during the forecast period.
By application, the precision farming segment is expected to dominate the market over the forecast period.
Market Overview:
Generative AI, an emerging branch of artificial intelligence, is making significant strides in transforming the agriculture industry. This technology provides a creative solution for enhancing crop yields, resource management, disease diagnosis, and much more by using the power of machine learning algorithms and massive datasets. By allowing data-driven decision-making and sustainable agriculture techniques, this emerging industry has the potential to change agriculture. Farmers with traditional agricultural techniques make crucial decisions regarding crop planting, resource allocation, and pest management based on their experience and intuition.
According to the Australian Bureau of Statistics, with a harvest rise of 47% in Western Australia, Australia's wheat output jumped 14% to a new high of 36 million tonnes in 2021–22. In Western Australia, an 8% increase in the area planted to wheat along with timely rainfall and moderate spring weather led to record-breaking crop yields and the production of 13 million tonnes of wheat. A favorable season was also achieved by South Australia, where output increased by 19% to 4.8 million tonnes.
As per the InData Labs, from $1 billion in 2020 to $4 billion in 2026, investment in AI technology and solutions in agriculture will expand at a compound annual growth rate (CAGR) of 25.5 percent. IoT-enabled Agricultural (IoTAg) monitoring is also the fastest-growing sector of Smart, Connected Agriculture, with a market value predicted to reach $4.5 billion by 2025.
Growth Factors:
By employing complex algorithms to evaluate large volumes of agricultural data and provide important insights, generative AI offers a possible answer. Crop yield prediction is a critical use of generative AI in agriculture. Generative AI models can reliably predict future agricultural yields by examining past data such as weather patterns, soil conditions, and farming strategies. Farmers may use this data to optimize their agricultural practices, prepare for harvest, and make trained resource allocation decisions. The generative AI in the agriculture market is driven by several factors including the growing agriculture industry, rising innovative product launches, increasing investment in AI technology, growing utilization in crop yield prediction, and growing government initiatives.
Report Scope of the Generative AI in Agriculture Market:
| | |
| --- | --- |
| Report Coverage | Details |
| Market Size in 2023 | USD 172.6 Million |
| Market Size by 2032 | USD 1,287.84 Million |
| Growth Rate from 2023 to 2032 | CAGR of 25.02% |
| Largest Market | North America |
| Base Year | 2022 |
| Forecast Period | 2023 to 2032 |
| Segments Covered | By Technology and By Application |
| Regions Covered | North America, Europe, Asia-Pacific, Latin America, and Middle East & Africa |

Market Dynamics:
Driver:
Increasing global food demand
The world's population is growing rapidly, leading to an increased demand for food production. Generative AI in agriculture offers solutions to improve crop yields, optimize resource utilization, and enhance overall productivity. By leveraging generative AI algorithms, farmers can make data-driven decisions to maximize their agricultural output, ensuring a more sustainable and efficient food supply. For instance, according to the report by United Nations, the population of the globe has increased by more than three times since the middle of the 20th century.
The role of AI in agriculture aids in decreased food waste and additionally effective food distribution. This also aids in boosting agricultural productivity. Moreover, the penetration of artificial intelligence platforms in the agriculture sector can improve the access of food in underdeveloped areas. Thus, the aforementioned facts support the market growth during the forecast period.
Restraint:
High cost
Implementing generative AI technologies in agriculture can involve significant upfront costs. Acquiring the necessary hardware, software, sensors, and data collection systems can be expensive for small-scale farmers or regions with limited resources. The cost of training and maintaining generative AI models and integrating them into existing agricultural systems can also pose a financial challenge, limiting the widespread adoption of these technologies.
Opportunity:
Advancements in AI and ML
The rapid advancements in artificial intelligence (AI) and machine learning (ML) technologies have paved the way for the application of generative AI in agriculture. AI and ML algorithms can process large volumes of agricultural data, such as weather patterns, soil conditions, and crop performance, to generate valuable insights and predictions. These advancements enable the development of more accurate and efficient generative AI models for addressing agricultural challenges. Therefore, the advancement in AI and ML is expected to offer a lucrative opportunity for the growth of the market during the forecast period.
Segments Insight:
Technology Insights:
Based on the technology, the global generative AI in the agriculture market is segmented into machine learning, computer vision and predictive analytics. The computer vision segment is expected to grow at the highest CAGR during the forecast period. The segment growth is attributed to the use of generative AI in different applications of agriculture including crop monitoring and management, disease and paste detection, crop yield predictions, and others.
Computer vision techniques, combined with generative AI, enable the analysis of large-scale aerial or drone imagery to assess crop health, and growth stage, and identify potential issues. In addition, the detection and early prevention of diseases and pest infestations play a crucial role in minimizing crop losses. For instance, according to statistics, around 40% of the annual crop production in the world is damaged by pests. Diseases spread by pests cost the economy more than $540 billion. Thus, these applications performed by generative AI in the agriculture sector are expected to drive segment growth over the forecast period.
Application Insights:
Based on the application, the global generative AI in the agriculture market is segmented into precision farming, agriculture robots, drone analytics, livestock monitoring, labor management and others. The precision farming segment is expected to dominate the market over the forecast period. Precision farming heavily relies on data collection through sensors and other monitoring devices. This segment includes the deployment of various sensors such as soil moisture sensors, weather stations, and aerial imagery systems.
Generative AI algorithms can analyze the data collected from these sensors to provide valuable insights into crop health, soil conditions, and environmental factors. Accurate and real-time collection enables farmers to make informed decisions regarding irrigation, fertilization, and other resource management practices. In addition, Generative AI in precision farming also encompasses the use of automated machinery and robotics to generate real-time decisions. This leads to precise and efficient operations, such as planting, spraying, and harvesting, resulting in increased productivity and reduced labor requirements. Thereby, driving the segment expansion over the forecast period.
Regional Insights:
North America is expected to dominate the market over the forecast period owing to the widespread adoption of precision farming. Precision farming, a key application of generative AI in agriculture, has gained significant traction in North America. The region has vast agricultural landscapes, and precision farming techniques, including generative AI and related technologies, are being widely adopted to maximize resource efficiency and minimize environmental impact. The use of drones, satellite imagery, and advanced data analytics has enabled regional farmers to implement precise resource management strategies, leading to improved yields, reduced costs, and enhanced sustainability. In addition, strategic alliances and collaborations are seen in that region as an effective means for suppliers of cloud-based solutions to increase their market position. For instance, Progeny Drone Inc., a startup with ties to Purdue University, developed the Plot Phenix program to transform airborne crop pictures into meaningful data for plant breeding, crop modeling, and precision agriculture.
Furthermore, the region boasts a strong research and development ecosystem in the field of agriculture and AI. Academic institutions, government agencies, and private research organizations actively collaborate to drive innovation in agricultural technologies. This includes the development of generative AI models, computer vision algorithms, and machine learning techniques tailored specifically for agricultural applications. The availability of cutting-edge research and expertise accelerates the adoption and implementation of generative AI in agriculture in the region.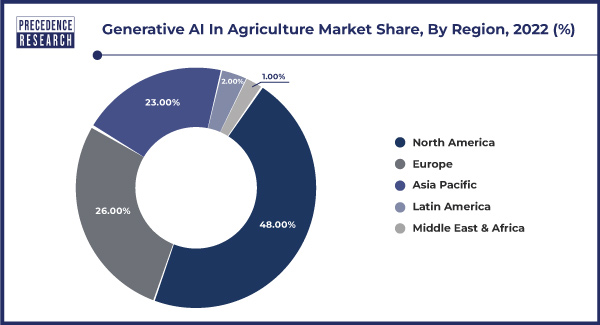 Asia Pacific is expected to grow at the fastest rate over the forecast period. The region has witnessed a rapid increase in the adoption of technology across various industries, including agriculture. With a large population and growing food demand, there is a pressing need to enhance agricultural productivity and efficiency. Generative AI is being recognized as a transformative technology that can address these challenges, leading to increased adoption among farmers and agribusinesses in the region. Moreover, Asia Pacific is known for its diverse farming practices and a wide range of crops cultivated. From small-scale subsistence farming to large commercial operations, the region encompasses various agricultural systems. Generative AI can be customized and applied to suit the specific needs and characteristics of different crops and farming practices. This flexibility and adaptability make generative AI a valuable tool for optimizing agricultural operations in the region.
Recent Development:
In April 2023, with a new tool leveraging generative AI to produce new product concepts based on findings from its core trendspotting platform, Singapore-based company Ai Palette is expanding its capabilities to assist food and beverage firms speed up their development process for new goods. By completing the "missing piece" between Ai Palette's new idea screening tool (Screen Winner) and it's core AI-powered insights platform (Foresight Engine), the new product concept generator, known as "Concept Genie," may significantly speed up the innovation process.
In November 2022, for a wide range of application scenarios in the fields of precision agriculture and environmental monitoring, DJI Agriculture introduces the Mavic 3 Multispectral, which is outfitted with a imaging system that quickly captures crop growth information to achieve more effective crop production. This product will assist farmers all over the world in improving the quality and efficiency of their production while lowering costs and raising income.
Key Market Players:
Google LLC
Microsoft Corporation
AGCO Corporation
Deere & Company
A.A.A Taranis Visual Ltd.
AgEagle Aerial Systems Inc.
Bayer AG
Raven Industries Inc.
Ag Leader Technology
Trimble Inc.
IBM Corporation
Gamaya SA
Granular Inc.
Segments Covered in the Report:
(Note*: We offer reports based on sub segments as well. Kindly, let us know if you are interested)
By Technology
Machine Learning
Computer Vision
Predictive Analytics
By Application
Precision Farming
Agriculture Robots
Livestock Monitoring
Drone Analytics
Labor Management
Others
By Geography
North America
Europe
Asia-Pacific
Latin America
Middle East and Africa