The global generative AI in energy market size was estimated at USD 620.11 million in 2022 and it is projected to hit around USD 5,338.09 million by 2032, growing at a CAGR of 24.02% during the forecast period from 2023 to 2032.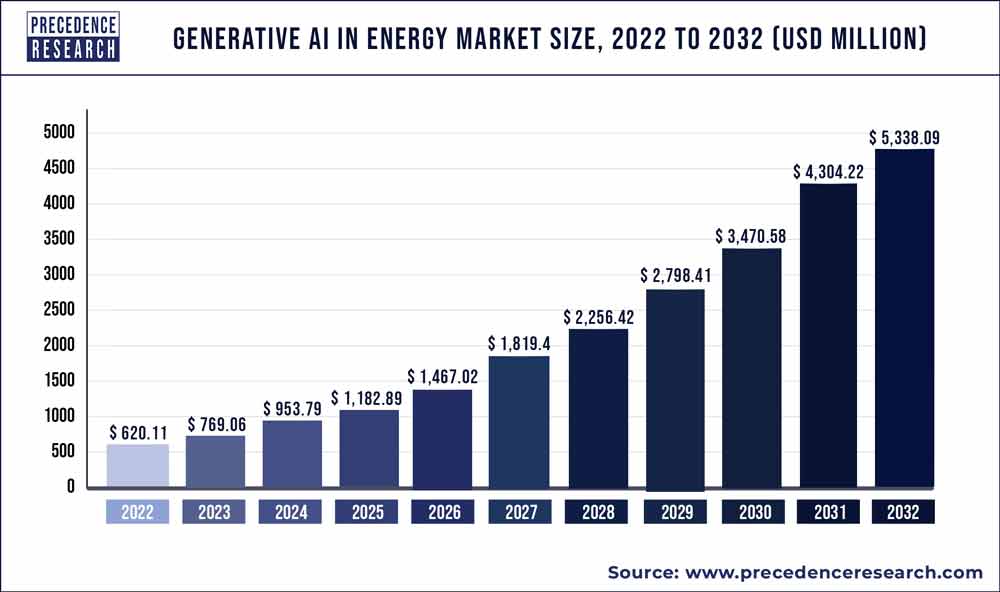 Access our Premium Real Time Data Intelligence Tool, Visit: Precedence Statistics
Key Takeaways:
North America is expected to dominate the market during the forecast period.
By component, the service segment is expected to dominate the market over the forecast period.
By application, the demand forecasting segment is expected to dominate the market over the forecast period.
By end user, the energy generation segment is expected to dominate the market over the forecast period.
Market Overview:
Generative AI, is a powerful technology that has the potential to transform the energy sector. By utilizing advanced machine learning algorithms, generative AI can analyze vast amounts of data, generate new insights, and optimize various aspects of energy production, distribution and consumption. These technologies can help optimize energy generation by analyzing data from renewable sources like solar, wind, and hydroelectric power. By considering factors such as weather patterns, historical data, and energy demand, AI models can generate optimal generation schedules, improve capacity planning, and maximize the utilization of renewable resources.
Growth Factors:
Generative AI enhances the management and resilience of energy grids. These technologies analyze sensor data, historical records, and real-time information, AI models can identify potential failures, predict maintenance needs, and optimize grid operations. This enables grid operators to ensure a reliable energy supply, reduce downtime, and respond effectively to changing demand patterns. The market for generative AI in energy is driven by several factors including growing demand for energy across the globe, increasing investment to derive power from renewable sources of energy, growing government initiatives, increasing collaboration among the market players and rising interest to develop more effective tools of AI.
According to ExxonMobil, an increasing population and rising income causes global consumption of energy to increase by 15% from 2021 to around 660 quadrillion Btu in 2050.
As per the US Energy Information Administration, the amount of industrial energy consumed worldwide will reach 315 quadrillion Btu by 2050.
According to a recent survey by Gartner Inc. of more than 2,500 corporate executives, 45% said that ChatGPT's popularity has encouraged them to raise their investments in AI. 70% of CEOs said that their company is using generative AI for study and exploration, while 19% indicated that their organization is using it for pilot or production.
Report Scope of the Generative AI in Energy Market:
| | |
| --- | --- |
| Report Coverage | Details |
| Market Size in 2023 | USD 769.06 Million |
| Market Size by 2032 | USD 5,338.09 Million |
| Growth Rate from 2023 to 2032 | CAGR of 24.02% |
| Largest Market | North America |
| Base Year | 2022 |
| Forecast Period | 2023 to 2032 |
| Segments Covered | By Component, By Application, and By End User |
| Regions Covered | North America, Europe, Asia-Pacific, Latin America, and Middle East & Africa |

Market Dynamics:
Driver:
Adoption of microgrids
The rising adoption of microgrids can indeed drive the growth of generative AI in the energy market. Microgrids are localized energy systems that can operate independently or in conjunction with the main power grid. They often incorporate a mix of distributed energy resources such as renewable energy generation, energy storage systems, and demand response mechanisms. Microgrids generate vast amounts of data from various sources such as smart meters, sensors, weather forecasts, and energy generation and consumption patterns. This data can be harnessed to train generative AI models, enabling accurate predictions and optimization of microgrid operations. Microgrids often need to adapt to rapidly changing conditions, such as fluctuating renewable energy generation and varying demand patterns.
Restraint:
Uncertain regulatory environment
The energy market is subject to changing regulations and policies that impact its operations and investments. Uncertainty in the regulatory environment can make it challenging for energy market participants to develop long-term strategies and make reliable predictions using generative AI models, as regulatory changes can significantly impact energy market dynamics and outcomes. Players in the energy industry may be hesitant to adopt AI solutions due to the lack of strong regulatory guidelines. This thus hampers the growth of the market by creating a significant restraint for the market's growth.
Opportunity:
Technological advancements
The energy and utility sectors are using AI technologies to innovate their offerings. NextEra Energy made investments in American wind farms that use machine learning. To prevent any power alterations in the surrounding areas, the project was started. By combining the Industrial IoT and AI system to detect and evaluate power failure, Duke Energy installed power plants across several places in the United States. Other important participants include Southern Company and Dominion Resources. When Southern Company created an AI system to estimate and supply the quantity of energy necessary in particular places, they began their initiative to reduce energy use. Dominion Resources is concentrating on using machine learning to operate and analyze the grid. These developments are creating new energy industry applications and propelling the market.
Segments Insight:
Component Insights:
Based on the component, the global generative AI in the energy market is segmented into solutions and services. The service segment is expected to dominate the market over the forecast period. Generative AI offers diverse services and applications across various segments of the energy market. From optimizing renewable energy generation to improving grid management, enhancing energy efficiency, supporting energy trading, and aiding policy and planning decisions, generative AI has the potential to transform the energy sector and contribute to a more sustainable and efficient energy ecosystem. The services can help with output level forecasting, scheduling and dispatching strategy improvement, and renewable resource usage. As a result, solar, wind, and hydroelectric electricity are more effectively integrated into the system. Thereby, driving the segment growth over the forecast period.
Application Insights:
Based on the application, the global generative AI in the energy market is segmented into demand forecasting, renewable energy output forecasting, grid management and optimization, energy trading and pricing, customer offerings, energy storage optimization and others. The demand forecasting segment is expected to dominate the market over the forecast period. Generative AI can assist utility companies in accurately forecasting energy demand at different timescales, such as hourly, daily, or seasonal. This helps utilities optimize their power generation and distribution plans, improve resource allocation, and ensure grid stability. Accurate demand forecasting also enables utilities to effectively plan maintenance schedules, manage energy procurement, and optimize their pricing strategies.
Moreover, this can provide valuable insights to energy retailers and suppliers for demand forecasting at the consumer level. By analyzing historical consumption data, customer profiles, and external factors, AI models can predict individual customer demand patterns. This helps retailers optimize energy supply and procurement, offer personalized pricing plans, and develop targeted marketing strategies to attract and retain customers. Therefore, this is expected to drive the segment growth.
End User Insights:
Based on the end user, the global generative AI in the energy industry is divided into energy transmission, energy generation, energy distribution and utilities. The energy generation segment is expected to dominate the market over the forecast period. Generative AI can optimize conventional power generation processes such as thermal power plants or gas turbines. By analyzing historical operational data, weather patterns, and other relevant factors, AI models can generate optimized control strategies for power plant operations. This helps improve efficiency, reduce emissions, and enhance the overall performance of conventional power generation facilities. Moreover, it can play a crucial role in optimizing renewable energy generation, including solar, wind, and hydroelectric power. This enables efficient scheduling and dispatch strategies, reduces curtailment, and maximizes the integration of renewable energy into the grid. Thereby, driving the market growth over the forecast period.
Regional Insights:
North America is expected to dominate the market during the forecast period. Artificial intelligence and generative models are being implemented in the utility sectors in the US and Canada, especially in initiatives for grid modernization, renewable energy integration, and increasing operational effectiveness. With both existing and emerging businesses offering AI solutions explicitly targeted at utilities supporting innovation, forecasting and predictive maintenance have become a crucial part of grid management.
Moreover, the increasing investment in renewable energy is expected to offer enormous opportunities for market growth in the region. Generative AI plays a vital role in optimizing the integration of solar, wind, and other renewable sources by forecasting their generation potential, analyzing weather patterns, and optimizing their output for efficient grid integration. For instance, according to US Energy Information Administration, About 13.1% of the US total primary energy consumption in 2022 came from renewable sources. About 21.5% of all utility-scale electricity was produced using renewable energy sources. Therefore, the aforementioned facts support the market expansion in the region over the analysis period.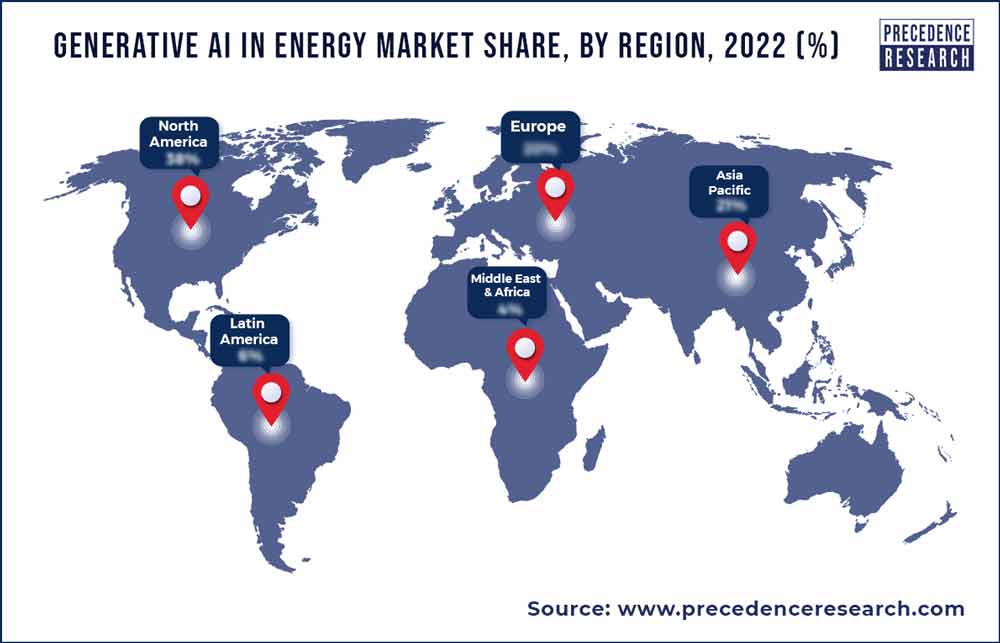 Asia Pacific is expected to experience a considerable growth rate over the forecast period. Many countries in the region are investing in smart grid infrastructure to enhance energy efficiency and grid reliability. Generative AI contributes to smart grid development by optimizing grid operations, analyzing sensor data, detecting faults, and enabling demand response programs. It improves grid efficiency, reduces downtime, and supports the integration of distributed energy resources. Moreover, Asia Pacific is experiencing rapid urbanization and population growth, leading to increased energy demand. Generative AI helps manage energy demand by analyzing historical consumption patterns, weather data, and user behavior. It assists in demand forecasting, load balancing, and optimizing energy consumption to ensure reliable and efficient energy delivery.
Recent Developments:
In June 2023, government acquisition specialists and business executives came together in a lively discussion at the first Unison Connect event, which was successfully hosted by Unison, a leading provider of software solutions and analytics in government purchases. With a demonstration of its generative AI prototype, Unison also demonstrated the promise of large language models' (LLMs') capacity to change acquisition procedures. In the demonstration, Unison's AI-powered search was on display. This generative AI experience offers precise acquisition-related responses based on reliable regulatory sources. By incorporating generative AI into Unison's solutions, consumers are guided to take action utilizing a wide range of tools that Unison offers.
In October 2022, a strategic agreement was announced between Tupl, a US-based provider of AI solutions, and Torsa, a Spanish business with expertise in the heavy industrial, logistics, and renewable energy sectors. Through apps based on AI, Tupl seeks to hasten the digital revolution.
Key Market Players:
SmartCloud Inc.
Siemens AG
ATOS SE
Alpiq AG
AppOrchid Inc
General Electric
Schneider Electric
Zen Robotics Ltd
Cisco
Freshworks Inc.
Segments Covered in the Report:
(Note*: We offer reports based on sub segments as well. Kindly, let us know if you are interested)
By Component
By Application
Demand Forecasting
Renewable Energy Output Forecasting
Grid Management and Optimization
Energy Trading and Pricing
Customer Offerings
Energy Storage Optimization
Others
By End User
Energy Transmission
Energy Generation
Energy Distribution
Utilities
By Geography
North America
Europe
Asia-Pacific
Latin America
Middle East and Africa