The global genomic biomarker market size was valued at USD 5 billion in 2022 and is projected to reach around USD 9.7 billion by 2032, registering a notable CAGR of 6.9% during the forecast period 2023 to 2032.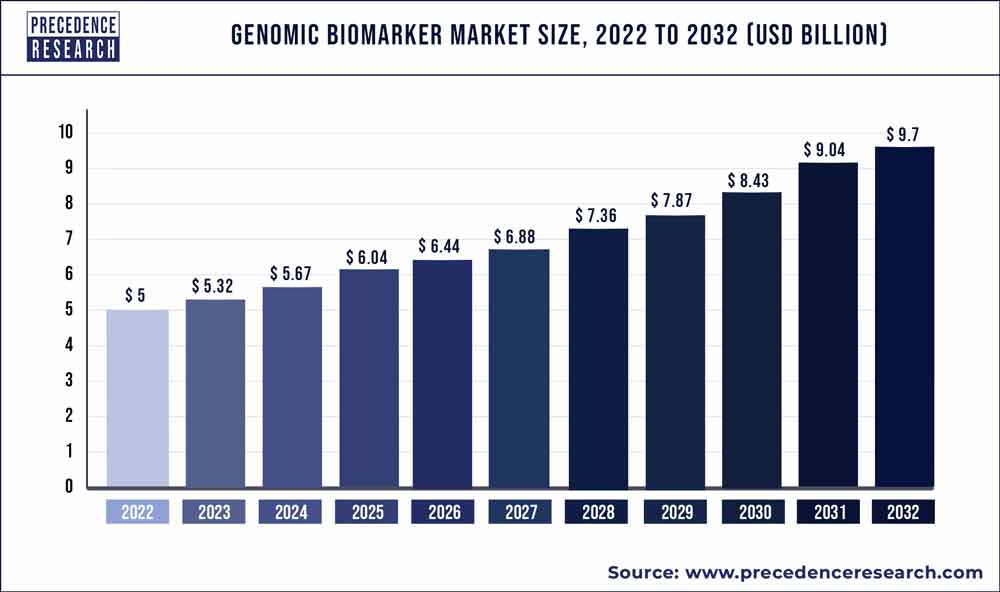 Key Takeaways:
The oncology segment has captured a 37% revenue share in 2022.
North America region made up 44% revenue share in 2022.
Market Overview
Genomic biomarkers are characteristics of Deoxyribonucleic Acid (DNA) and Ribonucleic Acid (RNA) that are utilized as a diagnostic indicator, illness characterization tool, and therapeutic selection tool. It represents pathological and biochemical processes as well as the body's reaction to treatment or other interventions. The market for genetic biomarkers is being favorably impacted by the healthcare sector's growing use of innovative medications, increased R&D initiatives to identify chronic illnesses, and expanding use of less invasive procedures.
The rising focus on the availability of personalized medicine for enabling better patient care is also augmenting the growth outlook for the global market along with the favorable government initiatives related to genomic research. The biomarkers are very important in detecting and diagnosing COVID-19 disease. Additionally, favorable government efforts connected to genetic research and the growing focus on the availability of personalized medications for enabling improved patient care are also enhancing the growth forecast for the worldwide market. By 2040, the International Agency for Research on Cancer (IRAC) projects that there will be 27.5 million additional cases of cancer worldwide.
Report Scope of the Genomic Biomarker Market
| | |
| --- | --- |
| Report Coverage | Details |
| Market Size in 2023 | USD 5.32 Billion |
| Market Size by 2032 | USD 9.7 Billion |
| Growth Rate from 2023 to 2032 | CAGR of 6.9% |
| Base Year | 2022 |
| Forecast Period | 2023 to 2032 |
| Segments Covered | Type, Disease Indication, End-User, and Geography |
| Companies Mentioned | Almac Group, Cancer Genetics Inc, Eurofins Scientific, Thermo Fisher Scientific Inc, Aepodia SA, Epigenomics AG, US Biomarkers Inc., Roche Diagnostics, Myriad Genetics, Bio-Rad Laboratories |

Market Dynamics
Constant development in laboratory tests and technological advancements in genomics have accelerated the market scenario. In addition, among other important factors driving the global market are the growth in ovarian cancer incidence and the growing use of genetic biomarkers in medicine. The Alzheimer's Association estimates that 5.8 million Americans over 50 are expected to have Alzheimer's dementia in 2019, and that number is expected to rise to 14 million by the year 2050. Thus, there is an urgent demand for genetic biomarkers that might support market growth globally due to the rising number of patients with neurological diseases.
Companion diagnostics and biomarkers are becoming more important in medical practice, which ultimately results in more disease-specific diagnosis, therapy, and intensive care. As a result, genetic biomarkers have further increased in popularity and are now in high demand from both pharmaceutical firms and healthcare providers, which has a substantial influence on the global market's growth. Also anticipated to positively affect market growth is the rising need for genetic biomarkers in prostate cancer.
The market for genomic biomarkers is being driven by a number of factors, including an increase in the development of clinical laboratory tests and technological advancement, as well as due to an increase in the incidence of ovarian and gastric cancer, the demand for genomic biomarker-based medicine, and the burden of chronic diseases increases.
Over the forecast period, a few problems related to the application and analysis of genetic biomarkers are expected to restrain market growth. For instance, some genomic biomarkers, like miRNA found in stool samples, cannot be used as a stand-alone diagnostic tool for the detection of colon cancer due to concerns about the stability of the biomarker and the inability to establish an adequate predictive value for the diagnosis of colon cancer, according to an article published by the Intestinal Journal in November 2019.
COVID-19 Impact on The Global Genomic Biomarkers Market
The coronavirus pandemic had an influence on the development, manufacture, and supply of healthcare goods as well as the functioning of several organizations engaged in the global healthcare industry. Due to the enhancement and approval of new, innovative drugs and biological products, demand for genomic biomarkers is increased during the pandemic situation. However, as genomic biomarkers are essential for the identification of such diseases, it is anticipated that the rising occurrences of cardiovascular diseases, rheumatoid arthritis, and neurological disorders linked to COVID-19 infection would positively affect the market growth of genomic biomarkers.
Accordingly, the impact of the coronavirus (COVID-19) pandemic is anticipated to support the growth of the global genomic biomarker market during the forecast period due to the demand for reliable genomic biomarkers as a diagnostic tool for detecting comorbid diseases associated with COVID-19 infection. Approximately 5% of 221 COVID-19-positive individuals had ischemic strokes, and 0.5% suffered hemorrhagic strokes, according to a study done in Wuhan, China, and reported in a January 2021 article by the National Centers for Biotechnology Information. Out of 214 COVID-19 positive patients from the same region, 5.7% had acute cerebrovascular illness and had a severe COVID infection. Genomic Biomarker are used to understand the Suspension Packaging market's structure by recognizing its main segments.
Segments Insight
Type Insights
Based on the type, the genomic biomarkers are segmented into predictive biomarkers and prognostic biomarkers. Biomarkers known as protein markers help in the identification of a variety of illnesses, including cardiovascular ailments. These protein markers detect molecules released by cells that function as antigens and trigger an immune response when they come into contact with circulating antibodies. By using prognostic biomarkers, it is possible to track the development of cancer treatment, determine the tumor's stage and potential malignancy, and predict the likelihood of disease remission for every individual case. Patients are likely to suffer relapses and recurrences of chronic diseases as a result of their bad lifestyle, genetic code, family history, and other factors. According to estimates, this will increase demand for prognostic biomarkers, which can forecast a patient's health condition and recurrence risks.
Clinical trial designs that examine the dose and efficacy of a novel drug candidate in a particular population commonly include predictive biomarkers. Predictive and prognostic biomarkers have been successfully established to support treatment decisions in various therapeutic areas, such as cancer. For instance, the MammaPrint signature and OncotypeDx recurrence score are used to assess whether a woman with node-negative hormone-positive breast cancer has a good enough prognosis with local therapy and adjuvant hormonal therapy to avoid cytotoxic chemotherapy. Less commonly, gene expression profiles have been utilized as predictive biomarkers for novel medications.
Disease Indication Insights
Based on the disease indication, the genomic biomarkers are segmented into oncology, neurological diseases, cardiovascular diseases, renal disorders, and others. Cancer is the second-leading cause of death worldwide, accounting for 70% of mortality in low- and middle-income nations, according to the World Health Organization (WHO). Additionally, according to the WHO, 9.6 million cancer-related deaths and 18.1 million new cases were recorded globally in 2018. The demand for the genomic biomarkers market is being influenced by factors like the increase in cardiovascular disease incidence and the impressive use of genomic biomarkers in ischemic heart disorders. The growing incidence of CVD has a direct influence on the need for genetic biomarkers since it increases access to high-quality, dependable health interventions.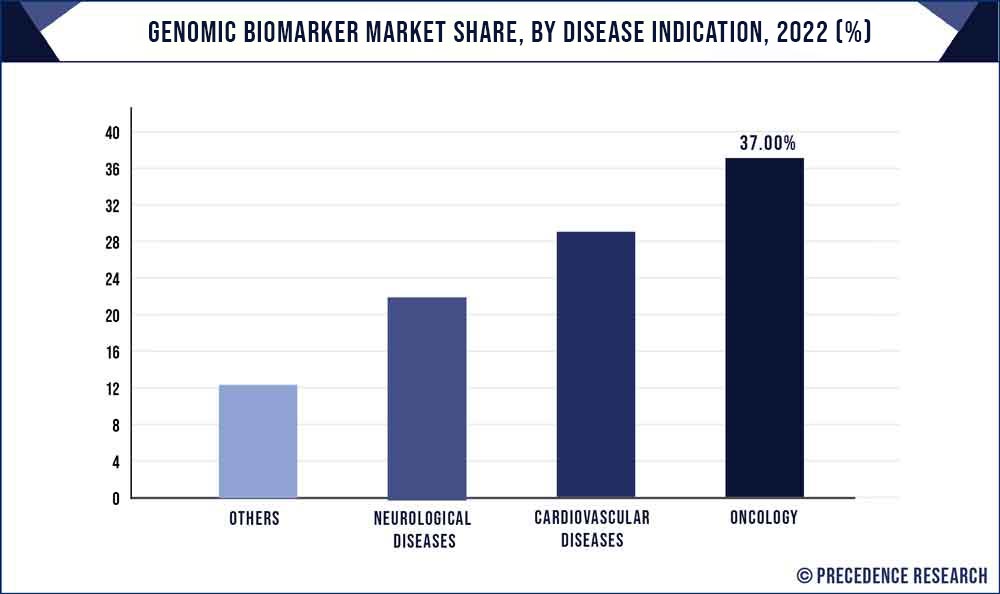 The market for genetic biomarkers worldwide is dominated by the oncology segment. Global market growth for genetic biomarkers has been significantly impacted by the growing popularity of these markers and the demand for them from pharmaceutical and healthcare organizations. In addition, the market expansion is anticipated to benefit from the rising need for genetic biomarkers in prostate cancer.
End User Insights
Based on the end user, the genomic biomarkers are segmented into hospitals, diagnostic centers, and others. The use of genetic biomarkers for the rapid and accurate diagnosis of several diseases, including cancer, infectious diseases, neurological disorders, and cardiovascular problems. During the forecast period, the hospital sector is anticipated to develop significantly faster than the entire market. The market is projected to develop as a result of factors such the expanding availability of genetic biomarkers in hospitals, rising government expenditures on healthcare, and numerous hospital initiatives that treat chronic diseases. For instance, the Centers for Medicare & Medicaid Services (CMS) estimates that national health spending in the United States increased at an average rate of 5.5% each year from 2018 to 2027 and is projected to reach around USD 6.0 trillion by the same year. As a result, this element will be crucial in boosting the growth of the global market for biomarkers.
Hospitals use genetic biomarkers primarily for the diagnosis and treatment of cancer. This is mostly due to the fact that an early diagnosis can more effectively prevent mortality. They can also assist doctors in predicting which patients will respond to a certain treatment and the amount that may be the most effective (pharmacodynamics).
Genomic Biomarker Market Share, By Region, 2022 (%)
| | |
| --- | --- |
| Regions | Revenue Share in 2022 (%) |
| North America | 44% |
| Asia Pacific | 21% |
| Europe | 25% |
| Latin America | 6% |
| MEA | 4% |

Regional Insights
Geographically, North America led the world market in 2022 and is anticipated to maintain its dominance going forward due to the region's expanding healthcare and life science research initiatives as well as the increased usage of genetic biomarkers in the early diagnosis of illnesses. For instance, Color Genomics announced the completion of the implementation of clinical genomics in regular healthcare under its US program in January 2020 in collaboration with NorthShore University Health System.
Asia has experienced the most development in the healthcare sector during the past several decades. The need for biomarkers is anticipated to be fueled by the expansion of healthcare infrastructure projects in the Asian economy and the substantial presence of highly advanced research facilities in growing countries like China, India, and Japan. For instance, genetic discoveries are made possible across the Asian economy by the GenomeAsia 100K Project sequencing (WGS) project. To capture the largest extent of genetic variation, the research included various Asian nations, including South Korea, Malaysia, India, Indonesia, and others. The worldwide biomarkers market's future growth are anticipated to benefit from this.
Recent Development
In August 2022, Roche's companion diagnostic to identify dMMR solid tumour patients qualified for anti-PD-1 immunotherapy has been approved by the FDA.
In August 2022, Bio-Rad Acquires Curiosity Diagnostics for the medical diagnostic and healthcare industries, for a maximum aggregate value of $170 million, comprising roughly $100 million in cash and up to $70 million in potential future milestone payments.
In August 2022, Japan got extended coverage by Myriad Genetics for the Utilization of the BRACAnalysis® Diagnostic System in Early-Stage Breast Cancer as a Companion Diagnostic to Lynparza®.
In June 2022, National Cancer Institute claimed that treating precancerous anal lesions reduces the incidence of anal cancer in persons with HIV by more than half.
In September 2021, Epi proColon(R) raise CRC screening rates in medically disadvantaged communities, according to recent research published in the BMC Cancer journal.
In July 2021, to track newly arising coronavirus mutations, Roche released a SARS-CoV-2 variant test.
In February 2021, Liquid biopsy therapy selection has become part of the portfolio of Precise Oncology Solutions due to an expanded partnership between Myriad Genetics and Intermountain Precision Genomics.
In 2020, Gilead Sciences, Inc. and Second Genome announced their four-year strategic agreement to find novel potential targets and therapeutic candidates for the treatment of inflammatory bowel disease (IBD), as well as biomarkers linked with clinical response (inflammatory bowel disease).
Segments Covered in the Report
(Note*: We offer report based on sub segments as well. Kindly, let us know if you are interested)
By Type
Predictive Biomarkers
Prognostic Biomarkers
By Disease Indication
Oncology
Cardiovascular Diseases
Neurological Diseases
Renal Disorders
Others
By End-User
Hospitals
Diagnostic Centers
Others
By Geography
North America
Europe
Asia-Pacific
Latin America
Middle East & Africa (MEA)