The global healthcare BPO market size was valued at USD 360 billion in 2022 and it is expected to hit around USD 864.02 billion by 2032, poised to grow at a compound annual growth rate (CAGR) of 9.20% between 2023 and 2032.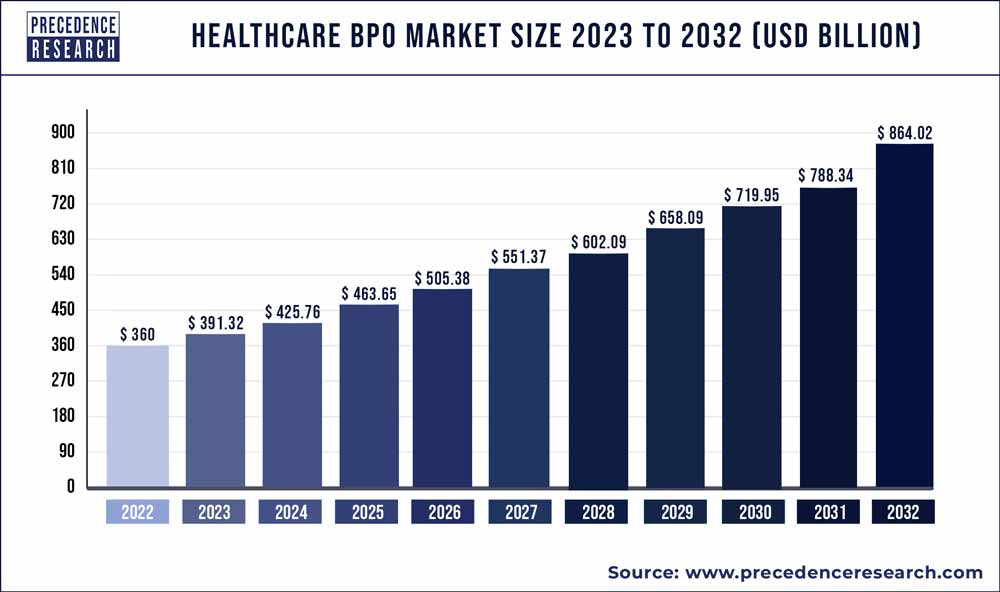 Access our Premium Real Time Data Intelligence Tool, Visit: Precedence Statistics
Key Takeaways:
North America region held the highest revenue share of 49% in 2022.

Europe region accounted for 29.5% revenue share in 2022.

By provider service, the revenue cycle management segment captured highest revenue share in 2022.

Based on payer service, the claims management segment accounted highest share in 2022 and is expected to grow at a strongest CAGR between the years 2023 to 2032.

By pharmaceutical service, the research & development segment is anticipated to hit notable growth over the forecast time period 2023 to 2032.
The Medical BPO research report provides a complete understanding of the industry and provides a snapshot of the industry. It contains the Covid 19 Research, market structure, an industry analysis, an industry analysis, product differentiation, a competitive environment, and important trend. It also enables investors to make investments in the Hospital BPO sector and allows them to thoroughly research the business before taking any actions.
The study identifies the main factors that are causing the health BPO industry to bloom and expand globally for a multitude of reasons, the majority of which encompass an increase in the number of individuals looking for insurance coverage and the guarantee of govt assistance. Furthermore, some limitations are insurmountable, such as the massive fees for system construction and repair and the swift shifts in market conditions.
The objective is to reach a point where there would be an expensive way to address the issue with no deceit or dishonesty throughout this industry to expand, however, the prospects are unlimited as practice goes. If organizations became a personality, there would be no opportunity for the company to work upon that offshore outsourcing and will have a substantial portion of customers who subcontract essential assigned jobs with the company. It would only enable little players to flourish alongside greater heavyweights. This study article analyses nursing service processes outsourced and analyses the prospects or difficulties. The effect of COVID 19 on the medical BPO sector is the subject of another phase of the report. The report also contains an estimate for growing markets and changes.
Growth Factors
Its explosive growth of clinical pathways outsourced and also the decline in faults across noncritical operations including accounting, financing, and services to customers are driving the development of the segment hospital BPO sector. Additionally, the demand for protection, the need to reduce health care expenditures, and also the threat of patent peaks for the pharmaceutical industry is indeed the main drivers of the expansion of the medical BPO sector. This increases stress upon the delivery of healthcare services.
In terms of balancing the many facets of controlling operating costs, company bottom lines, and legislation directed to better outcomes, medical care has indeed been changing continuously. Fresh company concepts have emerged as a result of the ongoing need to improve patient and consumer services in the context of budgetary as well as bottom line restrictions. The persistent efforts to improve care coordination and create medical care better consumers are what fuel the growth of the construction BPO industry.
Operations are contracted to experienced personnel in done to avoid damages and lower the likelihood of crime. Healthcare and network operators will benefit by reducing the cost and time, while consumers will benefit by receiving high-quality care. We believe that such issues will spread throughout the industry. Furthermore, it is projected that the fear of a cyber-attack, the possibility of relinquishing power well over activities that are delegated, and concerns about customer satisfaction will impede market expansion. Since the primary organization is no longer in charge of the operation, there seems to be a dangerous chance that its influence through it will be lost.
The increased contribution of their solutions to enhancing patient treatment, enhancing population health, and assisting medical providers in cost-optimization has strengthened the financial model for nursing service activity key suppliers. Additionally, there would be a danger to information security. Contracting exposes a lot of private information to any third company, raising questions about information security. Furthermore, there are concerns about the level of service provided because a service provider may not even be as interested inside or worried about proposing alternatives or treatments to the agreed-upon parties as the main business is. It is envisaged that these elements will serve as growth inhibitors.
The medical BPO sector has an environment considered by companies. Using outsourcing, a wide range of moment jobs are usually transferred, which helps to reduce operating costs. manufacturing, Drug development, marketing, and statistics are just one of the important end customers. Clinical coder and accounting, expense reports, and information processing operations are increasingly demanded after healthcare process services in the hospital BPO sector.
Report Scope of the Healthcare BPO Market
| | |
| --- | --- |
| Report Coverage | Details |
| Market Size in 2023 | USD 391.32 Billion |
| Market Size by 2032 | USD 864.02 Billion |
| Growth Rate from 2023 to 2032 | CAGR of 9.20% |
| Base Year | 2022 |
| Forecast Period | 2023 to 2032 |
| Segments Covered | Provider Service, Payer Service, Life Science Service, Geography |
| Companies Mentioned | Accenture (Ireland), Access Healthcare (US), Akurate Management Solutions (US), Cognizant (US), Firstsource Solutions (India), GeBBS Healthcare Solutions (US), Genpact (US), HCL Technologies (India), IBM Corporation (US), Infosys BPM (India), Invensis Technologies (India), IQVIA (US), Lonza (Switzerland), Mphasis (India), NTT Data Corporation (Japan), Omega Healthcare (India), Parexel International (US), R1 RCM (US), Sutherland Global (US), Sykes Enterprises (US), Tata Consultancy Services (India), UnitedHealth Group (US), Wipro (India), WNS (Holdings) Limited (India), Xerox Corporation (US) |

Provider Service Insights
Billing monitoring is a tool used by medical institutions to monitor all economic communication with customers, after their first consultation until the settlement of any outstanding recovery debt. All medical and management tasks that are needed to manage and recover care delivery payments collectively are referred to as the RCM. Therefore, it is anticipated that the growing demand for RCM products in hospitals will promote segment expansion.
In 2022, billing planning held the greatest customer base, and it is anticipated that it would continue to hold that position throughout the projected timeframe. The decrease in medical costs, expanding government attempts to integrate billing and coding technologies, and rising healthcare sector spending may all be contributing factors to the category expansion. This RCM provides the supplier with several advantages, including managing admin duties as well as invoicing and receivables. This cutting-edge system uses complex accounting, merchant services, and electronic medical record technologies to perform admin duties. According to Jul 2022 post "Billing Control in Medical," since many clinics manage to account for utilizing inefficient manual processes, human mistakes, such as mistakes in entering data, are the chief reason for payment problems.
Term supply chain administration is the collective name for the entire process of accepting revenues and managing returns. According to the previously cited source, RCM also efficiently and error-free blends payment details with aggregate records, insurer names, client private details, health findings, and medical classifications. As a result, RCM was once used quite regularly inside the medical industry, which is fueling product demand.
Payer Service Insights
The Medical BPO region is based upon the services that the aid measures. Types of assistance provided by suppliers include customer onboarding, reimbursement policies, and quality experience. The clinical situation has improved the quality of medical improvements. The biggest market position for worldwide health Outsourcing is held by the claims processing category by 2021 and therefore is anticipated to keep this position throughout the forecast timeframe. Claiming management is a strategy that manages complaints while creating initiatives to minimize expenses and reduce theft while maintaining client satisfaction. The market is anticipated to witness a result.
Life Science Service Insights
During the projected timeframe, technological advancements are predicted to have the highest growth. The company's overall expansion could be attributed to rising expenditure for novel medications and vaccinations in response to an increase in COVID-19 patients. According to health system predictions, the business technology development sector is predicted to grow at a rapid pace since that is still a marketplace where consumers are not fully informed and because the COVID epidemic still seems to be active.
Healthcare BPO Market Share, By Region, 2022 (%)
| | |
| --- | --- |
| Regions | Revenue Share in 2022 (%) |
| North America | 49% |
| Asia Pacific | 11% |
| Europe | 29.5% |
| Latin America | 6.5% |
| MEA | 4% |

Regional Insights
The Medical BPO industry inside the Atlantic is being driven by considerably large care costs item, a very well platform, and the development of significant business participants. The industry for medical BPO is now dominated by the United States, and this dominance is anticipated to last for another few decades. The United States has the number one position. The medical sector in particular, which consists of pharmacists, medical equipment makers, pharmaceutical firms, and health providers, is expanding quickly. Individuals with specialized training who manage these processes are essential to these intricately developed markets.
The significant adoption adopted by major market participants in the market as well as the significant knowledge of the potential direction ns medical IT solutions is credited with the expansion of both the market sector. Due to a noticeable cost of health care expenditure, the existence of huge companies, as well as advancements, this nation came in second within the medical BPO industry. In terms of providing significant potential for growth, the medical BPO industry throughout this sector is expanding at the quickest rate worldwide.
In the countries in the US, nursing service processes offshore seem to have the smallest pricing power. Additionally, expanding federal programs in the nation is predicted to fuel industry expansion there. To promote medical accessibility and affordability for underrepresented people using remote treatment, the Ministry of Health Administration granted roughly USD 56 m to 29 Connection exists medical clinics in Feb 2022. Consumers have benefited greatly from telemedicine, particularly even during epidemics. As a result, growing demand in the nation is anticipated to be fueled by policy measures.
Key Market Developments
Firm that delivers quality healthcare, was purchased by CPSI in Mar 2022. HRG is a market leader in providing healthcare facilities with specialized claims processing solutions and advisory services which increase productivity, economics, and patient happiness.
During the financial term of 2022, medical developer NextGen Hospital intended to increase the scope of the RCM operation inside its platform.
NTT DATA, as well as Score Data, agreed to work together for several years to implement Score Data's nudging algorithms using NTT DATA's machine learning solutions to help global medical coverage and the practitioner community forecast the rate of premature development of disease conditions in May 2021.
To expedite a digital strategy and broaden its presence inside the North American market, Xerox Company purchased Holding company CT throughout Apr 2021. Holding company CT was a locally owned document control supplier in Eastern Canada.
To ensure full services for healthcare monitoring with Us insurance carriers and deal with a variety, Representation of knowledge Technologies chose IntelliH just like its systems integrator from Mar 2021.
HCP/HCO Participation Administration, an integrated final stage, coordinated medical practitioner (HCP/HCO) system, was introduced by IQVIA in May 2020. It facilitates the scheduling, strategic planning, scheduling, and paying of HCP/HCOs internationally.
Wipro joined PLEXIS Medical Systems that help medical payments and program contributors globally with something like simplified, reliable, and connected program management solutions in March 2020. This partnership advanced technological change for health insurance companies.
To best represent its actual and future business and general public consumers, Conduent, a leader in medical products and medical services, has partnered with Provided Many benefits Extra and combined the administration production systems of the two businesses.
To better meet customers' needs, Cognizant Information Systems purchased Brighter Health Services in Mar 2018, which included medical practices as well as other healthcare professionals in the U.S.
To order to optimize sustainable procurement control and save cost, North Healthcare and Accenture recently merged in June 2018.
Key market players:
Accenture (Ireland)

Access Healthcare (US)

Akurate Management Solutions (US)

Cognizant (US)

Firstsource Solutions (India)

GeBBS Healthcare Solutions (US)

Genpact (US)

HCL Technologies (India)

IBM Corporation (US)

Infosys BPM (India)

Invensis Technologies (India)

IQVIA (US)

Lonza (Switzerland)

Mphasis (India)

NTT Data Corporation (Japan)

Omega Healthcare (India)

Parexel International (US)

R1 RCM (US)

Sutherland Global (US)

Sykes Enterprises (US)

Tata Consultancy Services (India)

UnitedHealth Group (US)

Wipro (India)

WNS (Holdings) Limited (India)

Xerox Corporation (US)
Segments are covered in the report:
(Note*: We offer report based on sub segments as well. Kindly, let us know if you are interested)
By Provider Service
Revenue Cycle Management
Patient Enrolments
Patient Care

Medical Transcription
Device Monitoring
By Payer Service
Claims Management

Claims Adjudication Services
Claims Settlement Services
Information Management Services
Claims Repricing
Claims Investigation Services
Claims Indexing Services
Fraud Detection & Management

Product Development & Business Acquisition (PDBA)
Member Management
Provider Management
Care Management
Integrated Front-End Services and Back-office Operations
Billing and accounts management services
HR Services
By Life Science Service
Manufacturing
R&D
Non-Clinical Services

Supply Chain Management & Logistics
Sales and Marketing Services

Forecasting
Performance Reporting
Analytics
Research
Marketing

Other Non-Clinical Services
By Geography
North America
Europe
Asia-Pacific

China
India
Japan
South Korea
Malaysia
Philippines

Latin America

Brazil
Rest of Latin America

Middle East & Africa (MEA)

GCC
North Africa
South Africa
Rest of the Middle East & Africa