The global healthcare contract research outsourcing market size accounted for USD 42 billion by 2022 and is expected to hit around USD 71.4 billion by 2032, poised to grow at a compound annual growth rate (CAGR) of 5.5% from 2023 to 2032.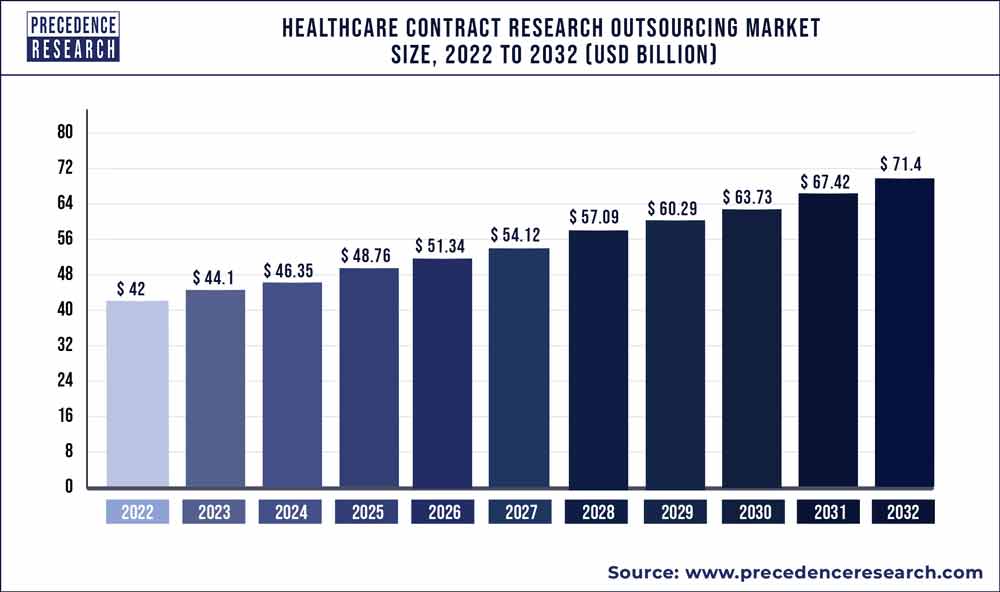 Access our Premium Real Time Data Intelligence Tool, Visit: Precedence Statistics
The key drivers anticipated to propel the market over the coming decades are the rising expenditure in R&D programs, the inclination for outsourced tasks due to cost and time limitations, and patent expiry in the healthcare industry. Government agencies prefer to send initiatives to contractual researcher outsourced partnerships because they provide cutting benefits, which helps the industry flourish. The market for contractual research companies in the medical industry is anticipated to increase as a result of additional pressure on pharmaceutical researchers to handle medical evidence, regulatory regimes, and strict safety regulations.
Organizations in the medical and pharmaceutical industries are exporting not simply the manufacturing of medications and also clinical studies. Exporting to underdeveloped nations has increased along with the privatization of clinical trials. To better serve their clients, several medical contract manufacturing businesses are currently expanding their international research infrastructure. For instance, ICON introduced a range of Accellacare in Sept 2020. This worldwide research connectivity allows consumers to obtain cutting-edge therapies more quickly and easily, allowing clients the opportunity to conduct decentralized studies.
Growth Factors
Due to the growing demand for product manufacturers linked to clinical research administration, government affairs outsourced, and strict safety requirements, there is projected to be an increase in the need for contract manufacturing insourcing within the healthcare industry. Pharmaceutical and healthcare companies outsource not only drug trade but also clinical studies. As clinical studies are becoming more privatized preclinical outsourced to wealthy nations is growing.
The global market for contract manufacturing outsourced in the pharmaceutical industry is projected to be driven by the complexity of regulatory processes and the growing participation of healthcare professionals in developing drugs and financing. The proficiency of CROs in medicinal fields and local registration procedures both contribute to the industry's expansion. At different stages of drug development, several contractual research organizations offer support with quarterly reports.
Report Scope of the High Voltage Battery Market
| | |
| --- | --- |
| Report Coverage | Details |
| Market Size in 2022 | USD 42 Billion |
| Market Size by 2032 | USD 71.4 Billion |
| Growth Rate from 2023 to 2032 | CAGR of 5.5% |
| Base Year | 2022 |
| Forecast Period | 2023 to 2032 |
| Segments Covered | Type, Service, Application, End Use, and Geography |
| Companies Mentioned | Advanced Clinical, Albany Molecular Research, Inc., Charles River Laboratories International, Inc., Clinipace, Clintec, Covance Clinical Biotech, CTI Clinical Trial & Consulting, GVK Biosciences Private Limited, ICON Plc, IQVIA HOLDINGS INC., Jubilant Biosys Ltd., KCR S.A., Laboratory Corporation of America Holdings, Medidata Solutions, Inc., Olon Ricerca Bioscience, PAREXEL International Corp., Pharmaceutical Product Development, LLC., Pharmaron, Pharm-Olam, LLC, PRA Health Sciences, Inc., PSI CRO AG, SGS SA, Sygnature Discovery Limited, Syneos Health, SynteractHCR, Thermo Fisher Scientific Inc., Worldwide Clinical Trials, WuXi AppTec |

Key Market Drivers
Precision Drug development to boost Market Expansion: Due to the change in modern medical emphasis from response to preventive, personalized medicine is a relatively new concept in healthcare. Because court hearing treatment is so expensive, personalized medicine becomes more and more important for therapeutic strategies. The preponderance of CROs is concentrating on personalized medicine to cut down on time and total costs associated with failed drug development. At every stage, CROs provide support and guidance for personalized medicine trials. Due to the high cost of constructing extensive facilities with modern facilities, numerous smaller companies outsource their research and development (R&D) to preclinical CRO offerings to offerings reduce their overall costs along with the resources and time needed to complete the process, which contains all from drug perception to Food and drug administration marketing authorization.
Chronic Illness Prevalence to Boost Market Expansion: Due to the high incidence of chronic illnesses, the accessibility of different populations, the simplicity with which clients may be attracted and maintained, and the adoption of legislation that follows accepted norms, the marketplace in China is anticipated to grow rapidly. The market is anticipated to grow over the next several years as a result of investments in infrastructure and personnel for essential services like imaging, central, laboratories, and healthcare supplies.
Key Market Challenges
Regulatory Guidelines Varying & Shortage of Skilled Individuals Limiting Market Growth
The development of the industry is being hampered by a lack of knowledge in the area of medical CROs and variations in federal regulations and licensing procedures in different nations. The lack of skilled workers makes it difficult to implement advanced technology. Exporting research might save costs, but it may also compromise effectiveness and quality.

It is crucial to make sure that the outcome is of appropriate quality because syndicated research job comprises outsourced clinical studies, medical writing, medical affairs, and government affairs. Some sectors of the industry are still skeptical of outsourcing since contracted research activities continue to be getting managed to the necessary standards.
Key Market Opportunities
Presentation of Well-Known Companies Increasing Market Revenue
Because of the stringent requirements of the pharmaceutical companies, the United States controls the contractual researcher outsourced market for healthcare. The presence of long-running businesses and simple access to specialist technology both contribute to the industry's sales growth.

Furthermore, the sector for contract manufacturing outsourced in medicine will advance due to the quick development of its imitation and biologic drugs industries along with an expansion in clinical study initiatives.
The increase in activities aimed at cutting costs and speeding up drug development
The increment in efforts to cut costs and speed up the pharmaceutical development process, the growth of the variety of products and answers given by CROs, as well as the globalization of clinical studies are just a few of the driving factors in the anticipated expansion of the international healthcare agreement analysis terms of export. In the market for medical contract manufacturing outsourced, among the crucial services involve regulation, site management protocol, clinical trial, pharmacovigilance, and medical writer. These solutions are mostly employed by pharmaceuticals, government, academic, and medical product industries as well as pharmaceutical and biotechnology global businesses.
According to estimates, the desire for outsourced regulation activities would rise, which will affect businesses in the worldwide healthcare contracts researcher outsourcing industry. This surge is attributable to increased regulatory agency scrutiny of clinical studies at all phases, particularly by the EMA and FDA. Additionally, it is anticipated that shifting regulatory requirements in each location will provide the potential for outsourced regulation activities.
Segmental Insights
Type Insights
The market of medical contractual academic researchers was controlled by the medical services category in 2022, which also had the biggest revenue shares. This increase is due to several factors, including the growing use of biological drugs, current epidemics that have increased the requirement for new therapies, the desire for orphan medications and customized medicine, as well as the necessity for cutting-edge technology. Development is also anticipated to be fueled by elements including technological advancement, the globalization of clinical studies, and the need for contractual research organizations to conduct clinical studies. Even though that Phase 3 trial studies are among the costliest phases of clinical trials roughly 90.0% of the costs associated with clinical drug development outsourcing of these studies to medical contractual research firms produced the largest income in 2022.
Preclinical studies are anticipated to rise quickly during the projection period by 8.1%. Preclinical clinical CRO need is predicted to rise in response to a surge in preclinical studies worldwide and a rising need to control R&D costs, which is expected to fuel market expansion. A majority of the pharmaceutical industry is concentrating on the research of innovative therapies for the treatment of COVID-19 disease after 2021, which has significantly increased the supply for preliminary investigations as a result of the COVID-19 pandemic spread. For mRNA instance, Translate Bio, and Sanofi a firm developing clinical-stage mRNA treatments, announced on March 2021 the beginning of a preclinical investigation for MRT5500, a potential for such an mRNA vaccination against COVID-19-causing SARS-CoV-2. As a result, the mentioned factors will strongly aid in segment expansion.
Service Insights
Medical contract manufacturing companies' largest income share in 2022 came from the associated healthcare category, which controlled the industry. This may be explained by the rise in clinical studies and the requirement to keep track of the investigations that are driving up the need for such solutions. Over the past ten years, medical research has been outsourced to CROs for a variety of reasons, including cost efficiency and technical knowledge. It is anticipated that the adoption of real-time data collecting tools and smart analytics will enhance associated healthcare information in the healthcare industry.
The medical contract manufacturing organizations market is projected to develop at the quickest rate in the government affairs sector. Due to the rise in R&D activities, product registration, clinical study submissions, and therapeutic pipelines, the outsourced of government relations is growing quickly. The company's expansion is anticipated to be supported by the rising need to win approval for brand-new goods, enforce consistency, and accomplish more in less time.
Application Insights
A large oncology pipeline with more than 600 compounds is in the final development stages. Therefore, it is predicted that by the end of the projection period, the oncology or hematology category will hold the biggest market share. The Food and Drug Agency approved 50 new medications in 2021 for 22 purposes, yet there are still a great number of curable cancers kinds that are curable. As a result, there is a greater need for the creation of new pharmaceutical drugs, which stimulate medication innovation. Additionally, since no one medicine is enough for the chemotherapy of cancer, there is intense competition within the oncology market. This necessitates the ongoing creation of improved treatment alternatives, that supports the oncology market.
End User Insights
Pharmaceutical businesses are focusing on developing safer and more effective technologies. During the projection period, rising R&D spending is anticipated to aid biopharmaceutical businesses in boosting their revenues. R&D is being quickly outsourced by pharmaceutical companies to CROs so order to reduce the expenses associated with the internal testing platforms. Small pharmaceutical enterprises are searching for advancements in product design using CRO technologies as a result of a rise in the market for advanced designs and copyright obsolescence. Pharm companies hold a sizable portion of the worldwide healthcare agreement investigation companies outsource the industry due to the increasing sophistication of developing drugs, the need for shortened drug discovery timeframes, cost efficiency, and the advantage of obtaining medicinal expert knowledge affiliated with outsourcing to CROs.
Healthcare Contract Research Outsourcing Market Share, By Region, 2022 (%)
| | |
| --- | --- |
| Regions | Revenue Share in 2022 (%) |
| North America | 51% |
| Asia Pacific | 17% |
| Europe | 24% |
| Latin America | 5% |
| MEA | 3% |

Regional Insights
Due to the significant volume of trials conducted and outsourcing within the region, North America represented highest share of over 51% in 2022. This regional industry has also been fueled by the increased government assistance for Research and development activities through subsidies and funding to research organizations and businesses. For instance, the United States government made investments in medical and health R&D in 2018. Similar to this, the Pharmaceutical Technological Development and Research Organization engaged in the creation of COVID-19 vaccinations as a result of the epidemic.
The Asia Pacific region is growing at a remarkable CAGR from 2023 to 2032. Additionally, it is projected that the region would expand quickly over the projected timeline. This may be due to the significant prevalence of long-term illnesses, the accessibility of varied populations, the ease of enlisting and keeping patients, and the implementation of rules by generally accepted norms. In addition, effective government attempts to speed up the permitting process for drugs are boosting the industry. For instance, the Directorate of Pharmaceuticals (India) established new regulations in October 2021 to speed up R&D efforts in the nation by reducing the time needed for approvals by a minimum of 50% during the following two years. These approaches should help to accelerate growth in the region even more.
Recent Developments:
To integrate its imaging techniques and processes using Medidata Rave imagery for clinical studies, Medpace Holding, Inc., a medical CRO, tied up with Medidata Technologies, a provider of software and services, in Mar 2020.
May 2021 - Aragon Biological Sciences, a top contract research organization that was previously named GVK Bioscience, reported that Goldman, a prominent Indian investor, had acquired stock that had previously been owned by ChrysCapital as well as other current shareholders.
March 2021 - One of the biggest medical facilities in Latin America, Hospital Alamo Oswaldo Cruz, has announced cooperation with TriNetX and would join the network for international health study.
February 2021 - PRA Biomedical Sciences, Inc., a worldwide contract research company, will be acquired by Icon plc, a company that provides an outsourced drug as well as device advancement and corporatization offerings to the biotechnology, pharmaceutical, and medical product industry sectors, as well as government and the public medical associations.
Inspire launched an initiative to encourage cooperative relationships in September 2020. The Inspired Researcher Accelerated is made to enable collaboration between university scholars from all over the world and the business.
Key market players
Advanced Clinical
Albany Molecular Research, Inc.
Charles River Laboratories International, Inc.
Clinipace
Clintec
Covance Clinical Biotech
CTI Clinical Trial & Consulting
GVK Biosciences Private Limited
ICON Plc
IQVIA HOLDINGS INC.
Jubilant Biosys Ltd.
KCR S.A.
Laboratory Corporation of America Holdings
Medidata Solutions, Inc.
Olon Ricerca Bioscience
PAREXEL International Corp.
Pharmaceutical Product Development, LLC.
Pharmaron
Pharm-Olam, LLC
PRA Health Sciences, Inc.
PSI CRO AG
SGS SA
Sygnature Discovery Limited
Syneos Health
SynteractHCR
Thermo Fisher Scientific Inc.
Worldwide Clinical Trials
WuXi AppTec
Segments covered in the report
(Note*: We offer report based on sub segments as well. Kindly, let us know if you are interested)
By Type
Drug Discovery

Target Validation
Lead Identification
Lead Optimization

Pre-Clinical
Clinical

Phase I Trial Services
Phase II Trial Services
Phase III Trial Services
Phase IV Trial Services
By Service
Clinical Trial Services
Regulatory Services
Clinical Data Management & Biometrics

Electronic Data Capture
Electronic Patient Recorded Outcomes
Others

Medical Writing
Pharmacovigilance
Site Management Protocol
Others
By Application
Oncology/Hematology
Cardiovascular
Autoimmune/Inflammation
Central nervous system (CNS)
Dermatology
Infectious diseases
Diabetes
Pain
Other
By End Use
Pharmaceutical Companies
Biotechnology Companies
Medical Device Companies
Academic Institutes & Government Organizations
By Geography
North America
Europe
Asia-Pacific
Latin America
Middle East & Africa (MEA)