The global healthcare reimbursement market size was valued at US$ 8 billion in 2022 and is expected to hit US$ 37.64 billion by 2032, poised to grow at a compound annual growth rate (CAGR) of 16.80% from 2023 to 2032.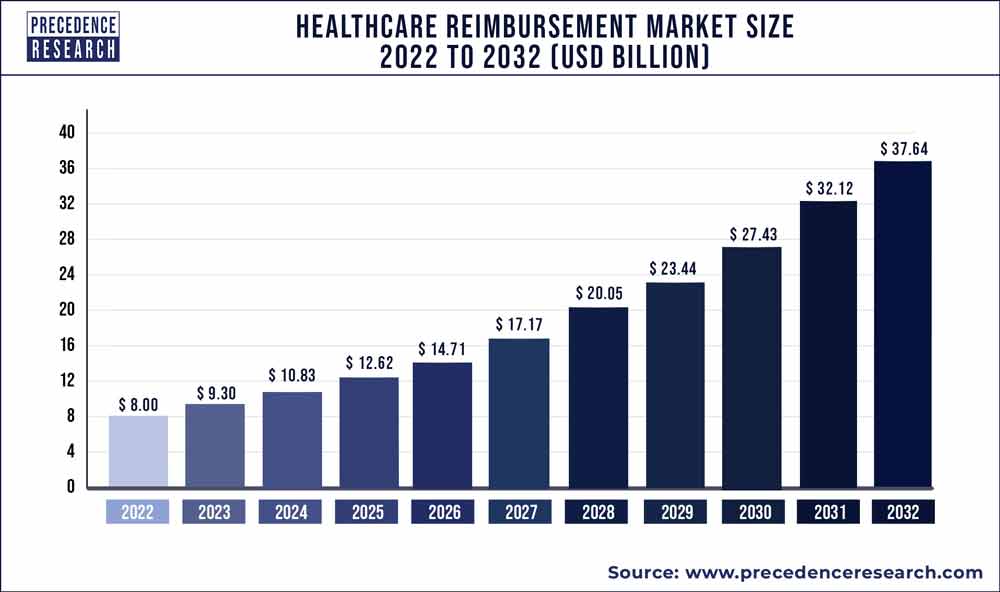 Access our Premium Real Time Data Intelligence Tool, Visit: Precedence Statistics

Healthcare Reimbursement Market Size in U.S. 2023 To 2032
The U.S. healthcare reimbursement market size reached US$ 1.82 billion in 2022 and is projected to touch US$ 17.63 billion by 2032, at a CAGR of 15.7% from 2023 to 2032.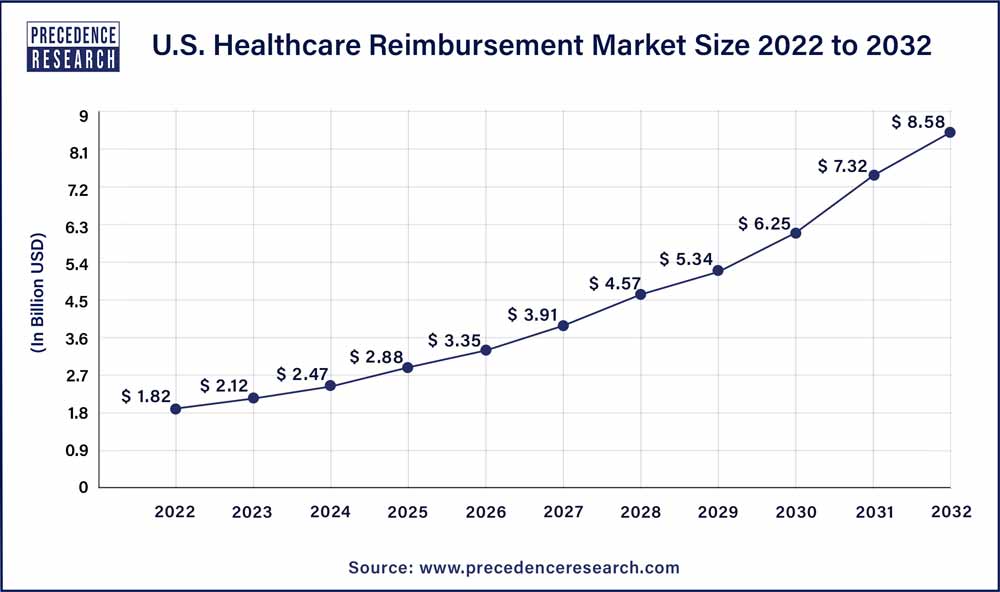 North America region dominated the market in 2022. This is projected to remain dominant through the forecast period. The existence of strong reimbursement guidelines and framework and a huge number of insurance players are the key developments benefiting the development of the market. Also, the Inexpensive Care Act makes its obligatory to possess coverage. The particular states that performed not obey were penalized by the federal government. Therefore, it works as a power for the regional market.
The North America is been followed by the European countries in terms of the share of the market. Improving elderly population and subsequently growing long-term diseases, such as respiratory system diseases, cardiovascular diseases, and vascular disease, are driving the market in European countries. Asia Pacific is poised to experience the speediest expansion over the outlook period. The increasing number of geriatric people and the supporting government initiatives in the developing financial systems are a couple of the leading factors required to raise the market's expansion in this region. Also, the go up in private and public healthcare costs, high economic development, penetration of insurance policy services in non-urban and urban areas, lead to market progress.
In U.S. government representatives are taking efforts to boost the healthcare management and reimbursement system. A group of senators is acting towards availing medicare cover at-home COVID-19 tests for seniors, like commercial insurance companies do for their customers.
Growth Factors
The healthcare reimbursement is the type of payment mode which helps patients to pay bills easily. The growth of the healthcare reimbursement is being driven by the adoption of advanced and innovative technologies for tracking and monitoring patient's health. The expansion of the healthcare sector is also contributing towards the growth and development of the healthcare reimbursement market.
Based on Medicare, in 2017, its profit payments equaled to more than US$ 700 billion that has been an increase from US$ 400 billion in 3 years ago. Medicare's per household expenditure is predicted to increase in average total annual rate of 4.6 % during the next 10 years, due to increase in use of services and regarding care, growing medicare insurance enrollment, and increasing health care prices.
The factors that are boosting the growth of the global healthcare reimbursement market are the growing incidents of chronic disorders and surge in the cost of medical care. The key market players are also collaborating with government for the development of the global healthcare reimbursement market. Nevertheless, deteriorating quality regarding the availability of proper care for patients in requirement of treatments with high-cost and burden of administration which is often faced by physicians are likely to hinder the expansion of the industry during the forecast period.
COVID-19 disease was first occurred in Wuhan (China) during December 2019 and since it has propagated at a quick rate across the planet. The, India, Russia, Brazil, France, the UK, Turkey, Italy, and Spain are some of the worst countries in confirmed cases and reported deaths. The particular COVID-19 has already been affecting economies and industries in various countries due to lockdowns. Shutdown of numerous industries and factories has the global source chains and adversely impacted the producing, delivery schedules, and sales of products in global market. Few companies declared possible postponements in deliveries of their products and downturn in forthcoming sales of their products. Based on the current market situation, the record further assesses the present and future effects of the COVID-19 pandemic on the general market, offering very reliable and projections Furthermore, the global travel restrictions imposed by nations around the world in the U.S., Europe, and Asia-Pacific are affecting the collaborations and partnerships opportunities of the businesses.
Report Scope of the Healthcare Reimbursement Market
| | |
| --- | --- |
| Report Coverage | Details |
| Market Size by 2032 | USD 37.64 Billion |
| Growth Rate from 2023 to 2032 | CAGR of 16.80% |
| Largest Market | North America |
| Fastest Growing Market | Asia Pacific |
| Base Year | 2022 |
| Forecast Period | 2023 to 2032 |
| Segments Covered | Claim, Payers, Service Provider, Geography |
| Companies Mentioned | UnitedHealth Group, Aviva, Allianz, CVS Overall health, BNP Paribas, Aetna, Nippon Life Insurance policies, WellCare Health Ideas, Agile Health Insurance, Violet Cross Blue Cover Association |
Claim Insights
The underpaid segment contributed with the greatest share of the market still to pay to increasing variety of unnecessary utilization and fake claims of healthcare services causing in underpaid negotiations. There are many cases of deceive of federal and local government individuals and businesses health care programs. This includes distributing a claim for services, healthcare treatment, pharmaceutical and medical devices that were never rendered. On the other hand, to have control of all the frauds, the Phony Claim Act was introduced. Also, individuals are prone to utilize services if they are not paying the full cost of those services. There are consumers who intentionally use healthcare services which are not required medically. Intended for instance, some individuals might visit a medical doctor or a walk-in clinic for the social value of human companionship quite in order to address a medical necessity. This factor will bolster the market growth over the forecast time period.
Payer Insights
In 2022, private payers segment dominated the global healthcare reimbursement market. Due to the presence of a high number of private companies in the market, they are expected to stay dominant during the projected period. In addition, in the U.S., more than 125 health insurance firms provide private health care. In the U.S. the Affordable Care Act, also known as the Patient Protection and Affordable Care Act (PPACA), has been in operation since 2014.Health-care reform legislation aims to make health insurance more affordable, accessible, and useful. Several aspects of the Affordable Care Act call for the private insurance market to be expanded. It incentivizes employers to provide health insurance and mandates that consumers who are not covered by a government or employer-sponsored plan acquire private health insurance.
Service Provider Insights
On the basis of service providers, private hospitals were the leading segment in the healthcare reimbursement market in 2022. This is mainly because of increasing geriatric populace along with increasing number of surgical procedures. Merging hospital systems to protect a huge inhabitants or geographic area generates more negotiating capacity to turn reimbursement.
In North America, usually hospitals are paid on the basis of diagnosis-related group (DRG) which represents fixed amount for each and every and every clinic stay. The clinic treating someone and spending less as opposed to DRG settlement, makes earnings then when hospitals spend more than diagnosis related groups (DRG) payment to take care of patients, they generate failures.
Diagnostic lab segment is anticipated to observe prominent growth during the forecast period due to increasing patient pool alongside with increasing govt. reforms pertaining to adoption of innovative healthcare infrastructure. In addition, contributing on numerous insurance coverage indicate that providers have gain access to a sizable pool of potential patients, maximum of them gain from low-cost health-related coverage under ACA.
Some of the major market players operating in the industry are as follows:
UnitedHealth Group
Aviva
Allianz
CVS Overall health
BNP Paribas
Aetna
Nippon Life Insurance policies
WellCare Health Ideas
Agile Health Insurance
Violet Cross Blue Cover Association.
Segments Covered in the Report
By Claim
By Payers
By Service Provider
Hospitals
Diagnostic Labs
Physician Office
Others
By Geography
North America
Europe
Asia-Pacific

China
India
Japan
South Korea
Malaysia
Philippines

Latin America

Brazil
Rest of Latin America

Middle East & Africa (MEA)

GCC
North Africa
South Africa
Rest of the Middle East & Africa