The global inverter market size was estimated at USD 16.97 billion in 2022 and it is expected to hit around USD 73.27 billion by 2032, poised to grow at a CAGR of 15.8% over the forecast period 2023 to 2032.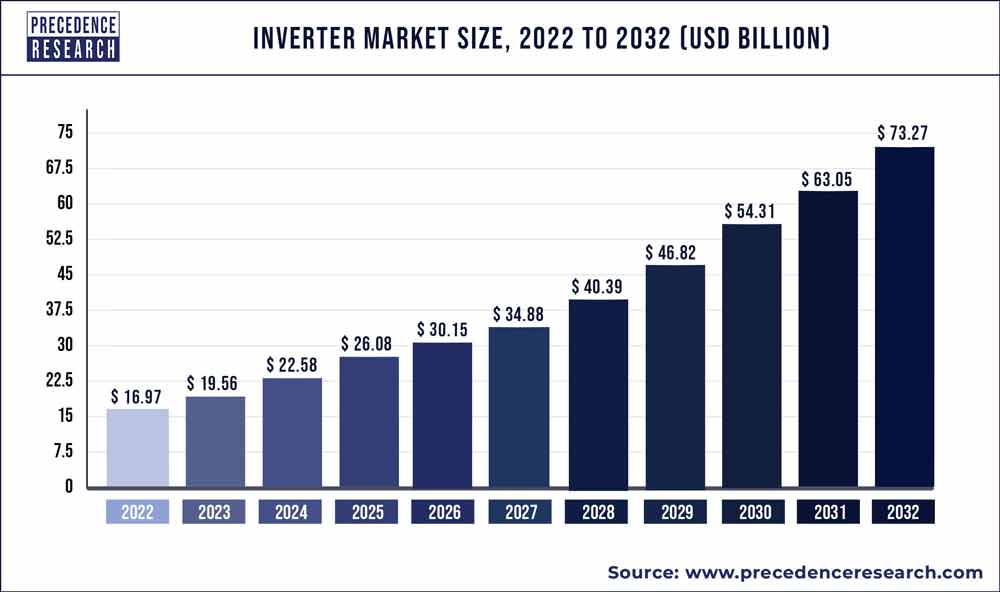 Key Takeaways:
In North America, the US and Canada are the major markets for inverters.
By Product, the central inverter segment generated more than 49% of the revenue share in 2022.
By End Use, the utility segment dominated the market and captured more than 47% of the revenue share in 2022.
Inverters, which are a fundamental component of solar or wind power systems, function by converting DC to AC electrical energy. In terms of solar energy, inverters play an important role in converting DC power generated by solar panels into usable electricity to be used for homes, businesses and the grid. This will allow efficient use of the sun's power and reduce dependency on traditional sources of energy, thereby helping to minimize carbon emissions.
In the wind power sector, furthermore, converters to convert electricity from DC sources generated by wind turbines for use as an active electrical current are widely applied. As a result, the homes and businesses get their electricity from this AC power. The use of inverters will allow wind power installations to achieve efficient conversion of the energies generated from wind turbines for usable electricity, in order to promote environmentally sound energy practices.
The main drivers to the growth of the global Inverter market are an increasing number of installs of solar power systems and growing demand for energy-efficient solutions in industrial automation. Find out what an inverter is doing to convert DC power into AC and promote energy efficiency.
Growth Factors:
The global inverter market is experiencing significant growth, driven by several factors. One of the major factors is the increasing adoption of solar power systems across various regions. As concerns regarding climate change and the need to reduce carbon emissions continue to grow, the focus on renewable energy sources, particularly solar energy, has also increased. Inverters, which convert DC energy generated by solar arrays into usable AC power for households, businesses and electricity grids, play a crucial role in the Solar Power System.
The industrial automation sector is also a key area in which the market for inverters will continue to grow. As a result of the demand for more energy efficient solutions in process industries, there has been an increasing adoption of inverters to monitor motor speeds and all electrical equipment that leads to reduced energy consumption and improved efficiency. The use of inverters enables industry to cut its carbon footprint substantially, and thus contribute towards a greener future.
The U.S. was North America's largest market for inverters in 2021. Inverters are devices used for converting DC to AC energy, and they're an important part of the Solar System. The size of Central inverters and three-phase string converters is increasing in the U.S. market. Although string inverters have become more popular, central inverters are expected to be the most commonly used type.
A number of companies and steps have been involved in the manufacture of solar Inverters, from manufacturing components all the way up to sales at the end-user level. Solar panels are by far the biggest source of income, followed by inverters and batteries. Due to the high efficiency of these components, there is limited room for technical differentiation. Renewable energy production costs have fallen dramatically and made it a more viable alternative to fossil fuels in comparison with others. Solar power, in particular, has seen a 70% decrease in the Levelized Cost of Electricity (LCOE) due to the reduced cost of installation for solar equipment.
The outbreak of the COVID-19 pandemic, nevertheless, has had an impact on the worldwide PV inverter industry, producing supply chain disruptions and decreased demand from residential and commercial customers as a result of a lack of fresh building activities and the necessity to prioritize funding for epidemic-related costs.
Growing need for energy from renewable sources: As the globe moves towards more environmentally friendly energy sources, wind and solar power plants are in greater demand, which raises the need for inverters, which turn the energy produced into usable electricity.
Technological developments: The need for more and more sophisticated models is driven by developments in inverter technology, such as improved effectiveness, better energy management systems, and extended longevity.
Increasing urbanisation: The requirement for power solutions in urban areas has increased, which fuels the need for inverters in residential and commercial structures.
Governmental incentives and rules: Governments all over the globe are putting policies and rules into place to promote the use of renewable energy, which increases consumer demand for inverters and other related technology.
Rising energy demand: since a result of the expansion of industries and urbanization, there are chances for the inverter market to expand since these factors contribute to the rise in power consumption.
Report Scope of the Inverter Market:
| | |
| --- | --- |
| Report Coverage | Details |
| Market Size in 2023 | USD 19.56 Billion |
| Market Size by 2032 | USD 73.27 Billion |
| Growth Rate from 2023 to 2032 | CAGR of 15.8% |
| Largest Market | North America |
| Base Year | 2022 |
| Forecast Period | 2023 to 2032 |
| Segments Covered | By Product and By End Use |
| Regions Covered | North America, Europe, Asia-Pacific, Latin America and Middle East & Africa |

Key Market Drivers:
Rising demand for renewable energy sources
Market demand is expected to increase as renewables, especially solar energy, become more and more popular. It is crucial for the inverters to convert Direct Current DC generated by Solar Cells and usable in Alternating Current AC. As the world transitions out of its present unsustainable future, it is expected that demand for solar energy will be increased and has a beneficial impact on the inverter market.
The cost of solar energy is also falling and the uptake of solar installations around the world has increased as a result of governments' support for renewables. Moreover, the sector is constantly evolving as manufacturers strive to make their Inverters more efficient, reliable and cost-effective. This technological evolution also benefits market development. The market for inverters is expected to expand significantly as a result of growing demand for solar power, technological advances, and policies supporting sustainable energy production.
Key Market Challenges:
Huge investment
In the global market for inverters, one major challenge that could be faced by individuals and companies who are not willing to shift from fossil fuels would be the installation costs of PV modules. Although solar costs have come down significantly in recent years, the fact that many potential customers can't order an early purchase or install a Solar Panel or Electricity Plant is of particular importance. Moreover, the surface area required for solar power systems is large enough to be influenced by weather conditions as well as other factors which can affect their efficiency and return on investment.
In addition, the lack of qualified engineers and standardization across the sector may be a problem for customers who wish to make their choice between good inverters in order to fulfill their needs which can lead to long installation times, higher costs, or confusion. The growth of the market can be hampered by the aforementioned factors.
Key Market Opportunities:
The global inverter market presents a key opportunity for growth and innovation due to the rising adoption of renewable energy sources, including solar and wind power. Inverters play a crucial role in converting DC power from solar panels and wind turbines into usable AC power for homes, businesses, and the electricity grid.
In addition to the growth in the renewable energy sector, technological advancements such as smart inverters with features like remote monitoring and control, energy storage, and grid stabilization capabilities are creating new markets and revenue streams for inverter manufacturers. Overall, the increasing demand for renewable energy and ongoing technological developments in the inverter industry offers significant potential for growth and innovation in the global inverter market.
Segments Insight:
Product Insights:
In 2022, the central inverter segment held the largest revenue share of over 49% in the global inverter market. These inverters are located in safe areas, have prompt maintenance, and are very dependable. They transform DC power from PV panels into AC power for transmission and are integrated with sizable arrays in buildings, factories, and outdoor installations. In 2021, the string inverter market share was the second-largest, with reduced starting costs and straightforward installation fueling sector expansion.
These inverters offer high efficiency, design flexibility, three-phase variations, and remote system monitoring capabilities. Due to their high reliability, improved performance and efficiency through Maximum Power Point Tracker (MPPT), ease of installation, lack of space restrictions, and cost-effectiveness, micro PV inverters are a popular choice for commercial and industrial sectors and are anticipated to experience significant growth over the forecast period.
End Use Insights:
The utilities segment dominated the PV inverter market in 2022, accounting for a revenue share of approximately 47%. The central and string inverter are the most commonly used PV inverters in this sector. Growth in the power sector is being driven by increased demand for energy from renewables, a decrease in prices of solar panels as well as an emergence of government subsidies. The evolution of this segment is also stimulated by the presence of large companies that offer customers in the industrial sector leading utilityscale solutions, coupled to their own prior integrated power plants. These solutions help consumers increase efficiency and lower balance-of-system expenses.
The market is divided into various end uses such as commercial, residential, industrial and utilities. The increased demand for solar renewable energy for electrification reasons has led to growth in the residential sector. Governments from a number of nations have put legislation into place and provided financial incentives to encourage captive power generation from renewable sources, such as electricity in residential structures. Solar power systems for captive consumption are also being installed in business premises that rely on a continuous source of electricity to continue their daily operations, e.g., shopping malls, grocery stores, workplaces, healthcare facilities and educational establishments.
The market for PV inverters is set to experience significant growth, as the demand for renewable energy continues to grow. The utility segment will continue to lead, but growth is anticipated in the rest of the sectors such as housing and business. We can expect to see further progress and innovation in the PV inverters industry as technologies and innovations keep improving their efficiency and cost-effectiveness.
Regional Insights:
The market for inverters in North America is growing, owing to the deployment of renewable energy systems and government support for the development of renewable infrastructure. In North America, the US and Canada are the largest markets for Inverters. Inverters are also an important market in Europe, with countries like Germany, Italy, Spain and France having the highest demand for them. In Europe, demand for inverters is growing as a result of increasing efforts to reduce CO2 emissions and transition towards alternative energy sources. The Asia Pacific region is a market for inverters driven by the increased adoption of energy systems from renewable sources, as well as rising electricity demand in emerging countries.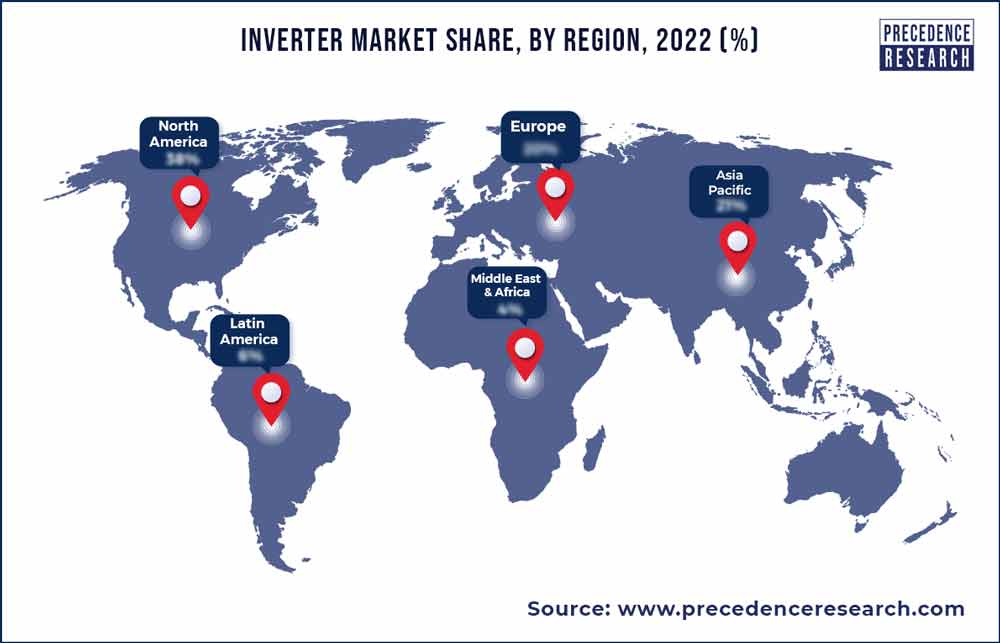 The largest markets for inverters in this region are China, Japan and India. Increased electricity demand and the development of renewable energy infrastructure have contributed to substantial growth in the market for inverters across the Middle East and Africa region. The market for inverters in Latin America, thanks to increased uptake of solar energy installations and the development of renewable energy infrastructures across countries such as Brazil, Mexico or Chile, is growing at a moderate pace.
Recent Developments:
In March 2020, FIMER acquired ABB's solar inverter business, making it the fourth-largest solar inverter manufacturer globally. The acquisition helped FIMER expand its product portfolio and strengthen its position in key regions such as Europe, the Americas, and Asia-Pacific while leveraging ABB's established network of partners and customers.
Key Market Players:
SMA Solar Technology AG
ABB Ltd.
Huawei Technologies Co. Ltd.
SolarEdge Technologies Inc.
Enphase Energy Inc.
Fronius International GmbH
TMEIC Corporation
Sungrow Power Supply Co. Ltd.
Delta Electronics Inc.
Schneider Electric SE
Mitsubishi Electric Corporation
Siemens AG
General Electric Company
KACO new energy GmbH
Emerson Electric Co.
Segments Covered in the Report:
(Note*: We offer report based on sub segments as well. Kindly, let us know if you are interested)
By Product
Central PV inverter
String PV inverter
Micro PV inverter
Other PV inverters
By End Use
Commercial
Residential & Industrial
Utilities
By Geography
North America
Europe
Asia-Pacific
Latin America
Middle East and Africa