The global knowledge process outsourcing (KPO) market size was estimated at USD 86 billion in 2022 and is projected to hit around USD 309.16 billion by 2032 with a registered CAGR of 13.7% during the forecast period 2023 to 2032.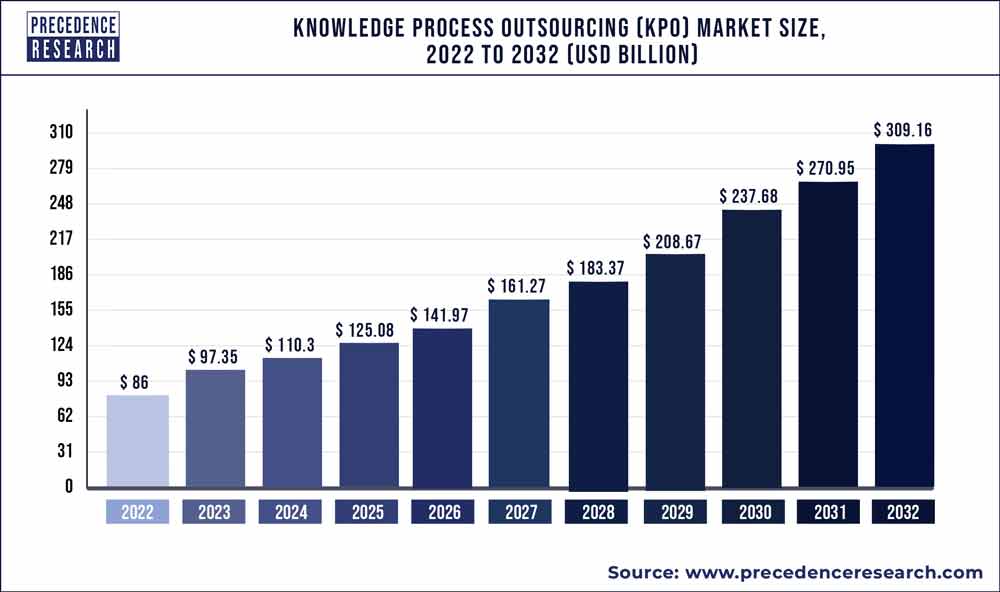 Key Points:
The legal process outsourcing segment is progressing with a CAGR of 23.50%

The IT & Telecom segment is growing at a CAGR of 21% from 2023 to 2032.
By application, the healthcare and pharmaceutical sector accounted for a sizeable portion of the KPO market in 2022, In terms of revenue.
The area with the greatest concentration of KPO firms and consultants worldwide in 2022 was Asia Pacific.
The Latin America region is growing at a CAGR of 20.60% from 2023 to 2032.
The knowledge process outsourcing (KPO) market in the US was valued at USD 14.5 billion In 2022.
Growth Factor
Industries may save a lot of time and money by outsourcing crucial system processes. Another factor fueling the industry's expansion is the growing need for professional services, including training, research, managed services, and maintenance. Highly qualified professionals, including attorneys, engineers, and architects, may offer professional services at cheaper prices than their western counterparts in developing nations like China, India, and the Philippines. It might be challenging to glean valuable knowledge from the sources that are available due to the abundance of information in the globe. The accelerated global industry competitiveness has decreased the cycle time for developing new products and services. Customers expect high-quality services, so firms must have organizational structures and rules in place that not only boost efficiency but also advance their goods and services strategically. KPO assists businesses with key hardware management, product and service research, market and competitor research, increasing organizational performance in business administration, and dealing with dynamic business conditions. KPO's main goal is to offer better services and customized solutions.
As a result of technological developments in the engineering field, there is a considerable need for outsourcing component design. In turn, this is anticipated to fuel the market for knowledge process outsourcing.
One of the key reasons driving the growth of the knowledge process outsourcing market is the reduction in the cycle time for introducing new services and products as a consequence of increased business rivalry.
The market for knowledge process outsourcing is anticipated to grow as new business concerns spread around the globe.
The knowledge process outsourcing market is anticipated to be driven by an increase in the number of delivery centers throughout the world that are needed to meet client expectations.
Report Scope of the Knowledge Process Outsourcing (KPO) Market
Report Coverage
Details
Market Size in 2023
USD 97.35 Billion
Market Size by 2032
USD 309.16 Billion
Growth Rate from 2023 to 2032
CAGR of 13.7%
Base Year
2022
Forecast Period
2023 to 2032
Segments Covered

By Service
By Application

Regions Covered

North America
Europe
Asia-Pacific
Latin America
Middle East & Africa

Key Market Drivers
Fill the knowledge and skill gaps in business
Companies commonly work with KPO service providers to create what is basically an organizational knowledge map in an effort to close both known and undisclosed gaps in their team's knowledge and abilities. In some cases, using a third-party service is essential. In this case, the companies may employ a supplier to improve a certain internal procedure or to make up for a skill gap on the team. In other circumstances, though, the corporation could employ a knowledgeable outsider since they are unaware of what needs to be addressed within the organization.
Rising adoption of KPO in the retail sector
Nearly all businesses today are information or data-driven, enabling them to develop new products and provide better customer service. As the value of data within firms develops, the necessity for knowledge process outsourcing in the retail industry is expanding. Retail companies may use KPO services from KPO service providers to help them discover solutions to their complicated difficulties. The comprehensive analytics offerings from KPO service providers, which include research on consumer behavior and purchasing patterns, may be advantageous for retail businesses.
Key Market Challenges
Market expansion is predicted to be hampered by increased restrictions on unemployment in certain regions brought on by a skills shortage. Additionally, since KPO enterprises have a high attrition rate that prevents the industry's growth, qualified workers are paid average rates and are expected to do jobs for little money.
Key Market Opportunities
Demand for KPO is surging
The cycle time for introducing new products and services has decreased as a result of the growing competitiveness in the global industry. Customers desire high-quality services, therefore firms must adopt procedures and organizational structures that not only boost productivity but also provide their goods and services a strategic boost.
KPO service providers provide businesses with an economical alternative. As third-party service providers, businesses of all sizes, big and small, contribute to the advancement of KPO services. One advantage of using third-party service providers is that operations may be scaled up as required. On the other hand, clients get more freedom and customization from third-party providers. Nowadays, data is the driving force behind nearly all organizations, enabling them to develop new products and provide better customer service. Due to the growing significance of data in enterprises, the demand for knowledge process outsourcing is rising across all industries.
Segments Insight
Service Type Insights
Due to the effectiveness of the services offered and the cost savings, it is predicted that the knowledge process outsourcing market's legal process outsourcing service category would have the quickest growth. From 2023 to 2032, the market is anticipated to expand at a CAGR of 23.50%. Contract management, litigation management, and legal analytics are among the typical legal tasks that are outsourced.
Due to a rise in demand for business information and analytical tools that lessen employee strain, analytics and market research services now have the biggest market share in the KPO sector.
Other services, such as outsourcing for engineering and design, financial processes, and research and development, are anticipated to expand at a higher rate throughout the projected period. New instruments have been created as a result of technological growth to provide clients with knowledge-based services.
In the 2022 knowledge process outsourcing market, the research and development outsourcing sector attracted a promising revenue share. Businesses are using KPO companies more frequently to fulfill their R&D activities. Additionally, by outsourcing research and development work, firms may have access to a pool of highly qualified individuals who can provide innovative solutions to problems and speed up the introduction of new products and services to the market.
Application Insights
In the IT and telecom sectors, knowledge process outsourcing is becoming more popular. Over the forecast years, the category is predicted to increase at a CAGR of 21%. The fragmented and continually growing large database in the IT and telecom sector is anticipated to fuel market expansion throughout the forecast period.
Due to the vast number of applications in the category, the BFSI segment is now leading the market. Sensitive data about consumers and financial databases from multiple banks are included in the BFSI category. Companies outsource tasks like financial analytics, equities research, and data administration, among others, to keep information effective. Several businesses, like CRISIL Ltd., Credit Suisse Group AG, and WNS (Holdings) Ltd., offer financial services to other businesses.
In terms of revenue, the healthcare and pharmaceutical sector accounted for a sizeable portion of the KPO market in 2022. A medical KPO may include administrative or diagnostic tasks. The healthcare business has been the most effective at outsourcing administrative tasks like medical coding. Coding needs the expertise of a specialist in order to determine the appropriate billing codes that may be used to describe a patient's particular diagnosis.
Regional Insights
The area with the greatest concentration of KPO firms and consultants worldwide in 2022 was Asia Pacific. This is a result of the professional services and critical processes being quickly offshored. The rise in the number of qualified professionals, including engineers, architects, and lawyers, in emerging countries like India, China, and the Philippines is what is driving the market's development.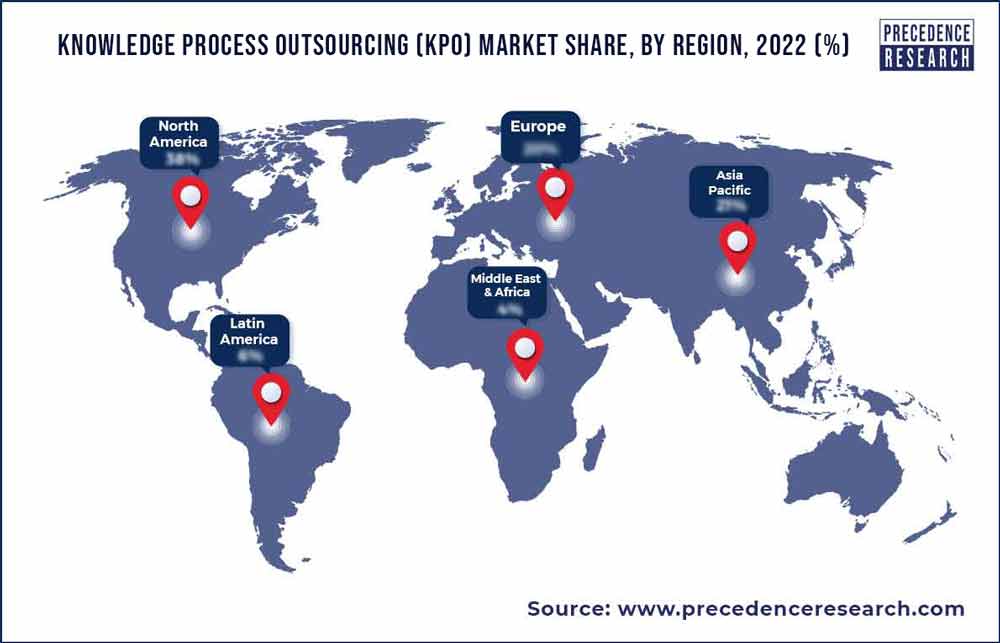 Over the forecast years, Latin America is forecast to see the fastest growth, with a CAGR of 20.60%. Businesses in the area are expected to drive market expansion during the projected period by increasing their attention on R&D and expanding their analytical insights. By 2022, it was predicted that the knowledge process outsourcing (KPO) market in the US would be worth $14.5 billion.
China, the world's second-largest economy, is expected to expand at a CAGR of 22.14% between 2023 and 2032, with a target market size of US$ 36.50 billion.
Two more important regional markets are Japan and Canada, with rates of growth of 12% and 14.6%, respectively, expected for each market from 2023 to 2032. It is expected that Germany would grow in Europe at a CAGR of around 13.20%.
KPO products and services are thought to have enormous development potential in India. The development of this area is expected to be aided by the presence of highly qualified professionals and workers with specialized knowledge in law, engineering, education, media, publishing, industrial machinery, entertainment, textiles, automotive, software, electronics, aerospace, insurance, healthcare, biotechnology, pharmaceuticals, and financial services.
Recent Developments
HealthPartners (U.S.) chose ExlService Holdings, Inc. in April 2022 to create a cutting-edge care management platform. HealthPartners can now immediately link its population health data with its care management procedure, leading to actions that are more targeted, successful, and timely as well as higher member involvement.
Wipro Limited and Informatica announced cooperation in May 2022 in order to sell cloud-based data analytics with the Wipro fullstride cloud data platform. With the help of Informatica's complete AI-powered data management solution and Wipro's well-known analytics, data, and artificial intelligence (AI) capabilities, cloud-based transformations will be able to scale.
Oct 2020: Contour, the worldwide decentralized platform creating the next standard, collaborated with Mphasis. The cooperation aims to hasten the widespread adoption of the Contour network by banks, businesses, and partners throughout the world. Through this partnership, Mphasis will be able to more quickly implement and make use of the Contour network among the world's banks, corporations, and ecosystem partners by leveraging its tried-and-true Front2Back Transformation approach and its portfolio of next-generation IT and operations capabilities.
Key Market Players
Accenture plc
ExlService Holdings, Inc.
Genpact Limited
HCL Technologies Ltd.
Hewlett Packard Enterprise Company
IBM Corporation
McKinsey & Company
Moody's Corporation
Mphasis
Oracle Corporation
Pangea3 (Thomson Reuters Corp.)
R.R. Donnelly & Sons Company
SAP
Tata Consultancy Services Limited.
Texas Instruments Incorporated.
Wipro Limited
WNS (Holdings) Ltd.
Segment Covered in the Report
(Note*: We offer reports based on sub-segments as well. Kindly, let us know if you are interested)
By Service
Analytics & Market Research

Customer & Marketing Analytics
Operations & Supply Chain Analytics
Competitive Intelligence & Industry Analysis

Engineering & Design
Financial Process Outsourcing
Legal Process Outsourcing
Publishing Outsourcing
Research & Development Outsourcing
Other
By Application
BFSI
Healthcare
IT & Telecom
Manufacturing
Pharmaceutical
Retail
Others
By Geography
North America
Europe
Asia-Pacific
Latin America
Middle East & Africa (MEA)