The global medical carts market size was valued at USD 2.68 billion in 2022, and it is expected to hit around USD 11.68 billion by 2032 with a registered CAGR of 16% during the forecast period 2022 to 2032.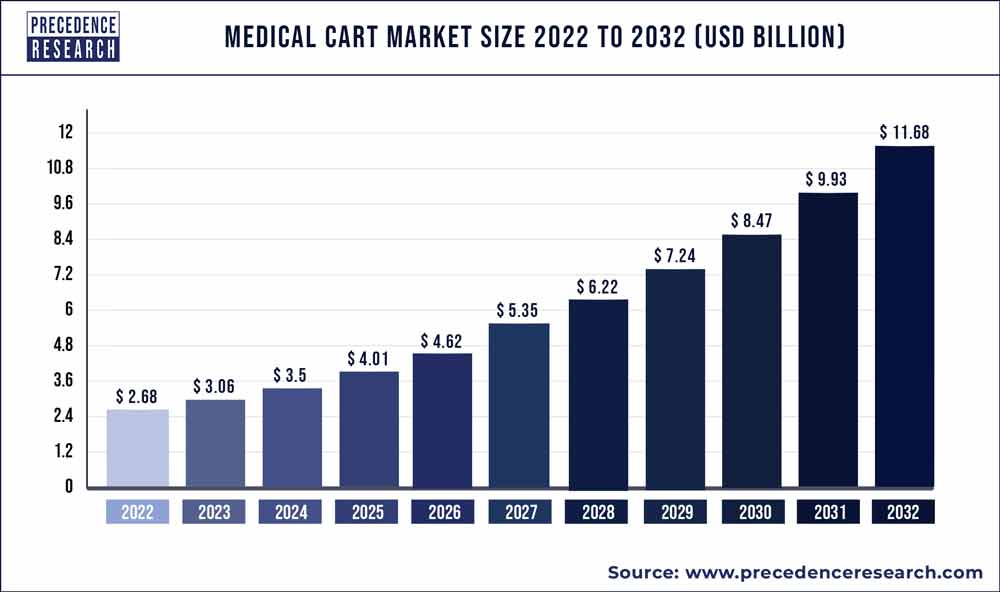 Access our Premium Real Time Data Intelligence Tool, Visit: Precedence Statistics
Key Takeaways:
By product, the mobile computing carts have held 74% of the total revenue share in 2022.
By type, the emergency carts segment held a 41.7% revenue share in 2022.
By end use, the hospital segment has reached a revenue share of 37% in 2022.
North America region has held a revenue share of 41% in 2022.
Medical Cart Market in the U.S. 2023-2032
The U.S. medical carts market size accounted for USD 942.8 million in 2022 and is estimated to reach around USD 4,604.7 million by 2032.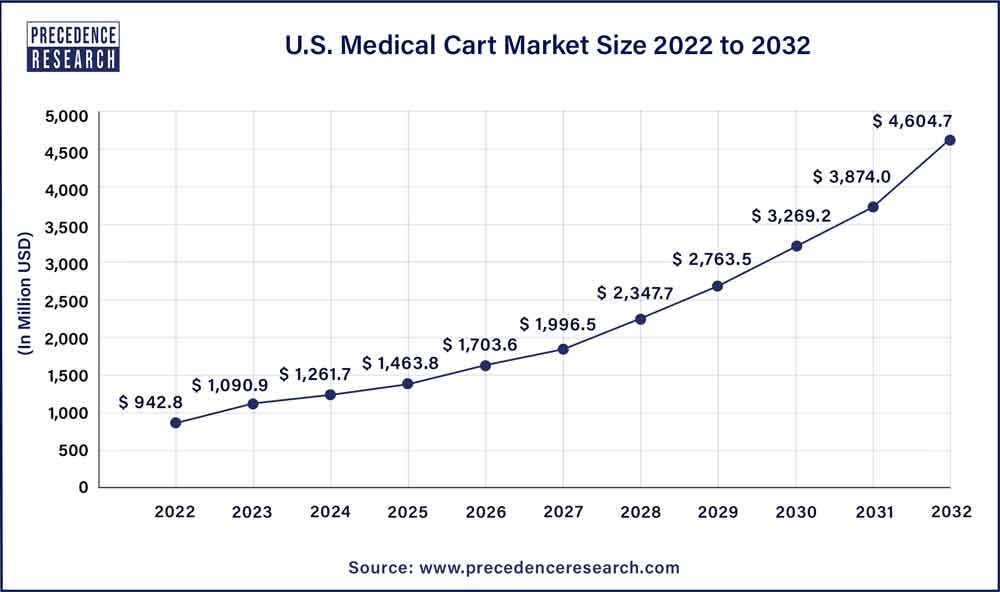 North America dominated the medical carts market in 2022. The U.S. dominated the medical carts market in North America region. The growing number of hospitals is driving the growth of medical carts market in North America region. The number of operational hospitals in the U.S. climbed from 5,534 in 2016 to 6,090 in 2019, according to the American Hospital Association. As per the Canadian Institute for Health Information's 2020 report, Canada's hospitalization rate was around 7,883 per 100,000 persons. In addition, the launch of new products by market players are also driving the growth of North America medical carts market. For instance, Altus Inc., a major mobile sit-to-stand workstation maker, introduced the Clio Swap 2.0 powered workstation in September 2019. It's made to last longer thanks to improved battery life and better patient care thanks to improved physician documentation in electronic medical records.
Europe, on the other hand, is expected to develop at the fastest rate during the forecast period. The UK dominates the medical carts market in Europe region. Some of the factors contributing to the Europe region's dominance in the medical cart market include the existence of efficient healthcare processes from hospital admissions to compensations, as well as the availability of integrated healthcare information technology systems to keep electronic health records. To accommodate client demand, medical equipment companies in this region are concentrating on producing innovative medical carts on wheels. As a result, businesses are expanding their product lines to include more technologically advanced items.
Growth Factors
One of the key factors driving the growth of global medical carts market is growing geriatric population as well as rising prevalence of chronic diseases. According to estimates from the United Nations' World Population Prospects: The 2019 Revision, the number of persons aged 65 and more is predicted to more than double by 2050, rising from 703 million in 2019 to 1.5 billion in 2050.In addition, expansion of healthcare sector is also boosting the growth of global medical carts market over the forecast period.
To obtain a competitive advantage, businesses are pursuing methods such as product innovation, mergers and acquisitions, alliances, and regional development. Furthermore, the market is expected to be propelled by rising demand from hospitals for modern healthcare information technology solutions to improve patient care and safety over the forecast period. Companies' product launch strategies are expected to promote competition. Increased collaboration initiatives to increase the array of clinical carts to give cost-effective healthcare are some factors driving market expansion for medical carts.
Report Scope of the Medical Carts Market
| | |
| --- | --- |
| Report Coverage | Details |
| Market Size in 2023 | USD 3.06 Billion |
| Market Size by 2032 | USD 11.68 Billion |
| Growth Rate from 2023 to 2032 | CAGR of 16% |
| Base Year | 2022 |
| Forecast Period | 2023 to 2032 |
| Segments Covered | Product, Type, Material Type, End Use, and Geography |
| Companies Mentioned | InterMetro Industries Corporation, Harloff Manufacturing Co, Armstrong Medical, Capsa Solutions LLC., ITD GmbH, Midmark Corporation, The Bergmann Group, Lakeside Manufacturing, Cardinal Scale, Merino International |
Market Dynamics
Market Driver: Rising emphasis on infection control at hospitals
According to World Health Organization (WHO), out-of every hundred patients at acute-care hospitals, 7 patients (in high-income countries) are observed to acquire at least one healthcare associated infection. This numbers were published in WHO's (2022) first report of infection prevention and control. This element rises the requirement for infection control at hospitals. Infection control measures often involve isolating patients with contagious diseases to prevent the spread of infections. Medical carts equipped with isolation-specific features, such as sealed compartments for contaminated materials or specialized compartments for personal protective equipment (PPE), are in high demand. These carts help healthcare providers maintain a safe environment while attending to patients in isolation. Medical carts are frequently used to transport medical equipment, supplies, and medications between patient rooms and various departments within a hospital. Proper storage and organization of medical supplies are essential for infection control. Medical carts that offer customizable storage solutions, clear labeling, and separate compartments for different types of supplies help healthcare workers quickly access what they need while reducing the risk of contamination. The medical carts market is evolving to provide solutions that prioritize infection prevention, patient safety, and efficient healthcare delivery.
Market Restraint: Maintenance and repairing
When medical carts require maintenance or repairs, they might need to be taken out of service temporarily. This can lead to disruptions in healthcare workflows and patient care. In critical healthcare environments, such as hospitals, any downtime can affect the efficiency and quality of patient care. Maintenance and repairs incur costs. This includes not only the actual cost of fixing the cart but also the potential costs associated with the downtime, such as lost productivity, delayed patient care, and the need for temporary replacements. These costs can impact a healthcare facility's budget and financial planning. Thus, such requirements and hurdles associated with repairing and maintenance create a restraint for the market's growth.
Market Opportunity: Inclination towards home-care settings
The COVID-19 pandemic highlighted the importance of reducing unnecessary hospital visits to prevent the spread of infections. Home-based care, supported by medical carts, became a critical strategy to ensure patients receive necessary care while minimizing exposure risks. The medical cart market has been evolving to meet the demands of various healthcare environments, including home-care settings. Modern medical carts are designed to be compact, lightweight, and easily maneuverable, making them suitable for use in homes. They can be equipped with features like secure storage, adjustable heights, integrated power sources, and ergonomic designs to enhance functionality and ease of use. Home-care settings offer a more personalized approach to healthcare. Medical carts can be customized to meet individual patients' needs, ensuring that the right medications, treatments, and equipment are readily available. This level of personalization enhances patient-centered care and improves treatment adherence. Thus, the inclination towards home-care settings is predicted to present a major opportunity for the market to grow.
Market Challenge: Environmental concerns
The disposal of medical carts at the end of their lifecycle can contribute to electronic waste (e-waste) problems. Electronics contain hazardous materials that can leach into the environment if not disposed of properly. Designing medical carts with easier recyclability and better end-of-life management can help mitigate this issue. Many medical carts are made from materials that have negative environmental impacts during extraction, production, and disposal. For instance, the extraction of metals like aluminum and steel requires significant energy and can result in habitat destruction and pollution. Manufacturers need to find more sustainable materials and production methods to reduce the carbon footprint of medical carts. Thus, such environmental concerns are considered to pose a challenge for the market.
Product Insights
The mobile computing carts segment dominated the medical carts market in 2022. The increased adoption of medical carts in hospitals is attributed to the segment's rise. A lithium iron phosphate battery powers technologically powerful mobile computing cart. In addition, demand for mobile medical carts is predicted to increase throughout the forecast period due to changing ergonomics and enhanced designs. To gain an advantage over their competitors, vendors are concentrating on the development of simple-to-implement technology.
The wall mounted workstations segment is fastest growing segment of the medical carts market in 2022. Increased attention on patient safety, improved nursing efficiency, expanding focus on quick access to key medical equipment and supplies, and rising usage of electronic medication administration record to reduce medication errors are driving category growth. In medical environments, wall-mounted workstations are essential for keeping medical supplies organized and increasing efficiency. These workstations are clinical instruments commonly used in hospitals to improve patient care, increase patient involvement, and reduce staff fatigue while handling the rigors without interruption or technical delay.
Type Insights
The emergency medical carts segment dominated the medical carts market in 2022. This is due to increased use in emergency departments. The demand for these carts is projected to rise in the future years, as patients in emergency rooms are more susceptible to infections. Additionally, technical developments in the market, such as reduced weight, better mobility, and improved ergonomics, have raised healthcare providers' choice for these medical carts and workstations, which is expected to fuel growth throughout the projected period. Midwest Products & Engineering introduced the MACH Series of personalized medical device carts in November 2020, which are excellent for emergency care units due to their ease of modification and configuration.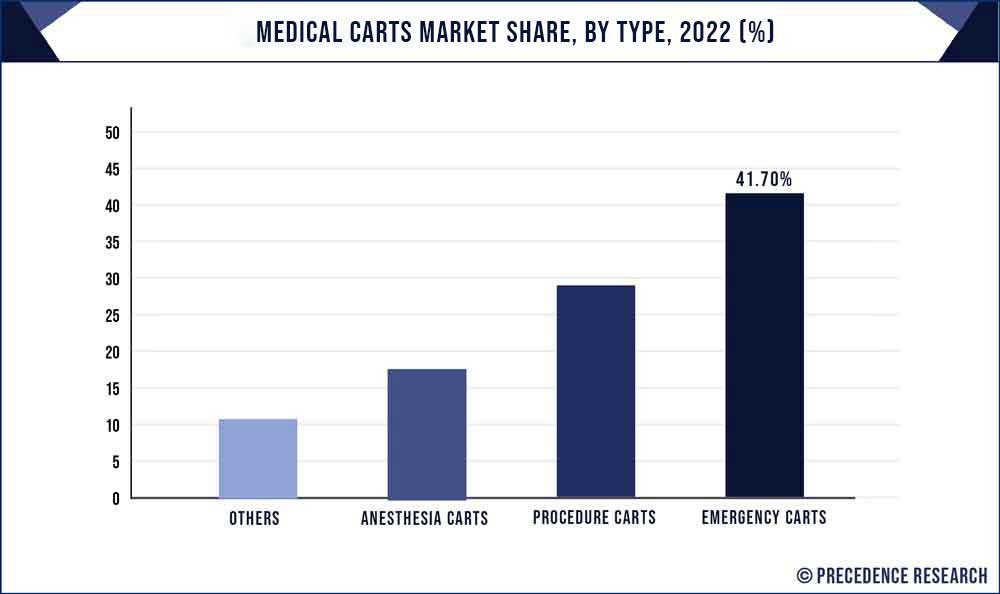 The procedure medical carts segment is the fastest growing segment of the medical carts market in 2022. The procedure segment is likely to grow in popularity in the approaching years as these carts are increasingly used in various medical settings. These items are extremely useful in procedures such as cardiology and endoscopy, and they enable access to critical medications. These advantages are expected to help the segment flourish in the future.
In North America, Emergency carts segment was valued at USD 457.4 million in 2022.
In Asia Pacific, Emergency carts segment was valued at USD 230.6 million in 2022.
End Use Insights
The hospital's segment dominated the medical carts market in 2022. Adoption is being fueled by the availability of technologically advanced and mobile medical workstations. Adjustable, secure, and effective medicine delivery systems are among these breakthroughs.
The physician offices and clinics segment is the fastest growing segment of the medical carts market in 2022. In the future years, the use of these workstations in doctors' offices and independent clinics is likely to grow steadily. This is due to a rise in knowledge and desire for one-stop medical solutions that take up less room and can be utilized for a variety of medical needs. Because these carts can transport drugs, medical equipment, computers, and storage cabinets, their use in clinics is projected to increase significantly over the next few years.
In North America, hospitals segment was valued at USD 436.9 million in 2022.
In Asia Pacific, hospitals segment was valued at USD 219.6 million in 2022.
Key Market Developments
HUI Manufacturing, a firm that creates low-cost medical carts, announced the release of a new standard medical cart in April 2020. The Versa Plus is a compact cart with a wide range of uses.
Capsa Healthcare, a significant innovator in healthcare delivery systems for hospitals, long-term care, and retail pharmacy providers, purchased Humanscale Healthcare, a New York-based creator and producer of flexible technology solutions and computer workstations, in February 2022. Humanscale Healthcare has built a reputation for creating and delivering ergonomically designed mobile computing and wall-mounted workstations for improved clinical workflow and data management around the world.
The Joy Factory Inc. released Agile Go, a new line of mobile tablet carts for the healthcare business, in October 2020, to meet the growing demand for telemedicine, patient engagement, and patient clarification.
Segments Covered in the Report
(Note*: We offer report based on sub segments as well. Kindly, let us know if you are interested)
By Product
Mobile Computing Carts

By Application

Medical Documentation
Medical Equipment
Medication Delivery
Telehealth Workstation
Others

By Energy Source

Wall-Mounted Workstations
Medication Carts
Medical Storage Columns, Cabinets, & Accessories
Others
By Type
Anesthesia Carts
Emergency Carts
Procedure Carts
Others
By Material Type
Metal Type
Plastic Type
Others
By End Use
Hospitals
Physician Offices or Clinics
Others
By Geography
North America
Europe
Asia-Pacific
Latin America
Middle East & Africa (MEA)