The global metaverse in healthcare market size was estimated at USD 7.5 billion in 2022 and is expected to hit around USD 98.34 billion by 2032 and is poised to grow at a compound annual growth rate (CAGR) of 29.4% from 2023 to 2032.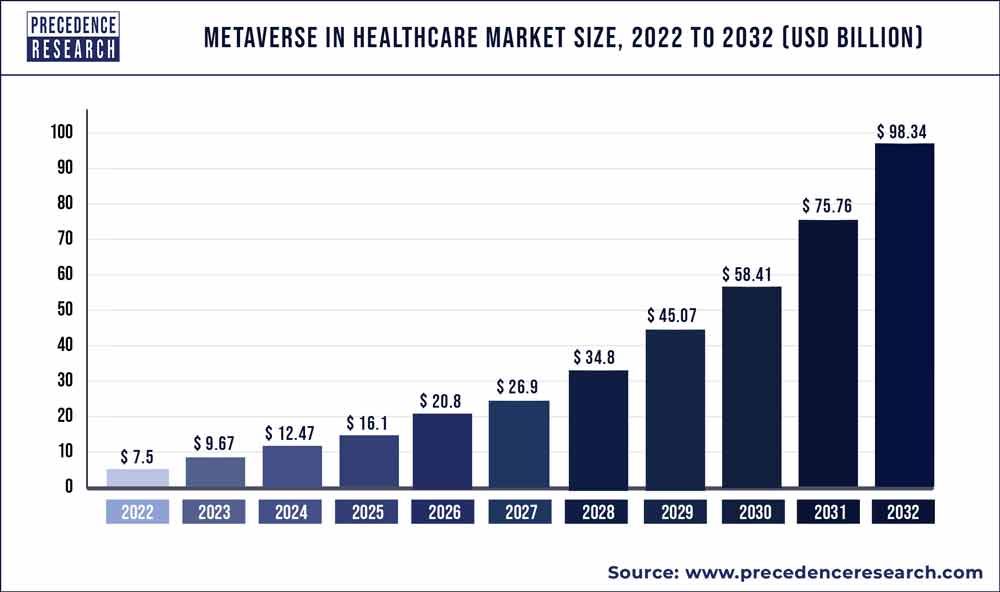 Access our Premium Real Time Data Intelligence Tool, Visit: Precedence Statistics
The metaverse is a vast digital universe that exists side by side with our real world. The metaverse is simply a collection of virtual worlds where people may interact, socialize, play games, and shop. Three significant technological patterns intelligence (AI), augmented reality (AR), and virtual reality (VR) converge in the metaverse (VR). Together, they can create entirely new avenues for treating patients, bringing down costs, and vastly enhancing patient outcomes. As key social players integrate various facets of virtual reality and immersive experiences, this developing notion will add many new dimensions. It will be a fantastic tool in the healthcare industry for teaching, empowering, and giving patients and providers joyful experiences.
The realm of augmented reality, with its ludicrous headgear and sci-fi digressions, is prepared to revolutionize patient care experiences. Complex surgeries are now expected to incorporate augmented realities, much as surgical procedures have already done so with robotics. Virtual reality is used by doctors and experts to instruct other medical professionals.
Growth factors
Artificial intelligence, augmented reality, and robots are being used more frequently in the healthcare sector to enhance patient outcomes, boost the efficiency of medical equipment, and foster improved patient-provider communication. The market's growth is mostly being driven by this. It is an excellent tool in the healthcare industry for teaching, empowering, and giving patients and providers happy experiences. A range of mental health illnesses, such as PTSD, hallucinations, phobias, anxiety disorders, and delusions, can be treated using the metaverse. When we are having a mental breakdown, we may now request help from coworkers, friends, family, or medical professionals thanks to technology. Businesses in the sector are developing mental health apps for the metaverse because virtual reality technology has the potential to improve human welfare.
People's interest in online healthcare delivery has grown as a result of the COVID-19 pandemic as the sickness has reduced social and business interactions worldwide. As a result, major players and the healthcare industry are increasingly adopting cutting-edge technologies.
Prior to the COVID-19 pandemic, only 43% of healthcare facilities could provide patients with remote therapy. This is when the usage of telemedicine really took off. That proportion has now increased to 95%. With the help of Metaverse, telemedicine sessions will be supplemented by a virtual office where patients and doctors can consult in a 3D clinic or any other setting.
Metaverse technology used in healthcare sector has grown due to its remote feasibility and efficient outputs.
Report Scope of the Metaverse in Healthcare Market
| | |
| --- | --- |
| Report Coverage | Details |
| Market Size in 2023 | USD 9.67 Billion |
| Market Size by 2032 | USD 98.34 Billion |
| Growth Rate from 2023 to 2032 | CAGR of 29.4% |
| Base Year | 2022 |
| Forecast Period | 2023 to 2032 |
| Segments Covered | Component, Technology, Devices, End User and Geography |
| Companies Mentioned | Brainlab AG (Germany), PlushCare (US), Intuitive Surgical Inc. (US), BioFlight VR (US), Siemens Healthineers (Germany), Meta Platforms Inc. (US), Novarad Corporation (US), Nvidia Corporation (US), Microsoft Corporation (US), Roblox Corporation (US), GE Healthcare (US), Veyond Metaverse (US), gameChange VR (UK), Sesame Care (US), Aimedis B.V., Belgium), ARBREA LABS (Switzerland), Medtronic PLC (Ireland), Medical Realities Ltd. (UK), Augmedics (US) |

Key Market Trends
Artificial Intelligence: Everything from answering the phone to reviewing medical records, population health tracking and analytics, designing therapeutic drugs and devices, analyzing radiology pictures, establishing clinical diagnosis and treatment plans, and more could be done by AI in the future of health care.
Augmented Reality: It is a technology that incorporates digital data into the environment of the user. It presents a fresh method for medical treatments and instruction.
Virtual Reality: It can be used to immerse a student inside a human body and provide a 3600 picture of the patient's illness or to imitate operations that are done in the real world. Doctors and specialists are using it to train other doctors and medical staff members.
What are the drivers in the healthcare metaverse market?
Telemedicine: The usage of telemedicine expanded significantly. With the help of metaverse, telemedicine sessions will be supplemented by a virtual office where patients and doctors can consult in a 3D clinic or any other setting. The user experience for teleconsultation services is anticipated to considerably improve as a result. Patients will no longer be constrained to receiving treatment from particular doctors according to their geographic location through such consultations. It is especially useful for patients in remote areas who would otherwise have to travel a significant distance, as well as in countries like China where medical workers are in short supply. Another area of healthcare where the metaverse can be quite useful is therapy. In safe settings where every aspect of the contact can be carefully watched and managed, patients can interact with situations that make them anxious.
Digital Twins: Over the projection period, market expansion will be aided by the growing use of digital twins in healthcare. Medical professionals can use digital twins to collect massive volumes of patient scan data such as CT, MRI and ultrasound scans over time and integrate it into a single perspective to plan therapies and track the development of diseases and their treatments. A number of human body prototypes, healthcare systems, or even entire hospitals are already in use. For instance, EMPA researchers are employing hundreds of avatars of actual chronic pain sufferers to predict and enhance the effects of medications. Clinical operations and hospital management are being revolutionized by the use of digital twins in healthcare through digital tracking and human body modeling.
Blockchain: Blockchain is an essential component of the healthcare metaverse because it enables democratically controlled decentralized communities through smart contracts and a record of digital "ownership" of environments or even physical objects in the virtual world. Blockchain's most well-known application in the healthcare industry is the administration and security of extremely valuable health data. Data owners now perceive frequent data transfers between numerous companies as being opaque and inefficient. Considering that centralized computers are frequently used to keep health records.
What are the challenges in the healthcare metaverse market?
Data Safety- Connected devices and the accompanying interdependent systems are under existential peril. Likewise, this is true with medical technology. The healthcare industry has been a target for cybercriminals due to the vast data sets that healthcare organizations hold, which contain sensitive financial and medical information; these risks will also exist in the metaverse.
Rising Cost of Hardware- The cost of hardware devices is increasing due to a shortage of electronic components and rising inflation, which may restrain the market's expansion.
Segmental Insights
Component Insights
According to component type, the hardware market is now in the lead and is anticipated to contribute most to the metaverse in healthcare sector. Hardware is anticipated to rule the market as augmented and virtual reality headsets are developed for better outcomes and ease. The business's efforts to develop cutting-edge haptic metaverse gadgets are also assisting in the segment's expansion. Chips can support the massive computer power needed for the metaverse's creation. The development of chips, the most essential component, will be fueled by the rise of VR/AR goods.
The metaverse health applications are being upgraded for better utilization, storage, and patient security, which is causing the software segment to expand quickly. The benefits and reliability offered by metaverse in healthcare industry is booming the metaverse market hence, the software segment will grow significantly in future.
Devices Insights
During the projected period, the category for augmented reality devices is anticipated to grow at the highest CAGR. This market segment is anticipated to rule since augmented reality devices are widely employed in the medical sector and patients require continual monitoring. These devices provide an interactive virtual user interface that provides innovative ways to improve the caliber of healthcare and medical services.
Virtual reality can be used to simulate real-world medical procedures or to place a student inside a patient's body and give them a 3600 view of their sickness. It is being used by doctors and specialists to train other doctors and members of the medical team.
End User Insights
In the metaverse in healthcare market, the medical training and education module segment is expected to grow at the highest rate. The medical training and education modules segment dominates the market as a result of the extensive usage of metaverse extensions in medical and surgical training for a three-dimensional learning experience. These instruments aid in improving patient comprehension of surgical procedures, which enhances medical treatments.
Geography Insights
North America has kept the top spot and is anticipated to do so during the projected period due to the rapid expansion of the healthcare infrastructure and the use of digital technology. It is because of the region's dense concentration of companies with a metaverse-focused business model, the rapid infrastructure development of the healthcare sector, the integration of AR and VR platforms, the growth of investments in AR goods and services, and advancements in hardware and software. The metaverse can be used to treat a variety of mental health conditions, including phobias, anxiety disorders, hallucinations, and delusions. Thanks to technology, we may now ask for assistance from coworkers, friends, family, or medical professionals when we are experiencing a mental breakdown. Consequently, this area is anticipated to grow in the future.
Asia-Pacific is considered to grow fastest in the metaverse in healthcare market during the forecast period. This region includes China, Japan, India, and more. This region is expanding as a result of the nation's technological breakthroughs in the healthcare industry. In addition to substantial investment in integrating this technology with medical equipment, collaborations between metaverse technology businesses and the healthcare industry are fueling growth.
Key Market Developments
With the 8chili HintVR virtual reality platform for innovations in care coordination, ventyn enters the health metaverse. Machine intelligence Virtual training, patient engagement, education, and health coaching are made possible by virtual reality platforms when combined with the strength of 3D content and digital health apps in March 2022.
Key Market Players
Brainlab AG (Germany)
PlushCare (US)
Intuitive Surgical Inc. (US)
BioFlight VR (US)
Siemens Healthineers (Germany)
Meta Platforms Inc. (US)
Novarad Corporation (US)
Nvidia Corporation (US)
Microsoft Corporation (US)
Roblox Corporation (US)
GE Healthcare (US)
Veyond Metaverse (US)
gameChange VR (UK)
Sesame Care (US)
Aimedis B.V. (Belgium)
ARBREA LABS (Switzerland)
Medtronic PLC (Ireland)
Medical Realities Ltd. (UK)
Augmedics (US)
Segments covered in the report
(Note*: We offer report based on sub segments as well. Kindly, let us know if you are interested)
By Component
By Technology
By Devices
VR Headsets

AR Devices

Mixed Reality Platforms
By End User
By Geography
North America
Europe
Asia-Pacific

China
India
Japan
South Korea
Malaysia
Philippines

Latin America

Brazil
Rest of Latin America

Middle East & Africa (MEA)