The mRNA therapeutics market size was estimated at USD 40 billion in 2022 and is expected to hit around USD 137.59 billion by 2032 and is poised to grow at a compound annual growth rate (CAGR) of 13.2% during the forecast period 2023 to 2032.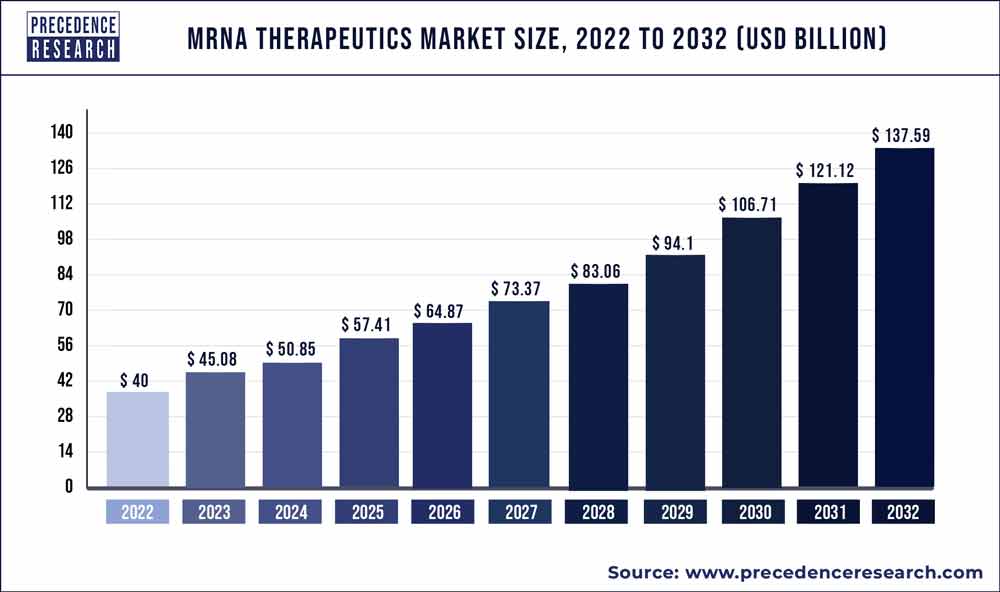 Access our Premium Real Time Data Intelligence Tool, Visit: Precedence Statistics
Key Takeaway:
North America dominated the market with over 35.0% share in 2022.
By end user, the hospitals and clinics segment accounted revenue share of around 61% in 2022.
By application, the infectious diseases segment has accounted highest revenue share in 2022.
By type, the prophylactic vaccines segment has held the highest market share in 2022.
The enormous potential for treating chronic illnesses has made RNA-based therapies a hot topic in recent years. Additionally, RNA vaccinations have a portion of advantages over Gene delivery in regards to production, dissemination, and efficacy. The need for mRNA vaccinations and therapies has grown as an outcome of them showing improvement in human clinical investigations. Furthermore, the popularity of the COVID-19 vaccinations developed by Moderna with Pfizer-BioNTech has led to a sharp increase in the amount of protein expression vaccine treatments being tested in cancer clinical studies.
Additionally, 2021 saw the second-highest amount of mRNA vaccination studies for people with cancer after the COVID-19 studies in people with cancer, which fueled the industry's expansion. A singular protein-coding gene serves as the foundation for protein biosynthesis in cells and is known as messenger ribonucleic acid (mRNA). The desired immunologic characteristics are combined in mRNA vaccinations and RNA interference (RNAi) treatments, which are created in labs utilizing stem cells. Non-replicating, Self-amplifying, self-replicating, and in vitro dendrite cells with non-replicating mRNA are some of the frequently used vaccine and treatment varieties. They are administered to the body that activates immunological sensors that recognized viruses and cause cell production of viral epitope protein. As a result, the body's T- and B-cell responses are improved, which helps to strengthen resistance.
The COVID-19 epidemic has positively affected the expansion of the worldwide market because of the expansion in the quantity of COVID-19 patients all over the world as well as the large external finance for the production of messenger RNA-created COVID-19 vaccinations. Furthermore, because mRNA vaccinations offer a strong defense against different varieties the COVID-19 disease, the desire for them surges when they arrive in several countries around the world. Because of this, it is anticipated that the demand for mRNA-based treatments would rise throughout the COVID-19 epidemic, and the industry will expand.
Growth Factors
A prospective therapeutic device, messenger RNAs has emerged as a result of recent advances in technology in delivery translations, and stabilization. mRNA fact, mRNA vaccinations have opened up fresh pharmacologic frontiers and become a significant therapeutic subclass. A new phase of vaccine advance has begun with the assistance of this mRNA vaccine for the next immunizations. For instance, Moderna, Inc. as well as the National Academy of Allergies and Communicable Diseases created the mRNA-1273 in collaboration in March 2020. (NIAID). It exhibits 94.1% effectiveness in symptomatic COVID-19 prophylaxis, and in Dec 2020, the United States Food and Drug Regulation (US FDA) granted emergent use permission for broad immunization of humans.
Furthermore, mRNA treatments, a fast-expanding class of drugs for many diseases, will revolutionize personalized medicine and change the established treatment guidelines. The product market for products depends on mRNA and is therefore predicted to increase in the upcoming years. This market expansion is being driven by the increased incidence of rare conditions including propionic metabolic acidosis, sufficient concentration diabetic ketoacidosis, carbohydrate diseases, genetic defects, metabolism, and immunological disorders as well as persistent illnesses such as heart disease, cancer, pulmonary, CKD, and others. For example, rendering to Globo can, there have been 10.6 million melanoma fatalities and new instances of cancer in the world in Dec 2020. Increasing operational player expenditures in the development of cutting-edge and efficient vaccines and medicines are likely to accelerate market growth over the anticipated period.
The market for mRNA vaccinations and treatments also rises as a result of the widespread use of mRNA vaccinations, the creation of tailored cancer medicines, and a robust portfolio of innovative products, which all contribute to the sector's development throughout the forecast period. For example, during Apr. 2021, American mRNA pharmaceutical company Arcturus Pharmaceuticals established a Japanese corporation near Chiba Territory and thus is currently building a manufacturing plant in Minamisoma Town, Fukushima Province. This was done in a partnership between Axcelead, Inc. In the upcoming years, such expenditures are projected to support market growth in addition.
Report Scope of the mRNA therapeutics Market
| | |
| --- | --- |
| Report Coverage | Details |
| Market Size in 2023 | USD 45.08 Billion |
| Market Size by 2032 | USD 137.59 Billion |
| Growth Rate from 2023 to 2032 | CAGR of 13.2% |
| Base Year | 2022 |
| Forecast Period | 2023 to 2032 |
| Segments Covered | Application, Type, End User, and Geography |
| Companies Mentioned | Alnylam Pharmaceuticals, Arcturus Therapeutics, Argos Therapeutics Inc., AstraZeneca plc., BioNTech SE, CRISPR Therapeutics AG, Curevac AG, Etherna Immunotherapies, Ethris GMBH, GSK plc., IN-CELL-ART, Ionis Pharmaceuticals, Inc, Moderna Therapeutics, Nutcracker, Pfizer Inc., Sangamo Therapeutics, Inc., Sanofi AG, Sarepta Therapeutics, Tiba Biotech, Translate Bio, Inc. |

Key Market Drivers
Increased Prevalence of Long-lasting and Communicable Diseases
Over the last ten years, there has been a rapid rise in the incidence of chronic and infectious diseases worldwide. Despite all of the safeguards and personal grooming measures adopted, chronic and infectious illnesses are spreading over the world. As nourishment and food are among the most important determinants for the prevention of illness, this is due to the declining nutritious content in the diet. Some of the most common chronic conditions are diabetes, cancers, osteoporosis, neurological disorders, and cardiovascular problems. According to Health Organisation, cancer will account for approximately ten Mn expiries in 2019, creating it one of the major causes of passing worldwide.
Increasing financial support for the creation of leading-edge and efficient pharmaceuticals and vaccines
Increasing operational player expenditures in the development of cutting-edge and efficient vaccines and medicines are likely to accelerate industry expansion throughout the anticipated period. For example, American mRNA therapeutic manufacturer Arcturus Pharmaceuticals established a Japanese company in Chiba Prefecture in early April 2021 as part of a joint partnership with Axcelead, Inc., and is currently building a production plant in Minamisoma Town, Fukushima District. In the upcoming years, these expenditures are probably going to complement market expansion.
Increasing acceptance of mRNA vaccinations
This market expansion is being driven by the increased incidence of rare conditions including methylmalonic acidemia, propionic metabolic acidosis, glycogen illness, phenylketonuria, metabolism, and immunological disorders as well as chronic illnesses such as heart disease, cancer, pulmonary, CKD, and others. For example, according to Globocan, there have been millions of cancer-related deaths and millions of new occurrences of cancer in the world in Dec 2020. Additionally, the desire for mRNA vaccinations and therapies rises due to the popularity of mRNA vaccinations, the advancement of tailored cancer medicines, and a robust portfolio of existing innovations, which spurs market growth throughout the projected timeframe.
Key Market Challenges
Safer administration and low manufacturing cost
In the industry for mRNA vaccinations, mRNA-based COVID-19 immunization are a more viable option than traditional vaccination methods since mRNA vaccine candidates get the potential for quick growth and excellent efficacy, both of which will contribute to the products' continued growth. Additionally, the manufacture and delivery of these vaccinations could be simpler and more affordable. Therefore, by solving all of the market's existing issues, mRNA immunizations have transformed the field of vaccination.
Key Market Opportunities
Utilizing mRNA technology and creating mRNA biomarkers
Due to rising rates of chronic and infectious diseases, as well as government initiatives for huge following the previous, the international demand for mRNA vaccinations and RNAi treatments is predicted to grow throughout the forecast timeframe.
Additional market dynamics that contribute to the expansion of the mRNA vaccines & RNAi therapies industry are targeted specialization, sensitivity of therapy, and increased awareness of immunization. However, it is projected that the high price of studies, the risk of failing, and difficulties in quantifying mRNA will restrain market expansion.
For the leading market participant, however, the use of mRNA technologies and the creation of mRNA biomarkers is anticipated to present a profitable market potential for mRNA vaccinations and RNAi therapies.
Segmental Insights:
Type Insights
In 202, the preventive vaccinations sector completely controlled the market. Prophylactic vaccinations are the center of current Research and development efforts, based on a report in science, with mRNA firms taking at minimum a single preventative vaccine under production. Other vaccinations for disorders including hepatitis and pulmonary syncytial viruses also contributed to the category growth, but COVID-19 software packages represent such a great majority of preventive vaccine revenues.
The expansion of the industry has been further impacted by rising acquisitions and mergers as well as growing R&d activities by biopharmaceutical firms to improve different preventive vaccination types. As an illustration, Pfizer and Valneva have announced the completion of an investment portfolio for the research and marketing of preventative vaccinations for contagious diseases in 2022.
Application Insights
In 2022, the communicable diseases category dominated the market & accounted for all of the revenues. An increase in the utilization of transcriptional vaccines, a large number of companies starting clinical studies for various diseases, and also the COVID-19 outbreak in mid-2019 are all predicted to be major drivers of the sector. The oncologist department is expected to expand at a lucrative rate during the projected timeframe. In 2020, the Global Health Organization projects that 10 million individuals will die through cancer worldwide, putting it the leading cause of death. The most common cause of mortality. Moreover, among the common malignancies that result in death are heart, rectum, liver, colon, stomach, lung, and others.
The market will be driven by the requirement for mRNA immunotherapy and therapeutics as a result of increased chronic condition frequency over the projected timeframe. Furthermore, the lack of precise cancer therapeutic drugs is putting the government under pressure and several significant firms to make significant investments in R&D. The industry will be driven by the increased market for cancer immunotherapy and therapies throughout the forecast timeframe.
End User Insights
Clinics and hospitals, which had a share of the revenue in 2022 and are estimated to develop at the wildest rate mostly during the projected period. The industry for personalized medications is expanding as a result of the increased use of treatments and vaccinations to treat a multitude of chronic conditions. The growing number of individuals attending clinics and hospitals is another factor driving this segment of the market.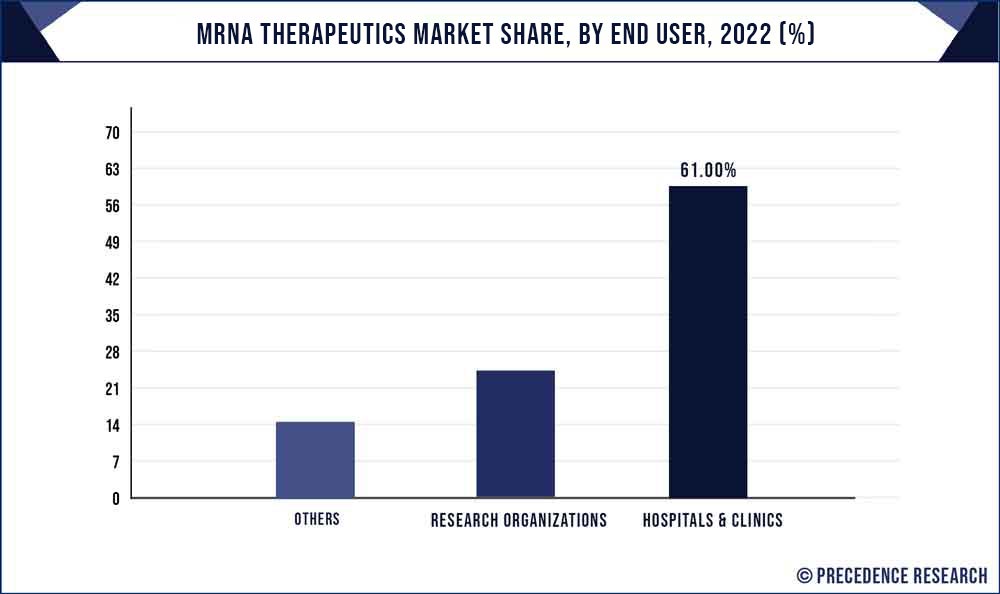 Furthermore, an increase in the number of people suffering from cancer, the flu, contagious diseases, & respiratory conditions is anticipated to propel market expansion. For instance, NCBI research said that in 2019, a Who predicts that more than 500,000 people might die from pneumonia each year while that nearly one billion individuals will be unwell, which will likely lead to an increase in the number of healthcare facilities and hospitals.
mRNA therapeutics Market Share, By Region, 2022 (%)
| | |
| --- | --- |
| Regions | Revenue Share in 2022 (%) |
| North America | 35% |
| Asia Pacific | 22.7% |
| Europe | 28.7% |
| Latin America | 8% |
| MEA | 5.6% |

What is the regional impact in the mRNA therapeutics market?
With such a market share of approximately 37% in 2022, the United States was the market's dominant region and would have the quickest growth throughout the projected period. The market in the United States will be driven by the accessibility of sizable research money, escalating centralized programs for RNA-based therapies, and a rising number of numeral medical studies. For instance, Graham as well as others' basic research was supported by the Defense Department, National Institute of Health, and government-financed university institutions in Nov 2020. This assistance was a key factor in the rapid discovery of vaccines for COVID-19. An administration has given vaccine producers an extraordinary because the pandemic began to speed up the distribution of their goods. Due to a rise in patients and knowledge of rare hereditary diseases, Europe accounted for another major profit share in 2021.

Additionally, there are significant companies currently in Europe, as well as the demand for mRNA vaccinations and therapies to develop transformative medicines is rising there. For instance, Moderna is spreading its wings throughout Europe and the U.S. biotechnology's development to "permit the distribution of mRNA inoculations and treatments locally," which will boost the requirement for mRNA inoculations and further propel the market during the forecasting period.
Recent Developments:
The development of COVID-19 upcoming mRNA vaccinations with the potential for a multi-valent approach to treat several emerging variants in a single immunization was the subject of a revised in million deal between CureVac N.V. and GlaxoSmithKline plc in February 2021, expanding on their existing collaboration. The potential for stakeholders in this specialized industry sector is likely to significantly rise in the anticipated future as more mRNA-based medicinal / vaccine leads demonstrate proof-of-concept, undergo medical trials, and ultimately hit the market.

Key market players:
Alnylam Pharmaceuticals
Arcturus Therapeutics
Argos Therapeutics Inc.
AstraZeneca plc.
BioNTech SE
CRISPR Therapeutics AG
Curevac AG
Etherna Immunotherapies
Ethris GMBH
GSK plc.
IN-CELL-ART
Ionis Pharmaceuticals, Inc
Moderna Therapeutics
Nutcracker
Pfizer Inc.
Sangamo Therapeutics, Inc.
Sanofi AG
Sarepta Therapeutics
Tiba Biotech
Translate Bio, Inc.
Segments covered in the report:
(Note*: We offer report based on sub segments as well. Kindly, let us know if you are interested)
By Application
Rare Genetic Diseases
Respiratory Diseases
Infectious Diseases
Others
By Type
Prophylactic Vaccines
Therapeutic Vaccines
Therapeutic Drugs
By End User
Hospitals & Clinics
Research Organizations
Other
By Geography
North America
Europe
Asia-Pacific
Latin America
Middle East & Africa (MEA)