The global natural extracts market was valued at USD 10.3 billion in 2021 and it is expected to hit around USD 22.63 billion by 2030, poised to grow at a CAGR of 9.2% from 2022 to 2030.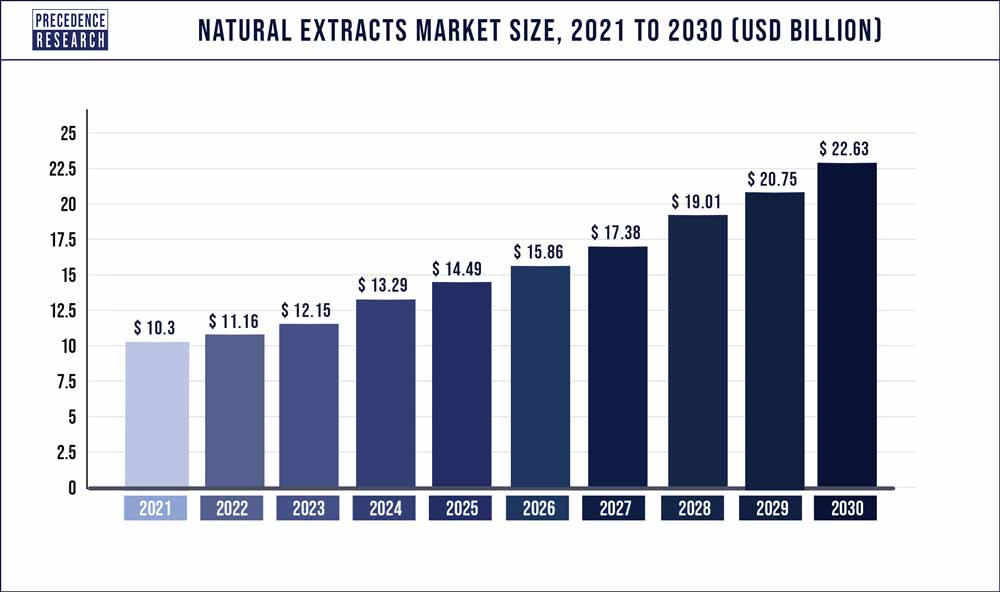 Access our Premium Real Time Data Intelligence Tool, Visit: Precedence Statistics
Regional Insights
The U.S. natural extracts market size accounted for USD 2.57 billion in 2021 and is estimated to reach around USD 5.31 billion by 2030, growing at a CAGR of 8.4% from 2022 to 2030.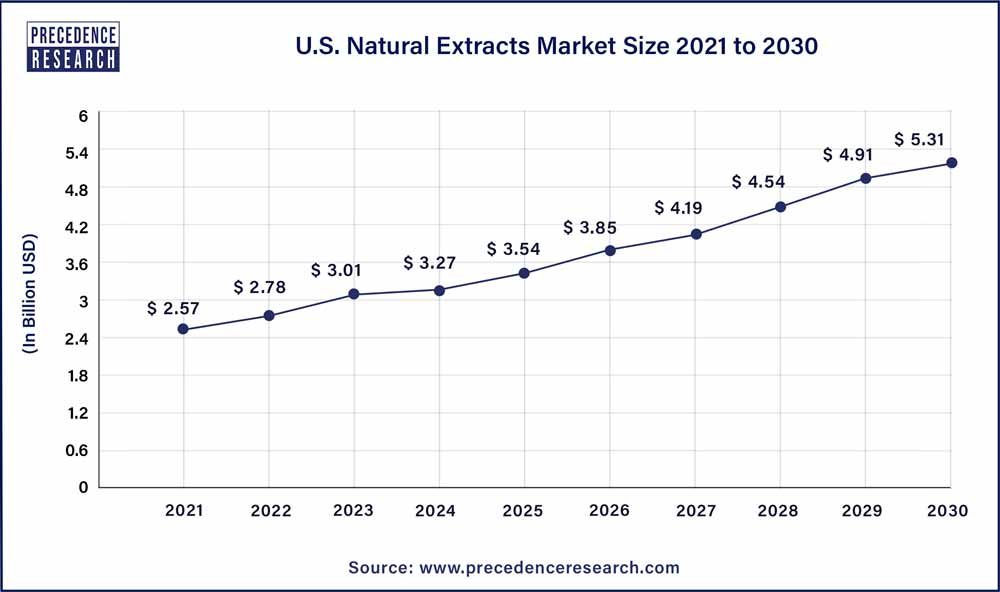 Asia Pacific region dominates the natural extracts market. The region includes major emerging economies such as China, India, and Japan, which have a high consumer base for natural & healthy products due to population and income growth. The natural extracts market is driven by an increase in favorable government initiatives regarding awareness about healthy lifestyles. For instance, since 2016, China has been implementing the "Healthy China 2030" policy to promote people's all-round development in the country. Moreover, an increase in production and supply of spices & herbs in India is also driving the market growth in the region. For instance, according to the India Brand Equity Foundation, in 2020-21, ginger export witnessed growth of around 47% from 2019-20, accounting for a 10% year-on-year growth of the total spices export.
About 30.5% of the global revenue for natural extracts was in the European region in 2021. The use of essential oils in cosmetics and fragrances are widely used in the European countries by the manufacturers in the European region. They use essential oils in the production. The global demand for the natural extracts is currently driven by two industries, which is the food and beverages and the personal care. In the developed economies, the demand for the floral extracts or the essential oil is more as the people have high standards of living.
Aromatherapy has a major application of the essential oils and the aromatherapy sector is growing in the European nations. Germany, Austria, France and Switzerland are the major markets for aromatherapy. Other significant markets for aromatherapy are Netherlands and UK. Europe is an exporter and a manufacturer of pharmaceutical products that use natural extracts. An increase in this areas aging population is also expected to drive the demand for pharmaceuticals and neutraceuticals in this region. Constant research and developmental activities to produce natural products are expected to drive the market and awareness about the concept of healthy aging and an increasing health conscious diet is also driving the market. The deficiency of essential micronutrients, or the inclusion of synthetic products in the US has led to an increase in the cases of obesity, cardiovascular diseases, Osteoporosis. Therefore, there is a great demand for plant extracts in food and beverages.

Natural Extracts Market Overview
Natural extracts are the ingredients that are derived from natural sources like vegetables, fruits, plants, grains, meat, or even seafood. These natural products provide an additional benefits to the consumers for better health, beauty etc. The natural extracts are used in many applications like flavors, edible oils colorants etc. It is the most demanding ingredient for essential oils, fragrances, flavors and spices. It has great application in food and beverage industry and the pharmaceutical industry. These ingredients do not just provide flavor, but are also healthy as they serve many vitamins, carbohydrates and minerals. The unavailability of various raw materials and increased prices of these raw materials shall hinder the growth of the market.
Growth Factors
Due to an increase in the trend of vegetarianism or veganism the natural extracts market is expected to boost. The increased consumer awareness, increased adoption of natural ingredient based products, change in the lifestyle and bio technological advancements are driving the market. The increase in the consumer's disposable income, research and development, growth of the agricultural industry, aging population, imports and exports and the growth in the population are all positively affecting the growth of the natural extracts market. Natural extracts are very popular among the consumers as they do not have any detrimental side effects like those that are chemical based. They see applications in personal care and cosmetics, food and beverage products and pharmaceuticals. The overall health benefits that are provided by the natural extracts are expected to create a demand for this product. In various industries due to increasing application in terms of flavors and fragrances. The North American region is the second highest market for the essential oils. The increased use of natural ingredients based product by all the consumers is expected to escalate the growth of this market.
Report Scope of the Natural Extracts Market
| | |
| --- | --- |
| Report Coverage | Details |
| Growth Rate from 2022 to 2030 | CAGR of 9.2% |
| Market Size in 2021 | USD 10.3 Billion |
| Market Size by 2030 | USD 22.63 Billion |
| Europe Market Share in 2021 | 31% |
| Food and Beverage Segment Market Share in 2021 | 47% |
| Base Year | 2021 |
| Forecast Period | 2022 to 2030 |
| Segments Covered | Products, Application, Source, Techniques, End User, Type, Geography |
| Companies Mentioned | Flavex Naturextrakte GmbH, Arjuna Natural Pvt. Ltd., Firmenich SA, Robertet Group, Sami Spices, Synthite Industries Ltd., Ransom Naturals Ltd., India Essential Oils, A.G. Industries, Symrise, Kancor |
Market Dynamics
Market Drivers
Rising Personal Disposable Income
Products containing natural extracts are gaining popularity among the consumers due to a rise in their disposable income. These extracts require advanced biotechnologies for extraction and processing. They also require proper supply chain and logistics for transportation, as these extracts are void of preservatives and other artificial ingredients to keep them fresh.
Moreover, an increase in personal disposable income around the world is accelerating the market growth, as consumers have high purchasing power and awareness of these products. For instance, according to the World Bank data, global GDP per capita increased from US$ 10,936.1 in 2020 to US$ 12,262.9 in 2021. Likewise, according to the Organisation for Economic Co-operation and Development, Gross per capita, percentage change of household disposable income in the U.S. grew by 2.54% in 2021 and the same rose in the U.K. by 0.79% in 2021.
Furthermore, a rise in income enables consumers to spend more on innovative products. Natural extract products include food & beverages, cosmetics such as hair care & skin care products, pharmaceuticals and others.
Health Benefits Associated with Natural Extracts
Natural extracts are widely preferred for food & beverages, personal care, and medicinal applications. Consumers are preferring these products to improve their lifestyles. Due to hectic working hours, reduction in physical activities, and rising adulteration in the products, natural extract is gaining popularity among consumers.
Moreover, consumers are choosing natural extracts according to their requirement related to health, which is also boosting the market growth. Natural extracts such as essential oils and oleoresins carry various health benefits for treating diseases as well as preventive care. People adopt natural products for preventing respiratory, digestive diseases, and other diseases such as asthma, cancer, diabetes, blood pressure fluctuations, headaches, and others.
An increase in the prevalence of diseases such as cardiovascular, chronic, respiratory and others is driving the market growth to treat and manage health issues. According to the American Diabetes Association, in 2019, 11.3% of the U.S. population i.e., 37.3 million had diabetes. Also, according to the World Health Organization, in 2020, cancer caused around 10 million deaths around the world. Likewise, according to May 2022 data of the same source, food contamination makes 600 million people in the world fall ill and 420,000 die every year.
Thus, due to the rising number of diseases, consumers are becoming more aware about their food consumption and maintaining healthy lifestyle, which is in turn driving the market growth.
Market Restraints
Availability of Low-cost Alternatives
The global natural extracts industry is rapidly growing; however, some factors such as the availability of low-cost alternatives limit the market growth. Currently, natural extracts are price sensitive as they go through advanced production methods and their availability is limited. They are commonly available in urban cities; however, due to supply chain & cold storage complexities, these products are not extensively consumed in rural regions. This results in the consumption of low-cost synthetic substitutes.
Moreover, other factors which make natural extracts price sensitive are crop yield, climate, import/export, agriculture laws, and others. Natural extracts are more expensive than synthetic & chemical counterparts due to high cost related to extraction, purification, and concentration processes. The aforementioned factors contribute to the high prices of natural extracts, which is expected to be a major restraint for the natural extracts market growth.
Market Opportunity
Increasing Adoption of Natural Extracts in End-use Applications
The growth in personal care & cosmetics, pharmaceuticals, food & beverages, nutraceuticals applications is creating lucrative growth for natural extracts. These extracts have major benefits and uses in these applications which have various benefits such as improving skin care, mental illness, food intake and others. Thereby, many companies related to end-use applications are undertaking initiatives to expand the demand for organic and natural products.
Significant growth of the cosmetics market around the world is accelerating the market growth. For instance, according to France-based personal care company, L'ORÉAL's annual report of 2021, the growth of the global cosmetics market witnessed an increase from 4.9% in 2017 to 8.2% in 2021. Likewise, according to the Food and Agriculture Organization 2021 data, in 2019, the global sales of organic food and drink reached over US$ 107 billion.
Hence, the rising demand for natural ingredients for end-use applications is expected to create a profitable opportunity for the market growth over the forecast period.
Product Insights
On the basis of the product, the natural extracts market has various segments like organic extracts, natural colors, dried crops, essential oils and oleo-resins. The dried crop segment accounted largest revenue share 41% in 2021 and it is expected to dominate the market during the forecast. The demand for dried crops is expected to grow during the forecast. As there is an increased application in food and beverages industry. Dried Chilli is used in the food and beverages industry, and it is widely accepted in the Asia Pacific region.
Turmeric oil is also widely accepted in the Asia Pacific region as it has many qualities that are antiparasitic antifungal, antibacterial, anti allergic, anti viral, anti microbial and anti worm. It has anti cancer effects when it is primarily used in food. Turmeric has wide application in the production of medicines. Oil has a distinct aroma which is distilled. It is usually used in aromatherapy. It has wide applications for skin and hair care. It is also used as a flavoring agent for confectionery, bakery products, beverages, cookies, cakes and biscuits. The various essential oils which are made with the help of natural extracts are ginger, oil, turmeric oil, davana oil, peppermint oil, cedar wood, Patchouli oil and tea tree oil. The Oleoresins are black pepper, capsicum, paprika, turmeric, garlic, onion, ginger.
Application Insights
On the basis of application of these natural extracts, the food and beverage industry is expected to have the largest share 47% in 2021. As the natural extracts are safe and minimally processed food, they are widely accepted across the globe. In order to preserve food and beverages, the anti microbial properties of the natural extracts are useful in order to increase the shelf life of the products.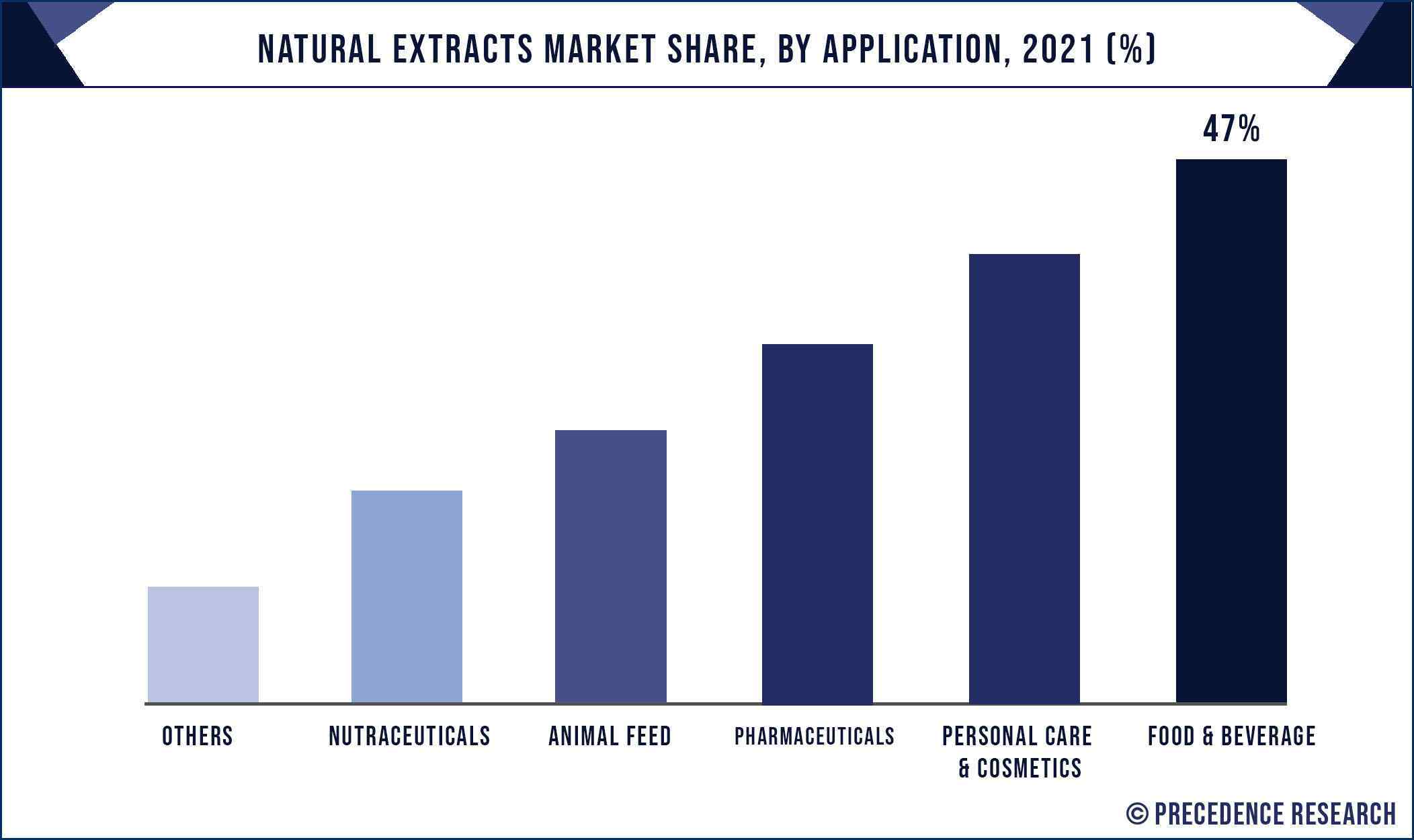 The use of the natural extracts by the manufacturer is expected to help in the growth of the market. The use of the natural extracts in the storage of the food or in extending the shelf life of the food, there is no compromising on the quality involved. Natural extracts also have an application in spas for aromatherapy which helps in rejuvenating physically, emotionally, spiritually and mentally. The spa industry is also driven by the natural extracts in the form of essential oils.
Key developments in the natural extracts market
I

n May 2018, Synergy Flavors, recently announced its acquisition of Janou

s

ek (Italy), one of the world's first suppliers of herbal extracts and natural flavoring and an expert in Italian flavor profiles. The acquisition of Janou

s

ek will enable Synergy Flavors which is one of the leading suppliers of flavors, extracts, and essences for the global food & beverage industry, to expand into these European geographies and provide its expertise in areas such as nutrition and dairy.
In September 2020, Symrise launched SymControl Scalp,

t

o solve the issue of sebum overproduction at its source which uses Tetraselmis Suecica extract which normalizes the sebum production on the scalp and promotes healthy hair

, c

ombined with the naturally occurring algae which is Mannitol, this algae also protects the scalp and hair from environmental stress.
In October 2020, Givaudan In line with the recently announced 2025 strategy – Committed to Growth, opened its newest state-of-the-art fragrance production facility in Changzhou, China. As China remains a key growth market for innovative and consumer-preferred fragranced products in the future.
Key Market Players
Flavex Naturextrakte GmbH
Arjuna Natural Pvt. Ltd.
Firmenich SA
Robertet Group
Sami Spices
Synthite Industries Ltd.
Ransom Naturals Ltd.
India Essential Oils
A.G. Industries
Symrise
Kancor
Segments covered in the natural extracts market.
(Note*: We offer report based on sub segments as well. Kindly, let us know if you are interested)
By Products
Essential Oils

Turmeric Oil
Ginger Oil
Peppermint Oil
Davana Oil
Cedarwood
Cornmint
Eucalyptus
Lemon
Lime
Orange
Vetiver
Tea Tree
Patchouli Oil

Natural colors

Paprika
Natural Yellow Color
Annatto Color
Anthocyanin Color

Oleo-resins

Paprika
Black Pepper
Capsicum
Turmeric
Ginger
Garlic
Onion
Others

Herbal Extracts

Capsaicin
95% Curcumin
Ashwagandha
Kale

Dried Crops

Dried Chili Whole
Dried Ginger Whole
Dried Turmeric Whole
By Application
Personal Care & Cosmetics
Food & Beverage
Animal Feed
Pharmaceuticals
Nutraceuticals
Others
By Source
Plant Source
Tea Extracts
By Techniques
Expression
Absorption
Maceration
Distillation
By End User
Cosmetic
Pharmaceutical
Food Industries
Others
By Type
Teas
Blossoms
Spices
Herbs
By Geography
North America
Europe
Asia-Pacific

China
India
Japan
South Korea
Malaysia
Philippines

Latin America

Brazil
Rest of Latin America

Middle East & Africa (MEA)

GCC
North Africa
South Africa
Rest of the Middle East & Africa