The global plant extracts market size was valued at USD 10.19 billion in 2021 and is expected to hit around USD 22.49 billion by 2030, poised to grow at a CAGR of 9.2% during the forecast period 2022 to 2030.
The plant extracts market is being driven by factors such as changing lifestyles, consumer awareness, increased use of natural ingredient-based products, and biotechnological breakthroughs. Furthermore, macroeconomic variables such as rising consumer disposable incomes, R&D, imports and exports, agriculture industry growth, ageing populations, and population increase have all influenced plant extract demand positively in recent years. Plant extracts are becoming increasingly popular in a number of industries, including food & beverage, cosmetics, perfumes, medicines, and nutraceuticals.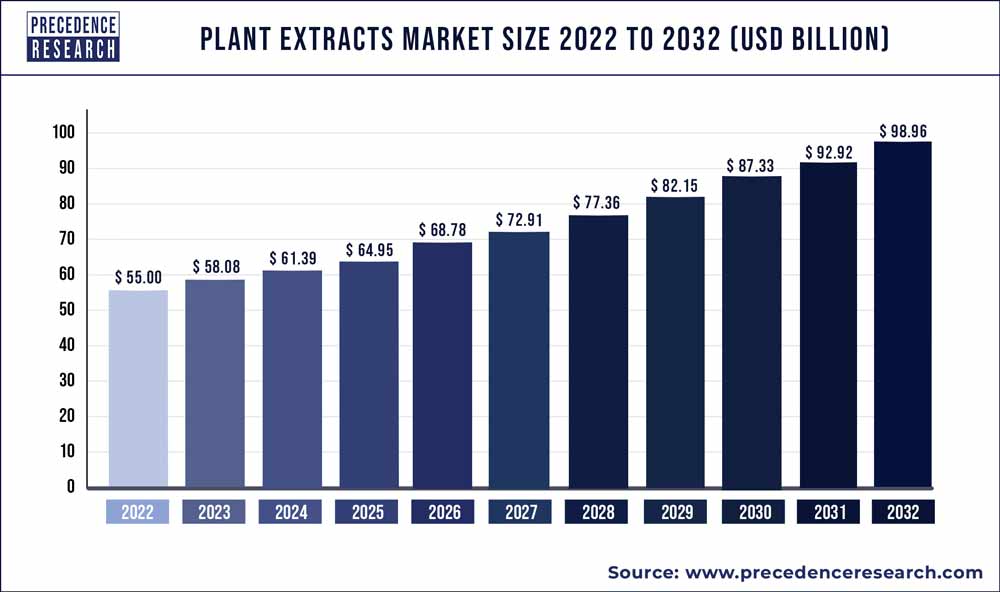 COVID-19 IMPACT
Covid-19 pandemic which is spreader all over the world have various effects on plant extracts market. Therapeutic plant extracts will be the substances which are majorly as well as widely used for treating diseases as they are employed in medicines and in personal maintenance systems as well as others. Among the regular concern and panic of COVID-19 pandemic, consumers are highly worried of keeping the on their health which is expected to raise the sales of health supplements across the globe. Additionally, consumer shift to plant-derived supplements is influencing the progress of medicinal herb extracts in the medicinal products.
Inside the current situation, it is now important to boost the immune system to fight coronavirus along with sustaining hygiene. However, suggestions provided by WHO (World Health Organization) in their COVID-19 analysis, they suggest the world human population to consume food products that will boost the immunity. Hence, the necessity for therapeutic plant extracts holding properties of increasing human immunity is at the rise in the pharmaceutical drugs & nutraceuticals industry.
However, the worldwide lockdown has additionally influenced the farming procedures which have highly impacted the source of raw materials of medicinal herb extracts. Moreover, COVID-19 impact to strategies also helps the increased prices of raw materials which boost the cost for medicinal plant components manufacturers. With trade limitations on cross-border movements of commodities in this pandemic situation, the industry was highly dependent on local raw material sellers which increased the bargaining power of the suppliers.
Report Scope of the Plant Extracts Market
| | |
| --- | --- |
| Report Coverage | Details |
| Market Size | USD 22.49 Billion by 2030 |
| Growth Rate | CAGR of 9.2% from 2022 to 2030 |
| Base Year | 2021 |
| Largest Market | Europe |
| Fastest Growing Market | North America |
| Forecast Period | 2022 to 2030 |
| Segments Covered | Product, Application, Source, Form, Method, Region |
| Companies Mentioned | Givaudan, Sensient Technologies, Symrise AG, KangcareBioindustry Co, Ltd., PT. Indesso Aroma, Vidya Herbs Private Limited, Shaanxi JiahePhytochem Co. Ltd., Synthite Industries Private Ltd., Döhler, International Flavors & Fragrances Inc. |
Product Insights
On the basis of product, the dried crops category dominated the market in 2021, accounting for about 42.7% of total revenue, and is likely to continue to do so throughout the forecast period. Over the projected period, the growing need for dried crops in end-use sectors such as food and beverage is likely to fuel the demand for dried crops. In the food and beverage sector, dried chilli whole is a spice.It is widely accepted in Asia Pacific, where spicy and hot diets are the most popular.
Turmeric oil is an antibacterial, anti-allergic, antimicrobial, antiparasitic, antifungal, anti-worm, and antiviral component.It's becoming more well-known for its anticancer properties, thus it's mostly used in food and beverage and healthcare applications. Furthermore, it is popular in personal treatment and medicinal programs as it has properties that are useful in wide array of treatments such as 20 remedies, 14 cancer-preventive, twelve anti-tumor, and twelve anti-inflammatory molecules, together with 10 anti-oxidants.
Application Insights
On application basis, the food and beverage held the largest market share with more than 45% revenue coming from food & beverages industry. Anti-bacterial properties of plants help maintain food and refreshment products for an extended duration, which is expected to drive the merchandise demand from manufacturers that are focused on increasing the space life of goods without compromising on the quality.
Growing preference of consumer towards natural products above synthetic products and the climbing demand for high-quality products are forcing food and refreshment manufacturers to include healthy and nutritionally betterplant extracts in their product promotions. However, certain essential oils are generally not considered safe for inside use because of their inappropriate chemical contents. According to the Acknowledged as Risk-free (GRAS) list by the FDA, eucalyptus is 1 of the major essential oils that is regarded as hazardous for cosmetic as well as beverage application.
Regional Insights
European region is focusing significantly on plant extracts and hence accounted for around 30.4% market share of the global plant extracts market in 2021. In European countries, use of essential oils in cosmetic makeup products as fragrances offers numerous opportunities to the manufacturers of such essential oils. As per the CBI, the essential oil products demand from Europe accounted for more than 50% of the global demand, which is primarily driven by the natural and personal care and food and beverages companies.
A developed countries where consumers' standard of living is high, demand for essential oils and floral extracts is boosting over the past few years which, in turn is likely to drive the regional market. Inside Europe, aromatherapy is a serious application of essential oils. Portugal, Austria, Germany, and Switzerland will be the major markets for alternative medicine, which can be used for therapeutic purposes. Typically the Netherlands and the U.K. are also considerable market segments for aromatherapy.
The second-largest essential oil market is in North America, owing to the growing use of tastes and fragrances in foods, beverages, and pharmaceuticals. The presence of the food and beverage and pharmaceutical industries, as well as other end users of tastes and fragrances, characterizes the North American market. The essential oils market in the region has benefited as a result of this.
The second-largest essential oil market is in North America, owing to the growing use of tastes and fragrances in foods, beverages, and pharmaceuticals.The presence of the food and beverage and pharmaceutical industries, as well as other end users of tastes and fragrances, characterizes the North American market. The essential oils market in the region has benefited as a result of this.
In Asia Pacific, India is attractive market in plant extracts industry. Indian market is seeing a fast paced expansion, as there has been a shift in widespread trend from man-made to herbal drugs. India accounts for a wide verities of plants and has one of the earth's richest medicinal vegetable legacy. In addition, plants which comprise of therapeutic agents are really esteemed across the world as they help in prevention of diseases and ailments. With increased ventures as well as demand of plant based extract in various market across the globe from India, there liespromising opportunities for new and existing players to tap the quick-progress market which would garner their market position.
Makers of natural ingredients like oleoresins, essential oils, natural and organic extracts, natural colors are giving more attention to R&D antiquities to provide new more enhanced products to the purchasers.
Synthite Industries Ltd. has initiated a raw material durability initiative, namely Farmtech, to function closely with farmers and control the caliber of raw materials.
Storing essential skin oils features utmost matter to take care of the space life of the product and avoid any harmful outcomes, and then the manufacturers follow safe and standard routines in handling and storage of the merchandise. For instance, in European countries consumer can export its essential oil to other countries only if the merchandise complies with the required EU Union legal requirements for cosmetics and 100 % natural ingredients
Some of the prominent players:
Givaudan
Sensient Technologies
Symrise AG
KangcareBioindustry Co, Ltd.
PT. Indesso Aroma
Vidya Herbs Private Limited
Shaanxi JiahePhytochem Co. Ltd.
Synthite Industries Private Ltd.
Döhler
International Flavors & Fragrances Inc.
Segments Covered in the Report
By Product
Essential Oils
Oleoresins
Herbal Extracts
Natural Colors
Dried Crops
Spices
Flavors & Fragrances
By Application
Personal Care & Cosmetics
Food & Beverage
Animal Feed
Pharmaceuticals
Nutraceuticals
Others
By Sources
By Form
By Method
Maceration

Infusion

Decoction

Percolation

Soxhlet

Ultrasound-Assisted Extraction

Supercritical Fluid Extraction

Phytonics Process

Microwave Assisted Extraction

Others
By Geography
North America
Europe
Asia-Pacific

China
India
Japan
South Korea
Malaysia
Philippines

Latin America

Brazil
Rest of Latin America

Middle East & Africa (MEA)

GCC
North Africa
South Africa
Rest of the Middle East & Africa