The global next generation cancer diagnostics market size was reached at USD 15.2 billion in 2022 and it is expected to be worth around USD 32.9 billion by 2032, growing a CAGR of 8.02% during the forecast period 2023 to 2032.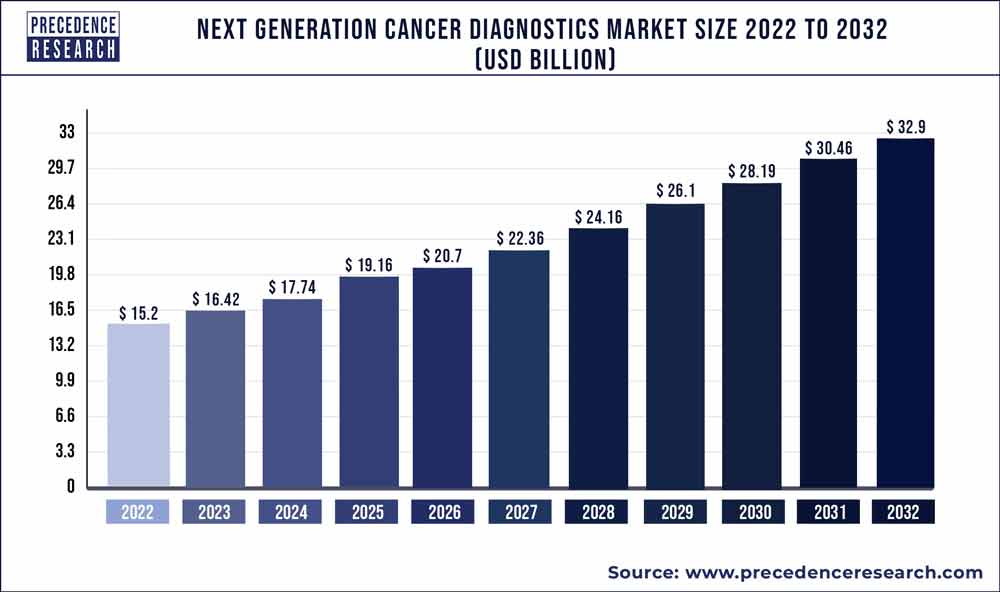 Key Takeaways:
By technology, next-generation sequencing accounted highest revenue share of around 37.1% in 2022.
By application, the biomarker development segment has held the largest revenue share of around 40.8% in 2022.
By application, the genetic analysis segment is expanding at a CAGR of 11.2% over the forecast period 2023 to 2032.
By cancer type, breast cancer is expected to grow at a CAGR of 10.1% over the forecast period.
By function, the therapeutic monitoring segment has dominated the market with a revenue share of 26% in 2022 whereas the prognostic diagnostics segment is expected to reach a CAGR of 10.2% during the forecast period.
By region, North America accounted largest revenue share of 40.7% in 2022.
The Asia Pacific region is poised to grow at a CAGR of 12.1% over the forecast period.
Market Overview:
Next generation cancer diagnostics refers to a category of advanced and innovative diagnostic techniques, technologies, and methodologies. These diagnostics go beyond traditional methods by leveraging cutting-edge approaches that provide more precise, comprehensive, and personalized information about cancer, enabling earlier detection, more accurate diagnosis, and tailored treatment strategies. The term "next generation" in this context signifies a departure from conventional cancer diagnostic approaches, emphasizing the adoption of state-of-the-art tools and strategies. Next-generation cancer diagnostics encompass a range of techniques that include genomics, proteomics, advanced imaging, liquid biopsies, AI and molecular profiling.
In February 2023, a new global breast cancer Initiative Framework, published by the World Health Organization (WHO), stated a roadmap for achieving the goal of 2.5 million lives saved from breast cancer by 2040. To achieve the goals, the new Framework, urges nations to follow the three pillars of health promotion for early detection, prompt diagnosis, and thorough care of breast cancer. Breast cancer is the most prevalent cancer in people, with more than 2.3 million cases diagnosed each year. Breast cancer is the primary or secondary cause of mortality for women from cancer in 95% of the world's nations. However, there are significant disparities in breast cancer survival between and within nations. Nearly 80% of breast and cervical cancer fatalities take place in low- and middle-income nations.
Growth Factors:
Next-generation cancer diagnostics approaches are collectively transforming the field of oncology by offering a deeper understanding of the genetic, molecular and cellular aspects of cancer. The next generation cancer diagnostics market is driven by various factors including the increasing prevalence of cancer, growing product launches, rising collaboration among the industry players, increasing investment in research and development and rising government initiatives in developing and developed countries.
Report Scope of the Next Generation Cancer Diagnostics Market:
| | |
| --- | --- |
| Report Coverage | Details |
| Market Size in 2023 | USD 16.42 Billion |
| Market Size by 2032 | USD 32.9 Billion |
| Growth Rate from 2023 to 2032 | CAGR of 8.02% |
| Largest Market | North America |
| Base Year | 2022 |
| Forecast Period | 2023 to 2032 |
| Segments Covered | By Technology, By Application, By Cancer Type, and By Function |
| Regions Covered | North America, Europe, Asia-Pacific, Latin America, and Middle East & Africa |

Market Dynamics:
Driver:
The growing prevalence of cancer along with the rising ageing population
The growing prevalence of cancer along with the rising ageing population is expected to propel the growth of the market during the forecast period. For instance, the Australian Institute of Health and Welfare reports that as people age, the probability of developing cancer increases in Australia. Each year, more Australians are diagnosed with cancer as they become older. Australia's population is forecast to increase by 15% (or about 4 million people) between 2021 and 2031, whilst cancer cases are anticipated to rise by around 22% during the same period. Between 2022 and 2031, it's expected that 1.7 million new cases of cancer will be discovered, with about 185,000 of those cases being identified in 2031. Thus, the aforementioned facts are expected to propel the market growth during the projection period.
Restraint:
High cost
Over the anticipated term, market growth is anticipated to be constrained by the high cost of NGS technology. For instance, NGS technology costs around $ 130 per sample, excluding setup fees and training needed before use. Each lab must thus evaluate this cost when compared to their sample-based costs when utilizing a conventional detection method. Therefore, the next-generation sequencing cancer diagnostics' high price serves as a significant inhibitor of market revenue growth.
Opportunity:
Increasing collaboration activities
The increasing collaboration among the key market players in the next-generation sequencing industry is expected to offer a lucrative opportunity to market growth during the forecast period. collaboration activities and other business activities promote development and innovation in the industry by expanding the presence of key players in the market. For instance, in July 2023, Pillar Biosciences Inc. and a prominent company in DNA sequencing, Illumina Inc partnered to commercialize Pillar's suite of oncology assays as a part of Illumina's oncology product line. The agreement will lead to a previously unheard-of offering of complementary next-generation sequencing solutions that will improve patient access to personalized cancer treatment options while increasing the efficacy, accuracy, and cost-effectiveness of oncology testing. Thus, such collaboration activities in the upcoming period are expected to act as opportunity for the market.
Segments Insight:
Technology Insights:
Based on the technology, the global next generation cancer diagnostics market is segmented into next-generation sequencing, qPCR and multiplexing, Lab-on-a-chip (LOAC) & Reverse Transcriptase-PCR (RT-PCR), Protein Microarrays and DNA Microarrays. The next-generation sequencing is expected to dominate the market over the forecast period. Next-generation sequencing allows for the comprehensive sequencing of a patient's cancer genome, identifying genetic alterations such as mutations, copy number variations, and structural variations. It helps pinpoint specific genes and pathways involved in the development and progression of the cancer.
Moreover, the growing product launches in the field of the next-generation sequencing also drive the segment expansion during the forecast period. For instance, in April 2023, DeciBio Analytics launched the refreshed 2023 NGS Oncology DxBook. A lab-level picture of the clinical NGS market is provided for therapy selection in the NGS oncology DxBook. The NGS Oncology DxBook's initial addition included thorough in-house workflow coverage for 70 US institutions. Thus, this kind of product launch is expected to propel the market expansion during the forecast period.
Application Insights:
Based on the application, the proteomic analysis segment is expected to grow at the fastest rate during the forecast period. Proteomic analysis is a powerful technique in cancer research and diagnostics that focuses on the study of proteins within a cell, tissue, or organism) is crucial because proteins play key roles in cancer development, progression, and response to treatment. These analyses of cancer is a multidimensional approach that provides critical insights into the molecular mechanisms underlying cancer.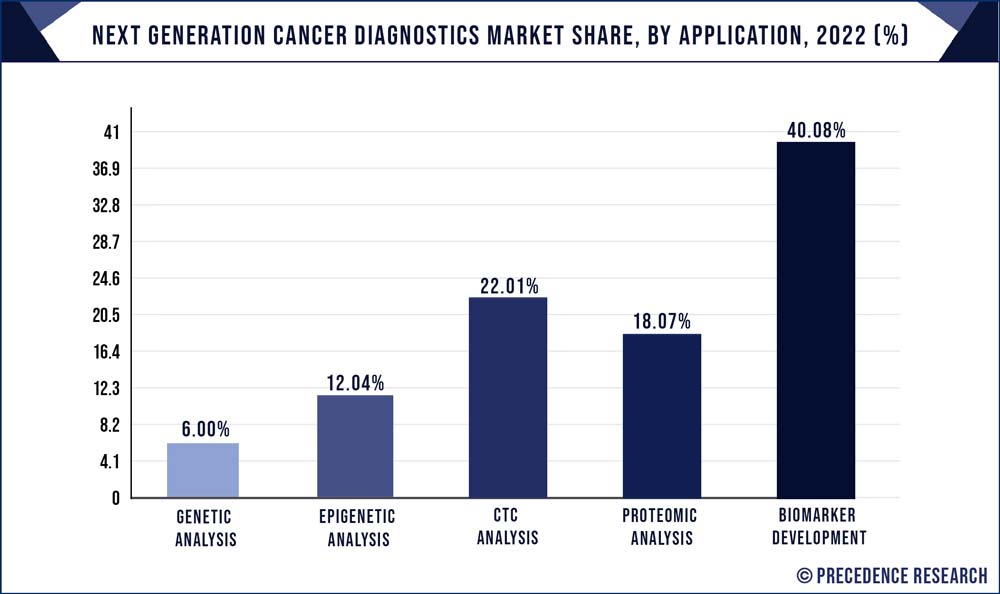 It has wide-ranging applications in diagnosis, prognosis, treatment selection and drug development, making it an invaluable tool in the fight against cancer. As technology continues to advance, proteomics is expected to play an even more prominent role in improving the understanding of cancer and developing more effective therapies. Moreover, the growing products & services by the operating players also drive the market growth. For instance, in April 2023, Biognosys presented novel cancer research using its proteomics platforms and advance data analysis with the introduction of Proteoverse. The data visualization tool Proteoverse makes proteomics data more approachable and makes it simple to spot biologically relevant insights for biomarker and biopharmaceutical research. Therefore, propelling the segment growth.
Cancer Type Insights:
Based on the cancer type, the breast cancer is expected to grow at the fastest rate over the forecast period. One of the most common kinds of cancer in the world, breast cancer affects a lot of people. The higher growth of the segment is attributed to the growing incidence of breast cancer as well as increased awareness and screening initiatives.
The identification and early diagnosis of breast cancer have improved as a result of advancements in diagnostic technology and screening techniques. Early identification allows for prompt intervention, more potent therapy, and better patient outcomes. The use of cutting-edge imaging methods including mammography, ultrasound, and MRI together with the creation of tests based on biomarkers have improved the efficacy and accuracy of breast cancer detection. Thereby, driving the market growth over the forecast period.
Function Insights:
Based on the function, the therapeutic monitoring segment is expected to dominate the market during the forecast period. The demand for efficient therapeutic monitoring has increased as targeted treatments and immunotherapies are being used more often to treat cancer. For best patient results, these cutting-edge therapy techniques frequently need constant monitoring to assess their effect on the tumor.
A real-time monitoring of treatment effectiveness is possible due to next-generation cancer diagnostics which may identify particular genetic mutations or indicators that influence the response to targeted therapy. Additionally, the sensitivity, precision and effectiveness of treatment monitoring have considerably increased due to continuous developments in NGS, liquid biopsies and molecular imaging technologies. For instance, the FDA approved Novartis Pluvicto in March 2022 as the first targeted radioligand therapy for the management of metastatic catration resistance prostate cancer that is progressing and PSMA positive. Thereby, driving the segment growth over the projection period.
Regional Insights:
North America is expected to dominate the market over the forecast period. The availability of a strong healthcare infrastructure and a keen interest in cancer research are credited with the dominance of the area. The area has modern healthcare facilities, cutting-edge technology, and a highly qualified workforce, all of which contribute to the quick acceptance and use of next-generation cancer diagnostics. In addition, compared to other locations, the region has a greater cancer prevalence and a bigger patient pool.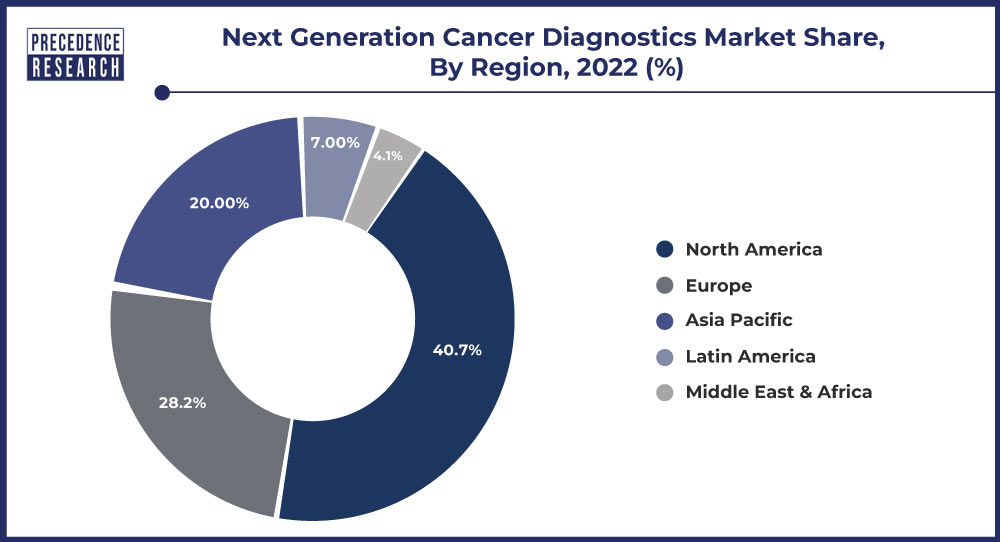 This expanded patient base helps to fuel expansion by raising the need for cutting-edge diagnostic tools. According to the Prostate Cancer Foundation, in the US, prostate cancer is the cancer type that is most frequently diagnosed apart from skin cancer. 1 in 8 American men may receive a prostate cancer diagnosis at some time in their life. Thus, the aforementioned stats are expected to drive the market growth in the region.
Recent Development:
In May 2023, Thermo Fisher Scientific and Pfizer announced that they have entered a strategic collaboration in order to expand local access to next-generation sequencing based testing for people suffering from breast and lung cancer across Latin America, Middle East, Asia and Africa. This access to NGS testing can promote quicker study of genes associated with diseases.
In April 2023, ChromaCode announced a collaboration with Protean BioDiagnostics, a cancer diagnostic facility, to introduce a non-small cell lung cancer test through an early access program. The test uses ChromaCode's high-definition PCR multiplexing technology and has a turnaround time of less than 24 hours to identify all National Comprehensive Cancer Network-recommended variations in a single assay. The test takes 15 nanograms of input DNA and 5 nanograms of input RNA, and it has shown 99 percent concordance with next-generation sequencing.
In June 2023, Devyser launched two prodcuts, LynchFAP and BRCA PALB2 to offer precise and effective analysis of genes related elevated risk of cancer. These kits assure their performance for breast cancer, ovarian cancer and Lynch syndrome.
Key Market Players:
GE HealthCare
Koninklijke Philips N.V.
Novartis AG
F. Hoffmann-La Roche Ltd
Illumina, Inc.
QIAGEN
Agilent Technologies, Inc. (Dako)
Abbott
Thermo Fisher Scientific Inc.
Janssen Pharmaceuticals, Inc.
Segments Covered in the Report:
(Note*: We offer reports based on sub-segments as well. Kindly, let us know if you are interested)
By Technology
Next-generation Sequencing
Lab-on-a-chip (LOAC) & Reverse Transcriptase-PCR (RT-PCR)
qPCR & Multiplexing
Protein Microarrays
DNA Microarrays
By Application
Biomarker Development
Proteomic Analysis
CTC Analysis
Epigenetic Analysis
Genetic Analysis
By Cancer Type
Lung Cancer
Colorectal Cancer
Breast Cancer
Cervical Cancer
Others
By Function
Therapeutic Monitoring
Prognostics
Companion Diagnostics
Cancer Screening
Risk Analysis
By Geography
North America
Europe
Asia-Pacific
Latin America
Middle East and Africa