The global NLP in healthcare and life sciences market size was reached at USD 3.75 billion in 2022 and it is expected to be worth around USD 42.34 billion by 2032, poised to grow at a CAGR of 27.43% during the forecast period from 2023 to 2032.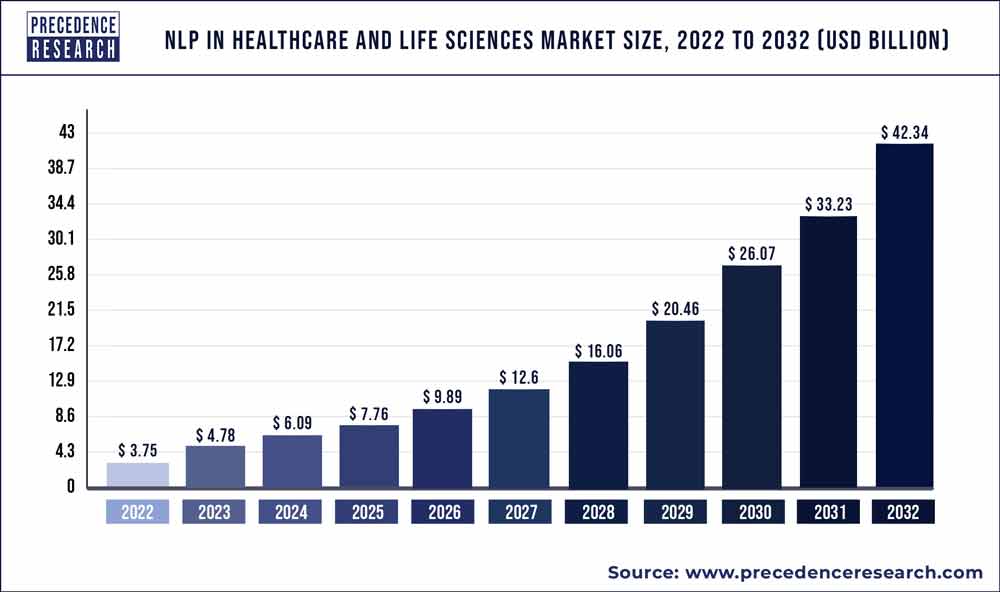 Natural Language Processing (NLP) is becoming an increasingly important healthcare and life sciences technology. NLP allows for the automated analysis of large amounts of text-based data, such as electronic health records (EHRs), medical literature, clinical trial reports, and patient-generated content. NLP has the potential to revolutionize healthcare and life sciences, enabling more efficient, accurate, and personalized patient care and facilitating the discovery and development of new treatments and therapies. Additionally, extracting insights from unstructured data, sentiment analysis, named entity recognition, drug discovery, and patient engagement are booming trends in the NLP in the healthcare & life sciences market.
Report Scope of the NLP in Healthcare and Life Sciences Market:
| | |
| --- | --- |
| Report Coverage | Details |
| Market Size in 2023 | USD 4.78 Billion |
| Market Size by 2032 | USD 42.34 Billion |
| Growth Rate from 2023 to 2032 | CAGR of 27.43% |
| Largest Market | Asia Pacific |
| Base Year | 2022 |
| Forecast Period | 2023 To 2032 |
| Segments Covered | By NLP Type, By Component, By Deployment, By Application, and By End-User |
| Regions Covered | North America, Europe, Asia-Pacific, Latin America, and Middle East & Africa |

Market Dynamics:
Driver: The rising need for accurate processing of large volumes of unstructured data
The healthcare industry has an enormous amount of patient data, including electronic health records, clinical notes, radiology reports, and medical literature. This data is often unstructured, so it needs to be organized in a predefined format and is difficult to search and analyze using traditional methods. NLP can extract relevant information from unstructured data and convert it into a structured, easily researched layout. Additionally, NLP can extract meaningful information from unstructured data sources, such as identifying vital medical terms or concepts from patient notes or radiology reports. This information can then be used to create structured data that can be analyzed for patterns or insights to improve patient outcomes or make clinical decisions.
Restraint: Lack of standardization in clinical language
Healthcare data is highly complex and diverse, and there are many variations in how clinical concepts are expressed in different settings, specialties, and languages. This can make it challenging to develop NLP systems that can accurately and consistently recognize and interpret clinical concepts. For example, different clinicians may use additional terms to describe the same medical condition, which may vary based on the patient's age, gender, or other factors.
Additionally, there may be variations in how different specialties or institutions use clinical language, which can create challenges for developing NLP models that can be applied across different settings. Another challenge related to the lack of standardization in the clinical language is the difficulty in creating training datasets representative of the diverse range of clinical concepts and language variations.
Training datasets are crucial for developing accurate and effective NLP models, and the lack of standardization in clinical language can make it difficult to create comprehensive and representative training data. While the lack of standardization in clinical language remains a challenge in applying NLP in the healthcare and life sciences market, efforts to standardize clinical terminologies and advances in machine learning techniques are helping to overcome this challenge and enable the full potential of NLP in healthcare.
Opportunity: Potential applications in drug discovery & development
NLP has significant potential in the field of drug discovery and development. In the pharmaceutical industry, drug discovery and development is a complex and time-consuming process that involves analyzing large volumes of data from a variety of sources, including medical literature, clinical trials, and patient data. Additionally, NLP can help to automate many of the tasks involved in this process, enabling more efficient and comprehensive analysis of drug targets, potential drug interactions, and adverse drug events. NLP systems can extract and analyze relevant information from medical literature, clinical trial reports, and other sources to identify potential drug targets, drug interactions, and adverse effects. This can help pharmaceutical companies make more informed decisions about which drug candidates to pursue and which drug candidates to eliminate, saving time and resources in the drug discovery and development process.
NLP can also support the development of personalized medicine by analyzing patient data and identifying optimal treatment options for individual patients. By analyzing a patient's medical history, current health status, and genetic information, NLP systems can help identify the most effective treatment options. This can improve patient outcomes by enabling more targeted and personalized treatment plans.
COVID-19 Impact:
The COVID-19 pandemic significantly impacted the use of natural language processing (NLP) in healthcare and life sciences. The pandemic led to a significant increase in the use of telemedicine, as patients had been advised to stay home to reduce the risk of infection. NLP was extensively used to improve the accuracy and efficiency of telemedicine services by enabling automated triage, virtual assistant chatbots, and analyzing free-text entries in electronic health records during the pandemic.
NLP was also used to monitor the health status of COVID-19 patients and predict their risk of deterioration. By analyzing patient data, NLP could identify early warning signs of decay, which helped clinicians to intervene before a patient's condition worsens. The COVID-19 pandemic accelerated the adoption and use of NLP in healthcare and life sciences. These technologies help improve the efficiency and accuracy of healthcare services, accelerate drug discovery, and support patient monitoring and care.
Segments Insight:
NLP Type Insights:
Based on the NLP type, the rule-based natural language processing type segment is expected to acquire the largest share of the market during the forecast period. Rule-based NLP offers precision and domain-specific adaptability. This involves creating linguistic rules to understand and process text, enabling accurate extraction of medical information and diagnoses.
The medical industry is bound with strict regulations and guidelines, the rule-based NLP model offers well-defined text analysis of such guidelines. Adaptability offered by rule-based NLP addresses the unique linguistic challenges in the medical field with its better contextual understanding capacity. This element supports in the clinical decision-making process.
On the other hand, the hybrid natural language processing type segment is anticipated to witness the fastest rate of growth. By blending predefined linguistic rules with data-driven algorithms, hybrid NLP systems excel in handling the complexity and variability of medical texts, making them highly effective in tasks like clinical documentation, information extraction from medical records and biomedical text analysis.
Component Insights:
Based on component, the service segment dominated the market in 2022, the segment is observed to grow at a significant rate. The segment's dominance is attributed to the immense potential held by NLP technology to enhance efficiency and accuracy of domains, prompting a surge in demand for specialized services that can leverage its capabilities effectively. Natural language processing (NLP) services offer tailored solutions for data extraction, sentiment analysis and information retrieval, enabling professionals to derive insights and produce informed decisions.
Deployment Insights:
Based on the deployment, the cloud segment is expected to hold the largest share of the market during the predicted timeframe. The dominant approach of the segment is attributed to the immense computational powers and scalability offered by cloud platforms. Cloud-based deployment facilitates collaborative efforts among researchers and scientists, allowing seamless sharing and analysis of findings. This factor promotes the development of more accurate and efficient algorithms for tasks such as clinical documentation, diagnosis and drug discovery.
Additionally, cloud-based deployment offers flexibility and support in real-time updates and enhancements to NLP models, ensuring that the technology keeps pace with the rapidly evolving medical landscape.
On the other hand, the on-premise segment is predicted to maintain its growth rate at a considerable pace throughout the forecast period. Healthcare and life science sectors often generate large volumes of data. On premise solutions provide the computational power needed to handle these data-intensive tasks efficiently and without relying on external services. In addition, the on-premise models of deployment facilitate the fine-tuning of NLP algorithms to the specific needs of the industry.
Applications Insights:
Based on the application, the pattern and image recognition segment is expected to dominate the market throughout the forecast period. In the healthcare sector, pattern and image recognition technologies allow for rapid and accurate diagnosis through the analysis of medical images such as X-rays and MRIs. NLP algorithms are capable of identifying anomalies, tumors and other critical findings with a level of precision that is often challenging for human experts to achieve.
Whereas in the life science field, pattern recognition plays a vital role in genomics research and identifying correlations. Natural language processing is widely employed in the healthcare sector to generate descriptive data for images.
Deep learning models combine image analysis with language generation to produce textual metadata. Especially in medical imaging, natural language processing can extract relevant data from clinical reports while offering information that aids image interpretation.
End-user Insights:
Based on end-users, the researcher segment is expected to dominate the global NLP in healthcare and life sciences market throughout the forecast period. Medical researchers are observed to utilize the capabilities of NLP for a wide range of purposes in the upcoming years. In recent years, researchers in the medical sector have found NLP to be a technique that can extract valuable insights from medical records, such data can be further utilized for research purposes. NLP algorithm can be successfully tailored for medical contexts for clinical text analysis, therapy prediction and drug discovery.
Considering the rising demand for advanced NLP solutions from the medical research sector, key players and services providers are focused on offering AI-based and machine learning-based solutions. In August 2023, a prominent provider of clinical research solutions, Cloudbyz unveiled a cutting-edge platform with AI and ML capabilities, Clinicalwave.ai. The platform is designed to manage clinical documents for the life science field.
Regional Insights:
Asia Pacific is a relatively new and rapidly growing market for NLP in healthcare and life sciences. The region is seeing strong demand for healthcare IT solutions, particularly in countries such as China, India, and Japan. The increasing adoption of EHRs, rising healthcare expenditure, and the growing need for precision medicine all contribute to the growth of the market in the region. Several major players in the healthcare and technology industries have been investing in NLP and forming partnerships to drive innovation in the field.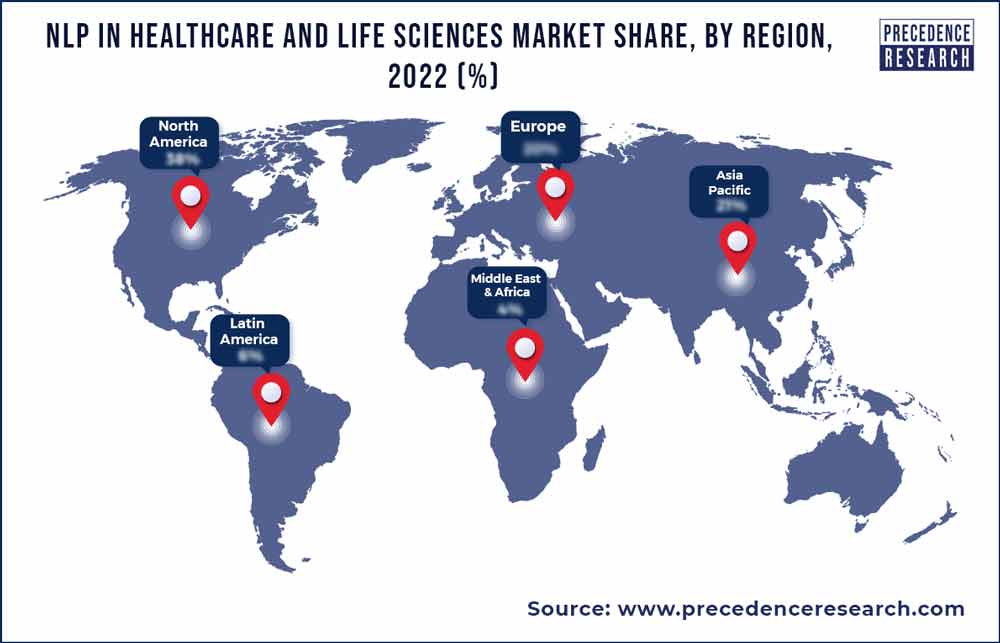 For example, Chinese tech giant Tencent launched an AI-powered medical imaging platform that uses NLP to extract clinical information from medical images in October 2020. The global market for NLP in healthcare and life sciences is expected to grow, driven by the increasing adoption of electronic health records, the growing demand for personalized medicine, and the need to manage and analyze vast amounts of healthcare data.
Recent Developments:
IBM Watson Health (Meratis) unveiled the availability of Zelta, a clinical trial solution that manages clinical data, and provides extension service, and consulting, in 2023.
The 3M Health Information Systems (3M HIS) division received the authorization of Federal Risk and Authorization Management Program status for its 3M RevCycle health services platform (RHSP), in September 2022
A global provider of health information technology solutions, Edifecs, Inc., unveiled a new solution that fully automates prior approval at the point of care, resulting in better member experiences, improved results, ongoing compliance, and lessened administrative burden, in September 2022. Utilizing artificial intelligence (AI), natural language processing (NLP), and industry standards like FHIR, Edifecs' automated prior authorization solution integrates with electronic health records (EHR) and instantly delivers authorization.
Key Market Players:
3M
Cerner Corporation
Ardigen
IBM Corporation
IQVIA Inc
Apixio Inc.
Edifecs
Wave Health Technologies
Inovalon
Lexlytics
Conversica Inc.
Sparkcognition
Stats LLC
Segments Covered in the Report:
(Note*: We offer reports based on sub-segments as well. Kindly, let us know if you are interested)
By NLP Type
Rule-based
Statistical
Hybrid
By Component Type
Service

Support and Maintenance Services
Professional Services

Solutions
By Deployment Mode
By Application
Optical Character Recognition (OCR)
Auto Coding
Interactive Voice Response
Pattern And Image Recognition
Text Analytics
Others
By End-User
Physician
Patients
Researchers
Clinical Operators
By Geography
North America
Europe
Asia-Pacific
Latin America
Middle East and Africa